The Questyle CMA800R is a single-ended current mode solid-state desktop amplifier with monoblock compatibility. It is priced at $1,499.
Disclaimer: The Questyle CMA800R sent to us is a loan sample in exchange for our honest opinion. We thank the team at Questyle for giving us this opportunity.
To read more about Questyle products we reviewed on Headfonics click here.
Note, this review follows our new scoring guidelines for 2020 which you can read up on here.
Questyle CMA800R
As a headphone amp, the tonality matching with the HD800 is almost perfect and for other headphones, it plays to obvious strengths. The transparency of the CMA800r is top-notch, so much so your DAC will be under more scrutiny than you think so choose wisely to get the best out of the amp.
This is the first current mode amp I have reviewed but it is not the only current mode headphone amp out in the market such as the HPA-21 from Bakoon to give but one example. The difference being is that the CMA800R is a rev 2 unit from Questyle of China specifically tuned for the Sennheiser HD800 and it does not come cheaply chiming in at a street price of around $1500.
Yes, the EF6 from Hifiman comes in around $1500 also but it is a huge class A power beast at 5W per channel so the immediate selling point is clear but current mode amplification is perhaps a lesser-known concept in audiophile circles particularly on what benefits it can bring to headphone users.
Hifiman is also one of the more established brands with an already strong legacy in amplification and planer cans whereas Questyle is a relative newcomer in the international market so getting the message across about the benefits of current-mode amping as well as convincing an often cynical Western audience on the merits of the brand at the same time is quite a challenge.
Geography can be a competitive advantage whether we like it or not in marketing.
Let me tell you right now that regardless of whether you or I fully understand current mode amplification and whether or not you have an affinity for the Questyle brand the short and simple version of this story is that the sound from the Questyle CMA800R in combination with the HD800 is quite simply spectacular.
Tech Inside
Yikes, not an easy one this and not simply because current mode is a relatively new concept in headphone amping but the implementation itself in the CMA800r makes it even more of a nosebleed but anyhow here goes.
Let's start with the actual implementation which Questyle describes as having basically 4 phases: an input, a current transmitter, a trans-impedance amplifier, and then it completes the loop with an output buffer.
This kind of implementation allows Questyle to reduce or avoid transient intermodulation distortion (TIMD) as amplification takes place in the current stage as opposed to the voltage stage thereby lowering distortion and reducing what the team at Questyle describe as a metallic tinge to the tonality of many modern SS amps that use traditional transistor amplification.
I wouldn't go as far as to say that gone are impedance ratings that in theory, a fully discreet current mode amp should allow since, in the end, the CMA800r does finish off with a voltage output. What you do get though is a distortion-free experience and a much, much smoother top end in a solid-state form with a few headphones, the main focus of which is on the Sennheiser HD800.
Design
The CMA800r is extremely well built and fairly solid with a 10mm thick aluminum enclosure with a finish that is not the most dirt friendly so now and then be sure to take it out and give it a rub and clean to keep that fresh industrial light grey look fresh. It's a fairly wide but low profile design and about 70% of the Schiit Mjolnir size and 60% of its height approximately.
From the outset, the tuning of this amp (300ohms to be precise in terms of power handling) has been with a bias to how it matches and responds with the HD800.
The "r" edition is certainly not the first attempt either. Before the "r" was the CMA800 which I almost received from Questyle but waited a few months and ended up with the R edition which stands for reference edition.
The key differences physically are the additions of a balanced output mode with a stereo/mono switch on the "r" edition front panel and in the back panel a pre-amp dual RCA output and a fully balanced single 3 pin xlr input alongside the original left/right balanced and single-ended inputs.
Monoblock
In all respects, this would certainly qualify as an upgrade on the original CMA800 though as a headphone user, and not a decidedly rich one at that, I was perplexed by the single 3-pin XLR input and output instead of the normal 4-pin XLR the likes of which I can find on my EF6 and Schiit Mjolnir.
Why mono output for a headphone amp? OK, so monoblock? So I have to buy two at $3000 for the pair to get a fully balanced output to one set of headphones? I am just not convinced that is what headphone users want for balanced mode. T
hat is not to say there are those who will not want to try it or that there are no benefits in using it in monoblock mode. But naturally, only having one amp for review, I cannot tell you if having 2 of them in a monoblock configuration would blow away one of them in a single unbalanced mode.
It is an interesting idea but for the more frugal among us, I would have liked to have seen it with a 4-pin balanced option in the same shell either beside the 3 pin XLR or in a unit on its own simply to allow the masses to have a crack at it without having to buy 2 units.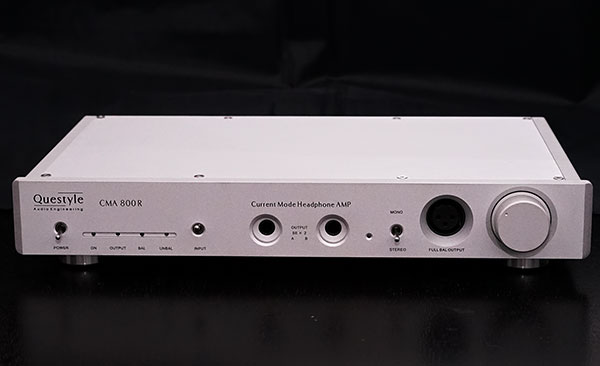 Setting it up
The other slight issue I had was working the unit with a single balanced headphone using balanced input. The switch on the front panel to the right controls the monoblock function primarily and the switch to the far left of the unit (the one before the power switch) determines if the unit runs in balanced or unbalanced mode.
After a bit of trial and error and some chats with Questyle, I managed to get it working with the left switch in balanced mode (blue led light on) and the right switch on in stereo mode.
Opting for mono mode goes to the monoblock function, useful if you have another unit naturally and the unbalanced option on the left switch will only work with an unbalanced input RCA connection on the rear.
Now that sounds pretty easy upon reading it and yes I did feel a bit daft after working it out but the manual didn't quite have the lingual fluidity to make that apparent in the initial setup.
Pre-amping
The pre-amp output is pretty straight forward though and it worked a charm on my Kingsound MS-10 electrostatic amp which had been suffering from a dirty potentiometer of late introducing unacceptable levels of 'scratch' during volume playback.
Moving to the CMA800r as a pre-amp was far more accurate and steady and allowed for a small amount of micro-control I didn't have on the Kingsound setup alone.
Dual quarter jack outputs
The other standout feature and one I have with a Violectric HPA-V100 are the two single-ended jack outputs to allow two cans to be run from the unit at the same time. Though not essential it's always a welcome feature, especially for comparison purposes.
Sadly, there is no mono left and right function for balanced output just dual stereo so if you want to go balanced you really do need to go dual monoblock 3 pin xlr.
Matching with the HD800
Now I have heard some great combinations with the HD800 in my time but this has to be up there as one of the best I have experienced to date. This is a strikingly balanced and transparent amp hence my initial heads-up on the DAC and source matching.
The CMA800r is going to strongly reflect the rest of your setup to be frank so don't throw it some cheap bones hoping it will cure everything by the time it spits out the sound because it won't.
However I am not advocating you buy the most expensive DAC there is out there, simply use a good DAC that conveys a tonality you know and trust, and the CMA800r will sing with panache and grace and with effortless resolution and detail.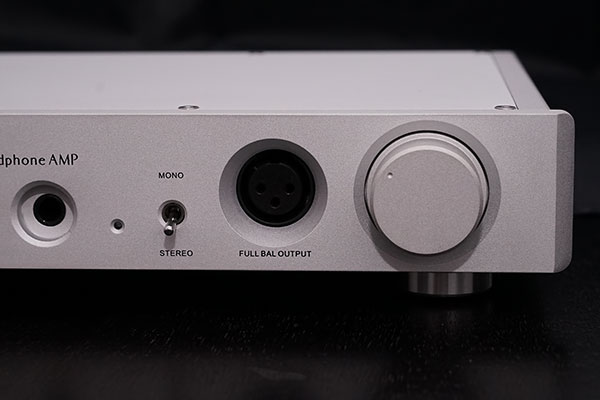 Sound Impressions
You could be forgiven for thinking that so much detail would leave a monitor or sterile-like experience; full of technical excellence but lacking in fun. An accusation so often was thrown at most HD800/amp pairings and whilst it is no basshead pairing the HD800 actually for the first time gains a more than acceptable level of PRaT and musicality I didn't think was possible previously.
The tuning by Questyle is most "un-Asian" like in many ways given the preponderance for a top-down treble orientated setup I am used to getting from many SS amps in the East.
There is nothing thin or sharp about this reproduction I can assure you. Even the bass response on the HD800/CMA800r pairing is probably the tightest, most detailed, and most impactful I have heard to date. Bags of texture and presence and wonderful coherence.
Synergy
The CMA800r also is no slouch for power. Anything dynamic is driven with authority especially the HD800 but even more demanding planers did a fine job with it. Even the HE6, though at its best for me with the EF6, did a decent job without sounding too thin, tinny, or too sharp.
It didn't quite convey that thick luscious sound of the EF6 that has me in raptures for the last year but it wasn't shameful either.
Oppo PM-1
Luckily I am also in mid-review of the new Oppo PM-1 planer which is a new planer from Chinese Bluray specialists and one of the easiest planers in the market today to drive, even out of an iPhone.
The PM-1 paired with the CMA800r is pretty effortless also with the pot rarely going past 9am so deliberating if this is overkill or not but in any event, those who are not familiar with the PM-1 will find a thick lush, and bottom-up engineered planer with good top-end articulation but not as open and airy as planers from Hifiman or Audeze.
A different flavor so to speak but a headphone ready to break out of the desktop amp environment and go portable.
Paired with the CMA800r it is smooth in the extreme but the bass is what comes to the fore with this pairing. It is fast, tight but also extends very well indeed. That lack of bloat and boom allows the PM-1 mids to shine.
This is a match made for modern genres, Calvin Harris's "We found love" from 2012 is a perfect example of the CMA800r's current mode amplification capability for me with a fast bass tempo, lower treble cymbal work, and a strong vocal section on the PM-1 but not an ounce of harshness or metallic aftertaste in that busy percussion work or sibilance from the female vocals.
That is compressed 320k MP3 by the way and it sounds pretty darn good out of the CMA800r and Oppo PM-1.
Audeze LCD-2
The CMA800r also pairs very well indeed with the LCD-2 though after a listening session with the Oppo PM-1 the LCD-2 has many similar characteristics to the PM-1 but feels a little grander and less intimate than the PM-1 and dare I say it slightly more neutral in some respects (Rev2).
With the CMA800r the LCD-2 reproduces all its plus points with an extra black background to boot. Everything feels so tight and controlled even right down to the LCD-2's subterranean levels of bass extension and slam.
Power-wise it seems right on the money with nothing sounding thin, distant, or clipped. Even the notoriously shelved down treble response on the LCD-2 feels more lively and articulate than usual. If the CMA800r managed to make the HD800 tap its feet more than usual I can assure you the LCD-2 is a full-on musical treat.
The list of strong performances in mid-range cans was as long as my arm, to be honest, both the Shure 1540 and 1840 sounded well-controlled and detailed.
Whereas the notoriously inefficient K500 and K501 from AKG sounded incredibly nimble, expansive, and smooth with that killer mids and a reasonably responsive bass section though to be fair this is not always the K series strong point.
Select Comparisons
Hifiman EF6
Compared with the Hifiman EF6 the CMA800r is more neutral and airy in its presentation than the thicker, warmer, and bassier presentation of the EF6. It is also a little more forward than EF6.
The EF6 is definitely more colored than the CMA800r and is tuned specifically for the HE6 it shows this in many respects in terms of pure power and tonal matching. The HE6 is liquid smooth with the EF6 and whilst the HE6 sounds appreciably better on the CMA800r than some other amps it still can't get that full and smooth response I adore on the HE6 and EF6 combo.
Schiit Mjolnir
In comparison to the Schiit Mjolnir, I felt the Mjolnir had a slightly better dynamic range and more power but at times it came across as brash and spikey in the treble response when using the HD800 compared to the more controlled response of the CMA800r.
Violectric V100
If anything it is my Violectric V100 that should weep the hardest since tonally I always felt it aimed for the goal of being neutral, clear, and articulate much in the same vein as the CMA800r as well as having a fairly decent matchup with the HD800.
Compared to the CMA800r the V100 does a decent job but just lacks that final notch in detail and control and didn't convey the same level of musicality. Good but not great compared to the CMA800r.
Our Verdict
As a headphone amp, the tonality matching with the HD800 is almost perfect and for other headphones, it plays to obvious strengths. The transparency of the CMA800r is top-notch, so much so your DAC will be under more scrutiny than you think so choose wisely to get the best out of the amp.
Would I go monoblock with two units as a headphone user? It's interesting but debatable on the value scale but certainly unbalanced output more than excels and at $1500 it is not overpriced for what it can achieve with flagships and mid-fi cans alike.
At the time of writing the Questyle team are selling this through eBay and Amazon and one to two distributors in the US market and beyond.
Questyle CMA800R Technical Specifications
Gain 15.5dB
Max Output Power 180mW (7.5Vrms) @300Ω, standard Stereo Mode 710mW (15Vrms) @300Ω, Mono Mode
SNR 114 dB, standard Stereo Mode 118 dB, Mono Mode
THD+N 0.00038%@1kHz, 300Ω standard Stereo Mode 0.00026%@1kHz, 300Ω Mono Mode
Frequency Response DC-200kHz (+0, -0.3 dB); DC-650kHz(+0, -3 dB)
Sensitivity 1.2Vrms
Impedance 47KΩ
Input XLR stereo, RCA Stereo, and XLR Mono Full Balanced input
Output Dual 6.35mm Stereo headphone Jacks, A XLR Mono Full Balance output, A pair RCA Pre-amp output
Type: Pure Class A
Voltage 100-120V or 220-230V, Internal switchable
Power Consumption 13W
Dimension 330*300*55 mm