Our PLUSSOUND Silver+ Review covers the company's latest IEM cable featuring a new 24AWG coaxial type Litz UP-OCC silver wire. It is priced at $1499.99.
Disclaimer: This was sent to us as a sample for our honest opinion. Headfonics is an independent website with no affiliate links or services. We thank the team at PLUSSOUND for giving us this opportunity.
To read more about PLUSSOUND products featured on Headfonics click here.
Note, this feature follows our latest scoring guidelines which you can read up on here.
PLUSSOUND Silver+ Review
To me, the PLUSSOUND Silver+ is exactly how a good quality silver wire should sound like. Nothing is over-emphasized, with an excellent focus on detail and clarity and a specific panache for hybrid monitors using electrostatic drivers. Pure, controlled, articulate without ever sounding unnatural or edgy.
Pros
Exceptional performance clarity
Durable build quality
Above average packaging & accessories
Cons
Slightly stiff handling
Not for bassheads
PLUSSOUND just hit their 10th year of churning out some great cable products and to celebrate they launch two new high-end cables and both of them build on the new '+' technology first seen in the Copper+ last year.
They are called the Silver+ and the Hybrid+ and both of which we will cover in today's review with the focus being on the Silver+ Exo version. We will have an Exo Hybrid+ review coming shortly after.
The company's IEM cable ranges that carry both of the '+' choices include the EXO Series, the X series, the Apollonian Series, the Echo Series, the Poetic Series, and the Verse Series.
The prices are a little higher than the Copper+ at $1499.99 for the Silver+ and $1299.99 for the hybrid version. However, the wiring choices are a slightly higher-end quality compared to the Copper+.
For those with a long memory, PLUSSOUND's debut retail cable all those years ago was a silver creation so you can consider this a return to their roots in a manner of speaking.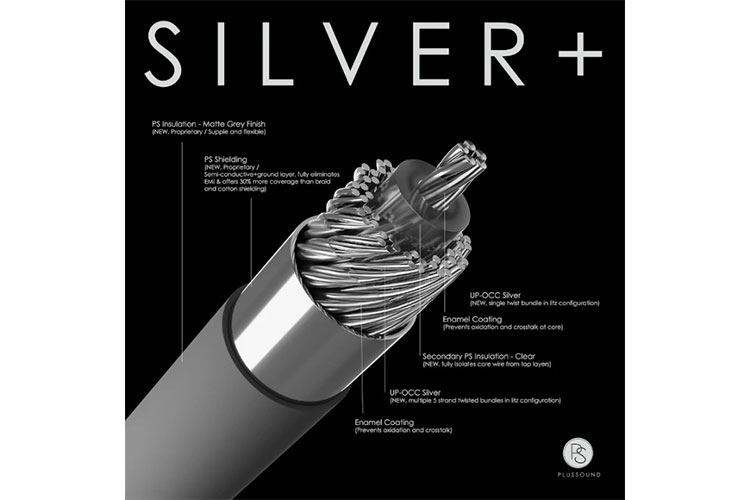 Tech Highlights
Wire
The premise of the Silver+ wiring is similar to that of the Copper+, that being a single element type in its wiring which is a far cry from the exotic blends we are used to seeing from years gone by.
This is a single high purity UP-OCC pure silver wire with a higher 24AWG rating as opposed to the blended creations which were typically 26AWG. That will be one factor for the slightly wider overall diameter externally. The other factor is the thickness in the stranding which is a little higher to keep the silver element stable.
The cable is a 4-wire as opposed to an 8-wire in terms of core count, however, the large gauge size should mean resistance levels are going to be a bit lower than a 26AWG equivalent. You should also get an improved high-frequency production with better skin depth for improved conduction for 26AWG equivalents.
Geometry
The Silver+ also retains the same unique coaxial geometry used by the Copper+. That means an inner conductor and an outer shield sharing a geometric axis with a core 24AWG UP-OCC in a single twist configuration and an outer layer of UP-OCC silver in a 5-strand Litz configured bundles.
In between there is a new second clear type layer of PS insulation to isolate that core single silver twist from the 5 strands twisted bundle outer layer. You then have a main PS insulation jacket wrapped around that outer UP-OCC silver 5-strand twisted bundle.
Both the inner and outer silver wiring elements have their individual strands enameled to combat oxidization. The new unique PS shielding construction from Copper+ is also retained, and as before it is made of silver. This shielding has a dual purpose of protection from more potential EMI interference than cotton or braiding can offer as well as operating as a ground layer.
Design
Aesthetics
This time we are going with a matte grey aesthetic rather than black though the trimming remains the same excellent black and gold trim jack barrels and the rose gold splitter from the Copper+ sample we reviewed previously.
Also, in some ways, the Silver+ design is a continuation of the Copper+ build. That means a slightly stiffer external PVC-protected build compared to the older and softer PVC. However, there is some reversion to type with the introduction of a classic braid finish as opposed to the Copper+ sample we received that has the twisted visual.
Just to note, you can order both the Silver+ and the Copper+ in braided or twisted finishes but it is good here to see the differences between the two when placed side by side.
Personally, I prefer the Silver+'s more flexible braiding technique but it does add a little more girth to the overall width of the cable. The thicker strand build also gives each individual PVC-protected wire a slightly thicker look compared to the equivalent Copper+ twisted version. Since it already uses a 24AWG wire, the Silver+ is no shrinking violet in terms of dimensions.
The matte grey tone jacket creates a nice contrast to the supplied rose gold hot-stamped metallic heat shrink on both the connectors and jack barrels as well as the matching chin cinch. However, if you really want to nail the complementary aspect of the Silver+ color scheme I would go for the silver or chrome finish options for the barrels to ram it home this is a silver cable.
Handling
Because we have gone back to braiding from the Copper+ twisted finish, the Silver+ cable will handle a bit differently.
Technically, it is a wider cable than the twisted finish but there is a higher level of pliancy for bending and rolling. I still rate it as a reasonably stiff cable but that stiffness can work as a benefit with the braiding less likely to loosen up when bent compared to the softer PVC variants on previous PLUSSOUND creations.
The low memory retention is very good actually and slightly less springy compared to the twisted design which makes it more disciplined for use when on the move.
The level of microphonics below the splitter on the Silver+ is extremely low for this type of geometry and finishing. However, it is a shade higher than PLUSSOUND's traditional translucent braided PS Insulation builds.
That might be something you pick up on quicker using high isolation custom monitors when brushing against the Silver+ jacket and less so on universal IEMs depending on the level of the seal. Like the alternative braided designs, microphonics will be higher above the splitter.
There is no memory wire on the Silver+ EXO to further insulate but that's the same across most PLUSSOUND cable designs and for me, I tend to like them without memory wire.

Finishing
I do have a soft spot for PLUSSOUND's barrels and connectors. They never loosen up, rotate unexpectedly, or suddenly dislocate from the main plug stem. They have come a long way from that DIY visual several years ago and I do rate them now as one of the best in the business for durable and classy-looking plugs.
Barrel Designs
You do have options when creating your own Silver+ cable at the checkout, however, this sample came with the same rose gold hot-stamped metallic heat shrinks and matte black barrel finish as the Copper+.
They match each other perfectly in their own right; however, the matte grey insulation isn't as complimentary as the Copper+ black aesthetic when using these rose gold accents.
Here, I would recommend going with the silver, chrome, or black barrel and splitter options that should offset the grey wrap in a complementary fashion. We have that styling on our sample Hybrid+ cable here and they look perfect for this tone.
The cinch mechanics are very good also though bear in mind that a slightly thicker cable will provide a little more resistance when moving it up and down. Still, it will not pinch the cable in an awkward manner holding its position quite well, and will not slide down involuntarily during use.
This particular finish is a 4.4mm Pentaconn which is the second time I have gone with this type of jack from PLUSSOUND and whilst they are more robust than 2.5mm TRRS options they do add a little more to the overall weight of the cable.
You can, of course, choose your own jack option at website checkout which includes balanced and unbalanced 3.5mm TRS, 2.5mm TRRS, 6.35mm, USB-C, and RSA type to name but a few.
Connector Options
These are very sturdy and robust screw-type connector barrels. These are essentially the same connectors now you will find on most of their cables since the X8 Tri-Silver in late 2018. As always, the screw faces to the outside and the labeling to the inside when connecting.
Like the Copper+ sample, the inside moniker is white but you can pick your preference of color at the checkout including gold if you prefer. You can also change the metal accent colors on the rear exit to a silver or chrome finish which will work very nicely with the Silver+ matt grey jacket.
These particular connectors are terminated with a 2-pin 0.78mm black coated aluminum screw-threaded barrel but you can also opt for a wide range of alternatives including MMCX, IPX, and Fir Audio's RCX.
Strain relief is internal to the barrel. You will not find any mucky or bulky external silicone strain relief nor will you find any additional memory wire weighing down the connectors on the Silver+.
Comfort On-Ear
The stiffer insulation though will be felt a little more than EXO alternatives with the slightly softer braided jacket alternatives. However, I did find the slightly enhanced pliancy to work better for molding the wire around my ear compared to the Copper+'s twisted finish.
The cable weight should not provide any concerns. Despite its heavier gauge, this is a 4-wire construction and still quite a bit lighter than most 8-wire builds. The slightly 'wavier curve' in the new PS Insulation does lift the cable off the ear slightly so you only feel it on the sides more than any pressure bearing down.
This is not a cable that will move around either, so no memory wire is really needed with the Silver+. The lack of memory wire also lightens the load on the back of the ear when using the Silver+ with our tested monitors.
Glasses users will also find the resulting 2×2 wire split and twisted thinner design to play well with their frames when in use.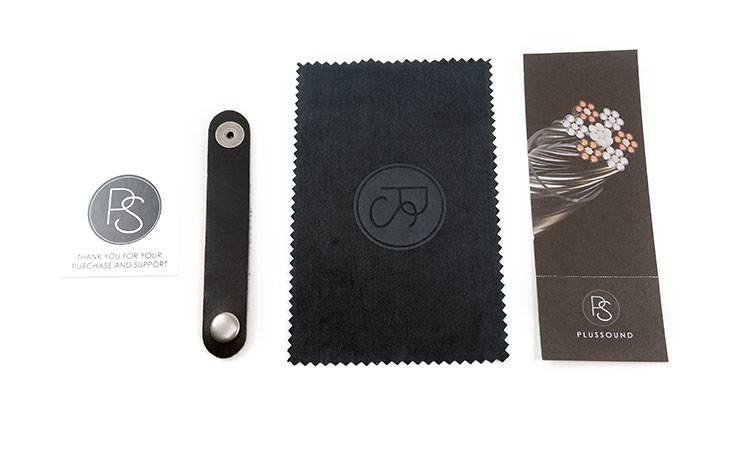 Packaging & Accessories
There is no change in the packaging setup from the Copper+ or even the previous cable releases from the last year or two. That is probably a good thing because I tend to like these leather pouch and cable organizer straps thrown in by PLUSSOUND for their retail packages. It has a very executive and classy feel to them.
You get a slimline gold-trimmed 2-piece black box with minimalist exterior styling as well as a protective transparent perspex lid on the inside to protect both the Silver+ EXO cable and its accessories during transportation.
Accessories include a good quality black organizer strap that should be a default inclusion in all manufacturers' cable packaging but never is. These straps rarely cost much to buy on the market but they serve a purpose in terms of keeping the tangles at bay when storing the cable.
You also get that little black drawstring leather pouch and an additional silk cleaning cloth. The leather case is fairly spacious so it will fit not just the cable but quite a few monitors also. It doesn't protect quite as well as larger and stiffer puck-style cases but it is more discreet for pocketable transport.
Click on page 2 below for performance impressions and select comparisons