The Phiaton BT100 NC is a Bluetooth enabled wireless IEM for under $100 that also sports a very useful water resistance feature.
Disclaimer: The Phiaton BT100 NC sent to us is a sample in exchange for our honest opinion. We thank the team at Phiaton for giving us this opportunity.
If you want to read more about Phiaton products we have reviewed on Headfonics, click here.
Note, this review follows our new scoring guidelines for 2020 which you can read up on here.
Noise Canceling IEM's are all too common these days, but every now and then something nice comes along and surprises me with its usefulness.
Phiaton had recently sent me a care package containing two Bluetooth headphones: an IEM (the BT100 NC and the BT300 NC on-ear). Today, I'll be reviewing the BT-100 NC IEM and placing it inside the arena for proper testing.
The BT100 NC – Features
Water-Resistant
I'm not big on around the neck styles, but I've found this model particularly fun to use in the shower or while outside walking. I'm weird.
You do not want to let them run directly in the water, this is rated at IPX4 and really not suited for direct contact with a showerhead running water. But, it is just fine so long as your head isn't under the water of the shower.
I mentioned that because as water builds up around your ear area, even with no direct contact, a warm shower and steam drops will form around the IEM housing and eventually creep into the ear area if the seal on your IEM in your ear is not proper, which further degrades bass quality (obviously). The seal is important on this model.
During that time, I get worried about whatever headphones I am using, I worry about cars splashing me as they drive through puddles on the side of the street near the curb, I worry about oddities like that with my Hifi headphones nearly always.
Dual-Microphones
I've not had a Bluetooth 4.0, Active Noise Canceling and water-resistant IEM that I found to sound very nice on call quality, but the BT100 NC comes with dual microphones for an attempt at a better sound quality for voice needs on your end of the spectrum of the conversation.
These are all very nice features to have in an IEM that looms in the sub $100 tier. I've seen these being sold for as low as $65US, so my opinion on their budget-friendliness and features list is a positive one, no doubt.
A Small Design Gripe
The IEM housings are attached to a pull-out line that will retract itself back into the around the neck solid piece of the device. Meaning, default, the IEM housing head pokes can be pulled out to lengthen the distance needed to reach your ear while the device stays around your neck. And when pulled gently, it will retract back into the around the neck area of the device.
Sometimes, I feel like it is pulling down too much and very slowly retracts itself over time. Over the course of an hour or so, even with some solid slack on the line, I feel like that by the end of the hour, or my walk, the line automatically retracted just a bit.
You can opt to pull the cable out to the side closer to your neck and have the slack run somewhat behind your head, or you can pull the slack straight out and have slack out in front of you in the area of the IEM housing when the cable is fully retracted on the around the neck portion of the device. That latter one seems to automatically retract just a bit over time.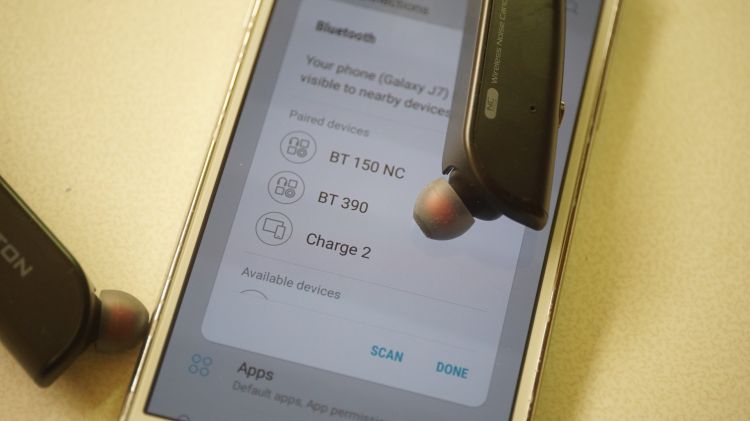 Sound Impressions
Bass
Let's make no mistake here, this is a budget IEM with a lot of features. On paper, the BT100 quality itself is probably on par with some very budget-friendly IEM's out there. Bass quality is an issue for me and my view of it is just above the negative line. I am not fond of the quality factor, it feels overly thin and unresponsive to EQ in my tests. Despite that, it can reach low in quantity factor plenty well.
My problem is heft and substance factor, which I rate as less than desirable for anyone looking for a Hifi sound. These are clearly aimed at the general consumer market and not Hifi enthusiasts. While quality is lacking, again, I do find it to respond nicely to low-end cues in music. You get acceptable depth for such a price. True, bad recordings sound extra bad here, but for general usage, I find them more than satisfactory.
Mids
I find the BT 100 to be a bit L-shaped (more bass and treble and than midrange, but also with a midrange that feels distant and recessive often). I am not fond of this type of sound signature, but for exercise and shower deeds, I think it is just fine.
I am impressed with call quality actually, as I allowed a family member to use this IEM to call my phone and let me hear how it sounds. The Dual mic really sounds pretty good here, so others listening to you talk through it shouldn't be too worried about bad, tinnish call quality that seems abundant with most budget tier Bluetooth headphones.
The substance factor is, again, not good. I feel like most of the signature is relatively thin and lacking. Although, I am not labeling it as terrible by any means. It just isn't up to par with most very good $60-80US IEM's out there.
This is a casual IEM for casual listeners who are more focused on the routine of exercise than actually listening only to the product. General consumers want a good sound that is comfortable and easy to listen to, background noise and music when going about whatever they are doing when using this type of IEM.
In that regard, things are well set up in the midrange band on this BT100 NC. Physical dynamic impact (slam) is not at all a problem and I feel like I could listen to vocal-centered tracks for a long time before feeling any fatigue.
Treble
Testing results for the upper end were relatively bland. Not great, but certainly not bad. The tone is the problem here and not so much the audio fidelity of the top end. I feel it overly reserved and lacking sparkle and any real drive.
It feels very safe and basic, without an attempt to seize any opportunity to sound more prominent than the bass or midrange by a large degree, it doesn't set itself apart at all and blends in with the rest of the sound signature. That can be a good thing if you want a fatigue-free experience. But, it might not be a good thing if you want sparkle and style, something very enjoyable and memorable, or even engaging for that matter.
Beyond tonality, the engaging factor for work out and active lifestyle seems like an important thing to me. Do you want a relatively flat feeling treble, or something more vivid and pleasing to the ear? The latter is not the case with this IEM, sadly.
Again though, not bad quality, just underwhelming in quantity and tone, texture and setup. I find it too basic and too safe when comparing it to the bass and midrange. I still think with a reserved midrange and a bass experience that is also relatively lacking, the treble end should be the star of the show and have something very nice about it. But, to my ear, it really does not. It is a safe sound, no doubt.
Staging/Imaging
I am going to rate overall imaging as, once again, very basic and lacking all around. I've heard much worse, but I can also name many other IEM's in the tier that sounds more spacious and realistic. Substance factor and heft pop in again as the biggest culprit of negativity. If that factor were better, I think overall realism would be boosted into a positive category.
Width, height, and depth of field feel too constrained and incoherent to call it a nice imaging experience. For $65 or so, I am not going to complain too much. But, ye old' Fischer Audio Silver Bullets are $50 still and they are years old IEM's with excellent width factor.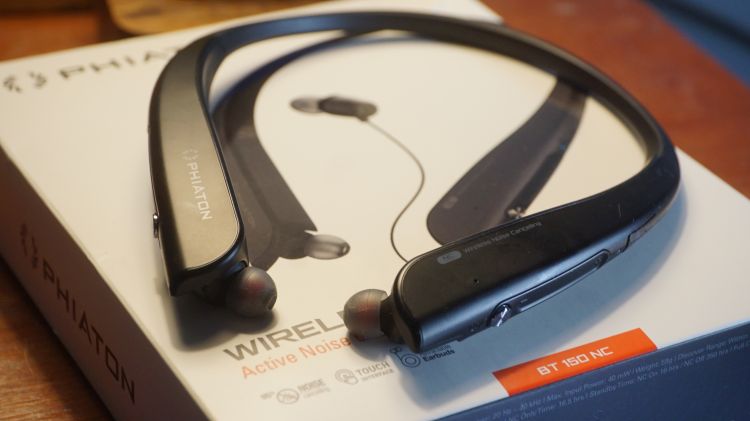 Our Verdict
More can be done here and I am not sure why Phiaton left everything at a passable and safe level and not exceedingly nice. More can be done, more should have been done.
Phiaton put out some amazing products in the last generation of Audiophilia. That older MS and PS series (ms400 and ps500) and the IEM's they first released were all great products. I miss the old Phiaton and I dearly hope they start innovating again and pushing excellent budget IEMs and headphones in the future. They did it before, I know they can do it.
For now, this BT100 NC is just fine. It is not bad, but it is also not very good for just music listening sessions. Phiaton played it safe, as I'd found bass, mids, and treble to be more than satisfactory, but less than great overall. To reiterate again, this is not a bad IEM. I just find it relatively lacking a soul or anything interesting happening that can set it apart from other sets out there like it.
Audio fidelity is just okay for the price. For those who want a solid microphone enabled BT IEM that is nice and stable for shower or sporting activities, this is still a solid pick. As mentioned, I use it in my bathroom daily and if I were more active, I'd probably use that as well for it's on the go prowess and excellent call quality aspects.
BT100 NC Specifications
Impedance: 24 Ohm
Sensitivity: 100 dB/mW
Frequency Range: 10 Hz ~ 27 kHz
Max. Input Power: 40 mW
Communication Network: Bluetooth 4.0
Operating Range: Within 10 m / 33 ft.
Call Time (NC on / off): 7 hrs / 11 hrs
Music Play Time (NC on / off): 7.5 hrs / 12 hrs
Standby Time (NC on / off): 15 hrs / 220 hrs
Full Charge Time: 2 hrs
4x Sets of Silicon Ear Tips (XS, S, M, L)
Audio Cable
USB Charging Cable
Stoppers
Warranty Card
Quick Guide (Including 1-Year Warranty)