This review covers the new Periodic Audio Magnesium V3 which is a dynamic driver IEM using a high magnesium content alloy for the diaphragm. It is priced at $199.
Disclaimer: This is a sample that was sent in exchange for our honest opinion. Headfonics is an independent website that does not have any affiliate links or status. We thank Periodic Audio for this opportunity.
To learn more about earlier Periodic Audio products featured on Headfonics you can click here.
Note, that this article follows our latest scoring guidelines which you can read up on here.
Periodic Audio Magnesium V3 Review
The Periodic Audio Magnesium V3 is a completely new flavor, which would either be a great entry-level monitor, or even a side-grade for people looking for a solid bass response.
Pros
Fulsome bass response
Good price-to-performance ratio
Cons
Midrange lacking in detail and a bit veiled
Microphonics on the cable
Periodic Audio is back with an exciting refresh of their 4 IEM line-up, claiming to have the same tuning, same transducers, but with a new build and a lower overall noise floor. We are no stranger to the Periodic Audio brand; we have reviewed the previous versions of the new IEMs found here, as well as their dongles such as the Rhodium DAC.
The latest V3 models of Periodic Audio's IEMs retain their naming, which are Magnesium, Titanium, Beryllium, and Carbon. The models represent the material used in each of their Dynamic Driver's diaphragm materials. For this review, we will be starting with their entry-level offering which is the Magnesium V3.
This is the first installment of a 4-part series of reviews on Periodic Audio's newly designed monitors.
Tech Highlights
Periodic Audio Magnesium V3 is a single dynamic driver monitor. True to its name, the Magnesium V3 utilizes a 96% magnesium alloy for its diaphragm material. Despite being low cost, it is no means to be a slouch. It strikes a balance of having higher performance and affordable prices at the same time.
Nerding it out, magnesium is the least dense of all stable materials. It also has a very high stiffness-to-weight ratio, making it applicable to different large-scale applications. The qualities of these properties result in a highly efficient and low distortion transducer performance.
Design
Those familiar with the older Periodic Audio IEMs would be surprised by the new design. Although these are still bullet-type IEMs, they are now rounder in appearance, with, yes, finally, detachable cables.
In terms of appearance, the Magnesium V3 is a normal-looking earphone and still feels a bit retro. The IEMs are made of a plastic shell, with a glossy black bullet-type shape and a logo displayed on the outer part. My first impressions are that it looked pretty ordinary and cheap for a $200 monitor.
However, despite the ordinary-looking design, Periodic Audio actually took time and effort in designing these IEMs. And not just on the aesthetic aspect, but more on the sonic properties and user usability of the IEMs.
The material of the shell is actually a special Tritan blend – a Tritan copolyester. Polycarbonate materials were previously used in the Periodic Audio lineup, which at that time, produced the best results in sonic qualities.
After 39 months of research on the acoustic properties of plastics, they have finalized a Tritan blend that has a much lower resonance, 4dB lower, than a polycarbonate. They have used this material in their new line-up, resulting in a cleaner sound and lower noise floor.
Comfort & Isolation
The Magnesium V3 is incredibly light. At times, they felt very seamless in my ears, as if I'm not wearing anything. Even with long periods, there were no discomforts on my end. The IEMs are small and do not fall out even when walking casually.
Isolation with the silicon tips is average. Outside noise is drowned out well, while still allowing some alert sounds to pass through. The amount of isolation while listening in a busy coffee shop was found to be enjoyable.
Tips
Periodic Audio included 3 sets of tips – silicon dual flange, single bore, and foam tips. In terms of isolation, the foam tips are the best in drowning out background noises.
Although the dual flanges are also pretty good, I found them to be a bit intrusive and uncomfortable in the long run. I keep mine with the single bore tips as I found it to be the most comfortable out of the three.
Stock Cable
Periodic Audio deviates from the common MMCX and 2-pin 0.78mm termination. Instead, they use an in-house IDEEL connector, which is claimed to be more robust.
A commonly used 2.5mm TS plug is connected to the tiny monitors, which I find to be genius by the way. It makes it easy to remove and insert cables, similar to plugging a 3.5mm SE into your phone or dongle.
Because of the unique connector, the stock cable is also quite unique. It is 1.2 meters long with its 3.5mm TRS to dual 2.5mm TS jack. Visibly, the wire is also thin and light.
One gripe I have about this cable is its excessive microphonics. The cable is insulated with a woven fabric, which is known to have bad microphonics. The only way to reduce the noise is to wear the IEMs over your ears with the silicone guide or to use the chin-slider.
Packaging & Accessories
The Magnesium V3 comes in a relatively small box. It is compact and minimal, with a straightforward unboxing experience. Inside the box, you can immediately see the monitor along with a compact gold metal protective travel case.
Despite its plain packaging, the accessories included are quite generous. The package includes a 1.2m cable, gold plated ¼" TRS Adapter Jack, Gold plated dual mono airplane adapter, silicon wire guide, and 3 tips enclosed in a small plastic bag – single flange tips (S, M, L), dual flange tips (S, M, L), and memory foam tips (S, M, L).
Sound Impressions
The Periodic Audio Magnesium V3 is a U-shaped monitor. It has a great emphasis on the bass, along with a natural midrange and comfortable treble tuning.
Bass
There is plenty of bass presence here. It goes low and deep, with a clean and clear presentation. Bass heavy tracks have a good amount of lower-end rumble. The bass tuning is quite impressive, one of the best at this price range. It has a full deep body, with very minimal bleed on the upper frequency.
This monitor does not have a sluggish dynamic driver. In fact, it has good control, with a fast attack and decay. Fast bass rifts are handled with ease, with a good number of gaps in between despite reaching deep lower frequencies.
Mids
While the midrange is not the strongest suit of the Magnesium V3, it delivers a good overall performance. The lower midrange has a minimal bass bleed, which is an expected trade-off from its good bass tuning.
One thing it falls short of is the midrange's clarity. When compared to other monitors in this price range, it is not the most articulate and accurate IEM. Instrumental and Vocal textures have some veil, masking detail retrieval.
It may not have the most articulate midrange region, but it is not thin or hollow sounding. Plus, it has satisfactory levels of vocal layering and instrumental separation, good staging, and imaging.
Treble
The Magnesium V3's treble is tuned comfortably, complimenting the overall coloration of the IEM. Although it's a U-shaped monitor, there are no treble peaks or sharpness felt in higher frequencies.
Treble is generally felt in various genre, although it is not energetic nor have much brilliance. It pushes just the right amount of airiness, resulting in a natural-sounding treble. To give you a picture, guitar strums are not overly emphasized but vocals are presented in a light and airy tonality.
Even in higher frequencies, there is no harshness or sibilance felt. It is well controlled, even in vocals and cymbal crashes that extended in high notes. It is tuned conservatively where fatigue would hardly be felt even in long periods.
Staging
The soundstage on the Magnesium V3 is quite average. It excels with its good depth, but with average width and height. It sounds intimate at times, but it does not feel cramped. Imaging is also average, with decent vocal and instrumental layering. Busy tracks are distinct and not coupled.
Synergy
Efficiency
With an impedance of 32Ω and 101dB sensitivity, the Magnesium V3 is very easy to drive. These are not power hungry at all. Pairing it with my smartphone already gave me quite enjoyable listening levels.
A dedicated audio player, such as the Hidizs AP80 Pro-X or a Hiby R3 Pro is also good to use as it scales and enhances the overall listening experience. Similar DAPs would no doubt power the Magnesium V3 with ease.
Pairings
This is a U-shaped monitor, with an emphasis on the lower end. For the Magnesium V3's tuning, it would be good to pair it with a DAP with a good midrange or good treble, depending on your preference. It is not tricky to pair but here are some of my suggestions.
For a fuller midrange, the Hidizs AP80 Pro-X would do the job easily. It does give more heft in the midrange region but it also adds a slight boost in the sub-bass region. It is just right for me but it is something to keep in mind.
For others who want more treble, the Hiby R3 Pro would be a good match. It does not elevate the bass region of the Magnesium V3 like the AP80 Pro-X, but it does boost treble which would also give it a good balance.
Select Comparisons
Ambient Dynamics AD-006 "Lyndale"
$199.99
Technical
The Ambient Dynamics Lyndale has a hybrid 2 driver configuration (1DD + BA). Its dynamic driver is made up of PU + TI composite diaphragm. The Periodic Audio Magnesium V3 on the other hand has a single dynamic driver configuration with a Magnesium V3 diaphragm.
Design
The Lyndale has a simple design with its plain black smooth resin shell with a traditional ergonomic design and gold embossed logo on its faceplate. The Magnesium V3 looks completely different from its old-school bullet-type design.
The Lyndale has a 2-pin 0.78mm termination with a 3.5mm straight plug termination while the Magnesium V3 has a 2.5mm termination with a 3.5mm straight plug termination.
Performance
The differences are not easy to miss between the two monitors. For one, the lows on the Magnesium V3 are more present than the Lyndale. Bass goes deeper and fuller on the Magnesium V3, which is quite the opposite of the Lyndale. The Lyndale feels flat and dull compared to Magnesium V3's well-tuned lower region.
In terms of vocal presentation, Magnesium V3 still wins hands down. The vocal timbre is richer and fuller, compared to the Lyndale. Lyndale feels flat at times while leaning on a cold tonality. The Lyndale does however excel in presenting instruments with its more forward midrange tuning.
Treble is magnitudes better than the Lyndale's. The Magnesium V3 is by no means a bright monitor, however, Lyndale's treble is heavily recessed. Magnesium V3 projects the treble with a more energetic and controlled presence and its upper frequency has a more shimmer and air.
The imaging of both monitors is pretty decent for their price range. Although, the Magnesium V3 does take it a notch higher with a more accurate projection. It also has a better soundstage, in terms of width, depth, and height.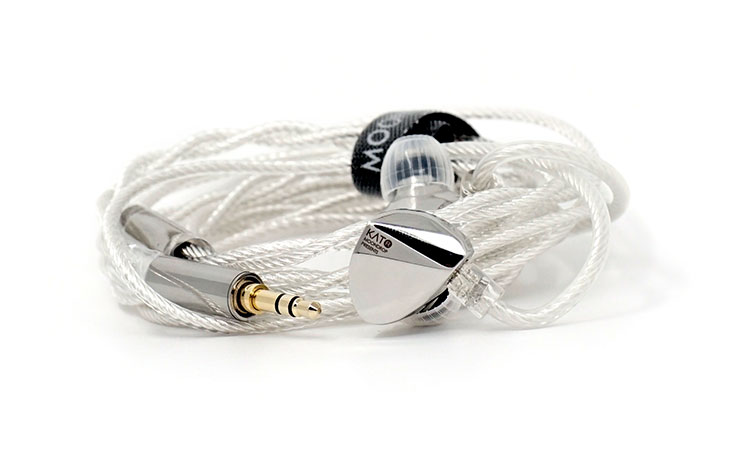 Moondrop KATO
$189.99
Technical
The Moondrop KATO has a single dynamic driver configuration with a 3rd generation diamond-like carbon (DLC) composite diaphragm. The Periodic Audio Magnesium V3 has a similar single dynamic driver configuration, but with a magnesium diaphragm material.
Design
The KATO has a polished silver metal shell with an irregular geometric-shaped shell. The Magnesium V3 looks completely different from its old-school bullet-type design made in plastic.
As for the cables, the KATO has a 2-pin 0.78mm termination with a 3.5mm straight plug termination while the Magnesium V3 has a 2.5mm termination with a 3.5mm straight plug termination.
Performance
The bass on the Magnesium V3 is deeper and fuller than of the KATO. It has more impact, which is quite enjoyable. Sub-bass is bass head worthy, with a good natural rumble. It also has a faster attack and decay than KATO. The KATO performs a softer and sluggish attack, with prolonged decay.
In terms of technicality, KATO is more articulate and accurate. More details are also revealed with the KATO. At times, the Magnesium V3's bass boost steals the spotlight, drowning out some vocal details.
In certain tracks, Magnesium V3 also sounds more veiled than the KATO. Specifically, when listening to wind instruments, the KATO has a more accurate timbre.
The upper-frequency tuning of both IEMs is similar. Neither has a huge treble but it does have a good amount of presence. The main difference would be that the KATO stands taller with more brilliance than the Magnesium V3. Upper frequency sounds crisper and cleaner on some tracks on the KATO.
The KATO has the upper hand in the soundstage. The KATO is noticeably wider and has more height. The Magnesium V3 on the other hand has more depth but has a more intimate soundstage.
Imaging on the KATO is also more accurate as it has a more 3-dimensional feel. The Magnesium V3 feels more in your face compared to KATO which has a complete picture.
Our Verdict
With the Magnesium V3 as Periodic Audio's entry-level monitor, there is a great expectation of the other models as this one exceeded my expectations. It is sitting at a price point that directly competes with famous Chi Fi models and I would say it's a strong contender.
Despite not being the best in midrange clarity, it's still a punch above its price range with its unique tuning. It has a good lower-end that I'm sure a lot will be pleasantly surprised. These are a completely new flavor, which would either be a great entry-level monitor, or even a side-grade for people looking for a solid bass response.
That being said, this is an IEM that is best for people who are looking for fun-sounding IEMs, something you would want to listen to daily. The tuning gives prominence to the lower frequency, with a natural midrange and treble region that would elevate the listening experience.
These are by no means the most articulate monitors at this price point, but it does give a complete package with their emphasis on their fun tuning and compact and light packaging.
Periodic Audio Magnesium V3 Specifications
Frequency Response 20 Hz to 30 kHz
Impedance 32 Ohms nominal
Sensitivity 101 dB SPL at 1mW in ear
Power Handling 200 mW continuous
Peak SPL 124 dB
THD Less than 1.5% THD at 1mW