The Ambient Dynamics AD-006 "Lyndale" is a debut 10mm dynamic and balanced armature driver hybrid universal IEM. It is priced at $199 SRP but currently at $149.
Disclaimer: The Ambient Dynamics AD-006 "Lyndale" was sent to us as a sample in exchange for our honest opinion in this review. We thank Ambient Dynamics for this opportunity.
To learn more about IEM reviews on Headfonics you can click here.
Note, this review follows our scoring guidelines for 2021 which you can read up on here.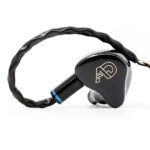 Ambient Dynamics AD-006 "Lyndale"
With its emphasis on the instrument presentation, especially with the drums, the Ambient Dynamics Lyndale would be perfect for someone who wants more emphasis on the instrumentals with a warm and relaxed tuning.
Ambient Dynamics is a new US company based in Minnesota producing audiophile-grade headgear. Out of frustration on the high cost of good quality products, a group of audiophiles formed together and ventured into creating their own IEM, providing quality audio without the hefty price tag.
The first such product is their new in-ear monitor, the AD-006 Lyndale. Aimed to be an entry point for a high-quality music experience with an affordable price point.
At an SRP of $199, the Lyndale is going to hit a wave of ChiFi 'me too' products out there. However, with a dual-driver hybrid configuration and a current selling price of $149 with US head office support, will that be enough to tempt audiophiles to switch from their usual brands?
Tech Highlights
Looking into Lyndale's configuration, it has a fairly popular or widespread dual-driver hybrid configuration with a 10mm dynamic driver for the lows and mids and a single Balanced Armature for the highs.
The dynamic driver is a 10mm PU + TI composite diaphragm dynamic driver, which is a deviation from the common PU + LCP combination. The soft PU enables the diaphragm to have a flexible low frequency. The balanced armature is an E-audio 29689-000 which is set to tune the higher frequencies.
Design
Ambient Dynamics keeps it clean and simple with Lyndale's hollow body acrylic glossy black shell and a gold embossed logo on the faceplate.
The shell's construction is made with medical-grade 3D printing to achieve manufacturing accuracy and keeps a nice level of contouring for that quasi-custom fit that is popular these days. It is not the heaviest IEM out there due to the light acrylic materials with a reasonably long nozzle also for fitting purposes.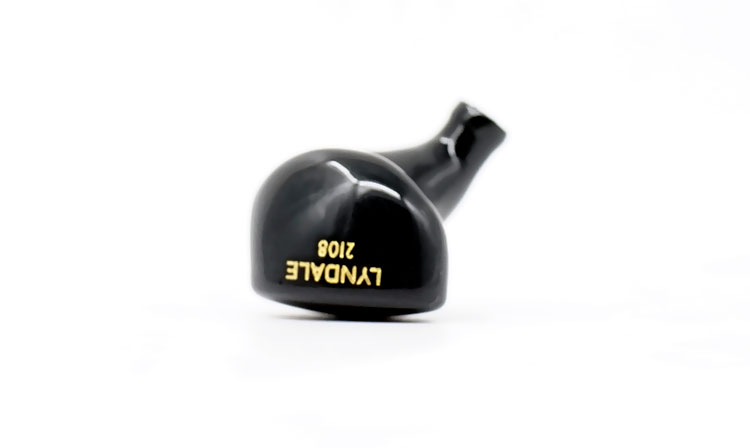 Comfort & Isolation
Using the Lyndale for long periods, there was no discomfort on my end. They are ergonomically shaped, making it easy to get a good fit without much effort. It was also quite light, making it easy to walk around with it.
Isolation with the foam tips is quite average, however. It can mute background noises while still allowing alert sounds to pass through. Listening with the Lyndale in a busy coffee shop has drowned the noise properly. It was sure easy to enjoy music while sipping a cup of coffee.
Tips
The Lyndale comes in 2 sets of 3 sizes of tips (S, M, L), a silicone tip, and foam tips.
The silicone tips have more prominent bass and drowned highs compared with the foam sponge tips. While deeper rumble is presented in the silicone tips, certain details in the higher frequencies are missing. The foam sponge reduces the bass boost and also projects a wider soundstage compared to the silicone tips.
Overall, I prefer the Lyndale with the foam sponge tips because of its better fit and my personal sound preference.
Stock Cable
Ambient Dynamic's stock house cable on the Lyndale is an 8-core oxygen-free copper high-end Litz cable, which allows signals to transfer efficiently. Externally, the cable is a braided black and copper color, complementing the overall design of the Lyndale.
The memory wire was just right, it has a good amount of memory retention that will sit comfortably on the ears. The wires are also noticeably thin and light, however, there is microphonics when moving around.
One gripe I have about this cable is the chin slider design. The braided wire made it hard for the chin slider to go up and down.
The termination on the IEM side is a universal 0.78 2-pin configuration, meant for cable rollers that want to expand the stock offering. Red and blue colors rings can be seen in the IEM termination which was minimal but a good added detail in indicating the left and right side of the cable. The other end is terminated with a SE 3.5mm TRS with a generic plug.
Packaging & Accessories
The Ambient Dynamic Lyndale comes in a black box with Ambient Dynamic's logo seen in the front. Inside the box, a square user guide and a big grey square carry pouch can be found. The carry case holds the IEMs, 2 pin detachable cable, plastic case for the silicone and foam sponge tips, and a small brush cleaning tool.
The carry case is gigantic and bulky in size, compared to other IEM's carry cases. It was an interesting design choice to include all of the tips inside a carry case, given that users usually put 1 pair of tips in the monitors and go on with it.
Perhaps Ambient Dynamics is generous in giving a big-size carry case to include perhaps an extra cable, say a BT-cable when you're out and about.
Sound Impressions
Bass
Ambient Dynamics focused on a popular region, which is the bass response. The Lyndale has a warm and relaxed presentation, with the lows tuned well.
Looking purely from Lyndale's Frequency Response, I was expecting the Lyndale to have boomy and elevated lows. On the contrary, I find Lyndale's bass response to be just right, with an adequate rumble in the sub-bass region.
There is sufficient sub-bass and mid-bass to feel the rumble and notice the deep and tight distinct bass notes. Fast bass tracks are handled easily, with immediate attack and decay.
The Bass drum has just the right punch. I was quite impressed with how these monitors can mimic the airy punch and low beat of the bass drum. I must say the bass sounds very natural and well-textured.
Mids
The midrange is a bit more recessed than the lows but overall complementary to the overall tuning. It is tuned to be mostly even, with no fluctuations between the lower and upper midrange frequencies.
One thing I noticed with the Lyndale is that it does an excellent job of presenting instruments. Different instruments shine, depending on the specific tracks. They are very articulate and textured with a natural presentation. In particular, acoustic guitar plucks and strums are thick and rich, presented with a perceived warmth throughout.
However, vocal presence is less forward than what I would typically prefer. Male and female vocals do not necessarily shine, but instead are taken over by how good the instruments were presented. However, it is still articulate and clear, making the midrange tuning pleasant overall.
Treble
One thing's for sure, the treble takes a back seat in the Lyndale's tuning. It's not particularly dark, but it's more on the warm side balanced with a bit of treble.
The treble tuning appears to extend well, even if it's recessed. In certain songs, the Hi-hat is a bit further back and acoustic strums are heard in the background beneath the Bass and Midrange, but still heard.
High notes on vocals are on the shy side. Vocals were neither airy nor energetic and engaging. Quality is on the dry side, lacking in luster.
However, Lyndale's treble is well-controlled. High frequencies do not appear to have any harshness and distortions, which is good news for people sensitive to treble peaks.
Soundstage
Staging on the Lyndale is a bit tighter than other monitors in this price range. However, it provides adequate height and depth, depending on tracks. Imaging is above average with the Lyndale. Vocals and instruments are layered properly, with each component distinct and multi-directional. This is true even for busy tracks.
Synergy
Efficiency
With an impedance of 12Ω and a sensitivity of 109dB, the Lyndale is relatively easy to drive. Smartphones such as the iPhone 12 Pro Max can easily power the Lyndale at a comfortable volume.
Switching over to a high-quality DAP such as the iBasso DX150, soundstage and imaging are notably improved compared to the smartphone setup. Once hooked up, you get a quiet response with no observed noise or hiss.
Pairings
Since the Lyndale has a more laidback warm sound signature, it would be good to pair with a Neutral or Bright DAP, depending on sound preference.
For people sensitive to the lows, it would be good to pair the Lyndale with a neutral-sounding source such as the FiiO M11. The iBasso DX150(AMP6) is known to have a warm tonality with energetic upper mids which produce a more aggressive low-end response from the Lyndale.
Perhaps pairing the Lyndale with an iBasso DX220 with AMP1 MKII would also be an excellent choice for a more reference-sounding and accurate imaging DAP.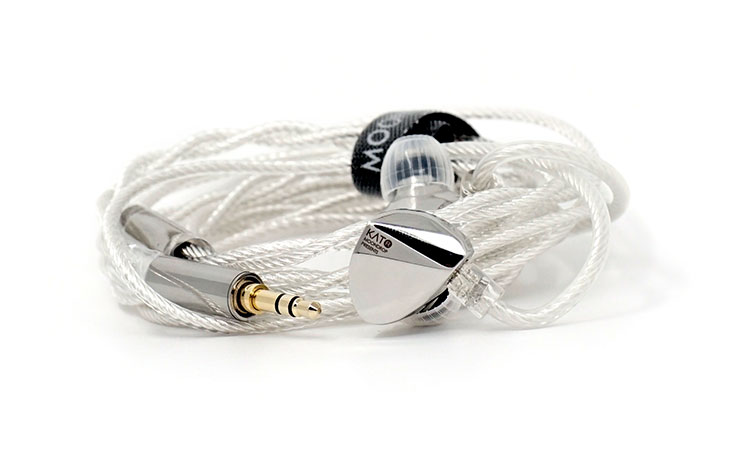 Select Comparisons
Moondrop KATO
$199
Technical
Moondrop KATO is a single 10mm ultra-linear technology dynamic driver IEM featuring Moondrop's new-generation flagship dynamic driver. The Lyndale has a different configuration with its hybrid driver design with a combination of 1 Dynamic Driver and 1 Balanced Armature.
Design
KATO has a polished silver look along with an irregular geometric-shaped shell. On top of that, it also has a removable nozzle for easy maintenance. The body is made of a metal shell, which is a bit heavy compared to other monitors.
The Lyndale has a simpler take with its plain black smooth resin shell with a traditional ergonomic design and a gold embossed logo in its faceplate.
Both monitors have a 2-pin 0.78 termination with a 3.5mm straight plug termination, favorable for cable rollers who want to switch to upgrade cables.
Performance
The KATO has deeper and tighter lows than the Lyndale. KATO's bass response has a meatier rumble and thump compared to the Lyndale.
Both monitors have a good mid-bass presentation. Both have good control, with no audible bloom in the higher frequency. Fast bass riffs were distinct, with the KATO appearing to be slower, but just by a little bit.
The midrange of both monitors is mostly even, with a good balance of the lower and upper midrange. Lyndale does have a more forward midrange, with the vocals more upfront than what is presented with the KATO. However, the KATO has a more natural vocal timbre, with the Lyndale leaning on the cold side.
Treble on the KATO shines in comparison with the Lyndale. Both have a smooth treble extension and articulate highs but the KATO has an extended shimmer that is unfortunately missed in the Lyndale.
Soundstage and imaging on both IEMs are above average with their spacious presentation. However, KATO has a wider soundstage, perhaps because of its better treble tuning, projecting more airy and well-extended highs. Imaging of both monitors is well projected, with the instruments and vocals having above-average layering.
7Hz Timeless
$219.99
Technical
7Hz timeless has a magnetic planar driver with an ultra-thin diaphragm and a gigantic 14.2mm Planar driver. The Lyndale has a different configuration withs its hybrid 2 driver configuration (1DD + 1BA).
Design
Timeless has a unique design, probably because of its enormous 14.2mm planar driver. Its black metallic shell has a disc shape with a texture faceplate that looks like either a watch face or a spaceship pulled out of space.
The Lyndale has a similar black color but with a different shape and make. Its shell is made up of a glossy black acrylic smooth housing with an ergonomic-like shape similar to a custom in-ear monitor.
The two monitors are different in their terminations. The Timeless has an MMCX termination with a 2.5mm/4.4mm balanced termination or 3.5 SE option while the Lyndale has a 2-pin 0.78 termination with a 3.5mm straight plug termination.
Performance
The bass on both IEMs is deep and tight. Both monitors can handle fast bass tracks without a problem. Although, the Lyndale has a fuller and warmer bass response, a particular advantage of dynamic drivers.
The Timeless however has a more recessed midrange region. Lyndale's midrange presentation is more forward and has a warmer presentation. Instruments have a thicker texture in the Lyndale than in the Timeless, which I think is due to Lyndale's dynamic driver tuning.
Even though Lyndale has a hybrid configuration, its treble tuning is recessed compared to the Timeless. Timeless outshined the Lyndale with its extended shimmer and sparkle in the higher frequencies. In certain tracks, cymbal hits are noticeably present which are inaudible with the Lyndale.
The soundstage on the Timeless is wider than the Lyndale. Although the Lyndale never felt cramped, the Timeless just has more width and depth, making it more spacious than the Lyndale. Staging is impressive for both monitors. Vocal layering was presented well with the sound projected with multi-directional replication.
Fearless Shangri-la
$228
Technical
The Shangri-la has a hybrid design with a 5-driver configuration (1DD + 4BA). The Lyndale has a similar hybrid design with a 2-driver configuration (1DD + 1BA).
Design
The Shangri-la comes in refreshing colors of glittery light blue and yellow/green, with a Christmas feel. The Lyndale has a completely different style with its plain black acrylic shell and gold embossed logo.
Both monitors' shape is on the more traditional ergonomic design with their light resin shell. A 2-pin 0.78 termination with a 3.5mm straight plug termination can also be found on both monitors.
In terms of fit, both monitors are very similar, leaving me with no preference for one above the other.
Performance
Since the Shangri-la is tuned to be a balanced monitor, its bass response is on the shy side. Lyndale's bass response is more emphasized and impactful than the Shangri-las. A deeper and meatier rumble can be heard in the Lyndale, especially in bass-heavy tracks.
The midrange on both monitors was mostly even, with no noticeable difference between the lower and upper midrange regions. The Shangri-la however has lusher and more articulate vocals to its advantageous 4 BA driver configuration.
The highs on the Shangri-la are significantly emphasized more than the Lyndale. Shangri-la has more articulate highs, which are nowhere to be found in the Lyndale. While both monitors have good treble extension and control, the Lyndale is tuned to be more highs conservative, perhaps too conservative.
The soundstage feels more spacious with the Shangri-la than the Lyndale, although both are spacious and impressive at their respective price points. Imaging and Vocal layering are also similar with both IEMs.
Our Verdict
With Ambient Dynamics' first attempt competing in the $200 market, it is a tough sell with its plain black design and unique tuning. There are just far more IEMs that are eye-catching, housed with a familiar tuning, that look more appealing in the market.
However, the Lyndale can leverage its unique tuning. With its emphasis on the instrument presentation, especially with the drums, it would be perfect for someone who wants more emphasis on the instrumentals with a warm and relaxed tuning.
Ambient Dynamics AD-006 "Lyndale" Specifications
Earphone type: In-Ear Monitors
Dynamic driver: 10mm PU+TI composite diaphragm dynamic driver
Balanced Armature driver: E-audio 29689-000
Frequency response: 20Hz-20kHz
Sensitivity: 109dB@1kHz
Nominal impedance: 12Ω@1kHz
Cable: 8-core oxygen-free copper Litz wire
Earphone connector: 0.78mm 2-pin
Plug: 3.5mm TRS straight plug