In this post, we review the Periodic Audio Carbon V3 which is a 3rd gen single dynamic driver universal IEM with a lab-grown diamond layer. It is priced at $299.
Disclaimer: This sample was sent in exchange for our honest opinion. Headfonics is an independent website that does not have any affiliate links. We thank Periodic Audio for this opportunity.
You can click here to learn more about previous Periodic Audio products highlighted on Headfonics.
Note, that this article follows our latest scoring guidelines which you can read here.
Periodic Audio Carbon V3
The Periodic Audio Carbon is an IEM for people looking for a flatter signature that doesn't compromise with its bass response. The form factor is perfect as a daily driver, with of course retaining a retro-modern look.
Pros
Natural sounding mids
Generous bass in both quality and quantity
Cons
Intimate soundstage
Microphonics on the cable
Last but not least, it's time for Periodic Audio's Family Jewel, the Carbon V3.
We are no strangers to Periodic Audio, so if you want to know more about the brand, check out our previous reviews of their lineup.
Consistent with its line-up, Periodic Audio carries the elemental theme in naming its product. At $299 SRP, $50 more than its brother Beryllium, it has some very unique material mix consistent with how Dan and the team like to pitch their drivers.
This is the fourth and final installment of a 4-part series of reviews on Periodic Audio's newly designed generation 3 monitors that also includes the Magnesium V3 and Titanium V3.
Tech Highlights
The C or Carbon IEM has a lab-gown diamond layer (8 microns) on a proprietary high-temperature polymer substrate. All components inside the Carbon were 100% designed and tooled-in house, resulting in a unique product.
Periodic Audio claims that the sonic signature of the Carbon IEM is a mixture of the Ti and Be, having an enhanced bass response of Ti but with the high-end extension of Be.
Due to its stiffness properties, the diaphragm moves evenly with no lag across the surface. Bending is at its minimal and distortion is better than any metal, while being lighter than most metals.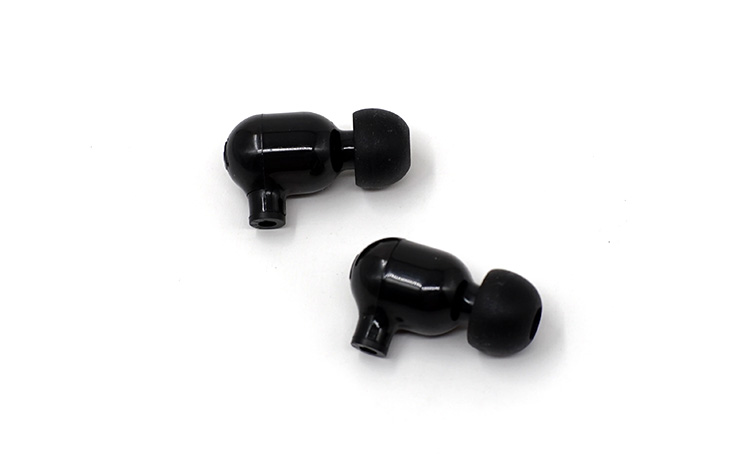 Design
Similar to the Magnesium V3, Titanium V3, and Beryllium V3, the Carbon is designed with a familiar bullet-type case. However, if you're aware of the older generation models, well you're in for a shock.
The V3 models now have a rounder appearance and yes, detachable cables. The shell is re-engineered with a special Tritan blend called a Tritan copolyester. This blend specifically enabled a much lower resonance of 4db.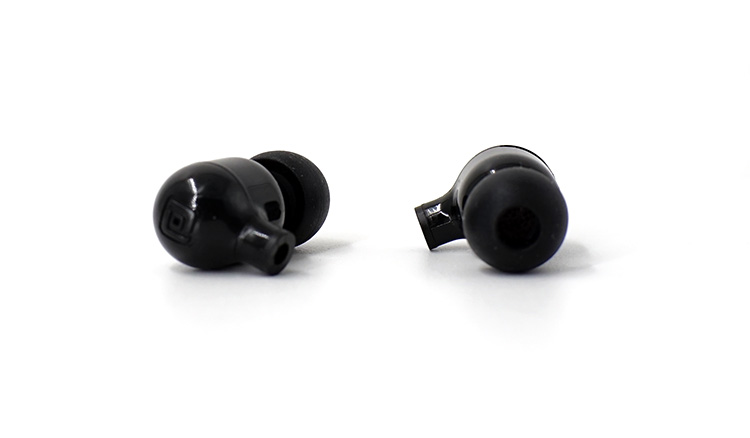 Comfort & Isolation
Since the shape and shell are identical to the other Periodic Audio line-up, the Carbon is consistently light. There is no noticeable difference with its siblings – being comfortable and seamless, as if not wearing anything.
Even with long periods, they do feel comfortable. They don't easily fall out, even while wearing them without ear hooks.
The stock silicon tips are pretty average. Outside noise was drowned out well without creating any pressure. Although outside noise tends to sneak in from time to time.
Tips
Periodic Audio included 3 sets of tips – silicon dual flange, single bore, and foam tips. In terms of isolation, the foam tips are the best for drowning out outside noise.
Although the dual flanges give a good seal, I found it to be a bit intrusive and uncomfortable in the long run. I keep mine with the single bore tips as I found it to be the most comfortable out of the three.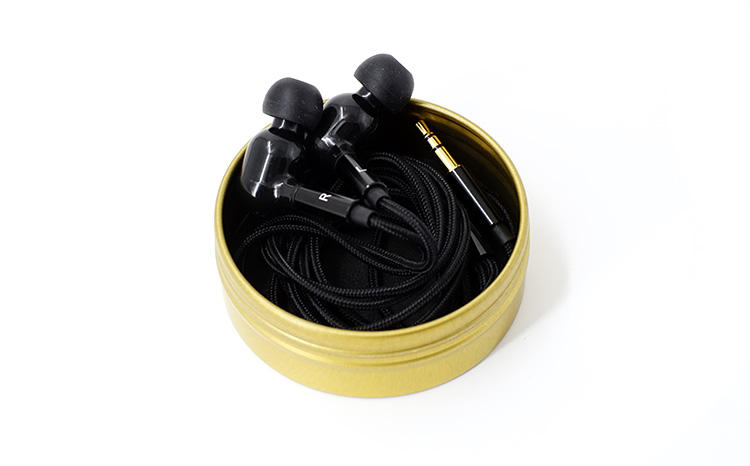 Stock Cable
Periodic Audio deviates from the common MMCX and 2-pin 0.78mm termination. Instead, they use an in-house IDEEL connector, which is claimed to be more robust.
A commonly used 2.5mm TS plug is connected to the tiny monitors, which I find to be genius by the way. It makes it easy to remove and insert cables, similar to plugging a 3.5mm SE into your phone or dongle.
Because of the unique connector, the stock cable is also unique. It is 1.2 meters long with its 3.5mm TRS to dual 2.5mm TS jack. Visibly, the wire is also thin and light.
One gripe I have about this cable is its excessive microphonics. The cable is insulated with a woven fabric, which is known to have bad microphonics.
The only way to reduce the noise is to wear the IEMs over your ears with the silicone guide or to use the chin-slider.
Packaging & Accessories
The Carbon V3 comes in a relatively small box. It is compact and minimal, with a straightforward unboxing experience. Inside the box, you can immediately see the monitor along with a compact gold metal protective travel case.
Despite its plain packaging, the accessories included are quite generous. The package includes a 1.2m cable, a gold-plated ¼" TRS Adapter Jack, a gold-plated dual mono airplane adapter, and a silicone wire guide.
The 3 tips are enclosed in a small plastic bag and include single flange tips (S, M, L), dual flange tips (S, M, L), and memory foam tips (S, M, L).
Sound Impressions
Bass
What I generally like about Periodic Audio's lineup is how organic the bass sounds. It goes deep and low, something a BA driver finds very difficult to produce. The Carbon stays true to its tight and fast bass.
Sub-bass has a good rumble to it, pleasantly impactful. It is indeed powerful with a good sense of control that isolates the upper frequency. Mid-bass also has a good texture to it, making the bass response round and full.
On top of that, there is little to no bloom in the upper frequencies. The bass is very clean, just the right amount to give the monitor a holistic characteristic. Just how music should be enjoyed!
Mids
The midrange takes a slight dip. It does not fall steeply below to create a deep V however, leaving a feeling of a recessed midrange presentation.
The midrange on the Carbon V3 sounds full and well-textured. I would not say the timbre is rich as other monitors have thicker timbre.
Instruments such as trumpets and flutes lack the richness to be heard in entirety. However, it sounds natural and good enough to have a full-bodied vocal. They are not too articulate either, but just enough for casual listening.
Treble
The treble takes the back seat on this monitor. It does sound rolled off leaving the Carbon sounding a bit dark at times. There is not much air in nor sparkle in the upper frequencies. This makes it sound a bit dry and stale, without the sparkle of an airy top.
In spite of that, cymbal crashes and guitar strums still feel alive. Although, sounds smooth and rounded-off, instead of the natural sharp but pleasant presentation when heard live.
The treble tuning would suit people who are sensitive to treble upticks.
Staging
Soundstage is the primary weakness of Periodic Audio, although not totally a deal breaker. Yes, it does feel narrow compared to other competing monitors.
However, an intimate soundstage tends to be pleasant at times, especially if the monitor is tuned well.
The Carbon is exactly like that. It does lack width and height but these are enjoyable monitors with their natural sound presentation. The soundstage is nowhere holographic, but it does have decent imaging.
Synergy
Efficiency
The Carbon V3 is very easy to drive. With a low impedance of 32Ω and sensitivity of 96dB SPL, it can be easily driven by a standard smartphone.
These are pretty easy to power up, just plug in with the dongle of your choice and you're good to go with this lightweight setup.
Do note that the Carbon V3 does scale when used with a dedicated audio player. It's easy to feel the difference when playing the Carbon V3 with either the Hidizs AP80 Pro-X or HiBy R3 Pro. It enhances the soundstage and clarity of the monitor.
Pairings
For a relatively flat monitor with a bass lift, this monitor is pretty easy to pair. Just accentuate the frequency that you like the most then you would be okay.
Depending on your taste, a Hidizs AP80 Pro-X or HiBy R3 Pro would be a good pairing for this monitor.
For a fuller midrange and beefy lows, the Hidizs AP80 Pro-X would do the job easily. It gives more heft with the midrange, with a slight boost in the sub-bass region.
The HiBy R3 Pro will do better in extending the Carbon V3's higher frequency performance, which would be a good combination with this monitor since it's a bit on the dark side.
Select Comparisons
Periodic Audio Beryllium V3
$250
Technical
The Periodic Audio Beryllium V3 and Carbon V3 both have a single dynamic driver. The difference is the material of their diaphragm. The Carbon V3 has a carbon diaphragm material while the Beryllium V3 has a beryllium diaphragm material.
Design
In terms of design, these 2 monitors are identical to each other, but with a gold-colored emblem compared to Carbon V3's black (which is the color of carbon).
Both have the same shell material and shell design – a black bullet-type IEM. Same with the Beryllium V3, the Carbon V3 has a 2.5mm termination with a 3.5mm straight plug termination.
Performance
Overall, these are 2 very similar monitors. The main difference is the amplitude of both the lows and highs. To put it simply, Carbon is a flatter version of Beryllium.
To further expound on that statement, the bass of the Beryllium is more impactful than the Carbon. Both go deep and low, with a good texture and body. However, the Beryllium has plenty amount, whereas the Carbon reduces a little.
The Beryllium has a more impactful treble than the Carbon. It shows in so many ways. For one, the cymbal crashes are sharper and more natural. The airy top is felt in the Beryllium wherein the Carbon does not.
The midrange, soundstage, and imaging of both monitors are very similar. They have very similar qualities. I cannot say which is better than the other.
Tin HiFi P2
$369
Technical
The Tin HiFi P2 is equipped with a planar magnetic driver. The Carbon V3 on the other hand is composed of a single dynamic driver with a Carbon diaphragm.
Design
The TIN HiFi P2 is enclosed in a satin-finished stainless-steel chassis which encloses a large 12mm planar magnetic driver.
The P2 has an ear-hook design, with a universal 0.78mm 2-pin termination, while the Carbon V3 has a bullet design, with Periodic Audio's IDEEL 2.5mm termination.
The P2 is more versatile with its offerings – a 2.5mm plug with 2 adaptors – a female 2.5mm to 3.5mm male single-ended connection and a female 2.5mm to 4.4mm male balanced connection, making it flexible to use across different players.
Unfortunately, the Periodic Audio standard is only a 3.5mm SE termination.
Performance
It is expected that both monitors differ primarily based on the difference in their drivers inside. The P2 has a planar driver while the Carbon has a dynamic driver.
From that information alone, it is expected that the Carbon has a thicker and more natural bass compared to the P2.
The truth couldn't be any different. P2 has a rather flat bass, with very minimal impact, unlike the Carbon that goes all out rumble for every beat.
The midrange of the P2 is very typical for planar drivers – articulate but sounds artificial and cold. The Carbon sounds a lot more natural, very authentic, and close to home.
The main advantage of the P2 is how clinical and analytic it is. P2 reveals minute details with ease where the Carbon struggles to express.
The treble of the two is also very different with the P2 getting way brighter than the Carbon. Carbon does feel a tad too dark and when contrasted with the bright P2, both have a night and day difference.
Soundstage and imaging are significantly better on the P2. The Carbon V3 is definitely more narrow than the P2.
The P2 is a power-hungry IEM. It needs a dedicated DAP or DAC to properly power it. The Carbon V3 is easier on the pocket, no fancy DAP or DAC is needed.
Softears Volume
$299
Technical
While the Volume has a hybrid configuration with a 10mm dynamic driver and 2 balanced armature configuration, whereas the Carbon V3 has a single dynamic driver inside.
Design
The Volume has a completely different look with its green-colored ergonomic shell made of metal and medical-grade resin. It was tastefully made, giving a sense of elegance and refinement, despite the unusual green color.
The Carbon V3 has a plasticky bullet design, with Periodic Audio's IDEEL 2.5mm termination and 3.5mm SE jack while the Volume has a more common 2-pin 0.78mm -3.5mm termination.
Performance
Both monitors have a good amount of bass. In this department, the Carbon V3 delivers better bass. Better meaning – faster, deeper, and fuller.
However, the Volume has a more transparent and clearer midrange. The Carbon V3 sounds veiled when compared to the Volume.
The Volume is articulate while the Carbon is not. Although, between the 2, the Carbon V3 delivers a more natural-sounding midrange. The Volume is analytical but carries the typical coldness in timbre. Carbon has more warmth which tends to sound more organic.
The soundstage between the two also differs a lot, with the Volume being wider. Height and depth are similar with negligent differences. The Volume also has more accurate imaging, with a more 3D effect than the Carbon.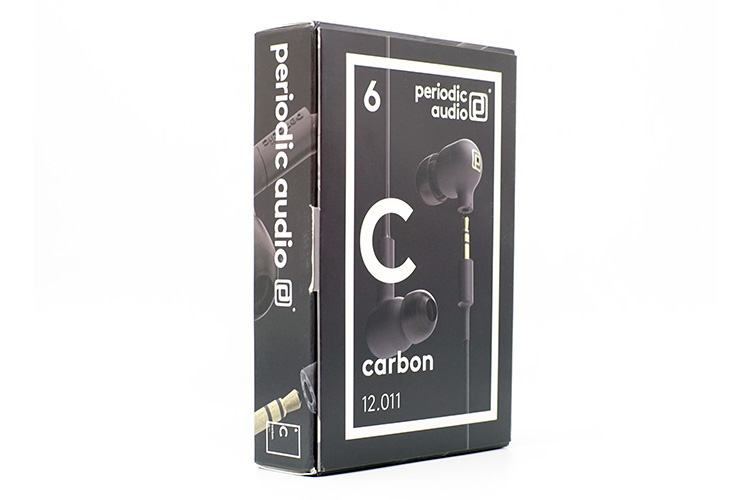 Our Verdict
The Carbon is the fourth and final IEM to be reviewed in Periodic Audio's recent refresh of their models. They stay true to their tuning, with a very minimal difference from the original version. These are definitely a step up in terms of both aesthetics and material.
What I like about the Periodic Audio IEMs is that they all sound very natural. Even though they are not as analytical and articulate compared to other monitors in their respective price ranges, music is felt with every minute you listen to them. This stays true for all V3 models.
The Periodic Audio Carbon is an IEM for people looking for a flatter signature that doesn't compromise with its bass response. The form factor is perfect as a daily driver, with of course retaining a retro-modern look.
Periodic Audio Carbon V3 Technical Specifications
Frequency Response 12 Hz to 38 kHz
Impedance 32 Ohms nominal
Sensitivity 98 dB SPL at 1mW in ear
Power Handling 200 mW continuous
Peak SPL 121 dB
THD: Less than 0.2% THD at 1mW