Genres: Symphonic Metal / Gothic Rock / Neoclassical Dark Wave
Members: Yue – Drums, Iah – Guitar, Sin – Bass, Selene – Keys, Ishtar – Vocals
Album Release date: August 6th 2011
Publishing Label: Inner Circle Productions
Country: Philippines
Composed & Arranged by Selina Moon
Mix & mastering: Macoy Manuel
During the last five years or so the rise of symphonic metal, particularly those with female lead vocals has seen a stratospheric rise in popularity. You have bands like Nightwish, Within Temptation, Evanescence trailblazing a path to allow lesser bands to steal some of the credit if not the same amount of radio airtime or chart success. Certainly the genre has matured greatly over the last 10 years or so. However when I analyzed this a little closer I noticed not too many of the better ones have come from the usual hot-spots of the UK or the US. Instead they hail from the likes of Holland, Finland & Sweden to name but a few. It seems our northern cousins have this genre licked!
So I didn't really expect to find something similar on the local level but yet again the majors, (tsk, tsk asleep again!), have missed a gem of a band that refuses to follow the tried and tested indie rock route, instead nailing their color firmly to the mast of all things symphonic metal.
The band I am talking about is of course Ode To LaLuna.
These guys have been rocking for a while now but it's only last month they put together their album and it seems the work has paid off. It would be scary what they could do if they had a full symphonic orchestra backing them. One only has to go back to when Cradle of Filth made the big step up in 2003 with the Sony backing and produced Damnation and a Day in 2003 to remember what they were capable of given the right backing. In the same sense, though stylistically different, Ode to LaLuna remind me of a Gothic version of the Filth circa 2003; lying in wait showing real glimpses of potential and craft in their debut album release – Moonbreak.
Ode To LaLuna of course don't sound too much like the Filth, which would be some feat but what we do have is a prime slice of some great atmospheric Gothic and neoclassical work which grows on you big time. For those with a longer memory I would say there is even a hint of Depeche Mode at their darker rockier stage of their long careers. Selina Moon, the keyboardist and arranger for the band pretty much knows what direction this band is going in. The guitar work is heavy and impressive though never straying away from the core intricate melodies and in doing so the band sound tight and professional – playing with a purpose and passion.
The album itself is sung in a mix of English and Tagalog in equal confident measures throughout its 13 track long playlist with each one overloaded on tones of atmosphere and some canny switches now and then to a more organic and intimate acoustic vocal phrases and tracks.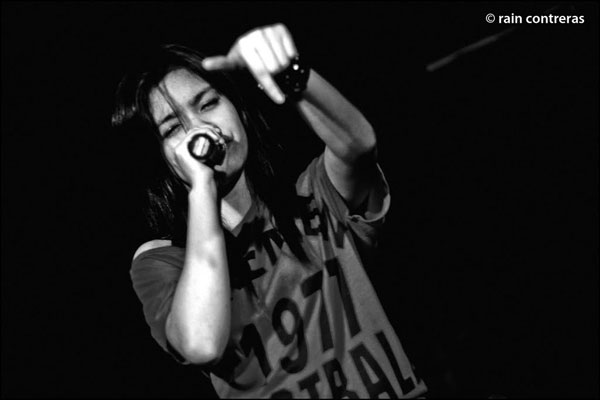 The vocals remind me more of Anette Olzon than say Sharon den Adel, less operatic, more rock but with great presence and a sense of the dramatic. Ishtar's presence and range is strong without being pitchy or resorting to shouting and given the desired scale of the sound of this album in terms of atmosphere and tone the vocals needed to be. Credit must got to Selina and Macoy for the excellent arrangements and mixing to ensure each instrument is given enough room to breathe. In someways it reminds me of a heavy more guitar laden Sisters of Mercy circa Floodlands (1988) with the driving beat and choir like background vocals.
One great example of the power of Filipino musicality is Angel, the second to last track. After 11 tracks of pounding Gothic rock with huge hooks and riffs, Angel really demonstrates another side which may have got lost if everything else was similar. The light splash of Spanish guitar is a great touch leading into some fantastic solo work. It's one of the more commercial songs but at the same time you can tell a lot of work and thought was put into this track and it really benefits. I actually think this could be a great album closer. Look again at the lead intro of track number 6, Haunt with more beautiful acoustic and piano work intro that keeps building and building. When the band hits the melody everything seems to just gel perfectly.
Those searching on you tube will find also the lead carrier single, Bloodrain which is track number 8 on the album. Excellent driving rhythm which doesn't let up from start to finish, it is unashamedly big and bombastic and everything just soars right until the last few taps of the piano.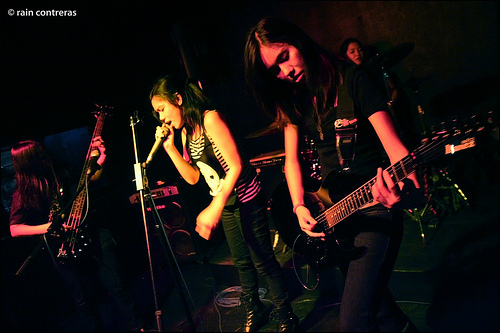 And the strings and drums they never let up; some great pounding rhythm in many of the tracks with Kadiliman perhaps being one of my favorites showing off the rock side of the band both in bass and guitar after another big Gothic style opening.
The one constant through each song is the intricate arrangements put together. I really have to take my hat off to the band for this. Money or not you cant take the craftsmanship away and these guys have a sense for the dramatic without ever sounding over the top. Selina's mastery of the keyboard is just excellent in this respect, whether setting the tone or slowing or speeding up the work, it is a big driver in how the album flows and how it is steered. As a fellow pianist I can appreciate that big time.
So where do they go from here? As Iah stated on the inside of the cover " The best foundation of music will always be passion and heart". Never a truer word said. Once again majors you might want to wake up and take a second look at what you are missing on the local scene. Not everyone wants to the latest rendition of The Eraserheads. Some people really dig their metal and a lot of people are going to dig Ode to LaLuna. If you like your metal chock full of atmosphere and driving guitars, if you enjoy a strong dose of big hooks then you need to listen to this. There is some real potential in this album.
If you want to find out more about the band or buy the album you can visit them on http://www.facebook.com/odetolaluna and drop the guys a message – they always reply!