The Musical Fidelity MF-200 is a closed-back portable dynamic driver headphone with an audiophile tuning and a comfortable design. It is priced at £229.
Disclaimer: The Musical Fidelity MF-200 sent to us is a sample in exchange for our honest opinion. We thank the team at Musical Fidelity for giving us this opportunity.
You can read up on our previous Musical Fidelity reviews on Headfonics here.
Note, this review follows our new scoring guidelines for 2020 which you can read up on here.
Musical Fidelity has a strong and well-respected name within the high-end audio scene. Recently they have been pushing into the portable hifi market and their first entries, both in-ear designs, and headphones were well received.
I did miss reviewing the predecessor or smaller brother MF-100, so I will dive right into their newest headphone. Meet the gorgeous MF-200.
Packaging
The MF-200 comes in a sleek white box. Logo, product name, and the tag "superior performance headphones" are printed in shiny silver on the cover next to a side view of the headphones themselves.
The backside has a short introduction and lists the accessories in the box. Of course, you will find the usual claims like "very high quality" or "natural sound", but there's actually one feature that I find most interesting: "Musical Fidelity designed neodymium drive units."
I was wondering if this pair might be an OEM product but also the print "Designed in England/ Made in China" suggests otherwise. In the box, you will find the pair of headphones, a 6,3mm adapter, and a soft carrying pouch.
Build Quality
The headphone market continues to grow rapidly. The competition is tough and most consumers rely on their first impressions when buying a new headphone.
Many brands have noticed that an appealing design and a high build quality is necessary aside of good sound quality. This is exactly where the MF-200 shines. I am not sure where to start, really. The metal build, real leather materials, aluminum cups, or the tangle-free cable? I will let the pictures speak for themselves mostly.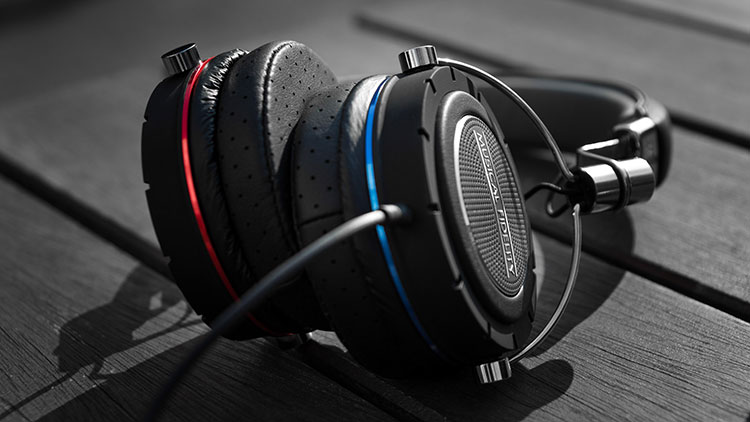 It took me four days until I noticed the ring around the MF-200 aluminum cups is made from real leather. It's these kinds of detail that I really appreciate. The cable is worth more than a single paragraph, but I want to keep it short.
It feels really sturdy, falls flat, and has no microphonics! It is a few cms too long for my taste, however, it comes with an attached cable wrapper made from rubber so you can trim the length to whatever suits you best. I have not found a single material or production flaw with my unit.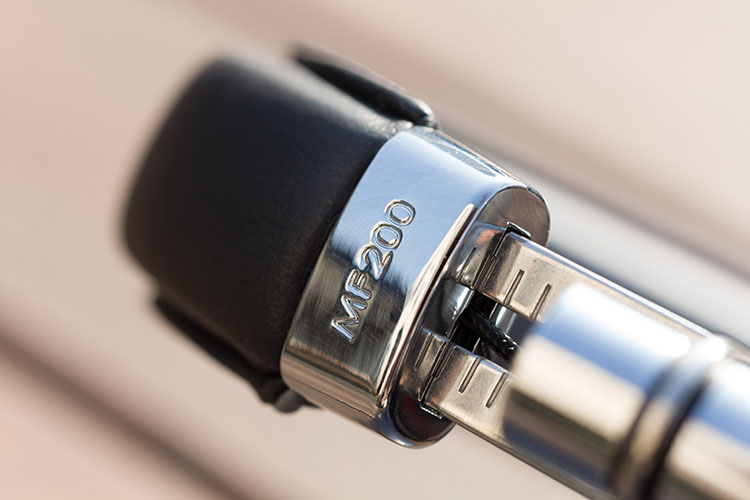 The MF-200 On-Ear Design
Musical Fidelity opted for an on-ear design on the MF-200, meaning that the earpads press on the ear instead of surrounding it completely; the advantage being a smaller and more portable design at the cost of less comfort in most cases.
The market offers a lot more over-ears but personally I don't feel comfortable wearing a full-sized headphone out in the open as it attracts too much attention. If in-ear systems are not an option (because of hygienic or security concerns), on-ear designs are a favorable option.
Comfort will largely depend on the shape of your ears and how strong the pressure is. In my case, I had no problems wearing the headphones for three hours. After that, I wanted to take them off.
The time was reduced by an hour when wearing glasses. I did need a few days to find the optimal balance between comfort and sound, but in the end, it was worth it.
Ear Pads
As expected, the MF-200 pads fit better after extended use. I opted for the leather pads although I think the velours have an audible advantage and smoother midrange. However, the feeling of leather on my ears is quite nice. Overall comfort is still below that of Fidelio M, P5, or H2.
On-ears do have another advantage over full-size cans: ears don't heat up as quickly and this definitely holds true for the MF-200 as well. Isolation in and out is not optimal but good enough for portable use.
The MF-200 passive isolation allows me to clearly understand announcements about incoming trains. If you are planning a purchase for a flight, there will be better options but they will do perfectly fine in the lobby of a hotel or a café in the streets.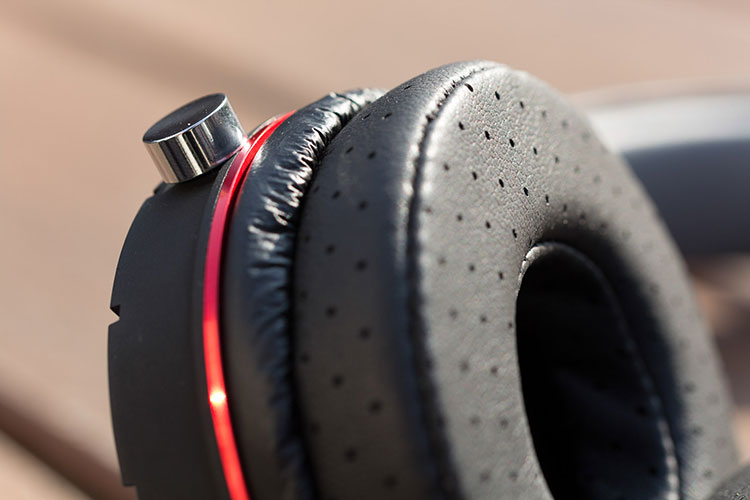 MF-200 Sound Quality
So the MF-200 look great and are built well, but is the sound quality just as good as the appearance suggests?
Headphone sound signatures are very diverse, which is a good thing and keeps our hobby alive. However, the market suggests that masses prefer a heavily pronounced bass and a warm sound signature.
There is a strong trend to go for recessed highs and laid-back sound reproduction these days. I blame the volume efficient mastering of today's music that prioritizes high volume with little dynamics so that smartphones and small Bluetooth speakers can deliver enough output. Luckily Musical Fidelity does not care for trends and follows its own ideal of a good sound.
To be honest, I needed some time to get used to the MF-200 and its very fresh and energetic sound, but this was mostly due to the ear pads that needed some adjustments.
Compared to Sony MDR-1A, Bose AE, Beats Studio, Philips Fidelio, Sennheiser Momentum, or almost any other mainstream headphone, the Musical Fidelity MF200 might come off as bright at first. However, this really isn't the case.
Treble energy is there, as is a bass kick, and voices remain upfront; all areas are balanced out well which suggests a neutral tuning, but the MF-200 is also quite characteristic.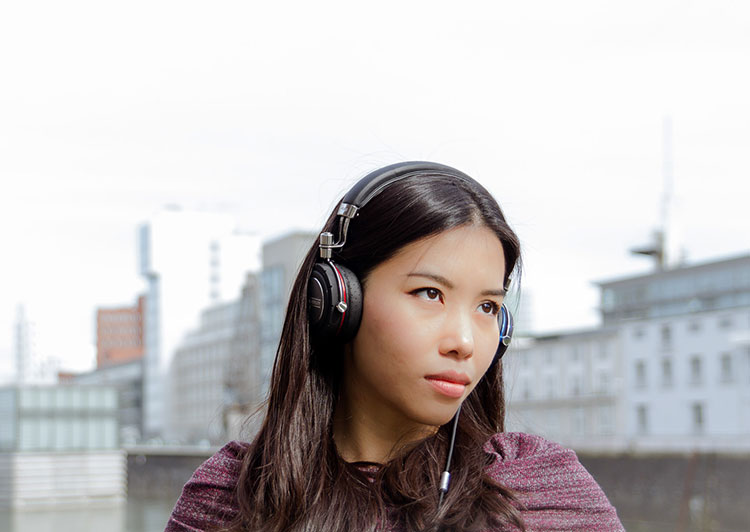 Bass
The MF-200 bass has a kick and it goes low, but it's not always present and it fails to deliver the rumble, pressure, punch, or slam on the level as the aforementioned headphones do.
The bass itself can feel lightweight at times, but all the information like texture and details of pulling strings on the bass guitar are there and easily retrievable. The quickness is exceptional but can blur lightly if the amplification is not up to the task.
I believe the harmonics of bass instruments are more present than the undertones, also giving mids a lot of air to breathe.
Vocals and Treble
MF-200 vocals are forward and fresh with good separation. However, do not expect romantically soft, voluminous, and lush mids. The details are amazing; depending on the record they can be a bit edgy, though.
This is apparent with modern records that have little dynamic range and push the volume too high. The upper mids/ lower treble has a pronunciation that retrieves a lot of information, gives an airy sound, but can also cause fatigue when used extensively.
The upper treble is very well extended, tight, and detailed. There are no issues with sibilance which is very fortunate. I really like the highs a lot!
Timbre
The pronunciation of harmonics has some positive effects, like higher resolution, airy soundstage with good separation, and the avoidance of any triggering of claustrophobia. The most apparent downside is timbre, however.
Some tones can lack weight and have a small tendency to sound hollow or tinny. The effect varies with the ear pads (it's less noticeable with the included velours) and tightness of fit. I personally have a narrow head and the pressure isn't as strong on my head.
When I increase the pressure, the mid frequencies iron out a bit, although the 3-4 kHz area is still a little wonky. Just a very simple intervention with an equalizer made a big difference.
Scalability
For most of this test, I used the MF-200 with an iPhone 6 Plus. It gets loud enough although with some Classical records I reached the limit (EU device). Most of the time I was in the 60-75% range.
The iPhone has a lush and intimate signature. It paired very well with the MF200. Additionally, iOS has many apps that provide an EQ for the small tweak I recommended earlier.
The Calyx M improved that even further with tighter bass and clearer highs. With HD music I could hardly notice the 3,5 kHz peak. This is a really great combo for Jazz and Classical! Or any well-mastered recording for that matter.
The FiiO X3 would pull away from that and have the music sound a bit too clinical for my taste.
As expected, the Chord Hugo did wonders for the already great soundstage. I got lost many times listening to old records that have rarely felt so alive.
All in all, the MF-200 scales very well and can portray the characteristics of the source format and amplification. That is a very good feat!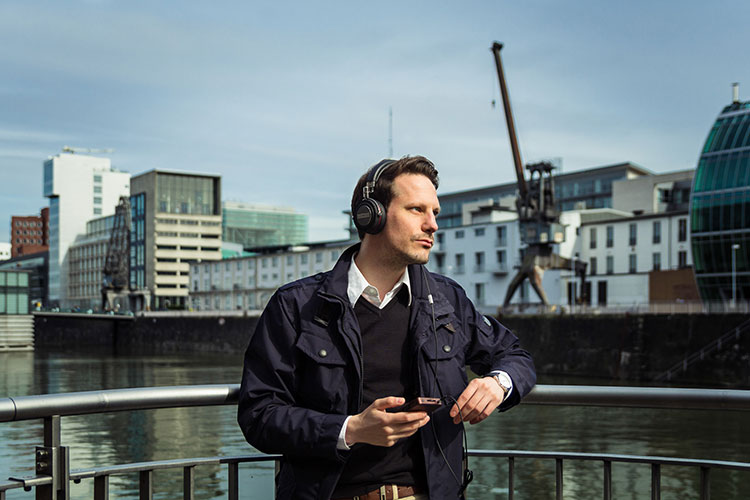 Microphone
Finally, I have to mention that these headphones are actually a headset. The built-in mic has very high quality. In fact, the best I've experienced yet.
It might just be a gimmick to some, but I noticed that I'd go through the extra effort to grab and plug in the headphones before I make a phone call from at home. My girlfriend said she could understand me very clearly, better than if I use the iPhone.
Voices come through very well and the fact that the cable has no microphonics, the headset function of the MF-200 is more than just a bonus.
Our Verdict
For one, I just really like how the MF-200 looks. It's a humble and unique design with exquisite details and a phenomenal finish. Headphones shouldn't be about fashion, but it really doesn't hurt if they look and feel great.
Secondly, I appreciate that Musical Fidelity decided not to throw another warm and smooth headphone on the market. It's hard to keep up already and fresh and energetic sound signatures have become rare.
In my opinion, the MF-200 excels with Classical and Jazz music in a silent environment. Resolution and separation absolutely justify the price tag. Though I do think the MF-200's lower treble can be a bit edgy and the bass lacks rumble with Pop and Rock.
There are too many smartphones to generalize, but the iPhone 6 proved to be a good source and match already. I am sure there will be many options for Android too; especially if you want to make use of the headset.
MF-200 Technical Specifications
General
Impedance: 64ohm +/-10%
Sensitivity: 99dB +/-3dB
Max. Input Power: 30mW
Rated Power: 10mW
Frequency Range: 20Hz ~ 20KHz
Cable Length: 1.3m +/-5%
Driver Dimension: 41mm Dynamic Type
Plug Type: 3.5mm 4Pole Jack
Microphone Details
Mic. Size: 4mm Dynamic Type
Impedance: 2.2k ohm
Sensitivity: -40+/-3dB
Frequency Range: 50Hz ~ 2KHz