The Lime Ears Model X is a new quad-balanced armature custom monitor with a custom enhanced bass switch for two unique sound signatures. The retail price starts at €890.
Disclaimer: The Lime Ears Model X sent to us is a custom sample in exchange for our honest opinion. We thank the team at Lime Ears for giving us this opportunity.
To read more about Lime Ears products reviewed on Headfonics click here.
Note, this review follows our new scoring guidelines for 2020 which you can read up on here.
Lime Ears is a new name to Headfonics though a lot of us here are well aware of their products and the recent success of their excellent Aether.
Owned and managed by Emil Stołecki, they hail out of Poland and have been in business for 5 years. They have 4 product lines currently and all are very competitively priced for custom monitors.
I actually totally missed Emil at his stand in CanJam Singapore earlier in the year. He has this tendency to be very active on the floor with attendees, so I never got to bump into him for a chat, even when I was testing what was then called the Project X.
That being said we kept in good contact since then and just last month he approached me again with the final version of the Project X, now called officially, Model X.
Priced at 890 EUR SRP and packing some brand new tech it is something I had to take a listen to and find out what the buzz is all about with Lime Ears customs.
What Is The Pitch?
Product Position
The Lime Ears Model X is a quad balanced armature custom monitor design. Its pricing point is best described as mid-range for a CIEM. The 5 BA Aether is still considered the flagship of the range at just over one thousand euros, however, the Model X comes with new technology that the Aether does not have.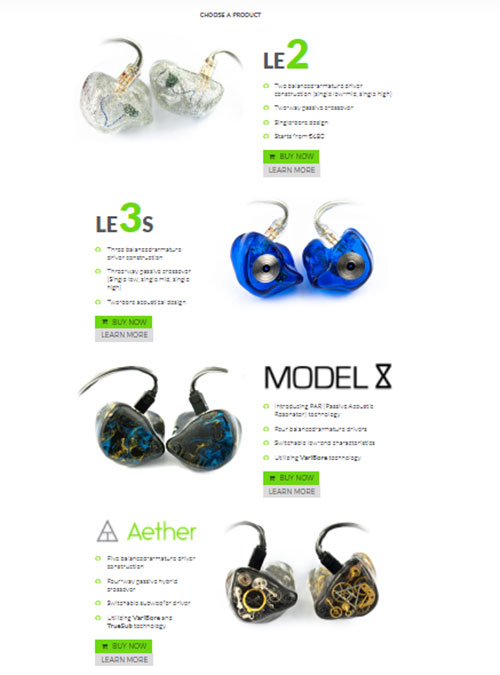 Passive Acoustic Resonator
The big pitch with the Model X is to offer something powerful sounding and at the same time retain an excellent focus on clarity and control. Part of that vision includes the introduction of PAR (Passive Acoustic Resonator) technology.
One of the things I noted with Emil was his acoustics designer background. I know a few guys who spend a lot of time working with speaker clients on treating rooms to sound the way they want it. PAR is just such an approach miniaturized to the internals of the Model X shell.
Basically, PAR is the process by which Lime Ears shape and tune their sound bores to ensure that the resulting audio response from the drivers is as "correct" as possible. Reflections and resonance control is at the heart of design in much the same way acoustical treatment of a room controls how sound bounces and reflects.
VariBore
Although not a new technology, VariBore technology Lime Ears first used on their flagship Aether is also used on the Model X. Again, this stems from Emil's acoustical designer background. The pitch with VariBore is variable bore sizing for groups of BA or frequencies delivery. Each bore has a different width, so you have 1mm for the low end, 2mm for the mid and high end.
Think of it like tips with different stem lengths and openings. The wider the opening the better the upper-frequency response due to lower levels of friction and bad resonance. The tighter the opening the better the low-end presence.
Switchable Sound
The concept of a switchable sound is nothing new to me. I have encountered switching sounds of various complexity from M-Fidelity, Lear, and Vision Ears. However, I am always interested to hear a company's switch tuning. Some are more impressive than others. I hate the Roxanne bass tuning but I loved the VE6 XControl version which was more subtle.
Lime Ears pitch their switches as observing the Fletcher-Munson Law (FML). In layman terms, this basically means a refinement of how loud one frequency is compared to another in mathematical terms so that the listener perceives the sound to be balanced rather than skewed to one frequency being louder than another.
Lime Ears switch focuses on shaping the low-end response in accordance to the FML. In their Model X notes, they state specifically the sub-bass to lower midrange of just under 800Hz by up to 8dB.
In doing so the Model X is pitched as having a flexible but balanced sound to either ramp up the low-end response or further refine the mid-to-high focus depending on your preferences.
Buying your Lime Ears Model X
New Store
Everyone seems to be launching far better online customization stores these days and Lime Ears are no different with their new online tool launched in March 2017. Though stylistically different the Lime Ears stores offer much the same in terms of options and ability to customize your Model X as Custom Art and Vision Ears.
Personally, I let Emil fire away with the final design, I had one picked out which he themed then. I know he loves green, so it was no surprise green was a factor in the final product.
Process
For most everyone though the process begins with accessing the store which will take you right through all the options including accessories and cables as well as rush order options. You will also have a handy price accumulator, so you can see how much everything will costs as you go along.
As with Custom Art, I prefer Lime Ears rendering in their shop process to 64 Audio as the pictures are more lifelike. Using the store is really nice and easy with plenty of design features. You can customize each individual earpiece (left or right) in terms of shell and faceplate. You can also put your own custom artwork and text onto your creation.
Options
The options are endless and very interesting in terms of the potential combinations you can get with the Model X using the online store.
Shells
For the main shell, you have 3 headline options and for each headline category, you have up to 18 choices. For the plain color option 18 choices, for the glitter you have 3 choices, and for the premium, you have 2 choices. You can even add leaves effect in the shell with either a gold or silver accent.
Face Plates
For faceplates, the myriad of options is just as impressive. Again, you have a headline and sub-category option system with 5 headers including plain, wood, glitter, carbon, and silver. You have 10 wood plates and 5 glitter options to play with. All of them are eye-watering in terms of grain or pop.
Pricing
Pricing starts at 890 Eur for the Model X base unit however prices will rise with premium options. Lime Ears additional options or premium designs are fairly reasonable starting from 10 EUR up to around 30-40 EUR for the wood faceplates or clock face finish.
I generally found a combination of colors and finishes to set you back between 900-1000 EUR for the final product which is more than reasonable for some excellent designs.
Add-Ons
Other options further down the screen include your cable color and left-right markings. There are no additional costs involved with picking the color or left-right markings option in this section. Be careful if you want to rush your order though as this is a rather pricey 180 EUR. I would advise patience unless you want it within 8 days as an absolute must.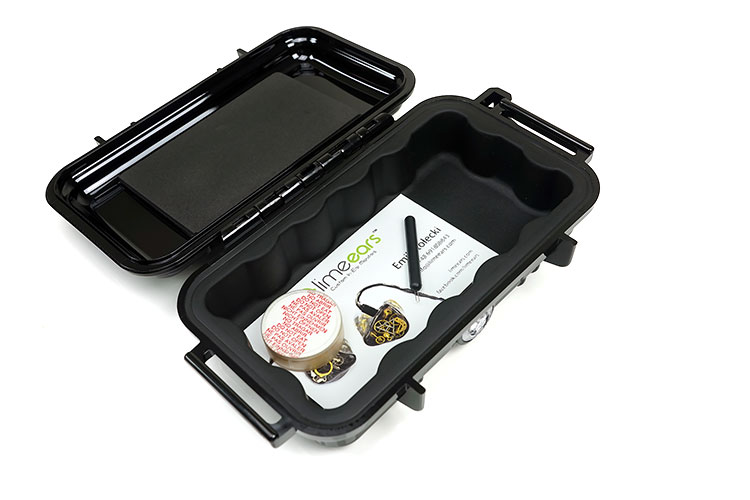 Accessories & Packaging
Your Model X will ship in a fairly spacious Peli case 1015 type case in a dark black gloss finish with branding, your name and serial number on top. You will have plenty of room for the custom units plus a few cables of choice.
Unfortunately, it does not ship with anything smaller so you are out of luck if you want something pocketable. Personally, I prefer the hard larger cases as they are better for weather sealing and shock resistance.
Includes accessories are as follows:
Wax pick tool
Drying pellet
Warranty card/Greetings card
Ear Impressions Short Guide
Lime Ears includes online ear impressions guide in PDF format and we have included the link here for quick reference.
You will find all the necessary information including the type of clay to use, how deep the impression should be as well as shipping instructions.
Note that Lime Ears do require open jaw impressions so bring a bite block to your usual audiologist to keep your jaw steady whilst open to prevent the clay impressions from poorly curing. Then it is a simple case of packing them securely and sending them to Lime Ears through your favored courier.
Click on Page 2 below for Build & Sound Impressions