Sound Impressions
Summary
I used the neutral setting on the AIR+ 2 app and alternated between the medium preinstalled stock tips and foam tips with a 4.2mm wide bore and obtained the same sonic results because these earbuds seem to be impervious to tip selection and it might be the smart feature at work here most likely. I also ran BT 5.0 and a BT 5.2 source and nothing below that.
The overall AIR+ 2 sound signature is rather neutral, with a medium level in terms of impactfulness, a rather flat and rather well-textured midsection with a top-end that is somewhat clean but restrained.
I ran a tone generator and sensed a drop in frequency response output below 30 Hz and above 10 kHz so I would consider the lateral extension at either end to be deficient but within the capable bandwidth, this set produces a good amount of tonal and frequency spectrum balance.
Timbre
The AIR+ 2 performance is rather midrange-centric with a very small hump and some upper-bass emphasis. I do applaud the absence of bass bloat but I find the bass response of the AIR+ 2 to have a slight absence of the lowest sub-bass frequencies.
However, the Air+ 2 does offer a nice amount of output above 30Hz and a good mid-bass presence with a decent amount of enjoyable low bass definition up to the point of the slope.
The midrange response is rather nice but it does veer from a perfect pitch by presenting vocals with a touch of a thickness character on the bottom range but at the top portion of the midrange tonality is almost perfect. It even produces some above-average amounts of detail in that area.
The high frequencies are also clean with no nasty peaks up to around 8 kHz where the highs start to sharply dip in output especially above 10 kHz where they disappear into the horizon altogether.
Audible high frequencies tend to be a touch recessed in general which actually work to their benefit by always keeping the highs under control and restrained with an absence of harshness attributed to their politeness but there is a hint of harshness at times at high volume levels.
The overall AIR+ 2 sonic characters in combination is a touch on the warm end and since the transient response is not super speedy or killer impactful a soft character remains as the main character. That makes this set easy to listen to with little to no fatigue long as you keep the volume levels moderate.
Soundstage
The Libratone AIR+ 2 sound tall and deep with a small amount of width and a sort of egg shell-shaped soundstage that has a tall round aspect with the elongated protrusion aiming upwards and forward but the sides remain waist side.
Placement is actually good within that waste side area of the stage but there seems to be a slight amount of conglomeration in that center area and it seems at times elements are fighting over that center stage.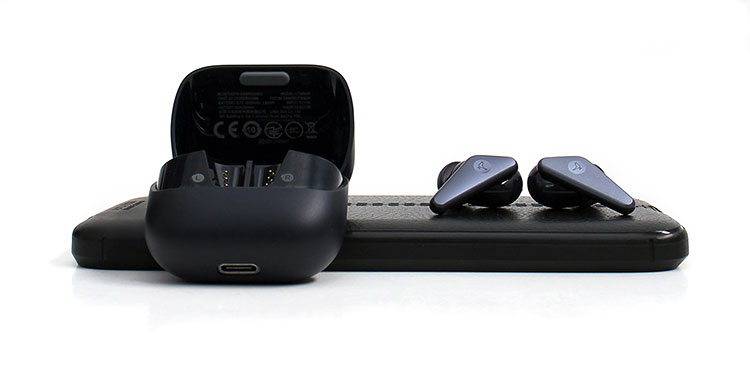 Wireless Performance
Pairing
The AIR+ 2 TWS set has a push-button initial pairing sequence that is easy enough to comprehend and execute and it's done by pressing the button and holding it for 3 seconds but the cradle door has to remain open and the earbuds must remain inside the cradle to do the initial pairing.
Once the initial pairing is done then each time you want to connect back to the paired source you just have to take the earbuds out of the case for them to connect automatically back to that paired source. Simple enough right?
Stability and Range
Once connected to a source the AIR+ 2 connection seems rock solid and stability seems very good. I personally did not experience one dropout in signal long as I remained within the transmission range of the source.
The AIR+ 2 range was better than average. This is one of the only sets I could use all around my house and even go behind a wall I could not go past with other sets while feeding it with a FiiO BTA30. I was able to go past 40 feet in a straight visible line and still remained connected with this set.
Latency
I have to definitely admit that this is one area where the Libratone AIR+ 2 excel in. Lip synchronization is almost perfect. So these would make a good set for watching movies and even for some light gaming.
Latency seems to be around 0.1 seconds and that is quite acceptable and barely noticeable compared to the average BT device which on average have a latency of around 0.2 seconds or higher.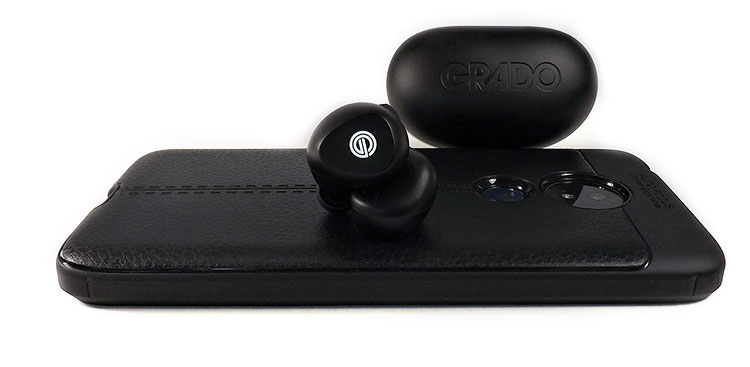 Select Comparisons
Grado GT220
$259.00
Technical
These two are not similar at all and actually contrast each other in many ways and in the sense that one has an old-school design and the other is a more retro take on the common TWS. I'll let you guess which is which.
One of the most simple to use and no fuss TWS models out there is the GT220 due to it not having an app, no upgradeable firmware, and no fancy tech either, Just an 8mm dynamic speaker with a CSR chip behind it running on a Bluetooth 5.0 radio and APTx codec, pair, and use.
Design
The GT220 uses a more traditional earbud design which is also made of Polymer materials with the GRADO logo on the end cap which doubles as a fully-featured touch control system which is actually one of my favorite implementations because they just work well most of the time and have a good amount of functionality.
The charging cradle is a bit chubby in size but does have most of its edges rounded off and is half the weight of the AIR+ 2 charging cradle although it's probably more than double in size.
Performance
The GT220 is a touch heavy on the bass which makes this set sound quite warm and that might sound nice in the intro but to me is a betrayal of the signature GRADO sound and might throw off some loyal GRADO customers which expect a brighter character.
Somehow even with the bass-heavy signature, I do prefer the GT220s overall sound quality over the AIR+ 2 due to its smoother presentation in the midrange. They both have high-frequency noise above 10 kHz but overall seem warmer on the GT220.
But to be fair the more neutral set is the AIR+ 2 since the lower bass response seems less in quantity but more forward in treble response and therefore does seem to have a more natural character compared to the much warmer GT220.
Edifier NeoBuds Pro
$149.00
Technical
The Edifier NeoBuds Pro is probably one of the best sounding TWS sets I have currently in my collection for under 200 dollars and it's due to the simple fact that they can do LDAC and LHDC. LDAC in particular belongs to Sony but there are other brands that enable the codec like 1MORE, HiBy plus Edifier, and not just Sony.
Not only that but they also have a hybrid driver array which includes a dynamic driver plus a Knowles Balanced armature which puts this set even further upfront plus some other specifications like the 40dBreduction of outside noise versus 30 decibels help it even more.
Design
Both these TWS earbuds have a similar stem design but the NeoBuds Pros have a ball and stem shape rather than the AIR+ 2 bean and stem design. Both models have similarly sized charging cradles but the Libratone set seems better constructed and uses tighter tolerances far as construction and assembly.
Both earbuds incorporate touch controls and both have their quirks in that area. For example, the AIR+ 2 has very few commands and just offers two and three tap options on each side for a total of four commands. The NeoBuds Pros have more commands but are just one of the worst I tested far as responsiveness.
Performance
The Libratone AIR+ 2 comparatively for a set that just offers up to APTx HD codec do sound good but I think the Edifier edges this sets out in sound quality if you use LDAC. The high frequencies are absent of noise and just come through in a cleaner and better-defined manner.
Perhaps if you run them both off the same source you might find a similar sound signature and the same tuning but since the NeoBuds Pros have an additional BA for treble the high frequencies seem better extended.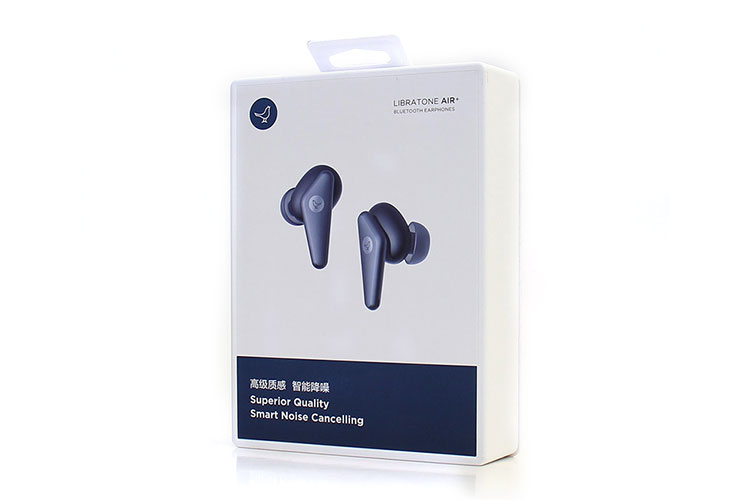 Our Verdict
On first listen and afterward the Libratone AIR+ 2 TWS earbuds sound good enough for daily use. Their overall design is visually appealing and you could tell a lot of planning and engineering went into this set but at the set price, there are other sets that will probably offer more bang for the buck.
My major niggling issue was the tip depth but that can be easily resolved with alternative 3rd party tips but this adds expense to the final purchase.
If you want a quality-made TWS that will work well with smartphones and one that employs a cool-looking design then these might make a good candidate. However, you might find a vast amount of competitiveness within the TWS market at purchase time that will drown these out unless offered at a more competitive and eye-catching price.
Libratone Air+ 2 Specifications
Product Name Libratone AIR+ GEN 2
Speaker 2*5.3mm
Sensitivity [email protected],1kHz
Frequency Response Range 20~20kHz
Active Noise Canceling 30dB Max (typical value)
Audio Input Bluetooth
Playing Time 6hours (Earphone) 24hours (Earphone + Charging case)
Weight 5g ( Per Earbud)