The Lark LSXC is the company's first TOTL custom monitor comprising of a 10 balanced armature driver build. It is priced at $1699.
Disclaimer: The Lark Studio LSXC sent to us is a sample in exchange for our honest opinion in this review. We thank the team at Lark Studio and Audio Concierge UK for giving us this opportunity.
This is our first Lark Studio product feature on Headfonics but if you wish to read up on our custom monitor section you can start here.
Note, this review follows our new scoring guidelines for 2020 which you can read up on here.
At its heart, the LSXC is musical, north of neutral in terms of warmth, and big on vocals with a sweet tone to its instrumental timbre. The top-end is a little relaxed but with the Saladin cable, you get a decent odd-harmonic overtone to keep everything sounding reasonably accurate.
You may not have heard of Lark Studio before. As a company, I only heard of them last year when I started seeing pictures of their monitors crop up on social media.
It was through Phil Wannell and Audio Concierge that Michael of Lark Studio approached us about listening to the LSXC and giving our opinion on it. Why not indeed.
The reason why I decided to bring these in is because of their background in the monitor sector. They are not new to this business. In fact, the three founding members have around 18-20 years experience between them with various audio companies.
You can read more about the company and its philosophy in some detail here.
Product Positioning
The LSXC is their debut monitoring and the C stands for custom so this is a CIEM though you can get the regular LSX universal edition at the same price of $1699. That makes the custom alternative the better value proposition for me though I can understand why not all want to go through the customs process.
Lark Studio has explained to me that the LSXC is more of a strategic offering that embodies their own personal preferences rather than a catch-all neutral reference sound. In some ways, this reminds me of the flagship Earsonics Grace monitor and their house sound type of positioning.
They also have an LSXC edition called the Splendor which includes an upgraded cable to PW Audio's excellent Saladin for an additional $200. I would advise looking at this one if you are going to grab the LSXC and you will understand why on page 2 of this review.
Tech Inside
The LSXC is a 10-driver all-balanced armature monitor design. The precise configuration is 3 for the lows, 4 for the mids, 2 for the highs, and 1 for the super-highs using a passive 4-way crossover design.
Of course, this being 2019 the shift in importance to the secondary components is prominent in their spec sheet. Here you will find the use of higher-grade components such as Ocxicap capacitors and Vishay resistors championed by the likes of StereoPravda and their excellent sounding Spearphone monitor series.
Custom Design Process
Online Store
I am glad to see Lark have a fairly solid looking online store on their website that allows a level of user customization despite them being new to the market. These features help a lot.
My only concern throughout the process was the lack of SSL on their website. You do have to create an account when ordering your new monitor and that requires usernames and passwords. Hoping this can be rectified for security purposes.
The good news is that you do not have to pay online with a credit card or PayPal so there is no risk of there. Instead, the final check out is in the shape of a submitted form and Lark then contact you for the payment process to be completed.
Options
The options for the LSXC custom design process are excellent. Nothing quite as outlandish as qdc 3D skulls but then as you will read below nothing quite as expensive as that.
The design options cover the main bases include solid and translucent shells, colored and premium material faceplates. Within faceplates, you also can choose from 13 choices of wood and 9 carbon fiber patterns. You also get 9 slightly left of field plates like a mirror, nuggets and even a Christmas theme if you like the festive look.
The wood choices are actually quite intricate and unique for me. Some are what I would describe as two-tone in their appearance and not monotone or even grained woody look. Options such as the Burgundy wood choice are striking in their red and lightwood contrast (we went for this).
Pricing
The pricing is awesome. You pay absolutely nothing extra for anything you pick from the designer tool. I am not sure I have encountered a custom monitor manufacturer who offers that many options free of charge. Certainly, it really helps simplify the process. With the LSXC, what you pay for at the start is what you pay for at the end. Cannot say fairer than that.
At the bottom of the design tool, there is a basic price and total price but they never seem to change due to most of the options being free of charge. You can even elect for a rush order option that normally costs more but no change again in the price. I have a deep feeling that might be a quirk in the online system and there really is a charge later.
Add-ons
Lark Studio does not really offer any add-ons beyond a custom artwork upload tool. Here you can opt for 3 choices in mono, color and laser-engraved for whatever you upload and I suspect the artwork request has to be assessed as doable first. The stock cable for the LSXC is fixed also with variations presented and the upgrade PW Audio Saladin cable is part of the Splendor package only.
One small caveat to this, something which you cannot buy in the original check out, is an ownership transfer service for $99. For custom owners who maybe wish to sell at a later date you know the challenges because the monitor is unique to you. It basically requires reshelling to fit the new owner's ear plus the warranty behind that.
The fee begins at $99 though it can range up to $300 depending on the complexity of the reshelling. I presume $99 for their own brands but they will also reshell other brands which is quite a rare service these days in the customs business.
Accessories & Packaging
Living in Asia I can detect a 'cultured' retail offering a mile away. That is not to say a bad one, because Larks packaging for the LSXC is extensive and very well done. It is just that it is very Asian in its aesthetic.
What does that mean? In this instance, you get lots of cardboard, satins, and suede with old-school san-serif fonts in funky dark colors. It is more boutique than corporate but certainly much more ambitious than some competing custom monitor packaging.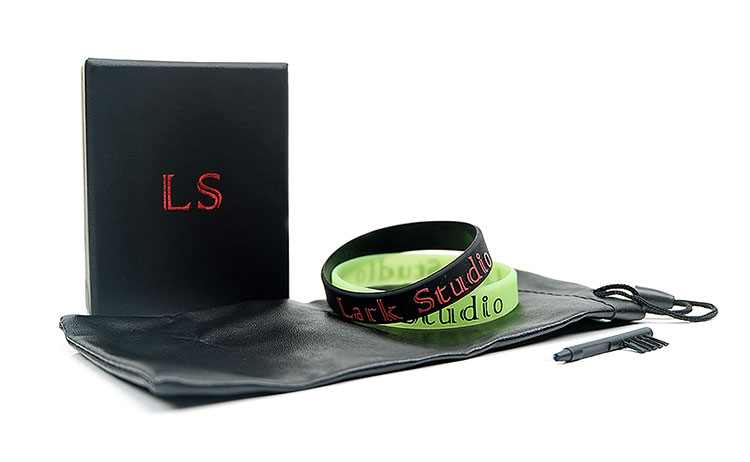 Inside you get a generous display layout with the monitors, stock cable, airline adapter, 6.35mm adapter, and a small carry box. Inside the carry box, you have a small soft leather pouch with the Lark Studio moniker and a branded grey cleaning cloth.
Lark Studio have also included 2 branded rubber stacking bands which I am not fussed on. If you stack great but its a thing of the past for me and some dehumidifier pillows might be more essential.
Ear Impressions Short Guide
Lark Studio have a fairly excellent support center for guidance on ear mold impressions that work best for them. this is pretty important given the costs of getting them done and the logistics of getting them there. They will do a refit free or charge within the first 30 days but still that shipping costs to China make doing the original ear impressions right the first time all the more important.
Lark Studio ask for an open-mouth full ear impression beyond the second bend in an open jaw position. I would advise a bite block of some kind of a max of two fingers in width to keep your jaw open and steady during the process.
They also have one specific mention or request that the impression material is "compressed" at the superior junction point of the Tragus. If this sounds double-dutch to you they have kindly provided a PDF guide to download and use with your local audiologist here.
Shipping & Turnaround Time
After completing your impressions just stick the impressions in a small tough food container using a ziplock bag and one to 2 tissues loosely crumpled to prevent too many knocks during transit and pop it into your local courier to ship along with a print out of your order form to Lark Studio.
The current build time is advertised as 2-3 weeks which is about right. This does not include shipping either way so add about 10 days on top of that to get a full idea of how long this takes to get them in your hand complete.
Page 2: Build & Sound Impressions