Our feature today is a review of the new Jomo Audio S100 Cappuccino which is the company's first-ever single dynamic driver in-ear monitor. It has a price of $299.
Disclaimer: This is a sample that was sent to us in exchange for our honest opinion. Headfonics is an independent website with no affiliate links or status. We thank Jomo Audio for this opportunity.
To learn more about Jomo Audio products that we have previously featured on Headfonics you can click here.
Note, that this article follows our latest scoring guidelines which you can read up on here.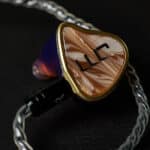 Jomo Audio S100 Cappuccino Review
The Jomo Audio S100 Cappuccino will satisfy bass heads and audiophiles looking for a fun and engaging listen but it does come at the expense of detail in the mid-range and darker treble presentation. However, if you are looking for an IEM with enormous amounts of punch and slam then this will be right up your alley.
Pros
Fun tuning with an emphasis on sub and mid-bass
Generous amount of accessories
Tastefully designed
Cons
Large amounts of Mid-bass might be overwhelming for some listeners
Average quality cable
As I sit in a cafe writing this review, I couldn't help but place my cappuccino and Jomo Audio's S100 Cappuccino universal IEM side by side.
The faceplate's distinct coffee-themed look replicated the unique brown and white tones of its counterpart beverage. However, does Jomo Audio's S100 Cappuccino IEM single 10mm dynamic driver produce enough high-quality sound to keep you glued to your seat at the cafe?
Tech Highlights
The Jomo Audio S100 Cappuccino IEM is a single 10mm dynamic driver in-ear monitor. It uses a liquid crystal polymer diaphragm to reduce weight and improve the efficiency of the driver. This is combined with a double harmonic acoustic chamber for improved airflow within the 3D-printed shell.
In the $299 price range, it is quite common to see single dynamic driver IEMs. This can be advantageous in the sense that you end up with a very compact IEM with a single coherent timbre, that classic dynamic driver texture, and fewer problems with phasing common in multi-driver designs.
The Cappuccino has a frequency range of 20Hz to 20KHz and an impedance rating of 15Ω though no official SPL rating is given. You can find out how easy it is to drive further down in our synergy section.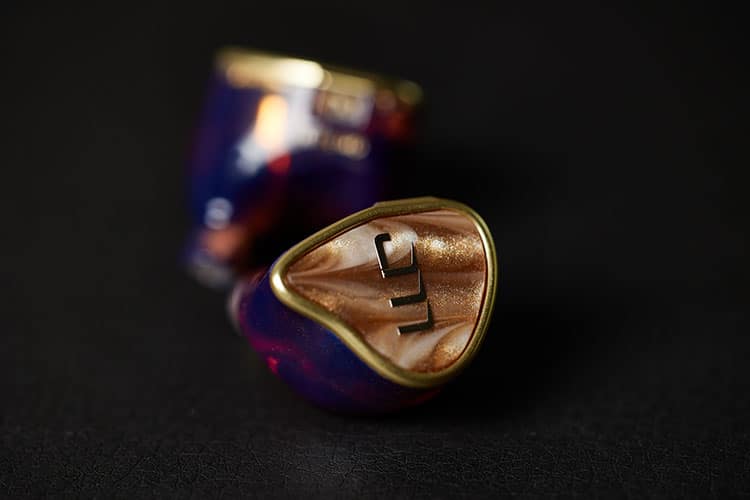 Design
The S100 Cappuccino, as its name suggests, comes in a coffee-colored theme and features a brown and white faceplate depicting the swirls of a cappuccino beverage.
On top of the faceplate, you will find the letters "JM" or Jomo Audio's logo written in gold. The 3D printed solid uni-body shell is brown and translucent which goes well with the overall coffee theme.
Jomo Audio attaches the term "Double Harmonic Acoustic Chamber" to the shell highlighting the IEM's ability to achieve superb sound reproduction. The IEM feels robust and has an ergonomic shape to it which comes off as lightweight and easy to handle.
Comfort & Isolation
Given its ergonomic shape, this allows the S100 Cappuccino to sit securely within the ear where there was no pressure-related discomfort during use.
The nozzle is short and hence the insertion depth can be quite deep. With this in mind, the isolation of the S100 Cappuccino is very good and there were no issues when it comes to unwanted noise escaping or seeping in during use.
Stock Cable
Jomo Audio provides a few cable options which can be purchased with the S100 Cappuccino being either a 3.5mm/4.4mm silver plated copper cable or 4.4mm UP-OCC silver plated copper cable.
The cable comes with 2-pin connectors which feed into the IEM shell. For the review, the 3.5mm silver-plated copper cable was utilized.
The stock cable comes in a jet-black color and a 4-wire configuration. As the cable has very thin gauging with tightly wound braids, it is very easy to bend however it feels rigid and has an average quality finish to it which is also partly due to its thick plastic jacket.
The splitter is a small black cylinder with "Jomo" written on it. The cable slider provided has a similar black finish to the Y split and blends in well with the cable. The cable is terminated with an L-shaped plug.
Packaging & Accessories
The S100 Cappuccino comes in a small and compact black box which includes a generous number of accessories. Inside, you will find a small plastic box full of different silicone ear tips, adapters, a cable strap, an IEM pouch, and a carrying case.
The difference between the ear tips is in relation to their composition: some have a soft or hardcore and some ear tips have a singular cone finish whereas others have a dual-cone finish.
The black carrying case is the highlight of the accessories as it is large enough to house the IEMs plus additional smaller accessories such as a USB-C dongle and the ear tips box with ease.
Sound Impressions
Sound impressions and comparisons over the S100 Cappuccino were made using the Cayin N8ii DAP as the main source.
Summary
The S100 Cappuccino produces a "fun" overall sound with an emphasis on sub and mid-bass frequencies. The mid-bass is the focal point of the IEM which dominates the sound frequency response.
For bass-heads, this is pure joy however it does mean the bass is constantly present. Mid-range is quite forward however it only has an average amount of detail which is due to the large bass presence.
This is supported by a dark treble with average extension and detail. The soundstage and imaging are decent with plenty of warm timbre filling it in.
This is a bass-head IEM and will not go easy on those who prefer a more analytical listen. As such, its main target audience is a user who really wants to "feel" their music.
Bass
Sub-bass and mid-bass are the most forward parts of the overall frequency response with the focus being on the mid-bass. As such, the sub-bass extends very deep providing a lot of rumble and reverb.
The mid-bass slams very hard and is slow to decay. The mid-bass presentation focuses more on quantity rather than quality which may be a result of the limitations presented by using a single dynamic driver configuration.
In fact, the mid-bass sounds very far forward and boomy to the extent that it becomes an ever-present overall sound signature of the S100 Cappuccino.
Mids
Overall, the mid-range on the S100 Cappuccino is forward with a focus on the upper midrange area. However, the lower mid-range receives a slight boost and hence the overall mid-range is not scooped out like a traditional V-Shaped IEM.
The mid-range as a whole comes off as natural sounding with an average level of detail. Male and female vocals sound clear however given that this is a very warm timbre coupled with the large presence of the mid-bass, the overall clarity, and crispness of instruments including vocals, is somewhat reduced.
As such, the S100 Cappuccino is best suited for music genres that naturally come with deep bass notes in the performance.
Treble
Treble is presented in a dark manner and takes a back seat in the overall sound signature. Treble extension and detail are average and do just enough to support the bass and mid-range.
As a result, instruments such as high hats and cymbals are just barely noticeable. There was no harshness or sibilance noted during testing.
Staging
The overall soundstage performance is narrow and comes off wider than it is tall. There is a reduced level of spacing between the mid-bass and mid-range which results in condensed layering and spacing of instruments. Expansion and headroom are therefore limited but overall, it does a decent job in its placement of instruments and vocals.
Synergy
Efficiency
The S100 Cappuccino comes with an impedance rating of 15Ω though no SPL is cited on paper. One of Jomo Audio's goals with the S100 Cappuccino was to design an IEM which could provide high-fidelity audio reproduction performance whilst using low-powered music sources such as mobile phones and USB dongles.
To test this, various sources such as the Cayin N8ii, Cayin RU6 dongle, and Questyle M12 dongle were paired with the S100 Cappuccino as part of this review.
All these sources were able to produce high-quality sound and drive the S100 Cappuccino. However, it required a bit more power than usual to fully exploit the single dynamic driver. There was no hissing or background noise whilst the IEMs were in use with any sources during testing.
Pairings
The S100 Cappuccino paired well with all sources during testing however it performed best when connected to a neutral DAP or source. The reason being is that without any further coloration, the mid-bass and mid-range were really able to come up to their full potential.
Furthermore, given the S100 Cappuccino already has a very warm timbre, neutral sources faired better to keep this under control. Of the three, the Cayin N8ii and Questyle M12 produced the best pairings.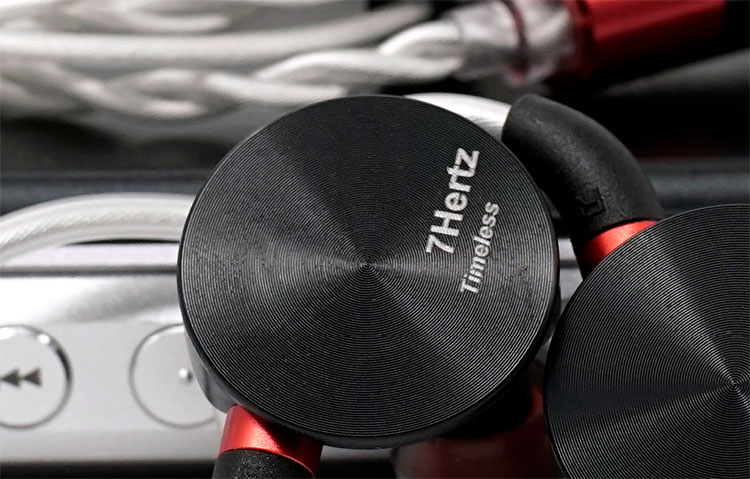 Select Comparisons
7Hz Timeless IEM
$220
Technical
The 7Hz Timeless IEM uses a planar-based driver which is quite different from the S100 Cappuccino's single 10mm dynamic driver. The 7Hz Timeless has an impedance of 14.8Ω which is in line with the S100 Cappuccino's 15 Ohms. As a result, both IEMs require a similar level of power to drive well enough from sources.
Design
The 7Hz Timeless has a very unique design. It has a circular faceplate that is attached to a small nozzle. This makes it a bit harder to achieve a perfect fit compared to the Jomo design which follows a more traditional IEM structure where it is pre-molded to the inner shape of your ear.
Performance
Overall, the 7Hz Timeless leans more towards a V-shaped sound signature where the bass, upper midrange, and treble are forward and more emphasized. The most noticeable differences between the two IEMs lie within the sub-bass, mid-bass, and treble.
The S100 Cappuccino presents the low-end with more quantity and forwardness than the 7Hz Timeless. Its sub-bass also has more rumble and extension with a mid-bass that has more presence and forwardness in the overall sound signature.
As the mid-bass on the S100 Cappuccino has more slam, it is slower to decay. With the reduced sub and mid-bass quantity, the 7Hz Timeless is able to focus more on bass quality and texture and therefore presents this with more detail and control.
Both IEMs present the upper mids with the same level of forwardness however given there is less mid-bass interference on the 7Hz Timeless this means that there is more clarity and detail when compared to the S100 Cappuccino.
The timbre on both IEMs leans towards warm however it is noticeably warmer on the S100 Cappuccino. Treble on the 7Hz Timeless has more sparkle and comes off brighter. That contrasts with the S100 Cappuccino's treble which is more recessed and darker in comparison.
Staging is wider on the 7Hz Timeless however they are similar in the sense that they are both wider than they are tall. There is more detailed imaging and layering in the Timeless presentation compared to the S100 Cappuccino; primarily due to the lower mid-bass presence and wider soundstage leading to better spacing and air between the sound frequency bands.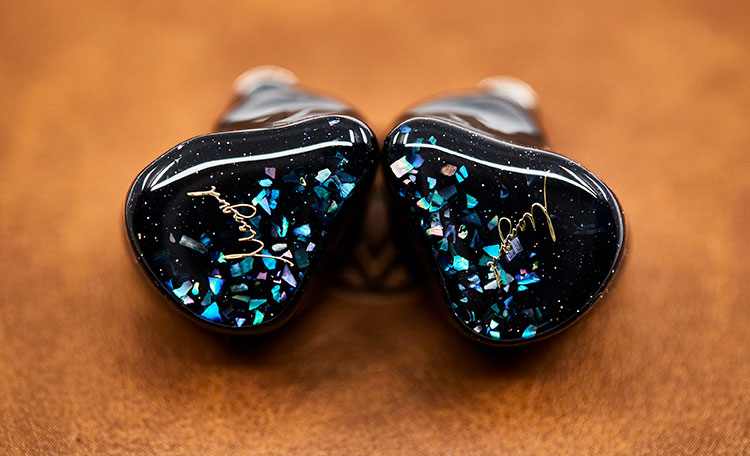 Xenns Mangird Tea2
$349
Technical
The Xenns Mangird Tea2 features a hybrid driver system housing 6 balanced armatures and 1 dynamic driver. This contrasts with the S100 Cappuccino's single 10mm dynamic driver configuration. The Xenns Mangird Tea 2 has an impedance of 18 Ohms.
Design
The IEM shells of the Xenns Mangird Tea2 are individually handcrafted and are made from a German medical-grade resin. The result is a hard and acrylic-like shell that is highly durable and smooth to the touch. Both IEMs have an ergonomic finish and are very comfortable to use.
Performance
Overall, the Xenns Mangird Tea2 has a more forward mid-range with less sub and mid-bass compared to the S100 Cappuccino. Treble on the Xenns Mangird Tea2 is neutral and not as dark either.
On the S100 Cappuccino, there is more sub-bass rumble and increased depth compared to the Xenns Mangird Tea2. Furthermore, the mid-bass on the Jomo is more forward with a large presence in the overall sound signature.
The lower to upper mid-range on the Mangird Tea2 is noticeably more forward sounding and is delivered with higher overall quality, resolution, and smoothness. Female vocals and string instruments sound more natural and organic on the Mangird Tea2.
Although treble on the Mangird Tea2 comes off brighter compared it still has an overall neutral presentation. Furthermore, the treble extends further with a higher level of detail on the Xenns Mangird Tea 2. The soundstage is also wider on the Mangird Tea2 which results in better imaging and layering.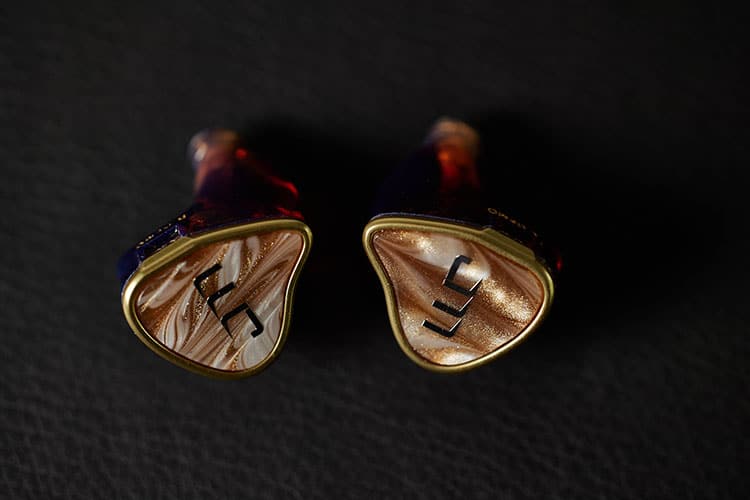 Our Verdict
Jomo Audio's S100 Cappuccino is a single dynamic driver IEM that focuses primarily on delivering large quantities of sub and mid-bass to its listeners.
This will satisfy bass heads and audiophiles looking for a fun and engaging listen but it does come at the expense of detail in the mid-range and darker treble presentation. However, if you are looking for an IEM with enormous amounts of punch and slam then this will be right up your alley.
Jomo Audio S100 Cappuccino Specifications
Single 10MM Dynamic Driver
Liquid Crystal Polymer Diaphragm
Double Harmonic Acoustic Chamber
3D printed solid uni-body shell
Frequency Range: 20Hz – 20KHz
Impedance: 15 Ohms