Our feature today is a review of the Huawei Freebuds 3 which are an open airbuds TWS design with ANC, BT5.1, and up to 20 hours of total battery life. It is priced at $169.99.
Disclaimer: This is a sample that was sent to us in exchange for our honest opinion. We thank Huawei & HiFiGo for this opportunity.
To learn more about TWS products we have previously featured on Headfonics you can click here.
Note, that this article follows our latest scoring guidelines which you can read up on here.
Huawei Freebuds 3 Review
If you love earbuds then the Huawei Freebuds 3 is pretty much your wireless alternative. That tonal balance, the open and very wide staging with a creamy timbre is addictive and supremely easy to listen to. If you need the low-end, the power, and a more planted feel to your music then the in-ear alternatives are more suitable.
Huawei is a huge company and one of the top dogs in terms of mobile communication devices in the Chinese domestic market. They have had their critics abroad but as a long-time user of their mobile phones, they offer some excellent features and can lean more to the 'value for money' side, at least in our market.
The Freebuds 3 is their 3rd gen Bluetooth TWS and launched I believe sometime in the 3rd or 4th quarter of 2019. The Freebuds series stretches back to 2018, (not that long ago then) with the initial Freebuds selling for around $145. From the looks of the original Gen 1 is now rebranded as the Freebuds Lite and selling for under $100.
The Freebuds 2 Pro launched last year also introduced wireless charging, BT5.0 and continued with the IPX4 rating of the original or gen 1. Although it still seems to be available in stores, the main Huawei site is no longer pushing it.
Instead, it is all about the Freebuds 3, their first active noise canceling capable open airbuds design priced at $169.99. This is a first for me in testing out that "Apple AirPods" style of TWS and I am intrigued to see just how ANC works on what is essentially a wireless earbud.
Tech Inside
ANC
Plenty of tech being pushed by Huawei for the Freebuds 3 but let us start with the obvious, the noise cancellation. Most ANC is via a combination of microphone placement and DSP and the Freebuds is no different.
To add a layer of value, the ANC can be controlled or tweaked via Huawei's AI Life app which offers a wide range of features for the Freebuds 3 beyond ANC controls.
What impresses me though is the stated 15dB in ambient noise reduction which is just 1.5dB less than Sony's excellent WF-1000XM3. Considering the open design that is competitive. The claimed latency of 190ms when ANC is active should be negligible to all but the best-trained ears.
14mm Dynamic Driver
This is classic earbud sizing for the single dynamic driver though no details on the type used. It is huge compared to most in-ear TWS which typically has a 6-7mm diameter but when you compare it to wired earbuds such as the Astrotec Lyra Nature at 16mm it looks fairly normal.
The presentation of earbuds, as many will tell you, is quite different from your typical IEM sound but you can read more about that on page 2.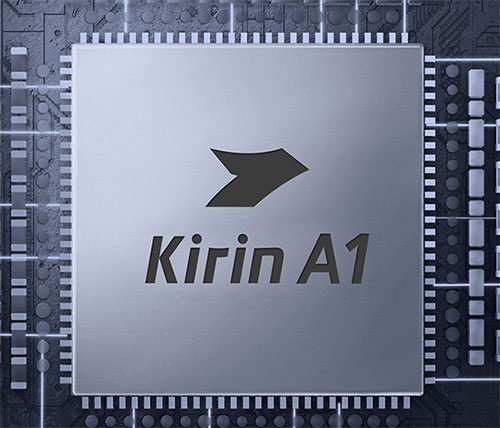 Kirin A1 Chipset
This is an in-house developed chipset as far as I can tell and was launched in Sept 2019. What it brings to the table is Bluetooth 5.1/LE as opposed to regular BT5.0 you find in most other chipset driven TWS competitors. The chipset champions ultra-low-power processing so it is not just for the Freebuds 3 but also most of their wearable range such as their SmartWatch lineup.
At the time of writing, Huawei still has the claim of being the world's first to use BT5.1 in a 'wearable', and whilst that may be a milestone moment, a quick hunt on Google will offer up generic derivatives that also now offer BT5.1. Still, the vast majority of TWS are still working on the older BT5.0 standard so it is a competitive edge, for now.
What makes BT5.1 so special? Well, quite a lot really. Aside from the better power management and smaller form factor it specializes in enhanced transmission rates. It offers the fastest and the most stable transmission rate out of all the standards and potentially the highest audio standard, BT-UHD (Bluetooth ultra-high-definition audio) up to 2.3Mbps.
It can also support isochronous Bluetooth connectivity which means that both of the earbuds can connect to the input source independently. That is pretty much the same as TrueWireless Stereo Plus if I have the interpretation correct.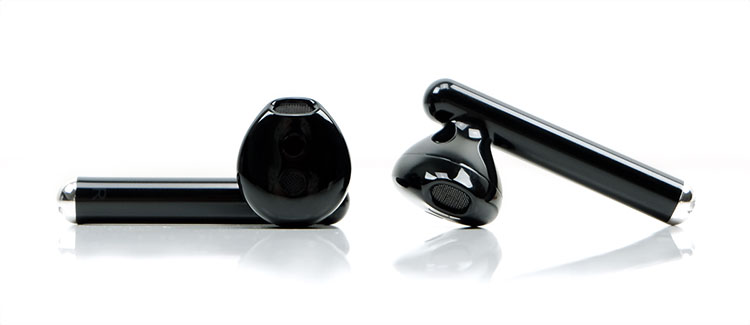 Design
Yeah, it is an Apple build but in Huawei world, they call it a Dolphin Bionic design. To be more precise, the shape is supposed to be inspired by a dolphin's vocal cavity. The curvature at the top of the bud seems to be primarily responsible for that reference. Otherwise, if you have seen an AirPods Pro this is familiar territory.
For me, this is actually the first time I have handled and used this type of TWS and to be fair, long and thin as they are, it is pretty lightweight due to the mainly hard black piano black finish. The only real break in the design of the plastic are the metal studs at the base of each stem which also have very tiny vents in them for the microphones.
The concept, much like an earbud, is to just gently rest them in the base of your ear's concha rather than stuff them in, hence the smoothed rounded main body at the top with the driver just inside.
The front nozzle is grill protected but you will notice a few more grill openings on either side for venting and speaker placement. These are important because I found out, minor adjustments can have a big influence on how effective the ANC is.
One final note, these are IPX4 rated which is a plus for me. Given the number of perforations in each driver shell, Huawei has done a good job engineering them to such a high IPX level.
Comfort & Isolation
The comfort levels are akin to a set of good fitting earbuds. I felt over the first hour the fit was perfect but after maybe 2 hours I did feel a slight level of discomfort on the base of my ear. Not from the stems but more perhaps rummaging for a sweet spot on the ANC and the general hardness of the plastics.
To be fair it is a very smooth fit so long as you do not try to stuff them in your ear. The key is to just rest them slightly in but not too far in. The first concern is whether will they stay in.
Surprisingly yes. A few headshakes and not once did they move. I even threw my head 45 degrees to the left and right and tried to shake them out and again, they did not move. That is a win for me.
Isolation
Isolation? Before ANC, worthless unless you have complete silence in the room. Sure, you can throw on some loud music to try and drown out any background noise but it is not worth it. Try the ANC, it makes a huge difference.
I was very skeptical that they could pull ANC on an open design but it does work really well. As well as the Sony WF-1000XM3's? Sadly, no and I do not think Huawei would try to claim that. Even in their technical spec sheets, the dB suppression rating is less than the Sony's.
The one thing you might find yourself doing is finding the ANC sweet spot on the Freebuds 3. Not every angle works that well and often I found myself tilting them inward slightly to get the best isolation from how the mics positioned. The manipulation did contribute to that slightly achy feel after a few hours.
Controls
The Freebuds 3 control system is a mix of touch tap on the stems and app-based tweaks. The Ai Life app is available on both Android and iOS and whilst credible and information on most devices, it really comes to life on EMUI 10-based Huawei phones.
App
Inside the app, you have the ability to fine-tune the ANC, change your touch control gesture options, monitor battery life as well as update the firmware as and when required. The ANC fine-tune was interesting. Huawei doesn't exactly describe the exact mechanics of the ANC software wheel and what it is supposed to do but for me, it sounds like a mixture of placement and level.
Moving it around I get a bit more background noise or less depending on the position on the dial. The placement also seems to shift from right to left to front and back in terms of where exactly I hear the noise being blocked in my ear. It is an unusual experience but if you want the TL:DR it is 1pm on the dial for the strongest ANC effect.
The control suite or shortcuts is pretty straight forward and allows you to give control over what you want the Freebuds 3 to do when you double-tap on the stems. Each double-tap menu suite is split between the left and right channels but in terms of options, you have the same 5. These are focused on voice, ANC and playback control.
Cradle Control
There is one small additional control and that is a small button on the right side of the main cradle. This is primarily used for pairing with sources and power duties. You do not pair directly from the drivers as you would expect in other TWS. Both drivers must be in the case to execute the initial pairing process.
San Volume Control
So, what is missing? Volume control. That is a big miss for me. Any benefits in range or distance are lost when you do not have volume control. Volume control smooths out issues that replay gain normally provides so if you are using a phone with music software that has no replay gain you might be in for some nasty volume variations.
You can also only pick one option to change because that is the only touch control you actually have on the Freebuds 3. nothing for single or triple taps. That might feel limiting compared to the competing in-ear ANC versions that have all 3 tap controls.
Cradle
I absolutely love the Huawei cradle's form factor. It is shiny, super smooth pebble-like and very small. This is perfectly pocketable with nary a hard edge to give you any cause for concern in tight pockets. The build quality is hard plastics but it is high quality with zero flex or annoying hinge squeaks.
Is it a fingerprint magnet? Well, yes, it does get a bit smudgy but, Freebuds 3 cheap silicone cases are everywhere and by cheap I mean $5 plus shipping. Some of them are very creative also in the shape of Starbucks cups, dice and others are simpler colored slip-on sleeves. Well worth the investment.
Inside the space is tight but perfectly contoured to slip in the drivers with ease. My only irritation is the slipperiness of the driver tubes. Combined with the magnets and tight spacing they can often be a bit of a bugger to get out without them accidentally sliding back in again.
Battery Life
There are a few pros and cons regarding the Freebuds 3 battery life. The individual driver cycle is a bit too short for me at just 4 hours/ However, Huawei does not explicitly state if this is with ANC off or on.
If it is on then it's par for the course right now with the likes of the Edifier TWS NB and 1MORE's version at just 5 hours. The cradle capacity at 16 hours is just bordering on average also. More than that the cited test conditions are with ANC off and volume at 50% which is very unlikely for most.
The price you pay I guess for ANC, app controls and a diminutive carry case. Compare this to the Lypertek TEVI at a huge 70 hours and 10 hours per driver for half the price and you start to see where the issues might be.
On the plus side, the cradle does Qi wireless charging which is a first for me for TWS and very welcome indeed. The shape of the Freebuds 3 cradle is perfectly suited to Huawei's hotplate style wireless charger. You should be able to get just over 30% with a 30 min charge going wireless.
If you do not have wireless, then the cradle comes equipped with a friendly USB-C port at the base and it takes just 1 hour to charge which is excellent for the impatient among us.
Accessories & Packaging
The packaging is every bit Huawei and if you are in a region that Huawei markets in you would understand what that means right away. Lots of minimalism and "Apple" styling with a strong emphasis on white. It looks good, no complaints there and everything you would expect it to be for the price point.
Inside there are very few accessories mainly because this is an open bud design so do not expect to find any tips or ear hooks. Instead, you get the case on full display with the Freebuds secured inside and a white USB-C charging cable below in a separate cardboard accessories box.
Aside from that, you get your usual assortment of manual and warranty cards in the language of your region.
Click on page 2 below for sound impressions, performance, and comparisons