The Soranik SS-1 is Soranik's budget IEM which features a single BA driver with a simple form factor design and consistent tuning that's priced at $150.
Disclaimer: The Soranik SS-1 used in this review was purchased as a personal unit of the author. For more information about Soranik's current and upcoming products, you may visit their social media account on Facebook by clicking here.
To read up on previous Soranik reviews we have done on Headfonics you can click here.
Note, this review follows our new scoring guidelines for 2020 which you can read up on here.
Single-driver IEMs always have limits on how they perform. However, the Soranik SS-1 has surprised me with its coherence and balance. Utilizing its stock accessories, it'll provide satisfactory performance.
The SS-1 was launched back in 2018 and has gained some following from enthusiasts and collectors alike. It's quite uncommon for an individual to find a unit for sale online. I got lucky in this regard but was only able to land an incomplete set.
Currently, Soranik is working on a new flagship IEM. Aside from this, they have also been accepting CIEM requests for their current lineup or for rehousing other IEM brands. Like all Soranik's products, the SS-1 was designed and manufactured in Vietnam.
Tech Inside
Soranik has a pretty decent offering of monitors in variations of custom and universal form factors with either standard BA or hybrid formats that utilize electro-static drivers with their BA configurations.
The SS-1 is their entry-level product under their present line of product offerings, and is currently priced around $150 U.S. The succeeding Soranik products are the SS-2 and SP-2, which are priced at around $200 and $350 U.S. accordingly.
Unfortunately, these aren't on hand now since I am unable to procure a set for each due to the current community lockdown in my area. However, I do have the Noble Audio Savant (first version) as well as the Campfire Audio Andromeda to be used as a comparison to the SS-1.
The Soranik SS-1 was appropriately given its designation due to its stainless-steel housing, hence the "SS," and single BA driver configuration, "for the number 1."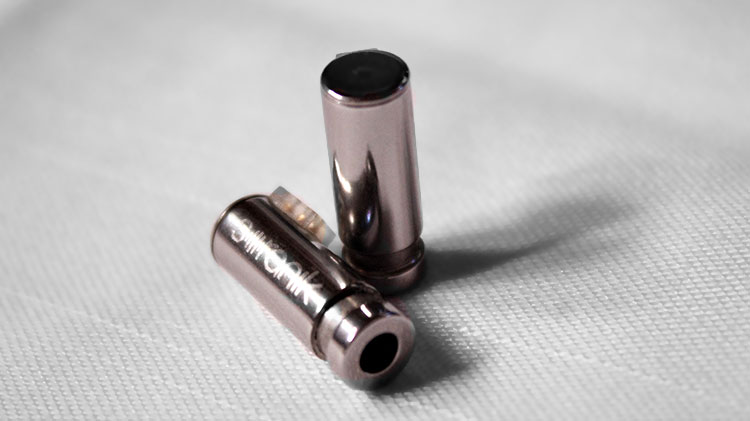 Design
The SS-1 was given a glossy bullet-type stainless steel shell that provides some resistance to the usual metal wear when introduced with human sweat and the elements. Of course, this doesn't make it water-resistant. You just won't see immediate metal degradation, especially with rust.
You'll find that both bullet shells have the Soranik and the SS-1 marks on both sides of the shells. What you won't find are the usual "left" and "right" markers, so this means you can use either shell for either ear. This is great since you won't have to worry about which shell should be attached to which cable pin.
The shells' lips have enough of an edged bevel for it to lock most ear tips in place. I have relatively small ears but with unusually large ear canal openings, so there are quite a few IEMs that would sit comfortably within my outer and inner ear areas. Fortunately, due to the SS-1's small form factor, the fit is quite snug, especially with large-sized ear tips.
Cable and Connectors
Connectors
It uses 2-pin 0.78mm sockets that are placed on the outer area of the shell, so it's prone to dust and liquid damage unless the cable connectors that are used for it has a glove or sock-type cover to reduce the number of unwanted materials that may accumulate within the slots.
Now the way the sockets were positioned on the shell is parallel to its length. Considering the width of the shell, this was the only way it can accommodate the sockets.
As with any IEM that utilizes 2-pin connectors, constant removal and reattachment of the connectors lead to loose connections. MMCX connectors would've been better since I'd be more confident in using it more outdoors. I wouldn't have to worry about losing the drivers due to accidental cable pulls or loose slots.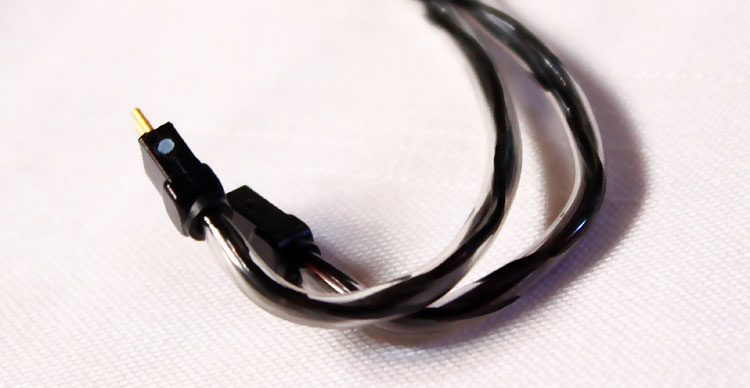 Stock Cable
The stock cable is 1.2 meters, black, twisted and made of OFC. It comes with a 3.5mm TRS plug, and 2-pin connectors, but the way it was positioned only applies to the SS-1. Instead of the pins being aligned to the cable's vertical length, it's posed horizontally to accommodate the way the 2-pin sockets were placed on the SS-1's shell.
The connector that goes to the right ear has a small red circle on the side of the connector, and the left connector marked with a blue circle for easier distinction.
It's fitted with a plastic y-split and a small chin strap plastic tube. The cable also has plastic ear guides to allow over-ear usage of the SS-1. This is acceptable to most, but I prefer it to be worn downward to reduce the possibility of sweat dripping into them. I am only able to do this if I either use an aftermarket cable with no ear guides, or I manually remove the ear guides from the stock cable.
As far as microphonics with the cable are concerned, there is none. It's very light and doesn't interfere with most of my daily activities. There's also no issue with rigidity since it's quite soft and goes where it needs to go.
Comfort & Isolation
Comfort
The Soranik SS-1 is light in weight when it's worn down, and more so when it's worn over-ear. Its small bullet-like form factor makes it easier for me to insert it in my ear and find the most comfortable sealed position. After wearing it for 15 to 20 minutes, I sometimes forget that it's there.
Comparing it to the Savant and Andromeda, the SS-1 has the most comfortable fit and best isolation for me. The Savant takes second, and the Andromeda goes last. The feeling of being unencumbered allows me to listen longer to my favorite tracks everywhere I go for around 5 to 7 hours daily. It's what I like best about the Soranik SS-1.
Tips
The SS-1 that I own didn't have the complete set of tips included in a brand-new retail package. A newly bought Soranik SS-1 should include around 2 sets of 3 pairs of wide-bore tips that are sized from a small, medium, to large. The sets are divided into black and clear white and are made of rubber or silicone.
The ones that I got only had black tips. However, these didn't work for me at all. I tried using them for 1 to 2 hours daily, but I wasn't getting the seal that I wanted from the large-sized tips.
Hence, I spent a day tip-rolling with what I have available in my collection – Final Audio E-Type, Acoustune AET07 and AET08, JVC Spiral Dots ++, Ultimate Ears tips, Sony Hybrid, and the Azla SEDNA. I ended up using the Azla tips from Japan.
Now, these worked perfectly with the SS-1. It provided the comfort that I needed, as well as the seal that I wanted – perfect isolation for me.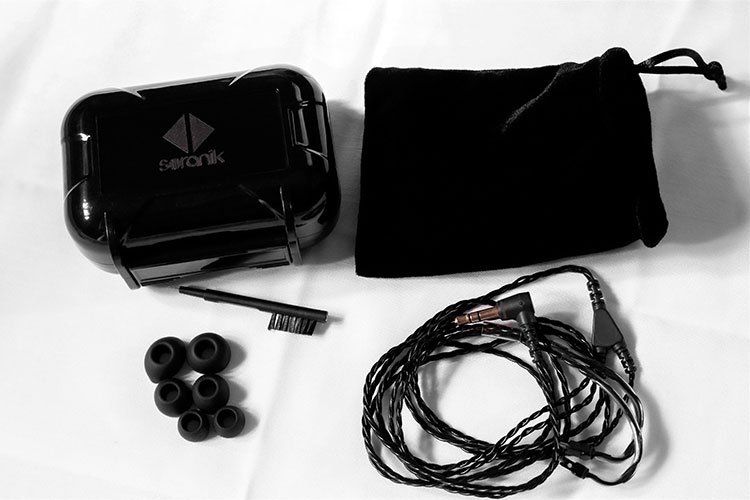 Accessories & Packaging
The SS-1's brand new retail packaging is quite plain and has nothing impressive to take note of. It includes the following:
Small black hard case with an engraved Soranik brand name and logo that's a standard aftermarket offering for most chi-fi brands (like KZ)
Small soft plain black velvet pouch (no Soranik markings)
Plain black twisted cable (no Soranik markings) with a 3.5mm TRS plug
6 pairs of stock tips in sets of black and white with small, medium, and large sizes
Plain black IEM cleaning brush (no Soranik markings)
SS-1 drivers
There's no box nor product documentation to speak of. But then again, people pay for the drivers' durability and sound quality.
For those who love the unboxing experience after receiving a package, consider this one to be anticlimactic.
Click on page 2 below for sound Impressions & Comparisons