The Hidizs S9 is a dongle-type balanced and single-ended capable DAC and amplifier capable of up to DSD512 and PCM 32BIT/768kHz decoding. It is priced at $109.
Disclaimer: The Hidizs S9 sent to us is a sample in exchange for our honest opinion. We thank the team at Hidizs for giving us this opportunity.
To read more about Hidizs products we reviewed on Headfonics click here.
Note, this review follows our new scoring guidelines for 2020 which you can read up on here.
The Hidizs S9 dongle DAC/amp is on the menu today. But how will it fare against the competition of small and adorably cute audiophile-grade DACs out there in the void? Hidizs has been cranking out product and product over the last year or so, I could not be happier.
So far, they have nailed all of their new products and I do not have anything truly negative to say about them. Let us hope this rings true with this new kid on the block.
Packaging & Accessories
Standard box, cardboard, and nothing to boast over further. It does not come with any accessories beyond the USB cable for DAC connection usage. This is a serious problem with iOS users, not the fault of Hidizs, this is Apple's nonsense requirements for power needs and how to actually connect Apple iPhones to this DAC.
Look at this nightmare, Android does not have this problem. I need a smaller Lightning-enabled cable. This damn thing costs $40 from Apple and I swear they should be paying me to use it for how large it is. Android users do not have this issue, just connect any old data cable right to the S9 and you are good to go.
With my setup in iOS, I have to run this Apple adapter, output that via USB male to USB C female, then have an interconnect go from that to the S9 USB C port. That is a headache…. but what is more of a headache is that no iOS cable is included in this S9 package.
USB-C was, but nothing for Apple users. I had to reference an older Hidizs product that did come with those awesome short interconnects for iOS. Why didn't this one come with what you needed? I understand the lack of iOS OTG, but why no small iOS cable?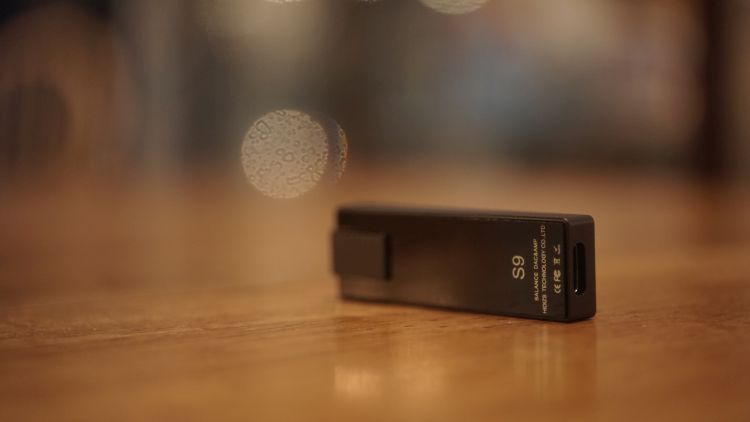 Design
The build is particularly good for such a little thing. The front side is solid aluminum; however, the rear side seems to be glass-covered. The front side also has an LED to signify when a connection is made via digital output. This product does not have an internal battery, it runs off the power of the source phone, or the USB for your computer.
Beyond that, there is absolutely no play in the 2.5 and 3.5mm ports. Lovely build quality, no doubts on that issue here.
Most of the small DAC's out there are fully aluminum or plastic. So, to see a glass material used on something so small is really inventive and somewhat original. I do not think I've seen one this small using glass before, it really puts out a nice high-end vibe.
Power
As mentioned, there is no battery on this S9 to sift power from, it pulls power out of the source. It drains my Apple iPhone SE (2020) quite fast. Now, I understand the S9 has a lot of power to offer, but this is also partially my SE's problem too.
The internal battery on the new-gen 2020 SE is abysmal. Like…one of the worst batteries out there. Truly embarrassing to have to charge it that many times per day in 2020's era. Should have gone with the Nord, but that is a story for another day.
The S9 has excellent output power and can drive virtually anything under 150ohm very, very nicely. I would not be pairing this with hefty Planars or anything over 250ohm while you are on the go. If so, I would recommend you grab a portable amplifier to help out with that to achieve at least 1w output. That is my minimum these days.
So, just be careful, the S9 has a high output and draws a lot from the source, and that is a great thing if you have a good phone battery, you won't be drained into oblivion like me with the SE.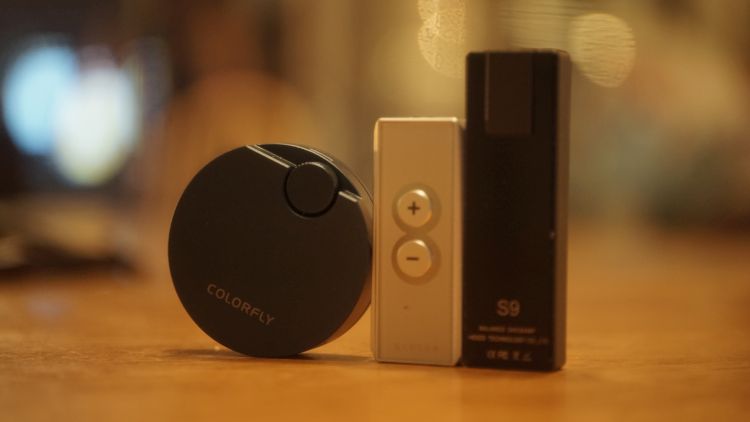 Sound Impressions
Summary
The S9 and the older S8 from Hidizs sound like inverses of each other. The S8 feels metallic, distant feeling, relaxed. The S9 feels lively, forward, and with a hint of a natural tonality that is less prone to sound sterile or clinical.
I do not consider this S9 a hyper-neutral sound signature. I also do not consider it warm. It is right in the middle, just noticeably less clinical feeling than the last-gen S8. Beyond this, the physical dynamic strike factor (Wince Factor) is far less on the S9, which ended up sounding gentler and pleasing to the ear.
The low end of the S9 feels more vivid and velvet-like, the S8 feels purer and less interesting. There is much more texture in the new model.
Bass
The bass quantity of this model is physically more potent than the S8 and also one of my favorite other tiny DAC from Colorfly. Now, I benchmark the last few years all my tiny DAC's to that Colorfly, due to it just being so useful.
My problem is that I can only reference it with a computer and not with a phone from Apple. Again, you will get a warning from iOS about power needs and it will not let you use the Colorfly. Works great on Android though.
Anyhow, the bass of the S9 is vivid and lively, dynamically textured, and offering more interesting appeal than both the Colorfly and the S8. Honestly, I did not think that would happen, because Colorfly is not known to be hyper-accurate in tonality, half expected the S9 to offer less bass.
But there is no doubt to my ears that the same song and volume normalized as best I could between them had resulted in the S9 feeling bassier. So, if you are looking for a super clinical DAC, this probably is not for you. But do not take that as if it's super warm or anything…it is not.
The bass response is actually better on the Colorfly when you EQ up and bass boost, handling much more bass than the S8 and S9 before it starts to warp. However, the S9's obliterated the Colorfly with treble response and clarity overall. You win some, you lose some.
Mids
The S9 is a forward feeling, so I expect that owners of the portable Audio Technica headphones will go bananas for this DAC. It really paired nicely with my ATH-ESW series portables. It also paired really well with my UcoTech earbuds, which came with a balanced 2.5mm option. That extra driving juice really kicked the liveliness factor up a notch, for sure.
Quality and purity factor are very nice, I don't own another small DAC like this that sounded better and the closest one was the Spectra DAC that I reviewed last year, but even then, that one sounds much more sterile and offers no balanced option as well. And this is where things got really interesting for me as a reviewer.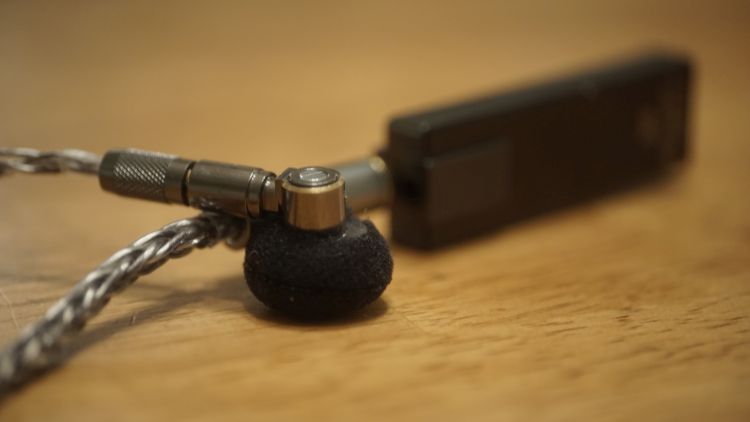 Treble
The top end of this S9 is lovely. Improving drastically with more power via the 2.5mm balanced option. Swapping my UcoTech earbuds from balanced to unbalanced resulted in a massive drop off of top-end sparkle and wow factor. Had nothing to do with volume.
The proper driving potential was achieved with the extra kick balanced offered and that resulted in a better treble push overall. It feels so dense sometimes that I am impressed enough to say it is the best overall top end of any tiny DAC I've reviewed.
Again, that NeXT DriveSpectra X was not too far off in quality though so that and this S9 pull ahead of the pack quite easily. Expect a solid and weighted feel to the top end for something so tiny, which tends to be a washout in these little DAC experiences.
EQ potential is a bit of a problem for me because I like to use DSP with my home computer listening experiences. My problem arises when I drop in a +5dB bass boost but also toggle up the treble, the result is staggered and not as pronounced as it should be.
What does that mean? It means that boosting the top end results in sharp tendency and overdriving, especially so in balanced. So, do not EQ the top end, unless you find it too much. Feel free to boost the bass though, it can handle +5dB very nicely without going into muddy waters.
Imaging
The Hidizs S9's width and height factor are just average, almost no different from the other DAC's I've mentioned. However, the depth of field factor is much better than the S8. Swapping between them really feels like a curtain lifts, where each note and artist is much more dense and realistic feeling, but also more realistically layered in a stage-forward factor.
The separation of instruments and air from left to right is good, but the depth-forward factor, that realistic deep feel, is particularly good on this one compared to the other few I have reviewed.
This is not an imaging titan, I cannot recommend any small DAC for exceptional imaging prowess, as I have not come across one that really was amazing in this department. I think the excellent treble factor is lending a lot to the better than usual imaging experience I have found to be offered in this S9.
Synergy
Get yourself a nice warmer than a neutral-sounding portable amplifier and connect it to this S9. You will not be upset by that if you prefer musicality factor to neutrality factor.
If you like fun sound, this S9 can provide it given the proper other pieces in your rig synergism with it. Take the xDuoo XD05+, ignore the DAC function, just pair that to the S9 via 3.5mm instead and the result is lovely.
Same for that Earmen Sparrow DAC I reviewed a few months ago. The S9 is a great middle of the road in tonality type of a product that will pair better with fun and musical amplifiers and headphones, than it will the ear blistering dead-neutral and super clinical sounding products out there.
Of course, as a steppingstone, it will be just fine. However, if you are seeking a specific thing, I would be pairing the S9 with headphones and amps that sound a step toward musicality than clinical tone.
I would also be recommending headphones that have a great depth of field in the imaging experience and not those regarded as very wide sounding. When your rig synergy is proper from start to finish, your sound will be that much more well suited to you and your preferences, as well as the rig itself.
Our Verdict
Please do not take my 'warm' comments as this S9 being a generally warm product. I just think that a subtle hint of warmth on the low-end pairs better with warm and musical sounding headphones and products better than very accurate and sterile ones.
The slight warmth on the bottom end gets accentuated by the warmth of amplifiers, like the Heron 5 from Airist Audio, paired with something warm, like a Sony XB series headphone. The fidelity factor of this S9 is good enough to be used with sterile tonality rigs too, so do not let that stop you if that is what you have.
This is a solid, well-built little DAC that I would absolutely recommend to those interested in a hassle-free portable DAC experience. I enjoyed it very much and cannot find any fidelity faults in it.
I wish it had some volume control on it. Otherwise, having such a tiny balanced 2.5mm DAC like this is a godsend for me. It felt great to go for walks with a balanced headphone in my ear for once, being able to use Spotify with my phone, and also this balanced option was really a treat for me.
Hidizs S9 Specifications
DAC Chip AK4493EQ
DSD Decoding DSD64/128/256/512 in hardware
PCM Support up to 768kHz/32Bit
Build Quality Aluminum-alloy CNC integration
Rear Cover Material Glass
Supported Systems Android, Windows, Mac OS, iPad OS
Please note: need to use a Lightning cable with OTG function to support iOS
Transmission Interface Type-C
Compatible with both single-ended 3.5mm and balanced 2.5mm headphones
3.5mm stereo port,2.5mm balanced port
Headphones with Mic Compatible
Power System No need to charge. Plug and play
System Functions Firmware upgrade supported
This is a solid, well-built little DAC that I would absolutely recommend to those interested in a hassle-free portable DAC experience.  I enjoyed it very much and cannot find any fidelity faults in it.