The HiBy R3 pocket-sized digital media player comes hot on the heels of the successful launch of the flagship R6 DAP. It is priced at $229
Disclaimer: This unit of the HiBy Music R3 is an engineering or prototype sample and contains an early beta firmware that will be upgraded to an international version by the end of the Kickstarter Campaign when purchased units are shipped.
To read about other HiBy products we have reviewed on headfonics, click here.
Note, this review follows our new scoring guidelines for 2020 which you can read up on here.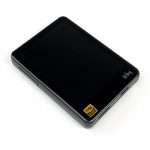 HiBy R3
At such an early stage the R3 shows plenty of promise and a very rewarding sound signature. It is by far the most advanced non-Android based 'entry-to-mid-fi' DAP at this price point. It also allows HiBy Music to show off their technical ability in how they have expanded the OS into a touch-capable connected OS that can run really well on a fairly modest processor.
The HiBy Music R3 digital media player first showed its little cute head in the Guangzhou Audio Show in November 2017.
At that time the focus was very much on the R6 flagship DAP but I did notice it and did remark on how beautiful it was. I also took a few pics but never got a chance to listen to it.
Well, it is now March 2018 and the R3 is limbering up for a Kickstarter Campaign with a price of less than $250 making it, thus far, HiBy Music's cheapest entry model digital player.
For those that love the HiBy Music OS but did not have the budget for the R6 or missed their original campaign, I would encourage you to look closely at the R3. It has a lot of very interesting features and above-average performance.
What Is The Pitch?
Enhanced Connectivity
HiBy Music is pitching the R3 as their most "connected' entry-level DAP and OS platform to date. The R3 sports not just bidirectional BT from their older platforms but also WiFi, DLNA, Airplay and streaming services integration including TIDAL. It is possible that this is just the tip of the iceberg since this is a beta firmware. That being said, no other HiBy OS powered device can claim to have more connectivity options than the R3 right now.
Touch-Controlled OS
The R3 is the entry-level digital media player in HiBy Music's growing DAP line-up. It is also the first-ever touch-capable HiBy Music OS on an Ingenics powered X1000 SOC. That is big news because for years HiBy Music's own Linux based OS was associated with non-touch though capable 3rd party DAP vendors.
Only on Android was HiBy Music ever a touch-capable OS either as a skin or dedicated app. HiBy Music is pitching the R3 as a lightweight but feature-packed touch version which they feel is a much more elegant solution than what has been previously available.
Top Tier DAC
Another big talking point is the inclusion of the ES9028Q2M DAC chipset in the R3. This is the same DAC as the R6 though only in single mode rather than dual. Still, for sub-$300 this is a first for a digital media player. Until this point, we have mainly seen AK4490 variants or older ES9018K2m chipsets in use. The ES9028Q2M is the mobile low-power version but still a big upgrade on those older versions. I have yet to hear a bad implementation using the new ESS chipsets.
<1Ω
Or more specifically less than 1-ohm output impedance on both balanced and unbalanced outputs. That is a pitch considering the R6, awesome as it is, had a 10Ω output impedance and requires something like an iFi IEMatch cable or a higher than 30Ω headgear to avoid low-z skewing. The R3 is being pitched as requiring none of that. What you plugin will sound exactly as it should.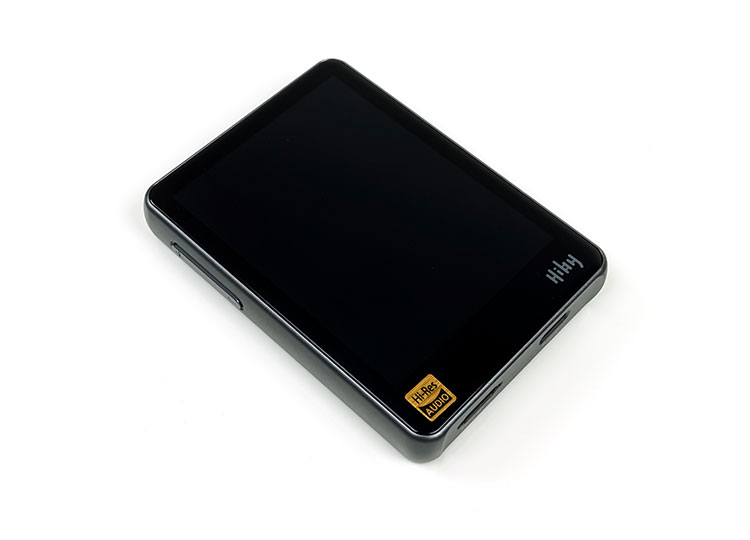 Build
Form Factor
The build on the R3 is beautiful. This is a small curved slimline DAP measuring 80mm x 26mm x 13mm and weighing in at just 95g. When turned off it reminds me a little of the Shanling M2s form factor though it is slightly shorter and a bit wider with more discreet buttons.
Front
The entire front panel is dominated by a beautiful 2.5D glass protective screen housing an LCD IPS display. The CNC aluminum chassis is contoured much in the same fashion as the R6 though curves at each corner are not quite as pronounced. Just enough for a small recessed panel top and bottom where the inputs and outputs are housed.
The physical controls are slimline and discreetly embedded on each panel with just enough tactile presence to find them but they do not stick out enough to disrupt the smooth cut aluminum panel lines.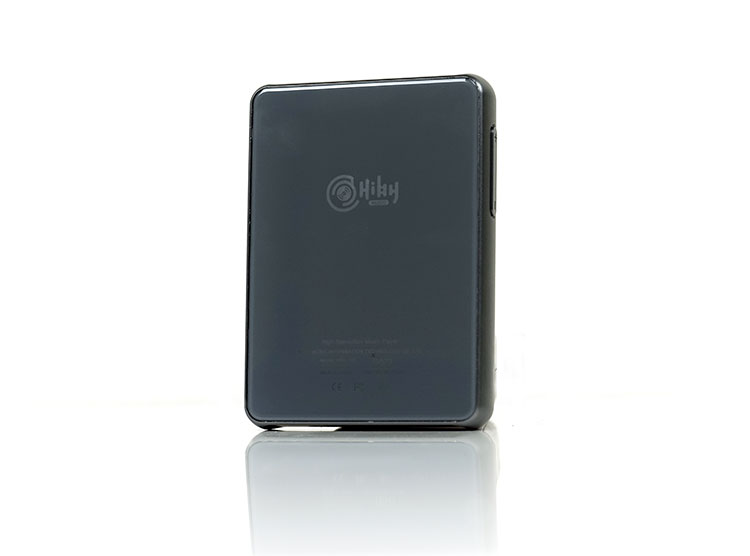 Back
The back panel does seem to be made of glass. It is finished well but has more of a "hollow knock" in it than the M2s which is done in a similar manner. On the front bottom part of the screen bezel, you will find the HiBy moniker as well as on the back right in the middle.
Everything on the R3 feels discreet and well put together. There are zero sharp edges and just enough width and weight to feel very comfortable in the hand during use.
Screen
This is the physical star of the show. It dominates everything else and rightly so considering the big pitch is a touch-sensitive HiBy OS. They could have gone cheap but they didn't with a 3.2″ IPS TFT display sitting in nicely behind a 2.5D glass screen protector. I remarked before on the M2s review how eye-catching 2.5D glass is and it is the same effect on the R3.
The reduction in bezel width is similar to the R6 and does enhance the attractiveness of the R3 display. It is not totally borderless, there is some more depth of bezel at the bottom compared to the top.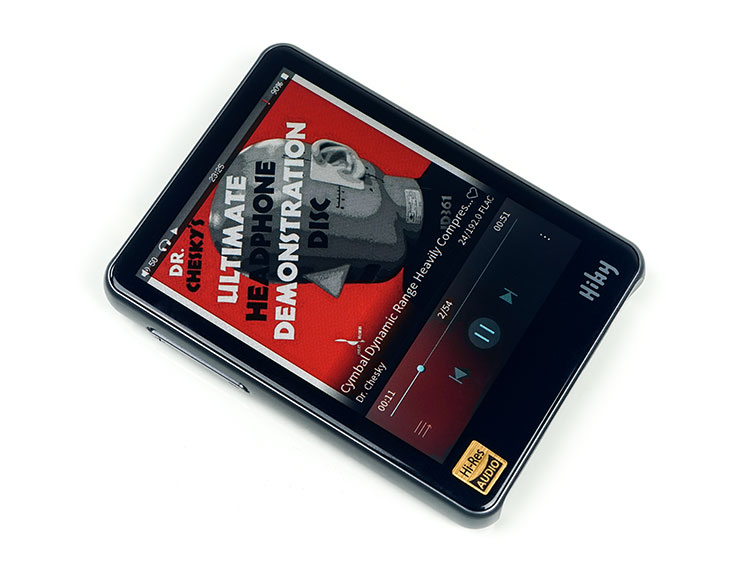 2.5D Benefits
If you look closely at the screen design you will notice a smooth curvature on the edge of the glass display known as a contoured edge. Basically, this bucks the old school design of a slightly raised bezel design with the glass sitting on top of the body creating a more seamless edge.
This is quite a high-profile design edge used now by a number of smartphone manufacturers such as Google and even Apple. Samsung's curved glass is technically "3D" glass because of their bendable substrates and electronics whereas the R3 screen has none of that.
Legibility
Though the pixel resolution is not quite as good as the M2s version at 480 x 360px compared to 800 x 480px it does seem to be marginally closer to the 2.5G glass overlay than the 3″ M2s screen.
This is a bigger screen and it does seem to have better background lighting, color saturation, and even better viewing angles. There is a massive difference in legibility from similar distances between the two of them. IPS displays are so much superior right now to regular TFT panels.
Memory
Physical
The R3 has no onboard memory which is fairly close to the norm for a lot of budget to mid-fi DAPs. My guess is that in order to accommodate the ES9028Q2M and IPS screen price tags something had to be cut and it was the onboard memory.
Instead, you get a single microSD card slot that should hold up to 256GB or perhaps even more. Theoretically up to 2TB or beyond but since no cards exist of that size it remains a technical possibility only at this stage. I am unable to test 256GB cards as I simply do not have anything higher than my 64GB Sansdisk cards in exFAT which do work fine.
Virtual
Of course, this is 2018 and HiBy have mitigated the physical storage options with plenty of virtual storage routes including OTG (via USB-C) for flash drives, bi-directional BT to tap into other storage sources such as smartphones, DLNA (WiFi) for network servers and Airplay for Mac equivalent. Combined the virtual storage access could be unlimited, it depends on you.
As an example, my own tested setup included a USB flash drive at 64GB, a DLNA server streaming with capacity up to 4TB in audio and BT switched on tapping into my smartphone for an additional 128GB of audio. That setup gave me 4.192TB of additional storage options. That is not including any further cloud streaming services such as TIDAL.
Battery
Ratings
The R3 battery is rated at up to 11 hours using the single-ended output, 9 hours using balanced and up to 60 days standby time. I was supplied with no battery specs in terms of size but the numbers are slightly above average for a player of this size, particularly with touchscreen and balanced output. My presumption at this stage is a 1800mAh – 2000mAh 3.7v Li-Polymer Lithium battery given the size of the R3.
Performance Factors
The numbers are close, I got a max 10 hours with single-ended but that dropped a bit with the use of hi-res DSD files or streaming in WiFi/BT. It will drop similarly below 9 hours if you use the balanced output. I cannot comment on the 60-day standby, sitting there watching it drain for 2 months would be akin to watching the fridge defrost over and over again.
Other environmental factors that can lower the battery such as keeping the screen on, high brightness and usage as well as any built-in DSP such as the 8-ball, high gain or EQ on. Overall, it is not up there with the Sony A35's amazing 20 plus hours but certainly slightly better than the Shanling M2s and on par with the Cayin N3.
Inputs & Outputs
Jacks
The R3 has a pretty clean I/O interface with jacks on the top panel and a single USB-C port and microSD slot on the bottom panel. The jacks include both 3.5mm single-ended and 2.5mm TRRS balanced and both have a rated output impedance of less than 1Ω – hurrah! The R3 will allow a fixed 1.1V LO from the 3.5mm output but it is not a true line-out as it will run through the R3's internal amp.
SPDIF
At the time of writing, there is no dedicated SPDIF output from the jack sockets. Instead, you can use the USB-C output in much the same manner as Cayin DAPs for USB-C to coaxial output and I believe retail packages will come with a converter cable to do that. You cannot use Cayin's own supplied cable due to differing USB-C pin configurations inside Cayin DAPs.
USB-C
The USB-C, like the Cayin DACs, is really the hub of wired connectivity for the R3. Outside of SPDIF, you can also connect to your PC or Mac for charging and microSD card mounting for drag and drop file management.
With a flick of a system setting OS button, you can also change from mounting and charging to USB-DAC and charging mode. In Windows 10 it will load automatically using the universal 2.0 driver. With earlier versions, you will need to wait until HiBy officially rolls out a downloadable USB driver.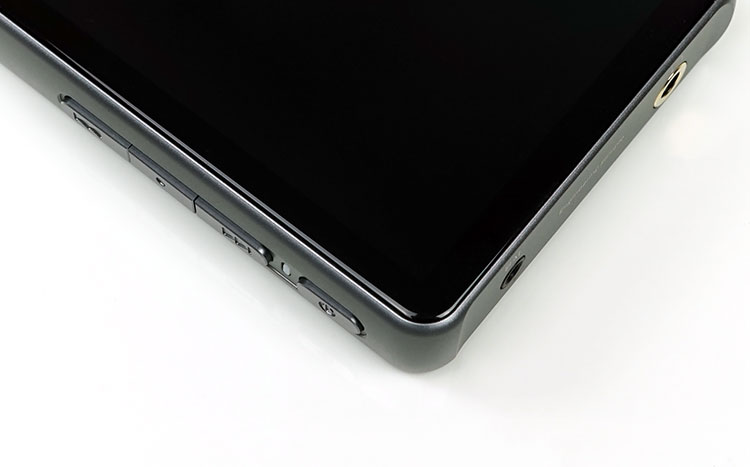 Controls
The R3 has two sets of physical controls. The first is the touch screen and it controls pretty much everything outside of volume, power, and playback when the screen is turned off.
Touch
The touchscreen is excellent. It has one of the best capacitive touchscreen response times and accuracy levels I have seen outside of Android and Apple devices. Combined with the 2.5D curved glass it is even easier to use due to the lack of bevel edging breaking your swipe.
Physical
The second set of controls are the more traditional type found on both side panels. On the left side, you have a volume rocker with a 100 half-dB step range much in the same range and manner as the R6. On the right side to the top, you have a dual function power/LED on/off button with a small LED light that exudes a generally light pink color when turned on.
Although not present in this firmware edition HiBy has confirmed that the color-coding will change by the end of the campaign to reflect the decoding rate and if it is charging or not. The LED color changes are as follows:
Color definitions (to be implemented):
On (nothing playing): blue
(Under 48kHz): blue
(48kHz-192kHz): green
(192kHz+): orange-yellow
Playing (any DSD): white
Charging: pulsating red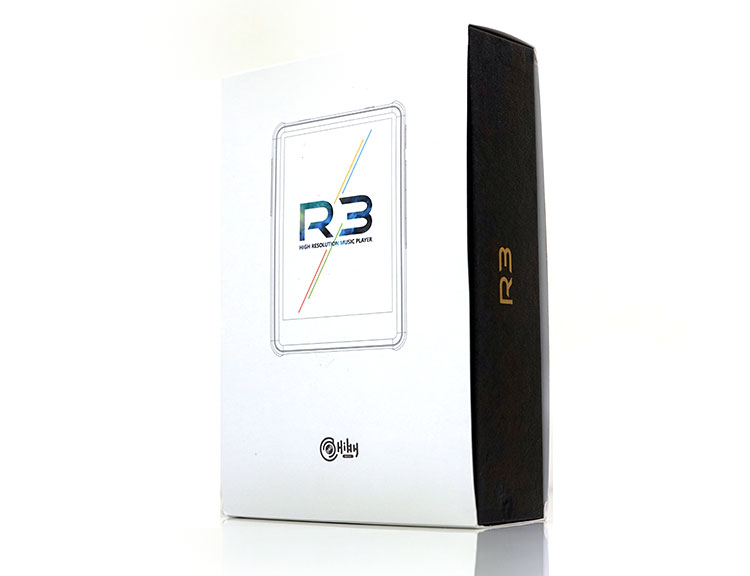 Accessories & Packaging
Again, since this is an engineering sample our package is not 100% refined but it is fairly close. The R3 box is a little smaller than the R6 and is a mix of cardboard and vinyl finished packaging with cardboard pockets inside a black two-piece box.
The R3 is nestled on the top of a foam protected layering. My sample did not seem to have any wrap which I would like to see added to the final production release to prevent accidental damage and contamination from dust and moisture.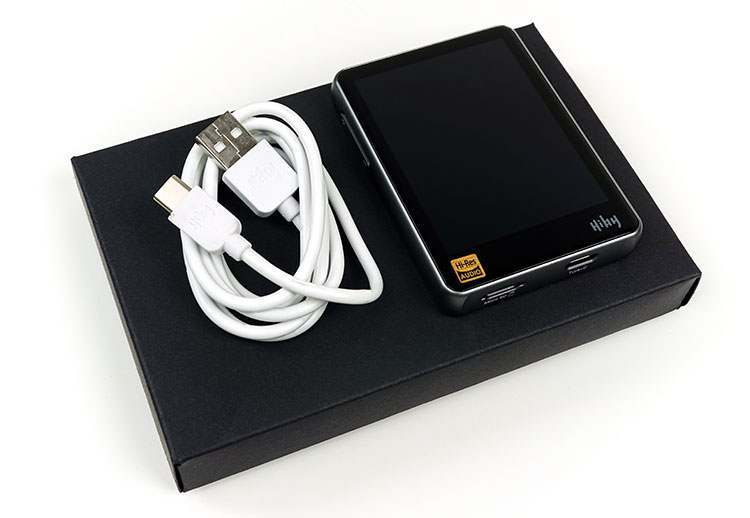 Underneath you will get a fairly robust and lengthy manual on how to operate the R3 including its technical specifications. You will also get a single USB-C to USB-A cable for charging and data transfer duties.
In the retail package, you should also be getting a USB-C to coaxial cable and I presume screen protectors and optional case protection as it really needs that. The USB-C to USB-A cable will also double up as a USB-DAC wired connection.
Click below for Page 2: Hardware and Software Performance