Hardware
DAC
The R3 uses a single ES9028Q2M chipset, which at $229, is a really welcome development. True enough the downward pressure on the pricing point of these chipsets has escalated since we first started reviewing 9028/38 loaded devices. However, they have always sounded so much better than the older 9018 infused devices. Issues like glare, lack of body and generally a glassy signature are not present in the sound signatures of the likes of the DX200, R6 and Oppo Sonica DAC and so it is the case with the R3.
Q2M Focus
The Q2M range is still considered high fidelity but it is primarily focused on portable audio equipment as opposed to desktop solutions or solutions that can cope with high power consumption demands. As such the power consumption of this design is a little lower and ideally suited to the smaller battery capacity of the R3.
The key differences between the PRO and Q2M performance-wise are as follows. The Q2M is 2-channel as opposed to 8-channel in the Pro. The Pro draws up to a 500mW in terms of power consumption compared with the thriftier 82mW of the Q2M. In terms of quality output, they are in fact potentially the same at +129dB DNR and -120dB THD+N which is top drawer.
Codecs & Decoding
In terms of decoding prowess, the R3 is very competitive. The difference though with the R6 and its Snapdragon processor may well be the limits of the streaming buffer rates with its lower X1000 processor memory. The full range is as good as any other DAP out there including native DSD256, DXD, and DSD ISO decoding.
It will also process most popular lossless codecs such as APE, ALAC, AIFF. FLAC, WAV, and WMA. Maximum conversion rates are 384kHz/32bit for most lossless files. The exceptions are APE extra high (192/24), APE Insane (96/24), WMA Lossless (96/24), DXD (which is by definition a 352.8kHz format), WAV (384/64).
Digital Filters
Like its big brother, the R3 also has a set amount of digital filters. In this edition, I see 2; sharp/late roll-off and slow/early roll-off. That is one less than the R6 and 7 less than the DX200's ES9028PRO implementation.
Personally, I am not fussed on the digital filters and prefer the DSP embedded into the OS which has a more profound effect on the sound signature. Cutting down to just two is an indicator to me that HiBy does not see them as marquee features either.
Processor
The R3 uses an Ingenic X1000 SOC with an HBC3000 HiBy Music digital audio processor. This is the latest iteration of the custom FPGA from HiBy Music designed to handle the bitstream and reduce jitter before the signal enters the ES9028Q2M chip for decoding.
The X1000 SOC chip used in the R3 is from the same family of SOC chips used by Cayin in their N3 and FiiO's X3iii though the clocking speed is much higher at 1Ghz compared to the older JZ4760B which had a max 600Mhz clock speed. In short, the X1000 XBurst1 is a good deal faster and more powerful. Combined with HiBy Music's well-defined OS it will feel very snappy indeed.
Amp
The R3 uses a fairly low-powered amp stage but it is fine-tuned to less than 1Ω output impedance making it an ideal match for sensitive to medium efficiency IEMs and highly efficient portable headphones. Coming from 10Ω on the R6 this is a welcome relief both in testing and general day to day use.
Of course, there is a variation in maximum power handling between balanced and unbalanced outputs. Using single-ended you will receive 56+56mW @32Ω and going balanced more than doubles that to 112mW+112mW @32Ω.
SNR/THD+N Comparisons
The X3iii has a higher noise level and only the N3 compares with the R3 in terms of low output impedance and excellent noise control. The amp stage of the R3 also pulls ahead of those DAPs with a superior SNR of 116dB compared to the M2s and N3 which sit at 108dB. THD+N is the same performance level compared to the M2s and the N3 at 0.03% but slightly behind the X3iii which is rated at ≤ 0.002%.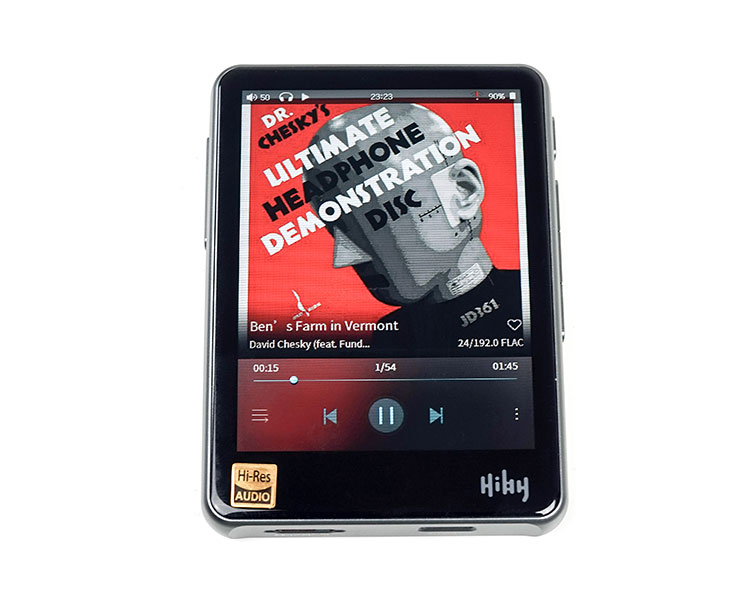 Software
Platform
The OS of choice is HiBy Music's own proprietary Linux-based platform. This should come as no surprise to longtime users of other DAPs that use the HiBy OS such as Cayin, Shanling and older generation editions of FiiO. The XBurst processor does a good job with this OS. It feels snappy, with minimal lag and quick media processing right up to DSD256.
It also had a high degree of familiarity. For longtime users, you should be able to pick this up right away with minimal reference to the supplied manual. For new users, trust me, it is one of the easier ones to learn.
If you have been using the HiBy Music Android app the experience will also look and feel very similar with its touch interface. HiBy Music has injected a number of very interesting features into the platform that I think brings this platform closer to the Android experience and further away from the more limiting non-touch licensed service to 3rd party vendors.
As a side note, we used two firmware during the review process, the 0.2 BETA, and the 0.25 BETA. The pictures below are predominantly the initial 0.2 beta firmware with one or two 0.25 firmware pictures highlighting new features. Not all features are operational at this stage. Once they are we would invite you to comment on them as you use them.
Features
WiFi
Until now the stock OS has touted bidirectional Bluetooth along with HiByLink as the major connectivity feature. Now we have WiFi, and more than that, key streaming services including DLNA, Airplay, and TIDAL baked in.
The R3 also allows you to connect to seen and hidden networks including manual SSID configuration. You can even send individual tracks via WiFi via a dedicated HTTP IP4 and port address to the R3. Over the coming months, I would expect more streaming services such as Spotify to become available as the firmware progresses.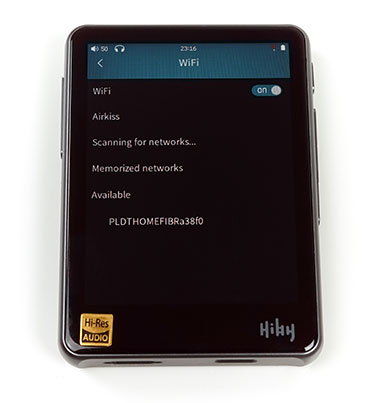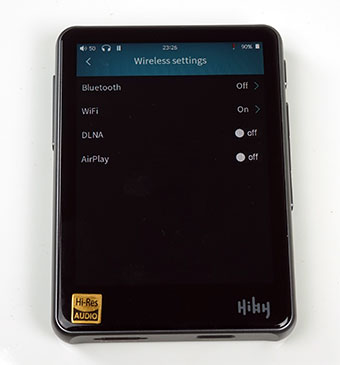 Streaming
TIDAL
Options
To log into TIDAL you need to have a WiFi connection and an active account. The feature set is by no means as expansive as you will get in a TIDAL app or main desktop player. You cannot see bitrates, unfold MQA and browse that extensively on the current firmware. HiBy Music has informed me that may change with future firmware updates. You can select and browse new tracks, playlist, and albums. However, you cannot access TIDAL Rising, Masters, Genres, video content. You can also access your own stored collection using the same headings.

Search
The final feature is a search feature that I find pretty useful though a bit slow given the T9 keyboard restrictions on the R3. I was able to find pretty much anything available on TIDAL and play it back on the R3 without any buffer issues. You can add it to your collection or a playlist or simply look at the info on the track by long-pressing the tracklisting in the R3 TIDAL window.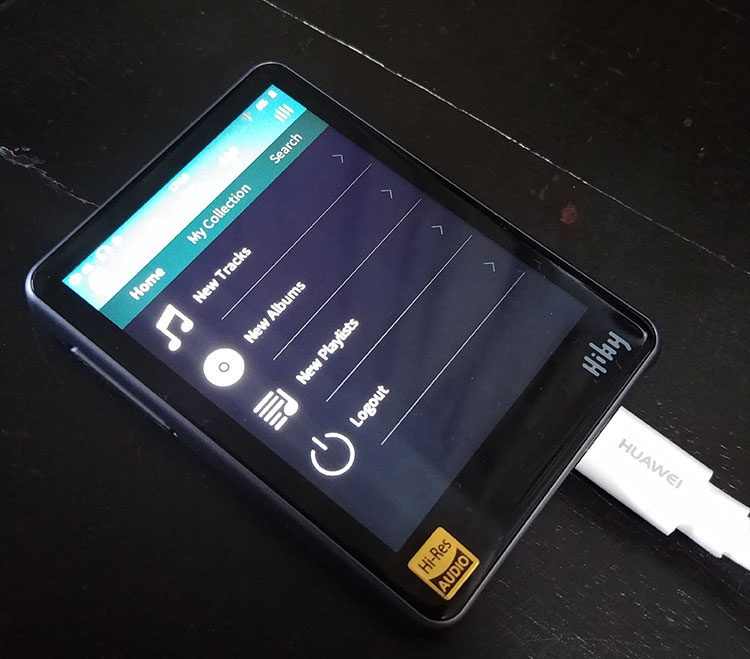 Download to MicroSD
One thing to note is the automatic insertion of a TIDAL folder on your microSD card when powering up the TIDAL service so it does look likely that you can save to your microSD card. Mind you there is nowhere else you can download anyhow on the R3.
I must note however, our current firmware TIDAL API will not allow us to fully test TIDAL downloads so sadly we have to wait for the final launch firmware to play with it like you guys!
Bluetooth
aptX
In all phones but my LG G6 I could pair with no issues whatsoever. This is a continual problem with my G6 and certain devices using the HiBy OS Bluetooth. 3rd Party vendor devices are good with the G6 such as the N3 and M2s and all FiiO. The R3 is excellent with aptX paired with my old BB Passport and Axon 7 also. I simply cannot figure out why the G6 is invisible to this version of the HiBy OS.
Performance/Streaming
Once paired, the R3 has as much range and reliability as your typical smartphone BT receiver with about 10m distance and reduced to 6-7 when presented with physical barriers such as walls. I did not experience any dropout either and was able to easily stream Spotify Premium from my Passport to the R3 without any buffering issues.
Bi-Directional
Bi-directional worked a charm also if you are using the Android app and pairing with the R3 using aptX and HiByLink. This gives you the ability to remote control the R3 right from your smartphone. If you want to tap into the smartphone's own storage and streaming capability just turn off HiByLink and return to regular aptX enabled BT and stream right to the R3.
Airplay
Setting up Airplay is pretty simple with my iTouch 6th Gen. First, create a mobile hotspot or join the same network as the R3 with your iOS device so the Airplay service can find the R3. Next, turn on WiFi and Airplay services in the Wireless settings in the R3 and join the same network as the iOS device.
From there select the R3 as your airplay target device on the iOS, confirm and then press play on the iTouch. The iOS device will have some pre-amp capability with its own volume control which you can then combine with the R3 volume to fine-tune. There is some minor lag time in the R3 buffer before the track loads and starts, maybe up to 1-2 seconds and about 1 second during pause and then play again.
DLNA
BubbleUPnP users should be happy to know that the R3 works just fine with its DLNA service though it is slightly limited. With both on the same network, BubbleUPnP picked up the R3 just fine as the local rendering device. Remember to turn off MIMEcheck in its settings and then simply press play from your BubbleUPnP app and the R3 will pick it up and play. I cannot, however, see or select individual tracks via the R3, you have to revert to control and selection on your source device.
I was also able to use my BubbleUPnP app on my smartphone to tap into Dropbox and stream a hi-res 24BIT/192k Flac file direct to the R3 as the local renderer without any buffering issues.
USB-DAC
Just simply plug and play if you have the latest edition of Windows 10 or a Mac. It is that simple with the new universal driver 2.0 rolling out as soon as you connect it to your PC. Open up something like JRiver or Foobar and select the R3 as your source and you can immediately playback up to DSD128 (WASAPI/DoP) without any issues. That is how things should work in 2018. To get DSD256 I think we will require an ASIO specific driver from HiBy Music.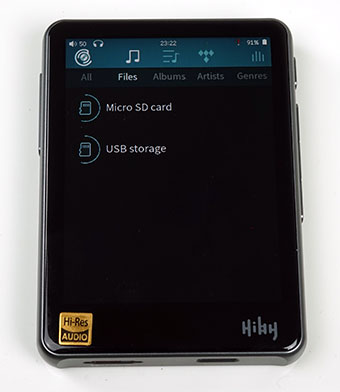 OTG
With OTG it is a different story at this stage of the firmware development of the R3 OS. For flash drives, via OTG it works perfectly in both loading and recognizing audio files stored. Flash drives up to 64Gb were tried (my own personal buying limit) though I am fairly sure this can go a lot higher.
OTG Digital Audio is also fully functional with the R3. Using Shanling's USB-C to MicroUSB short cable I was able to get a signal out to the Mojo, Hugo 2 and the RHA L1 DACamp without any issues. It also stacks really nicely on top of the Mojo for those interested. An almost perfect fit!
Media Management
If you have used the HiBy Music app or previous HiBy powered 3rd party DAPs then all of the local media management services on the R3 are very familiar. After loading a microSD card with your stored files it will either automatically update or you can manually do it yourself depending on the default option you set up in the system settings.
Scanning
Media scanning is fast, on par with most X1000 powered devices with about 25 seconds for 900 FLAC 16BIT/44.1k tracks. Tagging accuracy is very good though once you start working your way through DSD it is more haphazard due to DSF and DFF tagging issues. This is a common problem on all devices by the way and not just the R3.
Accessing Your Music
Once loaded you can access your music via the top row categories be it manual file navigation or by meta tag including album, artist, song, and genre. You also have the option to navigate via your favorites and playlists. You can create playlists on the go via the playback screen or once you drill down into the individual song list in any other category. The genre category is still too flat going from genre to song file list without any artist and album organization. I sound like a stuck record for the last 5 years on that issue.
Playback Screen
You also have a number of options available to you on the playback screen including playlist management, dropping right into the EQ controls and out again, viewing the album list during playback and the song metadata info. You can also click to view any lyrics if available.
Settings Control
In the HiBy Music OS you get two types of settings; those that are specific to the OS and those more focused on audio playback. The environmental settings are listed in the main slide-out menu under wireless and system settings. Settings management on the R3 also includes file scanning and library building, and a 10-band equalizer. The equalizer has 8 genre presets, and one of which is flat.
With the current firmware, you can also access all wireless connections from the playback screen by pulling down an icon-based taskbar. You can bring up some rudimentary environmental controls from the playback screen by swiping up from the bottom of the screen.
Swipe Down
The top swipe down is excellent and it includes 2 rows of controls. The first includes access to WiFi, BT, DLNA, and Airplay. The second is for gain, replay gain, coaxial and line out on and off. Once turned on all the top row connectivity icons will default to either an active pairing or the last known available WiFi/network streaming option that is also active.
Swipe Up
I like the swipe down icons more than I like the swipe up functions. Some of the swipe up functions are duplications of the physical control such as playback and volume and these are more deftly managed by the physical buttons on the side.
The LCD brightness option is useful and saves having to drill down into the main system settings to adjust it. The volume slider is too limiting and crude and could lead to accidentally pushing it too loud or too quiet.
To swipe up, I would prefer DSP controls that are not duplicated by the physical buttons such as MSEB, EQ, Gain and Replay Gain. These are the quick settings I would most likely use. Others may differ so even having the ability to user define the controls would be the end game for this functionality.
System Settings
Since there is no Android system setting backbone you get a wider choice of system settings in the options tray. You can control the language, whether to update the music database automatically or manually and whether to bring up the battery indicator % level in the top taskbar or not. The battery indicator for me should stay on. It is pretty important and relatively accurate also.
Further environmental controls include clock settings, lock screen on and off and whether to load a USB connection as mount/charge or charge/DAC to your PC or MAC.
HiBy Play Settings
Deeper in you also have the HiBy Music app's own settings which go a lot deeper into customizing the playback performance and environment. It is pretty comprehensive and almost on par with the R6 level of control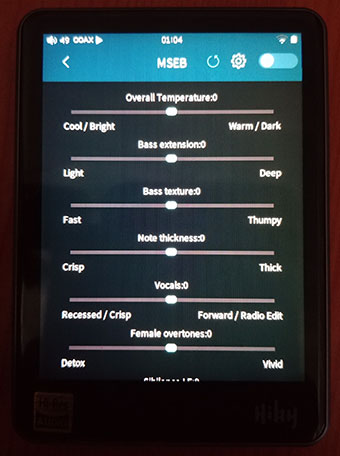 MSEB
If you are coming from R6 then you should know what MSEB is all about it. It actually stands for MageSound Eight Ball. This is HiBy Music's own unique DSP mixer that tweaks areas using words that audiophiles love to think about. MSEB is also more involving than the standard EQ that HiBy also provides as an option on the R3.
How do you like your sound? Warm or cold, bright or dark? Do you wish your bass to be deep, light, thick or thin? Would you prefer your vocals forward or recessed? How about some additional air and crispness to your treble? You can change and tweak all of that inside MSEB with a slider that lets you adjust it incrementally.
On the R3 MSEB may be deactivated on some ultra-high-res tracks or CPU-intensive compressed format like APE. On the other hand, it is usable on top of Tidal.
Decoding & Gain Control
You also have the ability to turn on or off the SPDIF functionality from the USB-C port as well as control features such as DSD coding via DoP, PCM or Native. You will also have the ability to turn on and off gapless playback, play through folders, replay gain (by track and album), and adjust those two digital filters. The channel balance can be adjusted between left and right and you can introduce a crossfade control into playback.
Click below for Page 3: Sound Quality and Comparisons