The Focal Stellia is the company's flagship closed circumaural headphone featuring a 40mm pure Beryllium M Shaped Dome driver. It is priced at $2990.
Disclaimer: The Focal Stellia sent to us for the purposes of this review is a loan sample that was returned after. Thank you to Focal for giving us this opportunity.
To read up on other Focal products reviewed on Headfonics click here.
Note, this review follows our new scoring guidelines for 2021 which you can read up on here.
Focal Stellia
The Focal Stellia is in one word stellar. A closed back that does so many things right is hard to come by and I would say almost impossible but Focal pulled it off. For my last few words in this review, I would like to say and direct the words to the entire Focal staff, 'félicitations pour la fabrication d'un super casque'. Well done.
Product Introduction
Focal makes some of the finest and most revealing headphones and speakers around. Some consider their top tier headphone, the Utopia, an end game headphone. Well, to me it is and in many ways, I agree since I have had the chance to listen to them for many hours and weeks at my home and I think they are fantastic headphones.
In the headphone world there exists a common trait with most reference level headphones like the Utopia and is that they are mostly all open back with only a few exceptions. But what if you desire or need a reference level closed back headphone?
Focal is offering just that with the Stellia. At $2990, the Stellia falls into the high-end Audiophile gear category and resides right below their Utopia model in their headphone lineup. The Stellia was designed to retain a lot of the Focal Utopia's sonic characteristics and features.
The Focal Stellia are closed-back headphones and audiophile-quality headphones are usually open back making these a rare offering in today's market so let us explore this all-around unique set of cans.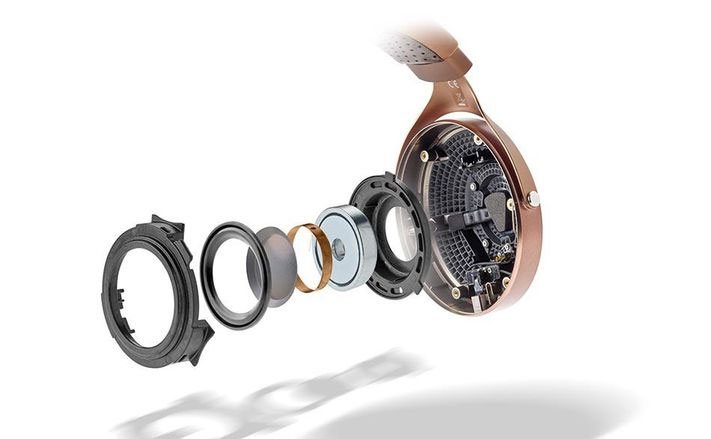 Tech Inside
The Focal Stellia is a single dynamic driver circumaural closed-back full-sized reference headphone in a world where the open back design reigns. I find it a relief and always thought for more than one reason that the closed-back designs would have a higher level of practicality and usability.
At the heart and center of the Focal Stellia is a single pure Beryllium dome driver. This driver has what Focal calls an M shape dome in what looks to me like an antiresonant housing. Focal calls it a frameless design. The M shape of the dome according to Focal adds exceptional rigidity to the driver without adding any additional weight.
Looking closely at the driver shape and if one understands some basic physics it is easy to see the M-shape itself would practically eliminate surface flexing.
The driver is powered by a pure copper voice coil with a newly developed surround. Driver venting is incorporated to obtain a wide frequency response and is all diffused by acoustic diffusers. EVA foam was also used behind the driver to break up standing waves.
Pure Beryllium Driver
The Focal Stellia's Pure Beryllium M shaped dome dynamic driver is a new generation custom driver recently developed by Focal to be more efficient versus the driver in the Utopia but to stay true in musicality and tonality just the same. The driver is a 40mm size with a rated frequency response of 5Hz to 40khz.
Focal calls it an exclusive electrodynamic driver and listening to the Stellia I have a feeling I know why they call it that specifically and it's because of the driver's lightning-fast speed and dynamics capabilities. Fast as lightning comes to mind.
The Beryllium 40mm driver is rated at 35Ω with a sensitivity rating of 106dB SPL and to my ears that seems to be a conservative rating. The Focal Stellia is a very efficient headphone that can be driven by an Android phone and can obtain ample volume from almost any source including most portable amp/DACs.
Design
The Focal Stellia is a reference closed-back headphone and is marketed as a home or for portable use headphone.
The closed-back design helps isolate external noise and at the same time eliminates most of the bleeding effect. I did hear some external bleeding but not much. The level is tolerable and I would say it will not bother others much who are nearby especially if you moderate the volume.
Honestly, I would not dare expose these to the outside elements and would get them specifically for indoor use. They look too good for the spoils and grit of the outside world. Honestly, discoloration of the leather would worry me and only time will tell if the leather will change in color tone.
The cups are spring-loaded at the swivel points and the cups do not have much movement side to side but the Stellia is very comfortable at least for me and it seems Focal used the correct head angles because I could wear them for hours. Size adjustments are the same as on the Utopia. The clicks have a nice feel to them and I'm sure they have enough range to fit everyone correctly.
Clamping force was a comfortable amount and just enough to keep them on your head if you were to face down but not excessive as to make them uncomfortable. Most of the clamping force was felt at the pad level and not on top. The pads are oval-shaped and very comfortable.
Appearance
Eat your heart out Gucci. Who out there does not like Chocolate, Champagne, and Cognac? I think the Focal Stellia are gorgeous with full-grain leather ear cup backs behind a large and round perforation stainless steel cage. The perfectly shaped and laser-cut cage shows off the leatherback.
An aluminum cup on an aluminum yoke and all the high-grade aluminum parts including the cups are finished in Cognac in what looks to me like Anodic Oxidation or something similar. All I have to say is "Pardon, but do you have any Grey Poupon?"
The centerpiece is a solid piece of aluminum that was laser etched to perfection with the Focal company logo vector and some other identifiers. The Focal Stellia cups scream luxury and are finished off with some hybrid full-grain perforated leather pads in Cognac and Mocha colors.
Connectivity
The Focal Stellia uses common 3.5mm plugs but with a small twist in design. The plug at the bottom of the cup is recessed and there is a ridge around the inside and outside of both 3.5mm plug and socket which when you insert the plug, softly locks it into place.
I could immediately tell this system takes lots of stress off the jack itself and I like the concept for the sake of durability. Also by being a common size I was able to use my already purchased cables long as they were terminated in 3.5mm plugs with positive tips. But I doubt you will need a higher quality wire than what Focal includes in the box.
Packaging & Accessories
Who gives you a leather purse to put your product literature and documentation in? Focal does. Yes, really. Even the 2 included wires came in a faux leather-wrapped display box. This is all displayed once you take the top piece off the box.
The Focal Stellia unboxing experience is exquisite. It all comes in a big faux leather-wrapped box that is color-matched to the headphones with a velvet lined interior.
The two cable assemblies that Focal includes with the Stellia are also color-matched to the headphone. One is a three-footer terminated with a 3.5mm TRS with a screw-on 6.35mm adapter. The other wire is a 9.1 foot balanced with a 4 pin XLR and they both scream quality although the wire seems somewhat stiff and there is a slight amount of microphonics but the ruggedness, good looks, and quality more than makes up for that.
All the high-quality connectors are made of metal and the wire is cloth lined again, to match the colors of the Stellia. To finish off the list of included accessories is a quality carrying case with which is also color matched in Cognac and Mocha colors. I even like the stainless steel zipper.
Sound Impressions
Summary
Focal is in the revelation business. What Focal tries to do and it is obvious, is to produce headphones that reveal every detail that is in the recording. You could tell it's Focal's main intention.
This is the first headphone, IEM, earbud, or anything that produces sound and goes on the head or ear that I have used that can accurately produce every single detail and instrument with the first click of the volume control. I'm talking the volume on 2. For a point of reference for the Utopia to achieve the same level the volume needs to be on at least 6.
The Stellia drivers are extremely efficient and produce every detail with a minimum amount of input and that is beneficial in many ways. There seems to be an almost perfect balance in frequency response at extremely low volume levels. This is something no one else has mentioned but was an obvious observation for me.
You do not have to turn up the volume loud on the Focal Stellia to get a satisfying amount of volume either and that in turn gives you good battery life out of portable devices, and the other benefit is that you hear all the detail with no need to crank the volume up so high.
In actuality, I would say the Stellia cans do not like loud and easily get excited with an increase in volume but they can play loud if you so desire. They seem to prefer a moderate amount of volume and are very unforgiving with some poorly recorded source material.
I would also say that most will judge them the wrong way on their first few listening sessions. They need a long and hard burn-in for sure. Once that is done, on bad recordings, they still sound somewhat unimpressive, to say the least. But when the recording is a good one and you feed them with a good clean amplifier, magic happens.
Frequency Spectrum
The Focal Stellia frequency range is fairly flat and neutral with bass that is clinical, fast, and tight with a good amount of body and texture. I do feel the lowest octaves are perhaps one or two decibels south from what I truly like but that is my personal preference.
I also did assume these would have lots of deep bass since it's a common characteristic of the closed-back and thought they would sound somewhat boomy but It was the opposite. They do handle a considerable boost in the bass if you wanna go past flat.
The midrange is smooth like freshly churned butter with plenty of presence and detail for days. Vocals have life and breathability. Vocal tones sound just right and everything sounds correct in timbre.
I think it is their best quality but the treble almost matches the midrange in quality and is fairly close because the highs are also splendidly detailed with no harshness whatsoever with plenty of extension, sharpness, shimmer, airiness, and presence.
Timbre
A good tonality is essential to capture emotion in music and the Stellia does tonality extremely well. They do well projecting the feeling of the music.
While listening to "The Great Eye" from Lord of the Rings OST I felt despair and felt like something was seriously wrong in the air and that was the intention of the recording and the Focal Stellia captured that perfectly. Wind instruments come through gorgeously.
Tonality is almost perfect and everything sounds realistic in tone like it is supposed to and could give many examples. Listening to "Poker Face" on Fake Blues Postmodern Jukebox, the vocalist Kelley Jacke could not sound more realistic, to say the least. The rest of the band wasn't too shabby sounding either and had plenty of individual definition and contained within their own 3D space.
Resolution
This is one of the Focal Stellia's forte. The Stellia tend to bring nuances and microdetail upfront, just like their big brother the Utopia, and they tend to bring detail in equilibrium and balance with the rest of the music which to me is a magician's trick.
One example I can give is the piano on "Call Me Maybe" from Postmodern Jukebox. On most other headphones I heard, the piano is pushed back some but not on the Stellia. The Piano is upfront with the rest of the instruments but the forwardness in no way disturbs any other instrument and finally, to me, all the instruments sounded balanced within the track.
Here is another example in detail particularly. As I was listening to "The One Step" by Chick Corea I noticed a slight gurgling sound coming from the Clarinet at the beginning of the track. I thought something was wrong at first and heard it about twice. But I kept listening and I swore I heard this sound before as I play the Trumpet and this sounded very familiar to me at one point.
I listened again and I realized it sounded like the musician did not clear the water key but it was not that. It was something Clarinet players know as water in the tuning hole.
The gurgling was not present anymore further into the track and just happened at the intro. Details like these come through clearly on the Stellia. I would have loved to speak with wind instrument musician Joe Farrell to ask him if he recalls.
Dynamics
The Focal Stellia has a very dynamic sound with lots of impactfulness. Transient response is excellent and the Beryllium drivers have an almost electrostatic speediness.
Every once in a while you also get a good scare with a good amount of punch. I put on "Piggy" from Nine Inch Nails and when the drum kick intro came in, it hit me like a hammer. These play well with EDM but is also comfortable with classic and everything in between.
The Focal Stellia are not bass machines and by no means should be considered that. But when was the last time you attended a concert where the sound was mostly bass? But comments aside the Stellia are very capable in this area producing great dynamics and punchy bass with lots of texture.
Staging
The Focal Stellia can put sound wherever the recording demands but the soundstage is a realistic size and is not exaggeratedly wide. The staging is personal and intimate but could also produce width and it all depends on the recording.
I like the fact that the Stellia can project good height, width, and depth and could combine them precisely to place sound in a three-dimensional space within an inch of each other.
Listen to Billie Eilish's "Six Feet Under" Aire Atlantic remix and pay attention to the wood tapping on the right channel. On the Stellia, one tap feels like it's around an inch under the other tap about 4 feet to the right.
The Stellia has a soundstage that seems as if there were elements inside smaller spaces within the sound panorama that can individually image independently.
Click on page 2 below for synergy and select comparisons