FiiO M3 Sound Impressions
Summary
I think FiiO got the tonality of the M3 just right in terms of the target market. It is a warmish tonality with a bottom-up presentation in terms of weighting and could be interpreted as a colored musical signature rather than a neutral audiophile tuning.
For something more "audiophile" in terms of defining accuracy and neutrality, I would tell you to start moving up the gears a bit and look at the X3ii instead. The M3, though, is not designed in that manner and nor should I expect it to be.
Tonality
Tonally, I find the M3's warmth to bring a smoother sound to the table that gels well for easy listening, gear matching, and modern genre selection. It doesn't have the best headroom though with an attenuated top end but it is reasonably clear sounding in the lower treble and mid-range and has a fairly full-sounding mid-bass response.
The sub-bass extension has a slight roll-off also so you won't get bottom shaking accuracy or reach, nor is the quickest either with a softish and polite body to that elevated mid-bass response.
Instrumental timbre is warm but engaging and never woolly on the M3 and whilst vocal presence lacks a bit of detail it never really gets lost in the mix. For a budget DAP I actually quite like how the M3 works with vocals and percussion work sensibly avoiding any sharp peaks.
You might find as a result that the M3 is lacking a bit in dynamics compared to higher-end DAPs but I would prefer that to something too edgy and harsh to match with on a budget setup.
Just do not expect a strident and sparkling treble top end. It is rather attenuated in that respect and comes across as a bit muted so out with the splashiness and anything remotely harsh which is good. However, out goes any real micro detail you get from a strong treble so it is not going to offer a huge amount of top-end articulation or resolving detail.
You can work this to your advantage though by pairing the M3 with neutral to bright cans if treble harshness is an issue for you.
Synergy
Sensitivity
The M3's euphonic sound, its warm tonality shall we say, makes it an agreeable match with IEM's or headphones with a neutral to bright signature.
There is, however, a caveat with that with regard to the perceptible noise floor of the M3 and sensitive IEM's in that its rather too high for a few IEM's, marginal in a few others and non-existent in some.
Sensitivity and resistance ratings do play a part in matchability for the M3 so the level of perceptible noise ranges really depending on the IEM at hand.
For those that exhibited noise:
Shure SE846 (114db, 8 ohms)
Campfire Audio Jupiter (114db, 35 ohms)
Noble 4C (30 ohms, unknown SNR)
ADEL A12 (16 ohms, 117db)
For those that did not hiss:
Westone 4 (118db, 31 ohms)
Sony XBAH3 (107db, 18 ohms)
RHA T20 (16 ohms, 90db)
Ultrasone tio (18 ohs, 106db)
Noble wizard savant (30 ohms, unknown SNR)
Granted the majority of the noisy match-ups can hardly be classed as typical pairings given the budget class price point of the M3. Something like an RHA T20 is a more likely pairing which, thankfully, was noise-free.
However, sensitivity ratings are not governed by price so my recommendation is to watch out for both high SNR and low ohm ratings as a broad rule of thumb. Low ohm ratings with very low SNR seem fine as does high SNR with high ohm ratings.
My list is not exhaustive so I can guarantee that rule will work always but it seems to be the case for me.
Power
The good news is though the power on the M3 is a little bit deceptive. It is not quite the sensitivity king for IEM's but neither is it a wallflower for headphones.
Easy to drive planars such as the He400s and PM-3 paired up well with a decent slam and full-bodied lower mid-range performance, the K812 didn't sound as peaky as it normally does in treble performance and cans such as the MA900 sounded warm and inviting.
Granted these are not the more demanding of headphones with the MA900 being just 12 ohms but it is good to dispel the perception of the M3 being purely an IEM DAP which it is not.
It is such a tremendously forgiving little DAP that almost every headphone I paired to it that wasn't hugely demanding didn't display anything worse than a lack of resolution and a tapered top end.
Yes, by all means, grab a proper DAP and pound every ounce of resolution out of those cans, but for $55 this is about as good as you can get in the market.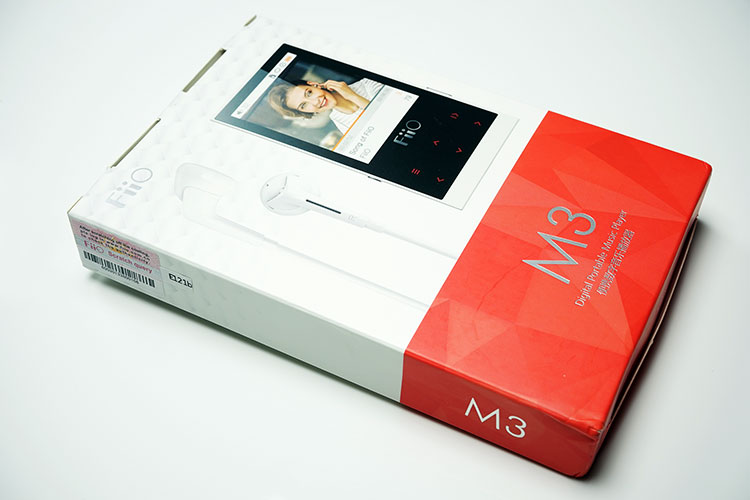 Our Verdict
The sub $100 DAP market of late has been a bit moribund in terms of energy with only really the Clip range standing out.
Personally I find the M3 a bit more engaging than the Clip with a better screen and memory capacity but otherwise not much else standing in the way of the M3 for the price.
Perhaps the M3 will revitalize the budget DAP scene and that has got to be a very good thing indeed given the soaring prices of audiophile DAPs of late.
It has its plus points and negatives though. It is a very forgiving warm and euphonic sound that pairs well with a lot of cans and IEM's I threw at it. It has a decent memory capacity at up to 64GB and on-board memory to boot.
Screen real estate is the best in class if not the best in terms of glare and resolution and build quality though plasticky is solid enough and small enough to be very portable indeed. Codec decoding range is excellent and battery life is superlative.
Flipside
On the flip side, it has a bit of hiss and a high noise level for a few IEM's I have tried, the UI, though a slimmed-down version of the original X class UI still has quite a few kinks.
Firmware upgrades are rolling out fast thankfully, too fast to keep up in this review, and some key areas I mentioned maybe already corrected. It is also not the most resolving and detailed DAP with as planted but softish low end and a tapered top end and lacking a little in dynamics.
Sounds a bit picky but then that's my job, but overall for $55 the M3 is top-notch, very easy to pick up and go and something I can recommend for a first time DAP user and veterans who need something for the gym or out and about that represents good value and fun to listen to.
FiiO M3 Technical Specifications
Display Screen: 2.0″, TFT screen with 240 x 320 pixels
Headphone Port: 3.5mm
DriveAbility: 16~100 Ω
Volume Control: 60 steps digital potentiometer
Equalizer 5-band equalizer (±6dB)
Treble: N/A
Bass: N/A
Balance: 1 0 dB
Output power 1: >50 mW(16Ω/THD+N<1%)
Output power 2: >30 mW(32Ω/THD+N<1%)
SNR: ≥95 dB (A-weighted)
Frequency response: 20 Hz~20 kHz
Output impudence: <0.3 Ω(32Ω loaded)
Crosstalk: >70 dB (1 kHz)
THD +N: <0.008% (1 kHz)
Max Output Voltage: >2.8 Vp-p
Power: DC5V ≥500mA (Recommended)
Charge Display: Battery gauge moves until fully charged
Battery Display: Yes
Battery Capacity: 550 mAh
Battery Life: >24 h (normal volume with the display off )
Charge Time: 2.5 Hours
Memory: 8GB built-in 64GB expandable Storage (Micro SD card NOT INCLUDED)
Dimensions: 74 mm× 39.7 mm× 9.1 mm
Weight: 40g
Audio Files Supported
Lossless
APE(Fast): 48 kHz/16 bit;
APE(Normal): 48 kHz/16 bit;
APE (High): 48 kHz/16 bit;
FLAC: 48 kHz/24 bit;
WAV: 96 kHz/24 bit;
Lossy Compression