This is a review of the FiiO K5PRO ESS, which is a compact desktop DAC & headphone amplifier featuring a new ESS9038Q2M DAC and up to 1.5W of output power. It is priced at $209.99.
Disclaimer: This was sent to us as a sample for our honest opinion. Headfonics is an independent website with no affiliate links or services. We thank FiiO for this opportunity.
To learn more about FiiO products we have previously covered on Headfonics you can click here.
Note, this article follows our latest scoring guidelines which you can read up on here.
FiiO K5PRO ESS
The FiiO K5PRO ESS lives up to its potential inherited from the K5PRO and is a powerful hub for the PC with a decent value proposition. There is best-in-class power for the price and the gain option works just fine for IEMs and cans that require more juice.
Back in early 2020, we covered the K5PRO from FiiO and it was recognized as one of the most powerful budget compact integrated DAC/amps at that time.
Two years later, in the same super-rugged casing, the solid-state amplifier makes a come-back with the "Pro ESS" label. Under the same no-nonsense design, the new K5PRO ESS is reinterpreted with ESS9038Q2M in the heart of its decoding circuitry.
Price has gone up a bit from $149.99 to $199.99, but tell me something new for 2022, everything is going up in prices these days. Will the performance be a leap as well? Let's check it out now!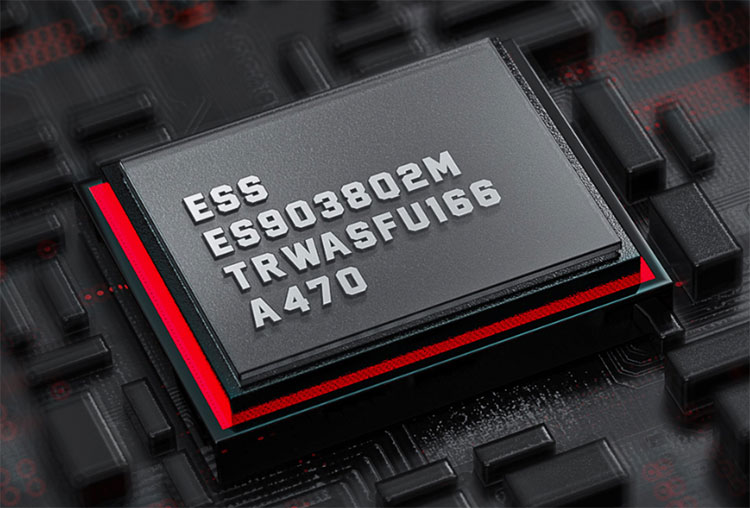 Tech Highlights
DAC
The 32BIT/768kHz, DSD512 capable K5PRO ESS uses an ESS ES9038Q2M DAC for decoding as well as offering as high as 1500mW of output power and can work as a standalone amplifier.
This newer rendition of the K5PRO achieves 118dB SNR and 113dB dynamic range, which is 3dB higher than before and is impressive for the price considering its rather power rating.
With the new ESS implementation, the K5PRO also achieves 50% better distortion control, as well as higher 16% higher output power with USB and SPDIF sources. The K5PRO has been doing quite well in this regard but the new ESS version seems to be offering much better performance here.
Like its predecessors, the K5PRO ESS packs in a second-order LPF as well as analog volume adjustment with NJW1195AV chipsets. The same voltage amplification and current drive configuration with OPA1642, and TPA6120, a high slew rate and high-power combo riding on its four-level audio circuit design with 15V power input.

Headphone Amplifier
Looking closer at the audio circuitry design, you will see the same amplifying circuitry based on the K5PRO.
After the signal gets through the analog volume adjustment chipsets NJW1195AV, we can see the same voltage amplification and current drive configuration using OPA1642 and the LPF TPA6120 The design offers a high slew rate and a high-power combo riding on its four-level audio circuit design with 15V power input.
The K5PRO ESS can work as a standalone headphone amplifier and with RCA input it can go as high as 1500mW and 6.9Vrms in terms of output power. A promising spec for a single-ended output that may rival some much higher-end devices.
Preamp
The K5PRO ESS can be used as a preamp connecting to its RCA line-in sockets. If you are planning to use its lineout to connect to another amplifier, compared to the last generation K5PRO, the new rendition's crosstalk has been enhanced by 6dB for better channel separation.
In preamp mode, the gain onboard will also be bypassed. The headphone output will still be active so also the volume control, but it is recommended to not plug in your headphones when LO is in use to prevent any potential damage.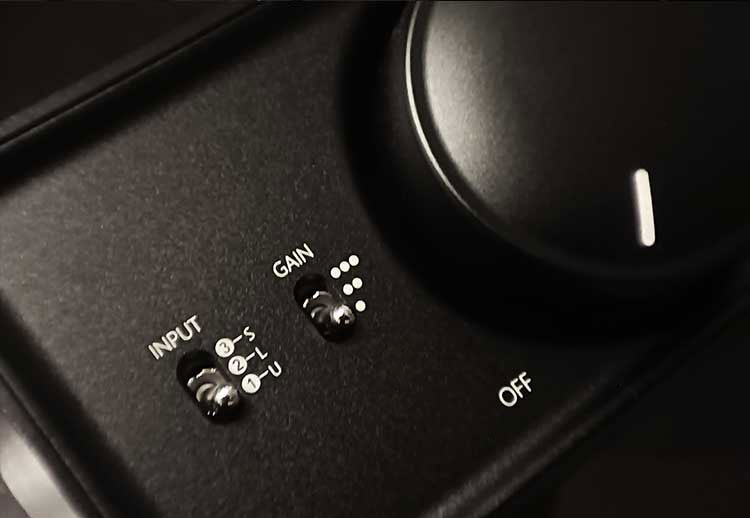 Design
With the same inconspicuous design, what surprised me is that the new ESS version is 44g heavier, you may literally feel the extra weight.
The clean design and stealthy sandblasted finish on its aluminum casing are perfect for any desk, with an external power supply that pumps 15V into the K5PRO ESS, powering most common headphones around at ease and allowing for linear power supply upgrades.
Similar to the previous generation the manufacturing is flawless, extrusion metallic parts are smooth and jacks don't shake at all. The K5PRO ESS feels rugged like a tank. In particular, the screw-less front panel is well-executed, and I like its minimalistic, industrial approach that is effective and compact in size at the same time.
In practice, the ADC enhanced volume control is very intuitive and friendly and does deter imbalance issues with more sensitive gear. The simple gain control on the front panel is easily accessible and the back panel indicates all the I/Os clearly while enabling most cables to be plugged in without any issues.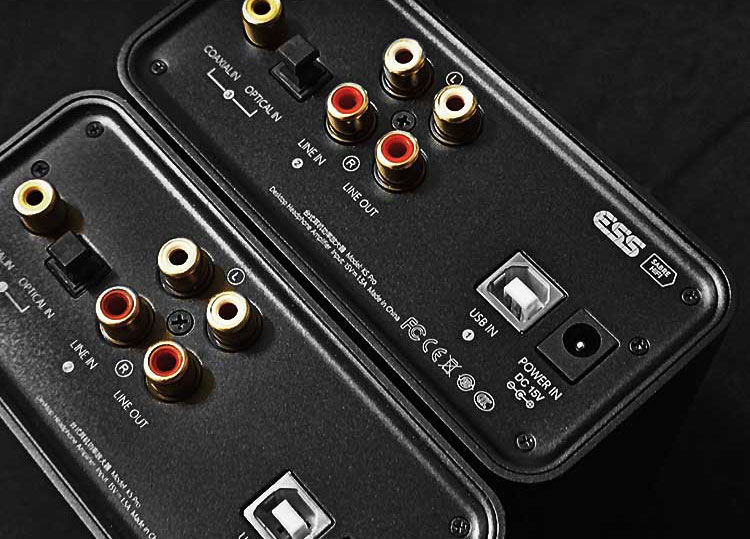 I/O
On the screw-less front panel sits a centered volume pod with a backlit rim that indicates bit rate by different colors, lighting up in blue for Red Book WAV, yellow for 48kHz onwards, and green for DSD. You can switch between inputs and gain (+0dB, +6dB, +10dB) with the toggle switches.
With a 6.3mm output, it will fit studio headphones as well as any 3.5mm terminated gears with a convertor. If you are looking for balanced outputs you will have to look at the K9 Pro ESS as the K5PRO ESS works only with single-ended outputs.
At the back of the machine, you will find a coaxial/optical in, an RCA line in/out, and a USB-B jack. You could connect DAPs to the K5PRO ESS via coaxial (SPDIF), optical or USB input and use it as a DAC with LO or as a DAC + Amplifier. The AC power jack is next to the USB-B socket and you can upgrade the power supply and USB cable for better performance.
To be honest, the USB socket is a hit and miss for me since most aftermarket upgrade cables come with the B-type specification, despite USB-C being more convenient.
Volume Control
We have seen ADC volume control on various FiiO devices and it is proven to be a well-implemented feature that eliminates channel imbalance issues. Especially so for sensitive IEMs that will go unbearably loud before the L and R channels reach the same level on older volume controls.
If your cans or IEMs are sensitive to power, then this may help save your hearing and gets you to the sweet spot fast.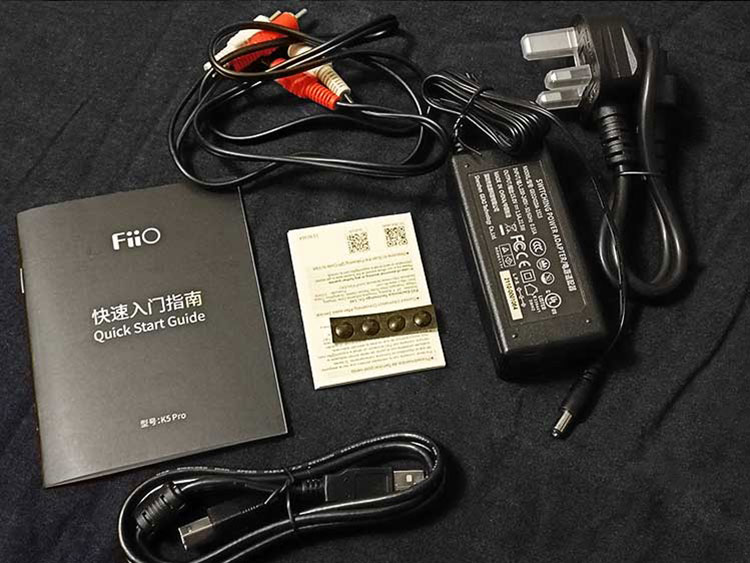 Packaging & Accessories
FiiO has updated their boring old packages to the cool, gaming-gears styled packaging box with reflective gradient outlining the machine. Digging inside, you will notice FiiO is doing a great job in packing the rugged K5PRO ESS in a minimalistic fashion with little damping material added.
Inside the packaging, you will find a USB cable, an external power supply unit, rubber feet, and a 6.3mm to 3.5mm convertor. Pretty much everything you need to get quickly started via connecting to the PC or other digital sources.
Sound Impressions
Summary
Tested the new K5PRO ESS with my Mac and ThinkPad, I caught no background hiss on the lowest gain even with sensitive IEMs like the SE846. The synergy is quite good with a satisfying amount of body in the mids and a rather dynamic output.
Like the previous-gen product, this new rendition with ESS chipsets has excellent power and seemingly enhanced dynamic range out of the box. You will pick up on the punchy lows, the airy kicks and a satisfactorily large soundstage rendered no matter the pairing be it with IEMs or headphones like the K701 that takes quite a bit of power to drive out its full performance.
The output seems slightly V-shaped, you can feel some small boost in the mid-bass and treble for clarity and the higher registers get a rounded treatment to suppress unwanted spikes, so there is good air and excitement with many instruments but it doesn't get overly sharp.
Compared to the last-gen product it seems that the vocal is more pronounced yet more well-rounded. There are quite some resemblances in tuning to the older K5PRO, possibly due to the fast and strong amping stage, even with a new decoding chipset.
In short, the K5PRO ESS has great dynamics and smooth mid-range, plus a lot of power for everyday IEMs and cans. The flexible gain options will allow users to optimize performance with studio headphones and other IEMS easily, especially dynamic-driver-based designs.
On a side note, if you use the coaxial connection, there is a bit more warmth and vocal presence which I would prefer over optic optical input.
Bass
With great power, the bass is not too shy on the K5PRO ESS but it is rather fast in attack, which contributes to a clean, powerful signature. Bass can punch quite deep with good power, and the decay is polite so the bass sounds very clean and works well with electronic music and synths.
With the HD600, I hear good warmth in the mid-bass and a rather extended and clean tone. There is enough current to make the bass firm and the midrange textured, adding more weight to darker voices.
Overall, the bass has an agile response and good layering. It is nicely textured with air, and details are decently captured, working well with light-hearted Jazz tunes and fast-paced pop. In particular streaming content that boosts the mid-bass works quite well.
Mids
The K5PRO ESS has a small bump in the upper mids frequencies. The low-mids sound is slightly more detailed than the original K5PRO and overall, a more resolving sound, even under high power loads or using a higher gain level.
Streaming on YouTube and Tidal, the midrange sounds quite neutral and vocals are very slightly recessed to render more space and clarity. Darker voices sound very clear with the K5PRO ESS managing to capture a nice level of micro-detail.
Like the original K5PRO, the K5PRO ESS works very well with good DSD mastering to sound highly engaging having transients and small details nicely captured.
Listening to pop songs and live recordings, the K5PRO ESS has an up-lifting signature and the vocal has just the right weight to sound dense and intense enough on stage but not stealing the spotlight.
Treble
Replaying some highly pitched opera works, the K5PRO ESS display some bumps in the 5-7kHz region that gives it good energy and excitement followed by a rather sharp roll-off, which is nicely done to not make it feel compressed or flattened, favoring casual listening over any analytical inspection.
The fair extension in the upper end as well as the elevated frequencies keeps the overall tone clean and fast, aligning with the fast bass well. Listening to woodwinds and harsh old recordings tested on the coaxial connection from the M11 Plus the output is very smooth, rhythmic, and lusher, sweetly colored in the vocal than on the USB connection.
Soundstage
With an airy and firm bass, also energetic upper frequencies, it stretches the perceived staging quite wide. The vocal is clearly imaged with sufficient separation from backing instruments in a band but more resolution will be needed for bigger ensembles.
Other instruments are satisfactorily defined especially ones that cross the lower-mids range. Midrange instruments like guitars smoothly accompany the vocal mixes and do not stand out too much.
The roll-off in treble kills off some air though the high power in the output reinforces dynamics and boosts the perceived soundstage. It may sound compressed for some tracks that have plenty of higher-pitched contents but pop and jazz are a good match for the K5PRO ESS.
Click on page 2 below for pairings and select comparisons