I often hear that term, "sorry for your wallet" in audiophile circles. It is long since accepted that this faux-apology is a very close bedfellow to the acronym "G.A.S." gear acquisition syndrome" and come to signify that endless crusade to find your very own endgame setup. End game denotes the moment when you can confidently expect to never have to buy another piece of audio gear ever again. Except we know that is not true. People can end up spending thousands of dollars in the blink of an eye on the next big thing.
You may have also heard of a company named FiiO in the last 9 years. They make rather good audio gadgets and do not sell for a whole lot of greens. They have quite a hardcore following and are, in the main, the antithesis of the wallet meme. For years, FiiO has been churning out gadget after gadget that sounded great, didn't cost a whole lot and essentially re-wrote the book for me on high levels of QC in low-cost audio gear. They have been most kind on wallets and perhaps that has been the secret ingredient in their rather rabid fanbase.
In the last two years though FiiO has expanded with the launch of their DAP range bringing them truly out of the bargain basement and into mid-fi audio, something of a risk you could say. Yet at the same time, they keep churning out product after product below $100 such is their commitment to the core audience. Call me impressed indeed. Actually, a lot of us who review FiiO products cannot believe the level of churn there is in FiiO's road map with practically a new product every 2-3 months. They certainly are prolific, to put it mildly.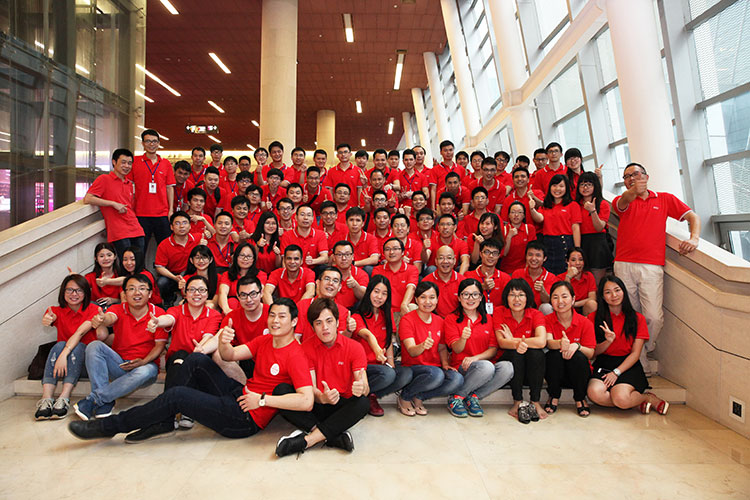 And now it is their 9th year and in the last few days they celebrated this anniversary (as I write they have a big competition on their Facebook for some DAP gear). I thought it would be ideal to introduce you to the FiiO team, guys I have been talking to and sharing jokes with for the last 5-6 years. They never complain, never grumble when you tell them a product sucks in a review. They simply say of course that's your opinion and we welcome all opinions. That just makes them even more cool in my book. I also took the opportunity to ask them some questions one of which I will bet a lot of you guys do not know.
FiiO Stands For…
FiiO – What on earth does FiiO stand for guys?
Good question – The name FiiO is actually composed of Fi (Fidelity) from the phrase HiFi and iO (representing the number 1 and 0) which indicates the sincere feeling and more convenient life that digital technology has brought to us.
So you are all music lovers and tech lovers, but what inspired you to put FiiO together nine years ago?
Yup we love audio and technology that is true and nine years ago we were just going with the development of portable audio products. The start-up team didn't do it for money, this was not our main motivation. We just like to create things and products we like together as a team. It's really our passion that drove the formation of FiiO all those years ago.
At this stage, you got a feeling FiiO spoke as a team and see themselves to this day as primarily a team. Yes, there is CEO but FiiO is a lot smaller than you think and the camaraderie in how they do things and work with their customers is one of the salient features of how they do business. You only have to delve into any Head-fi thread on any FiiO product and there is a company rep speaking openly about how things are going with any new product. Engagement like that creates loyalty. I asked James Chung to give us a bit more insight into the structure of FiiO beyond the team ethic.
Yes correct we do have structure as any other business. We have sales department, production department, R&D department and design department managed by our team members. Personally, I'm not responsible for the day-to-day management. I'm mainly responsible for the product definition and customer service.
Who We Are
At this point the effervescent Sunny, Overseas PR Supervisor start breaking it a bit down in more detail as to who does what in the company with some really nice shots of the office and the people. I had a slight touch of envy looking at the shots. You often wonder if conditions are good or not working in China but FiiO's office looked like it could be plucked out of any modern corporate setting. This your team folks at FiiO below: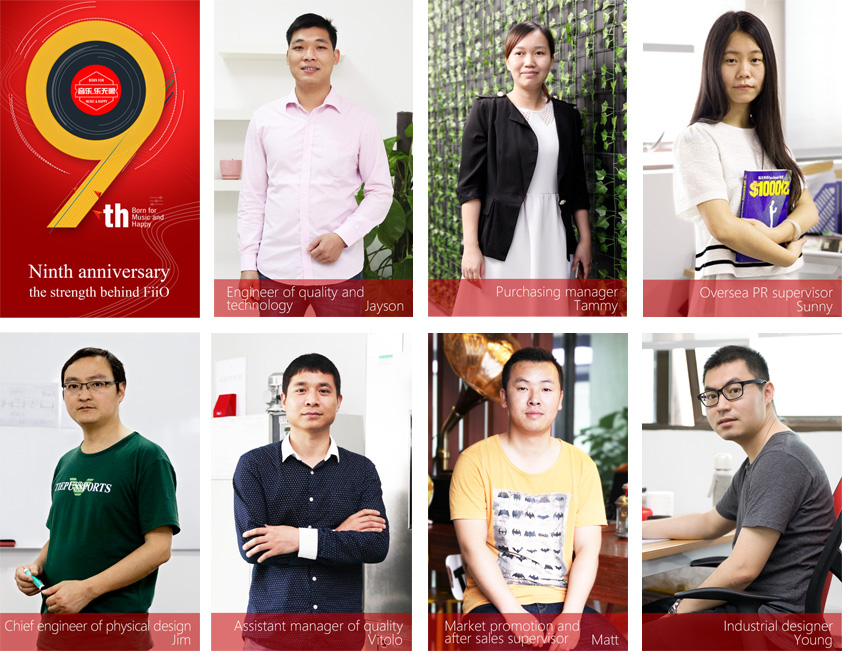 Now personally I do not get a whole lot of time with the other team members, normally my contacts are Sunny, James and the odd time Lily who is not actually in that picture but FiiO have graciously allowed me to plug in some of the comments the team made about themselves and why they joined FiiO:
During these seven years I worked in FiiO, I touched AMP and DAP and knew there's more than only one way to play music. From pioneer period to development period, FiiO comes to today step by step. FiiO's operation philosophy, core value, rational management have never changed. It's comfortable to work in FiiO as at home. I found it's not easy to do one thing well, and it's more difficult to insist on doing this thing perfect enough. But only you take the first, many possibilities can come true. Thanks to FiiO.

Engineer of quality and technology, Jayson, worked in FiiO for 7 years.

I joined FiiO family in August 2009. I have witnessed and participated in the growth of FiiO in the past 7 years. FiiO kept developing firmly from a small group with around 10 members to today's scale. Thanks FiiO for giving me the platform to perform myself and letting me gain the treasure and dream at work.

Purchasing manager, Tammy, Worked in FiiO for 7 years

I joined the company for practice after graduating from college. Now, five years have flashed away, FiiO seems like the second family in my life. When I look back, I found FiiO is growing and the people in this family as well. It feels good to grow together.

Oversea PR supervisor, Sunny, Worked in FiiO for 5 years

I feel very proud that I have worked in FiiO for 5 years. From the initial AMP(E12\E17) to the successful launching of first DAP X3 in 2013, then the X7 now, we have poured lots of time into every product. All these are to satisfy the experience of enthusiastic fans.

Chief engineer of physical design, Jim, Worked in FiiO for 5 years

I have worked in FiiO for 5 years in quality management. After I joined this job, I deeply realized that the quality requirement from the market is improving. Fortunately, all the FiiO staffs support the quality at the back. We make our products achieve the satisfaction of customers together, even beyond the market requirement. The requirements of customers are power to make us move forward. The satisfaction is our goal to chase.

Assistant manager of quality, Vitolo, Worked in FiiO for 5 years

Because I love the audio industry, I joined FiiO by chance after graduating from college in 2011. Five years flashed away, and I am worthy of the name of sophisticate now. I'm taking care of the domestic market promotion and after sales, participate in official copy writing sometimes. I called myself a factotum. Many things of FiiO have relations with me because FiiO has blended in my life. I stayed and grew up with FiiO in the past years, it gives me many memories. This year is the ninth year of FiiO, I wish FiiO can improve firmly and become better and better.

Market promotion and after sales supervisor of domestic market, Matt, worked in FiiO for 5 years

To a designer, the happiest thing is that the products we designed are launched in the market and loved by the customers. As a fresher, I'm very fortunate that company trusts me so much and let me participate in the projects. I wish we could work together to bring better and higher quality products to our customers.

Industrial designer, Young, Worked in FiiO for 1 year
Admiring Apple
One thing that shone loud and clear in the FiiO team is tenure. Just about everyone apart from Young has been with FiiO over five years and that kind of skill and knowledge pool is hard to replace. Continuity seems to be a key part of the planning in FiiO and it shows with their product lineup; new generations of older products, subtle design evolutions, improved technology within existing frameworks. If anything the FiiO path, image and styling as well as the control reminds me of how Apple launch their products, something I put to  James during our discussion:
Yes, I agree, Apple is a brand that deserves to be studied, learned from and saluted by all consumer electronics on the planet.
Yet the interesting aspect of this, and one which possibly a lot of people do not know is that the original team when FiiO started came from respected electronics firm, Oppo.
That is right, our original team came out of OPPO (one of the bestselling cell phone brands whose annual sales volume almost reaches 100 billion RMB), we were trained in the best EMBA in China and the seven-year long working experience in OPPO. I think all those experiences help me to have a better understanding of products planning.
Page2: More On FiiO's Products