Android
One of the key things I wanted to bring up regarding the move to more of a smartphone experience was the eventual switch away from their own OS from the X series to a purely Android experience now with the M series. I asked Kean if everything now was 'doubling down' on Android and he stated this was not quite the case.
Yes, we are now more focused on Android system. the reason for this that we can develop diverse functions to adapt to the various needs of users who would be attracted to the new M series features. It also turns out that Android is a veryhighly effective way of achieving this.

However, FiiO did not give up on the development of non-Android systems. For example, we have self-developed the M3K and M5 OS system for entry-level users.

For the update of the X1 2nd gen, we had no choice to end the lifecycle. This early project was developed in cooperation with a third-party company who stopped operation and this led to the maintenance of X1II also being stopped. We have made sure the basic functions of the X1II have bis continually been improved before we called a complete halt. We didn't give up halfway.
Product Road Map
The mention of the X series is something that caught a lot of loyal FiiO followers out when they started introducing a brand-new M line. In most quarters we took it as the successors to the old X series trying to figure out which unit replaced which older X unit. In some cases, there is a fit with the M11 touted as the successor to the X5 Mark III or 3rd gen. Others, like the M5, seem completely new.
So I asked Kean why the move from X to M and what are the benefits it affords FiiO in their product road map?
Actually, there is no product or positioning difference between the X series and the M series, just because the original X series products are not convenient for consumers to distinguish. The evolution from the X series to the M series is due to the development of the X series over the years, and the naming rules have changed, resulting in some confusion in the market.

Taking the name of X3 as an example. The first generation is called X3, the second generation is called X3II, the third generation is called X3 Mark III, and some people call it X3 MKIII or X3 III, which causes some confusion. At the same time, X1-X7 represents different price points, so there is no room for lower-end products, which is why we later launched an M3 player.

In the future, the M series is much simpler. On the one hand, we have expanded the model space. On the other hand, we will use the suffix K/S/PRO, which is simpler and clearer. For the model name, the spread is simpler and not easy to make positioning mistakes.
M-Series Challenges
Ok, so what are, or were, the challenges in delivering a new M series product line?
Every time you launch an M-series product, users have to ask about the difference with the X-series; in fact, this is just a different name and more choices.

In fact, these explanations are not a big challenge, and users can easily accept them after they get the products. The real challenge is since the M series is to offer the market and users a variety of choices, then product planning is much more important in the long run.

If you collect specific user needs and define these features and configurations into different products, it becomes very difficult to judge and make decisions. In the past, we may only need to do 3 kinds of ID design to choose from. With the M Series, we may have to do more than 10 kinds of choices. These bring greater complexity to the design, production and investment decisions for the company.

After our product definition and design is completed, our understanding of how to do accurate promotion has also become more challenging. It is necessary to make the work more detailed and to make the key differences clear to not only our staff and sales reps but to our end-user or target market.
Adapting To The Market
So, you mention decisions are now more complex? I presume that also means the target market is now more diverse and complex in 2019. FiiO needs to adapt to this in decision making.
Where has the emphasis changed in the usage scenarios in FiiO's product line? For example, audio quality, wired connection, power, battery life, and accurate OS. What has remained and what is new?
First of all, the quality of audio and the quality of the product itself will not be changed. Secondly, we will follow the trend of digital products and changes in user listening habits, emphasizing better user experience,streaming media and Bluetooth audio quality.

Like the previous X-series and Q-series, positioning is still for the audiophile, but the span will be even bigger, including more entry-level users and some high-end users.
Understanding Consumer Needs
I originally thought we might be seeing a real split into consumer and audiophile positioning but perhaps these explanations mean that it is the opposite. The lines are becoming more blurred now in 2019 as to audiophile and consumer demands.
One look at smartphone DAC's marketing such as LG's use of Sabre ES DAC's does point to an increasing acknowledgment that the consumer and audiophile are one and the same as opposed to how they were seen as niche a few years ago. I asked Kean how does the M Series link into modern consumer buying habits and are they so different from audiophiles these days?
In fact, most of the consumers are still audiophiles, but we are more inclined to see demand for popular styling in digital products derived from the traditional consumer market. Feature such as curved glass and borderless hi-res screens are classic examples of where the digital media player business is going.

This merging of features meets the consumption habits of most users, of course, not only the consumption habits of audiophiles.
The Flagship Year
Of course, 2017 and 2018 was the Infinity Series drive with the big move to balanced outputs on a wide range of devices. However, it was noticeable after all of these changes we still have the venerable but slightly aging X7 Mark II as the flagship FiiO product.
Yes, the amp card system does have a balanced system that is still being developed but given the spec sheet, I wondered if the change to the M system would ultimately lead to a replacement for the X7 and with that, the end of the X series altogether.
So, I asked Kean, what is the new product relationship between the M series and other products being launched? The Infinity series in 2018 was a definite roadmap of linking products but what does 2019 offer?
The company internally calls 2019 as the flagship year. What that means is that the upcoming M-series and our new headphones and DAC projects will all gradually fill the current vacancies in our high-end product line.

In addition, in 2019, we will have a strong focus on Hi-Res Wireless throughout the whole product line. Bluetooth headsets will be launched in 2019, including Bluetooth cables. The BTR series is FiiO's first Bluetooth DAC amp, and we will introduce a higher performance BTR5 with balanced output.
Since Kean's quotes we have actually seen the BTR5 formally announced and also FiiO's new BT headphone, the EH3 NC. Both of these are due to be launched into the market later in the year and both boast of popular features such as LDAC, noise-canceling and one-touch NFC.
Product Planning
These shifts are not just happenstance to meet what is perceived to be changing consumer demands. From own time in manufacturing for a number of years, new product launches require a lot of careful planning as well as substantive personnel changes, retraining, and product line tweaks including nee QC guidelines.
Many companies can take a very different approach to this through hiring, retooling, and retraining. It ultimately depends on their core human capital philosophy, management and team structure in terms of how easy it is to switch up. I asked Kean how has FiiO done this switch-up. Has the organizational structure changed to reflect the growing diversity of products in FiiO?
Yes, in the face of so many product lines and models, we have to make adjustments well in advance. For the M-series we have established a number of project teams, all of which are no longer pure task orientated but also project-based.

This makes the operation much more efficient, and the communication is more direct. Within a rapid time period can carry multiple projects in parallel. Therefore, the speed and quality of product launches have also increased.
FiiO's Factory Setup
Now, this does not just mean the HQ office. The design, development, and prototyping can happen there but the production line is based in their main factory a short walk away, (not including IEMs). The communication chain from design and development into the final production line product has to be tight and that means the involvement of production staff in many of those projects.
Now the walk to the factory is fascinating and as a "tourist" of sorts its the kind of walk you will never really see on any tour guide map. I call it the "real China" walk as you see people move, work and eat in a very local and normal setting rather than an upmarket sanitized hotel for westerners.
The location is right in the heart of what is basically a residential area. There are no specific industrial parks in this part of the city even though it is fairly industrial by nature. In fact, apart from the signs, you would never know FiiO's main production lines are made here.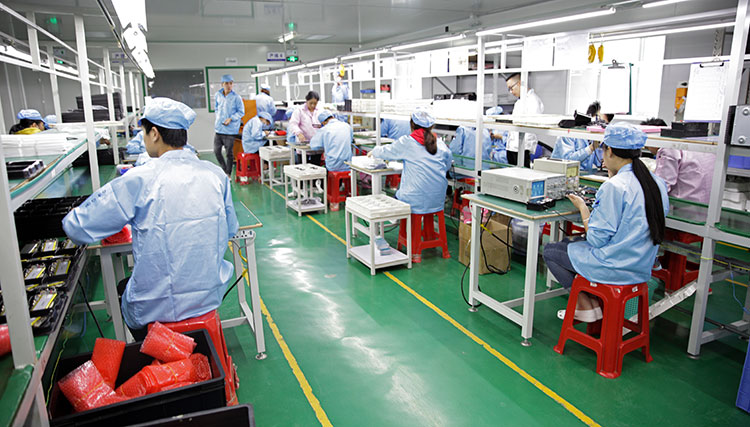 It is only when you get on the inside do you see just how cultured the production line really is. I am fairly sure the guys use a 5S system inside the factory and there are QC and sanitation checkpoints everywhere. I believe the factory or the company is also ISO 9001 certified which is a fairly rigorous process to go through from my own experience.
Production Control
Kean and Sunny came along with us for the factory tour as well as explaining the specifics of their manufacturing process and methodology for the new M Line and their latest AMPs and DACs.  Kean also mentioned that IEM production control is quite different from DAPs.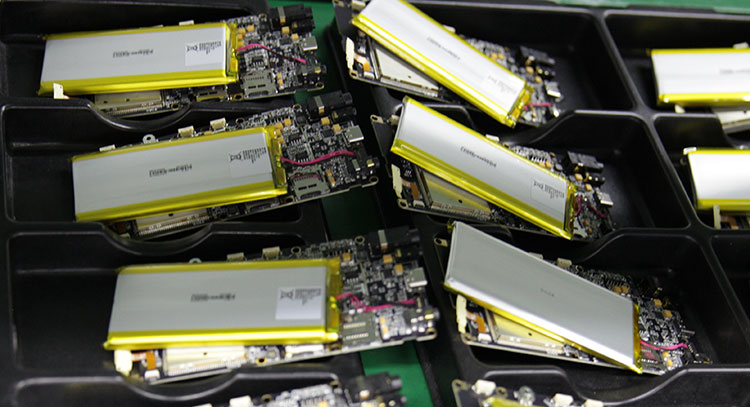 The production method depends on the function and construction process of the product. The assembly process for DAP and AMP & DAC products has matured, but as the functionality increases, production testing will be adjusted.

Therefore, they all go through a strict process as follows: PCBA test – partial assembly – component test – complete assembly – finished product test – aging. We also retest these links in order to get it ready an ensure a smooth QC process. The decompose functional and performance tests are first, and then overall testing. This not only ensures the comprehensiveness of product testing but also improves production efficiency.

The difficulty in the production of IEM products lies in process control. Because its internal space is compact and precise, and it is irreversible after assembly, it is necessary to ensure that one station corresponds to one inspection in order to improve yield and consistency.
Supply Chain
One of the final aspects we spoke about before wrapping up the FiiO tour was the new high-profile relationship supplier chain that has seen a few key brands step to the fore when FiiO do new product launches.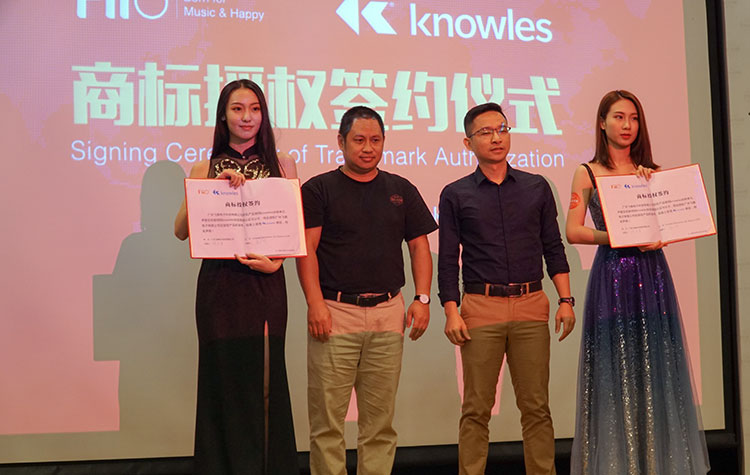 For example, FiiO has been very transparent with their partnership with Knowles. For those that are not aware, Knowles is one of the main balanced armature manufacturers in the world. Chances are high if you have an IEM it has a Knowles driver inside.
I asked FiiO who exactly they work with in terms of suppliers to allow them to realize their product launches for 2019, especially the M series DAPs.
In 2019, FiiO has more types and quantities of products than ever before. It is inseparable from the strong support of suppliers.

Due to some commercial confidentiality agreements, we can only briefly introduce the technical and commercial support of the following suppliers: Samsung Semiconductor, Qualcomm, Louvre, AKM. Chip vendors' priority support (portable audio field only). More technology companies want to become partners with FiiO, such as THX and MQA.
Wrapping Up
We were lucky that weekend as there was a huge audio show in Guangzhou happening the same time we wrapped up the tour of FiiO's premises.
Of course, FiiO was attending, as they do at almost every audio show in the world these days. We see them all the time at CanJam Singapore and I am sure you have met some of their team at the AV Show in Hong Kong as well as CanJam events in the US and Europe. I can't think of a show where their table is not full of new products being launched as well as attendees surrounding the table 2-3 deep.
Of course, yours truly went to the show as a guest of FiiO and it is nice to see the other side of the business from the company point of view and to hear the feedback of customers to FiiO. I had to learn a few Cantonese words also for a small speech. I mean like 2 words, that's as good as it gets for me with foreign languages. Google translate is my best friend at times.
Charitable Causes
One final noteworthy topic I picked up on at the show and during the FiiO launch event is something perhaps a lot of us do not think about that often when it comes to how audio companies invest their hard-earned cash.
Charity work is a big theme in FiiO's corporate and social responsibility. I believe this time it was for special needs children with disabilities. Children that may not have had the best support in their lives thus far.  As a father myself these are the type of projects that touched me and it is wonderful to see FiiO feel the same way with their generous support to services such as this.
So just remember, when you are buying that shiny M11, a percentage of the money you hand over is going to wonderful causes such as this. Something always worth supporting.