The Fearless Shangri-la is a universal hybrid driver IEM featuring a single dynamic driver and four balanced armature drivers. It is priced at $228.
Disclaimer: The Fearless Audio Shangri-la sent to us is a sample in exchange for our honest opinion. We thank the team at Linsoul & Fearless Audio for giving us this opportunity.
To read more about Fearless products we have featured on Headfonics click here.
Note, this review follows our new scoring guidelines for 2021 which you can read up on here.
Fearless Shangri-la
With the Fearless Shangri-La's emphasis on minute details, this is a perfect IEM for someone who wants a detailed listening experience or someone who would like to use this in professional usage.
Fearless audio has made a name for itself as the ChiFi TOTL IEMs that compete in the premium market with the over $500 price range. We have actually reviewed some of them, namely the Paladin Series Roland and the S6 Rui.
Now, Fearless Audio has numerous monitors under its wing in the tight market of the sub $200, which allows them to have a broader target market, say people new in the hobby or people moving up from the sub $100 price range.
To start, the Shangri-la is a new offering from Fearless Audio located at the lower end of the $200-$300 range priced at $228.00.
Fearless Shangri-la is part of the Colorful World series featuring a collaboration between Sonion and Colorful World manufacturers in producing four custom balanced armature drivers. These monitors are indeed colorful, with the 3 colors to choose from – horizon, canyon, and moraine.
Tech Highlights
Fearless Shangri-la is a 5 driver hybrid implementation composed of dynamic and balanced armature drivers using a 3-way crossover configuration. The grouping is a single 10mm custom Dynamic Driver for the lows and 4 custom balanced armature drivers with 2 for the mids and 2 for the highs.
The dynamic driver is something new for Fearless Audio, a Fearless Special Research Pole-Magnetic Dynamic Driver, which is said to minimize distortion and give a rich texture to the low frequencies.
The 2 custom balanced armature drivers for the mids are produced in collaboration with Sonion and a brand new to us called Colorful World. The 2300 series of Sonion has been tuned aiming for a well-balanced signature in the mid and high-frequency region.
For the ultra-high frequencies, Shangri-la uses two 2nd generation Colorful World BA drivers that have been tuned to produce crystal clear treble playback, reducing grainy textures.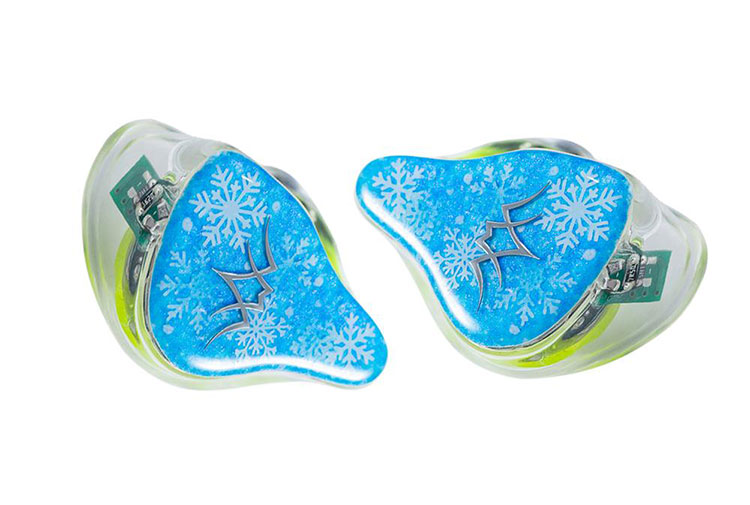 Design
One thing that captivated me about this IEM is its interesting play of colors. The moraine variant of the Shangri-la has an overall light blue and yellow-green color combination, which is a refreshing take on a sea of black and silver color monitors in the market.
The shell looks like it's made of a transparent resin material so you can visibly see the multi-driver set-up of the Shangri-la. The faceplate is a glittery light blue with snowflakes prints while the drivers are coated with a yellow-green accent, complementing the overall look.
Shangri-la's shell also features an ergonomic shape that provides ample insertion and ensures a good fit. It is light and comfortable, making it easy to carry and wear when you're out and about.
Comfort & Isolation
The resin shell is light, so wearing the Shangri-la for long periods was never an issue. The shape of the shell and insertion depth was perfect for my ears.
Isolation of the Shangri-la is above average, perhaps because of the excellent fit. Sounds in a coffee shop were completely drowned out, making it easy to focus on listening to music or downright working.
Stock Cable
The cable included is an 8-strand ultra-pure oxygen-free copper (OFC) silver-plated Litz cable. Litz is a high-end cable that allows signals to pass while avoiding distortions, which means it can transfer signals intact. It also keeps your physical wire from oxidizing and going green. I must say this is a generous inclusion for a monitor at this price range.
Externally, the cable is in a plain silver color, nothing too striking. It complements the faceplate design with its elegant silver cable.
The memory wire was also just right, it has a good amount of memory retention that will sit comfortably on the ears. Also, moving around does not cause much microphonics that will deter an enjoyable music experience.
The termination on the IEM side is a universal 0.78 2-pin configuration, meant for cable rollers that want to expand the stock offering. The other end is terminated with a SE 3.5mm TRS with a Fearless Audio plug.
Packaging & Accessories
The Fearless Shangri-la comes in with standard IEM inclusion, nothing out of the ordinary. The unboxing experience was pretty straightforward.
Upon opening, the wiping cloth veils the Shangri-la monitor with silicone tips and the 1.2m stock cable. Below is a white-semi-hard magnetic carry case that carries the extra 3 pairs (S, M, L) of silicone tips, earphone cleaning brush, wipe cloth, and a white semi-hard magnetic carry case.
Sound Impressions
Bass
Shangri-la is aimed to be a balanced monitor with extended detail retrieval. That being said, it is expected that the lows on the Shangri-la are not as impactful and emphasized compared to a V-shaped sound signature.
One way to describe Shangri-la's lower end is that it's just right. It is not overpowering but do note that it has great control. It has fast attack and decay, making the details easily heard, especially every hit of the notes in the mid-bass region.
Rumble was not much felt in the sub-bass region, which might be a dealbreaker for bass heads. But the overall tuning of the bass region allows for more detail to be heard, with the overall presentation to be clear and transparent.
Mids
The midrange region is tuned to be mostly even, with no fluctuations between the lower and upper midrange frequencies.
The tuning is not heavy or thick, but just right for an IEM aiming for a balanced sound signature. However, it does sound a bit cold. Warmth and lushness are missed with these monitors.
It does make up for it with its detailed retrieval from the instruments and vocals. Notes and textures are easily heard and distinguished, which is good for detailed listening. Piano, strings, and wind instruments sound natural and light. Vocals shine with the instruments playing as support in the background.
Male and female vocals are in harmony, with no noticeable dips across different frequencies. It is clear and transparent, which highlighted the minute details commonly dismissed. Overall, the midrange is pleasantly tuned and goes so well in the overall tuning of the Shangri-la.
Treble
The strength of the Shangri-la is the presentation of the highs. It is tuned so well that treble extends well while not feeling any fatigue. Even if it has good high extensions, it did not feel like it's on the bright side. It stays true to its balanced signature, making sure the lows, mids, and highs are in sync.
The level of control on the treble is quite impressive. Transitions from high frequency to ultra-high frequency were smooth, with no distortions.
The highs were also articulate, with the high notes and strums presented crisply and clearly. The highs were also airy and felt so natural at the same time. Every hit of the cymbals was splashy, with extended shimmer.
Staging
The soundstage of the Shangri-la is impressive for a monitor at this price range. It is wide and deep, allowing the monitors to display extended details. Imaging is above average. The distinction between instruments and vocals was easily replicated. Gaps between notes are noticeable, even in busy tracks.
Synergy
Efficiency
With an impedance of 22Ω and sensitivity of 112dB, the Shangri-la is easy to drive. Even powering it with a smartphone such as the iPhone 12 Pro Max can produce decent performance out of these monitors.
However, soundstage and imaging are notably improved when paired with a good quality source like a DAP, such as iBasso DX150 with AMP6.
Pairings
Since the Shangri-la has a balanced sound signature, it would be a breeze to pair. I find the iBasso DX150 with AMP 6 to have a good synergy with the Shangri-la as it has a warm tonality with energetic upper mids. As someone who prefers transparent lows and sparkly highs, the pairing is just right for my tastes.
For those who want a denser midrange, pairing it with the Shanling M6 Pro would be a good choice. Or maybe a fuller-sounding lower-midrange such as the Hiby R6 Pro.
The iBasso DX220 with AMP1 MKII comble would also be an excellent choice for a more reference-sounding and accurate imaging DAP.
Select Comparisons
IKKO Gems OH1s
$199
Technical
IKKO Gems OH1S is a hybrid universal IEM with a 10mm dynamic driver and a Knowles 33518 balanced armature. Fearless Shangri-la has a similar hybrid configuration with a 10mm dynamic driver and 4 Balanced Armature drivers (2 Sonion BA + 2 Colorful World BA).
Design
Comparing both side by side the IKKO Gems has a smaller form factor than the Shangri-la. Both monitors also have very contrasting features. Gems has this play of textures with a resin and metal build. The colors are also on a darker and stealthy side, making it look out of this world.
The Fearless Shangri-la on the other hand has a more traditional IEM shape made with transparent resin. The color combination also is on the bright and refreshing side, with the play of glitter light blue and yellow-green.
Both IEMs have an ear-hook design with the IKKO Gems having an MMCX termination while the Shangri-la has a universal 0.78mm 2-pin termination. The cable on the Shangri-la looks and feels more premium with the included Litz cable. The cable of the Gems and Shangri-la are both terminated with a 3.5mm straight jack.
Performance
The bass on both monitors is on the shy side. There were no heavy rumble in the sub-bass nor emphasized thumps in bass-heavy tracks. The Shangri-la does however have a better sub-bass projection. Notes are still felt and controlled well with its fast attack. The lows on the IKKO Gems are just too heavily recessed, to the point that it is almost washed out.
The mids on both monitors were well balanced, with no noticeable drops between the lower and upper midrange regions.
However, the timbre presentation on the IKKO is dry and thin compared to the Shangri-la. The Shangri-la has lusher vocals, which I think is advantaged by Shangri-la's 1DD + 4BA configuration wherein dedicated drivers were tuned for the different frequencies.
The highs on the IKKO are more emphasized than the Shangri-la. Actually, it is a bit too emphasized that it tends to be more fatiguing and piercing than the Shangri-la. The Shangri-la does well in having great treble extension while still maintaining a more natural treble presentation.
I must say that the soundstage of both IEMs is similar in width and depth. Both are spacious and impressive at their respective price points. Although, the imaging on the Shangri-la is better. Vocal layering was better projected in the Shangri-la.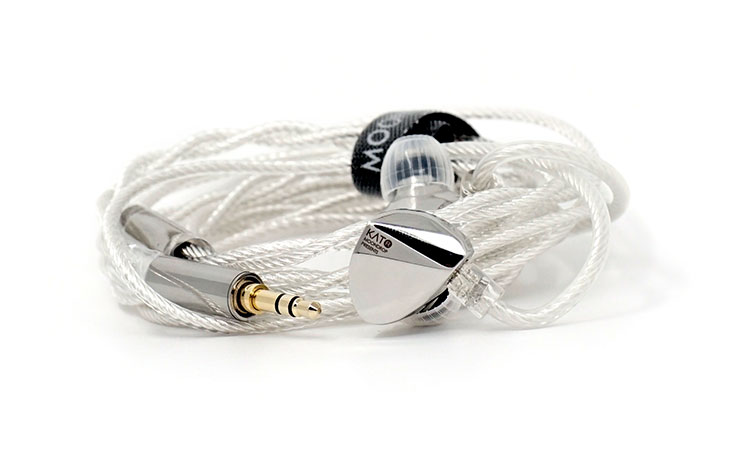 Moondrop KATO
$199
Technical
Moondrop KATO is a single 10mm ultra-linear technology dynamic driver IEM featuring Moondrop's latest flagship dynamic driver. On the other hand, the Fearless Shangri-la has a hybrid configuration with a 10mm Fearless Special Research Pole-Magnetic Dynamic Driver and 4 BA from both Sonion and Colorful World.
Design
KATO has a polished silver look along with an irregular geometric-shaped shell. On top of that, it also has a removable nozzle for easy maintenance. The body is made out of a metal shell, which is a bit heavy compared to other monitors.
Shangri-la claims a different take with its bright light blue and yellow-green colors for its monitor design. The shape is also a more traditional ergonomic design with its light resin shell. Both monitors have a 2-pin 0.78 termination with a 3.5mm straight plug termination.
While both monitors are charming in their own way, I prefer the Shangri-la's overall fit as it is light and easier to get a good fit in my ears.
Performance
Right from the start, I expected the bass on the KATO to be deeper and more elevated with its single dynamic driver configuration. True enough, KATO's bass response has a meatier rumble and thump compared to the Shangri-la.
Both have a good mid-bass presentation with a good sense of control. Mid-bass notes were still articulate despite fast bass riffs in heavy bass tracks.
The midrange of both IEMs is presented well, with a good balance of the lower and upper midrange. The KATO however has a richer and fuller timbre, perhaps because of its 1 DD design. The Shangri-la sounds "colder" but more detailed than the KATO.
Treble on the Shangri-la shines in comparison with the KATO. Shangri-la has a smooth treble extension and articulate highs. Cymbals and strums are crisp and have an extended shimmer, that is absent with the KATO. Both monitors have pleasing highs, even in extended higher notes.
Soundstage and imaging on both IEMs are above average with their spacious presentation. Imaging is well projected as well, with the instruments and vocals having above-average layering.
7Hz Timeless
$219.99
Technical
7Hz timeless has a magnetic planar driver with an ultra-thin diaphragm and a whopping 14.2mm Planar driver. The Shangri-la has a different configuration withs its hybrid 5 driver configuration (1DD + 4BA).
Design
Timeless has a "timeless" design with its one-of-a-kind disc design that looks like either a watch face or a spaceship pulled out of space. It's in a metallic shell with a stealth black color.
The Shangri-la has a completely different look with its refreshing colors of glittery light blue and yellow-green that look like it's pulled out from a cartoon movie.
Performance
Since Shangri-la is on the shy side when it comes to the bass region, Timeless has a deeper and meatier rumble in the sub-bass regions. It does however make up for the lack in sub-bass with its good mid-bass control. Both monitors have a fast attack and decay in the mid-bass regions. Notes are articulate and easy to distinguish despite fast bass tracks.
With the Timeless having a V-shaped sound signature, the midrange is more recessed and thinner than the Shangri-la. Shangri-la delivers a better midrange presentation with its exceptional clarity and thicker presentation.
The treble tuning of both monitors is oh so good. Both monitors exhibited the much-anticipated shimmer and sparkle in the higher frequencies. Treble presentation of both IEMs has a very natural and airy presentation that allows the higher notes to shine in their own right, without the risk of over-fatigue.
Comparing both IEMs side by side, treble tuning felt similar and hard to compare with each other.
The soundstage of both monitors is above average. Both have wide and spacious projections. Layering is presented well, especially with overlapping vocals. Sound is very natural, projected with a multi-directional approach.
Our Verdict
With the tight market in the sub $200 price range, Fearless Audio's Shangri-la is a refreshing option, both design-wise and sound-wise, with its bright design and balanced sound signature.
Equipped with a hybrid 5 driver configuration with a Litz cable as its stock offering, I must say Fearless Audio has given us a bargain with a price of $228.
With Shangri-La's emphasis on minute details, this is a perfect IEM for someone who wants a detailed listening experience or someone who would like to use this in professional usage.
Fearless Shangri-la Specifications
Sensitivity 112dB (@1kHz)
Impedance 22Ω (@1kHz)
Frequency response range 15Hz-20000Hz
Passive noise reduction 26dB
Drivers

Fearless special research pole magnetic dynamic driver
Sonion 23 colorful world partnered Medium and High-Frequency BA *2
Colorful World 2nd generation high-frequency BA*2

Standard socket 78mm 2pin notched socket
Standard wiring material 8 strands of high-purity OFC silver-plated wire with O.78-2Pin and 3.5mm plug
Quality control range ±2dB