The Definitive Demand D11 speakers are a part of the company's recently launched Demand series and is a two-way bookshelf speaker priced at $999.
Disclaimer: The Definitive Demand D11 sent to us is a loan sent to us in exchange for our honest opinion. The unit was returned after the review. We thank the team at Definitive Demand and Powertrip for giving us this opportunity.
To read more about our HiFi Review on Headfonics click here.
Definitive Technology Demand D11
The Demand D11 represents excellent value for money. Given their small size and lower price, they acquitted themselves well against my reference B&W CM10 S2 speakers.
Definitive Technology or DefTech for short is a California-based loudspeaker manufacturer with almost three decades of experience.
It was founded in 1990 by Mr. Sandy Gross, who is now at the helm of Goldenear, another loudspeaker company. DefTech is known for their tall and slim enclosures that use passive radiators to increase bass extension and for bipolar designs that emit sound both front and rear.
Like sister companies Polk Audio and Boston Acoustics, DefTech's current model lineup includes home theater speakers, sound bars and wireless speakers.
Introduction
DefTech unveiled their "Demand" series of small yet elegantly designed and technology-packed bookshelf speakers at the 2018 Consumer Electronics Show in Las Vegas. There are currently three models, the D7, D9, and D11 with the D11 being the largest.
All are two-way speakers with a polymer cone mid-woofer covering the bass and midrange frequencies, and an aluminum dome tweeter reproducing the highs. The Demand series are not bipolar as they lack drivers on their rear panels.
The two larger models have passive radiators to extend its bass while the smallest uses a traditional reflex port. Piano-black cabinets, lightly textured aluminum front panels and thin, magnetically attached grills give the Demand series a modern and handsome appearance.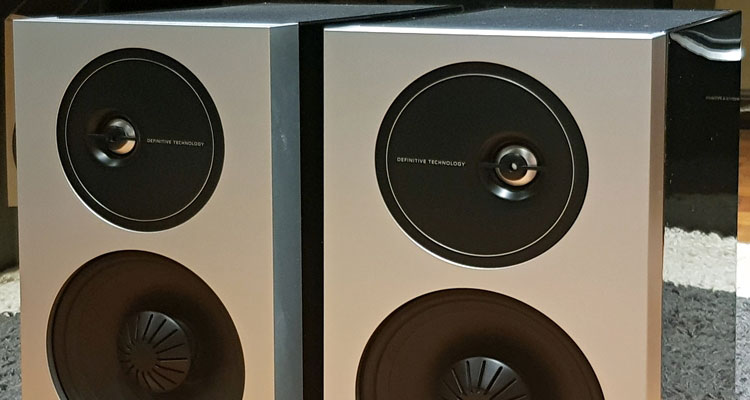 Appearance is not the only thing it has going for it. DefTech flexed their engineering muscles creating these speakers. Three unique aspects put the Demand series above others in its price range.
The Tweeter
Remove the front grill and the first thing one notices is the location of the tweeter. Ordinarily, it would be right above the woofer, at its 12 o'clock position. On the Demand series, the left tweeter is a little closer to the left edge of the enclosure, at around 11:45. The right tweeter is a little closer to its right edge at roughly 12:15. According to Definitive, the asymmetry reduces the effects of sound bouncing off the corners of the enclosure and results in smoother high frequencies. This also means the D7, D9, and D11 are sold as mirror-imaged pairs. Labels on the back above the speaker terminals indicate left and right channels.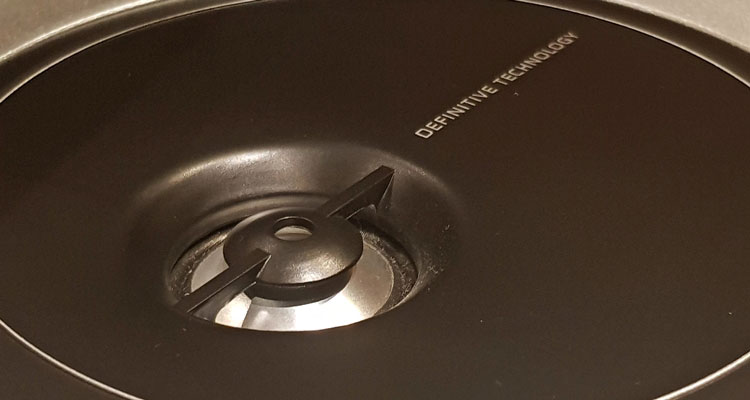 More on the tweeter, its aluminum membrane undergoes annealing prior to being formed into a dome shape. This refers to heat-treating which reduces internal stresses in the metal. The dome is recessed in a small horn and has a waveguide over it that DefTech calls their "20/20 Wave Alignment Lens." Its job is to improve off-axis dispersion so that those seated at an angle still enjoy clean and airy highs.
The Mid-woofer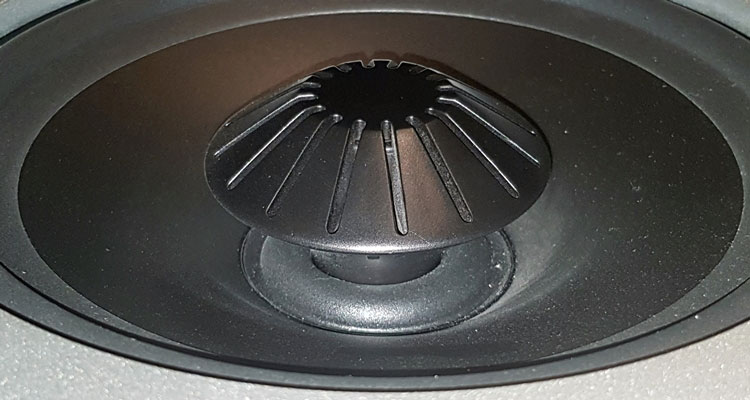 The second unique aspect of the Demand series is the large black fixture protruding from the center of the mid-woofer. It serves as a phase plug and supports a second surround. Many upmarket mid-woofers use phase plugs, commonly bullet-shaped, to improve dispersion at the top of its frequency range and better integrate its sound with that of the tweeter.
DefTech goes a step further. While traditional woofers have just one surround attaching the cone's outer edge to its basket, the Demand woofers have a second attaching the cone's inner edge to its phase plug. Known as "BDSS" or Balanced Double Surround System, it improves mechanical stability while suppressing cone resonance.
The Passive Radiator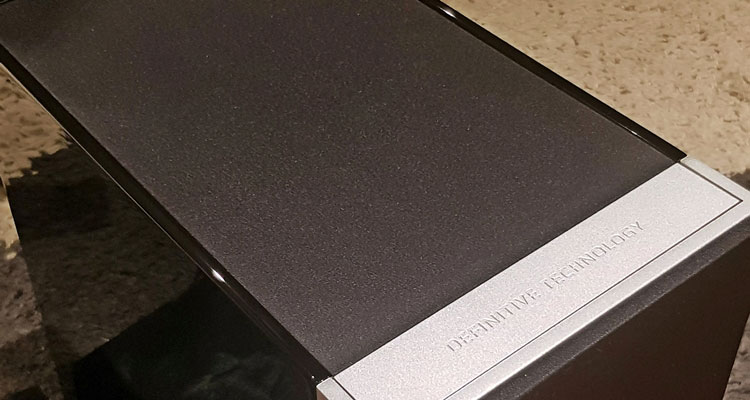 The third aspect is exclusive to the larger D9 and D11. While the smallest D7 model has a traditional bass reflex port at the back, the D9 and D11 have passive radiators on their top panels, hidden by non-removable black cloth grills.
Passive radiators look like woofers but lack voice coils and magnets. Their membranes move along with the air pressure inside the box and reproduce bass that would have required too long a reflex port. The lack of a port also means the D9 and D11 do not produce any chuffing noises during bass peaks and they can be placed much nearer the walls behind them. This further improves the bass response.
Unboxing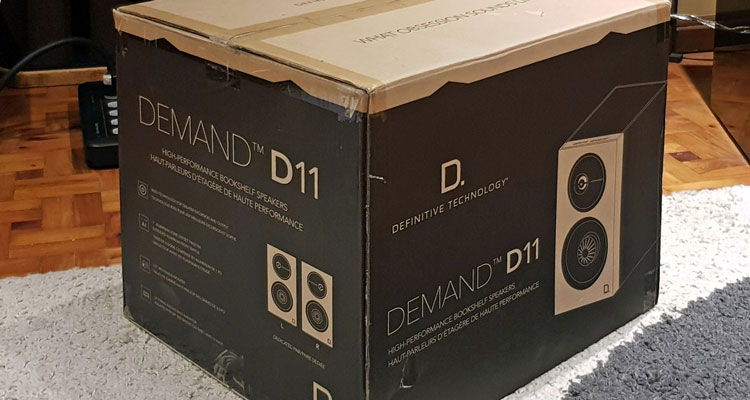 The local importer sent over the D11, the largest in DefTech's Demand range. They arrived in a sturdy carton. Open the top and a fancy black envelope containing the user's manual and a microfiber cleaning cloth contrasts starkly over the white foam packaging.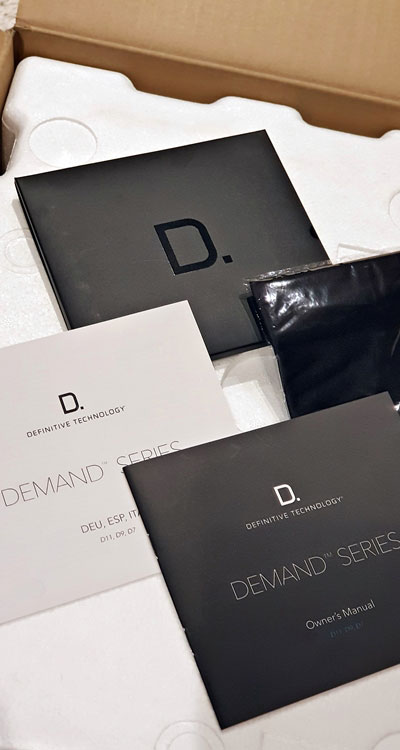 Take these out and the D11 speakers are individually wrapped in outer clear plastic bags and then in black cloth sacks. It ensures the gloss black finish remains scratch-free during shipping.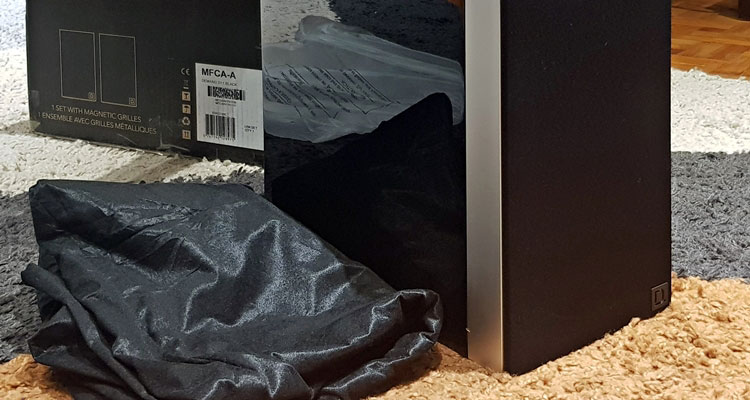 The D11 is 13 inches tall, 7.25 inches wide, 12.5 inches deep and weighs roughly 17 lbs. Its gloss-black enclosure is made from MDF (medium density fiberboard).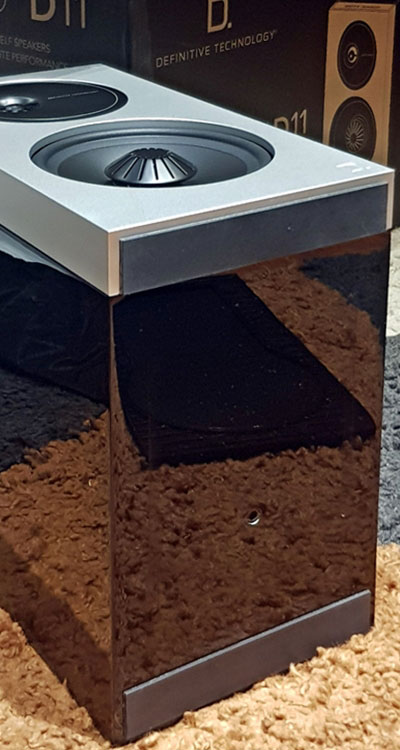 At the bottom is a threaded mounting hole for an optional stand and two long rubber strips, one near the front and one near the back. They keep the D11 in place while protecting the speaker itself and surface it is placed upon.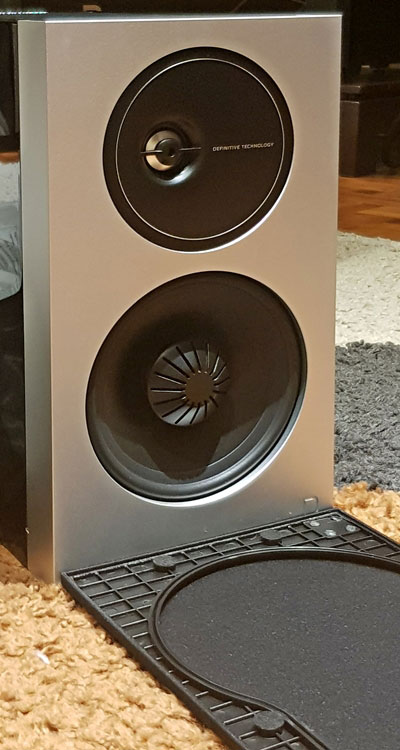 Removing the magnetically attached grill reveals the 6.5-inch polymer cone mid-woofer with its large phase plug and the laterally-offset 1-inch aluminum dome tweeter. Under a fixed cloth grill on its top is a 6-inch by a 10-inch flat passive radiator. On the back are two pairs of gold-plated binding posts that allow for bi-wiring or bi-amping.
A pair of metal jumper strips, also gold-plated, tie the low and high terminals together for single-wiring. Red and black plastic caps over the binding posts need to be removed for use with banana plugs.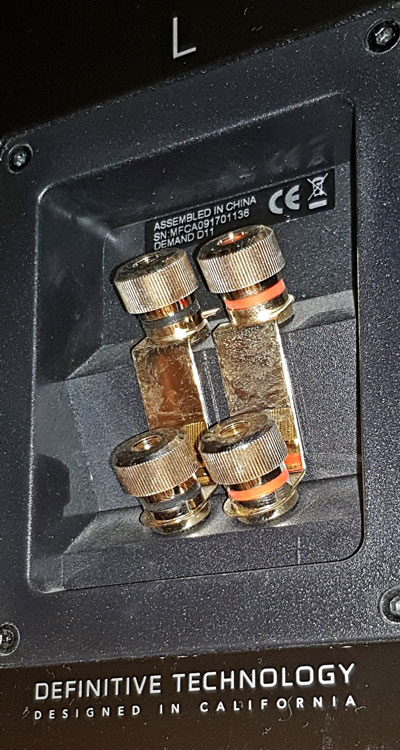 As for ratings, Definitive says D11 frequency range is 61Hz – 22,000 Hz within +/-3dB and its impedance is 8 ohms with a sensitivity of 90dB per watt per meter. Recommended amplifier power is 20 to 200 watts per channel.
Setup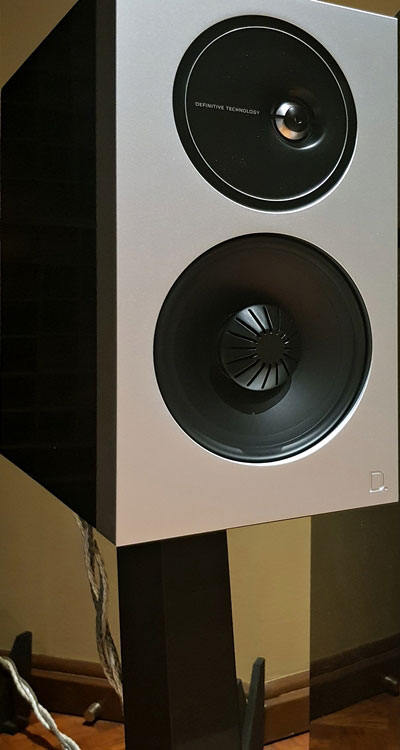 Since stands were not provided, I used my own sand-filled metal stands that raise the D11's tweeter to my seated ear height, roughly 36 inches off the floor. I evaluated them in a small but acoustically treated listening room.
After experimenting with where to place them, the D11s ended up where most bookshelf speakers sounded their best, toed-in very slightly to reduce reflections off the side walls. I used the mirror-imaged pair as Definitive recommends. Left speaker on the left channel and right speaker on the right channel.
Naturally, there is nothing to prevent end users from swapping them if it sounds better that way due to room acoustics or personal preference.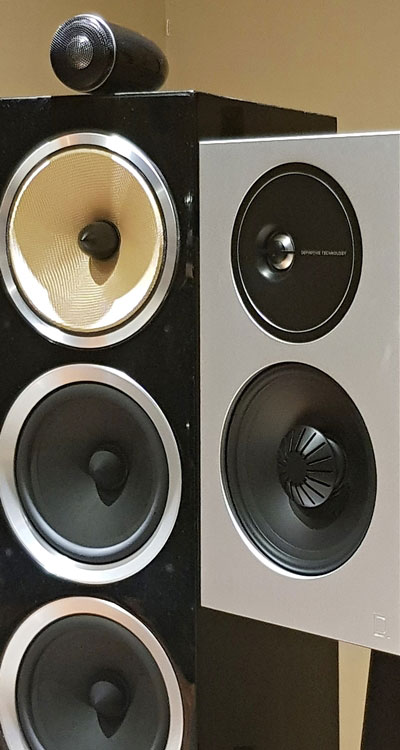 Reference & Sources
My reference loudspeakers are a pair of B&W CM10 S2 floor standers. I disconnected them to bi-wired the Demand D11s to a pair of 600W Emotiva XPA-1 Gen 2 monoblock amplifiers switched to operate in Class A up to the first 60 watts.
The source material was various genres of vinyl LPs and lossless rips from CDs (FLAC) and SACDs (DSD). LPs play on a Clearaudio Performance DC turntable with an Ortofon 2M Black cartridge and a Clearaudio Basic Plus phono stage.
Digital is streamed by Roon software from a Synology DS918+ NAS over the gigabit home network to a Sonore Ultrarendu plus Ultradigital combo and finally to a PS Audio Directstream DAC running Snowmass V1 firmware. An Emotiva XSP-1 Gen 2 preamp allows switching between analog and digital sources. All gear is powered by a PS Audio Power Plant P12 AC regenerator and the.
I played CD rips of bass-heavy rock, pop, and R&B albums at normal volumes for a few days before doing any critical listening. Fresh out of the box, this gives the various flexible elements in the drivers as well as the chemicals in the capacitors of the crossover an opportunity to stabilize.
Click on Page 2 for Sound Impressions & Comparisons