The Custom Art FIBAE 7 is the newest flagship custom monitor design featuring the company's innovative FIBAE technology. Featuring 7 balanced armature drivers the FIBAE 7 starts at €1,100.
Disclaimer: The Custom Art FIBAE 7 sent to us is a sample in exchange for our honest opinion. We thank the team at Custom Art for giving us this opportunity.
To read more about Custom Art products we reviewed on Headfonics click here.
2019 marks the 7th anniversary of Custom Art, one of Poland's leading custom monitor designers, owned by Piotr Granicki. We have been working with them on their monitor reviews since 2015 with the original Harmony 8 review.
Until now, the Harmony 8 series, now at 8.2, has been their flagship custom monitor and is still selling well to this day. Well, all things come to pass and with the launch of the FIBAE 7 (7 drivers, 7th anniversary) we now have a new flagship design, albeit marked as a co-flagship to sit alongside the Harmony 8.2.
The SRP starts at €1,100, which, in this day and age, is a very competitive price indeed for a monitor of this type.
Tech Inside
What makes the FIBAE 7 stand out, quite apart from its performance level, is the use of FIBAE technology as well as being Custom Art's most technically demanding driver configuration to date for a FIBAE monitor.
FIBAE™ Technology
FIBAE™ stands for Flat Impedance Balanced Armature Earphone. This is a patent-pending design Custom Art developed back in 2016 and since then have rolled out FIBAE 1, 2 and 3 monitors with the tech at the heart of each monitor.
Flat Impedance
In summary, FIBAE promises to deliver flat impedance and phase via a series of specially designed balanced armatures to negate the problem of output impedance dependency.
Why is that important? Basically, every headphone jack as an output impedance rating that affects the tonality of your IEM to some degree. Manufacturers have taken strides to reduce this as a factor in their DAPs and amps with a sub 1Ω impedance being almost the norm.
Inductive To Resistive
However, this is not always the case. Some can range well over 1-ohm such as the original HiBy Music R6 at 10Ω and many balanced outputs come close to 2-ohms. The FIBAE pitch changes balanced armature designs from inductive to resistive in order to cancel out impedance mismatching and delivers an optimal sound no matter what jack you plug your IEM into.
Configuration
The FIBAE 7 configuration is a little bit unique. This is an all-BA design with a dual sub-low, single low-mid, dual mid-high, single proprietary high, single proprietary super high. It is rare to see that specific attention in the configuration to certain aspects of the FR.
In fact, some companies, whom I shall not name, let the drivers almost "free roam" up to the highs with fewer specifics for the mids compared to the FIBAE 7. That has a very interesting impact on the presentation as described below in our initial impressions.
Rating
Like almost all of Custom Arts FIBAE creations, the FIBAE 7 stands out for its unusually low impedance rating at just 5.9Ω @1kHz (+-0.75 Ohm 10Hz-20kHz). You will not have issues driving the FIBAE 7 and logically, no issues with potential impedance mismatches with DAPs like the HiBy R6 and the Shanling M2s.
The SPL is 113dB @1kHz @0.1V which makes it more on the efficient side but not super-efficient levels compared to the Andromeda or Solaris from Campfire Audio.
Unboxing & Accessories
If there is one weakness in the Custom Art presentation it is the whole retail packaging. This is not unique to FIBAE 7. In fact, pretty much every Custom Art monitor comes in the exact same packaging with the same accessories stretching back to 2015 when we first started reviewing them.
The black mini-shoebox, Peli 1010 hard case, and small blue soft zipper case are more functional than wow. I still love the little "Hi" support and FAQ guide pamphlet inside the Pelican container that has shades of Apple when they were more creative than today's corporate nonsense.
The one new accessory with the FIBAE 7, however, is the new Null Audio Arete cable which you can read more about in our cable impressions. It's a solid upgrade on their older stock cables.
Accessories
Aside from the new cable, you also get the Peli 1010 and zipper case, a wax pick tool and a drying pellet as well as your obligatory warranty card. If you happen to buy the universal version you will also receive some ear tips in varying sizes but it does mention exactly what type of tips they are. I presume silicone and, in the case of the sound signature of the FIBAE 7, I think something silicone or hybrid might be ideal.
Null Audio Arete OCC Copper cable
Carton box
Peli 1010 case
Zipper case
Wax pick tool
Drying pellet
Warranty card
Ear tips in 4 sizes (universal fit only)
Design
Custom Art is one of the most innovative custom monitor design teams I have reviewed to date. Every single one of their designs brings something entirely new to the table, not done by competing firms.
The FIBAE 7 design here is something that caught my eye recently, and yes, slightly off the custom design tool menu on their website. The core color is their transparent black so not terribly adventurous there. Rather, it is the integrated handcrafted faceplate that caught my eye.
Now originally, CA launched a green version of this and then I noticed a red version also. Given our colors are orange and black, I asked for a version to match our brand. Eh Voila! C'est ici!
It looks much better than my pics in real life with that quasi Inca style patterning of black arcs with a glow of orange behind. As always, the finishing is flawless on this FIBAE 7 with the CA logos neatly stamped on the side to let the design shine.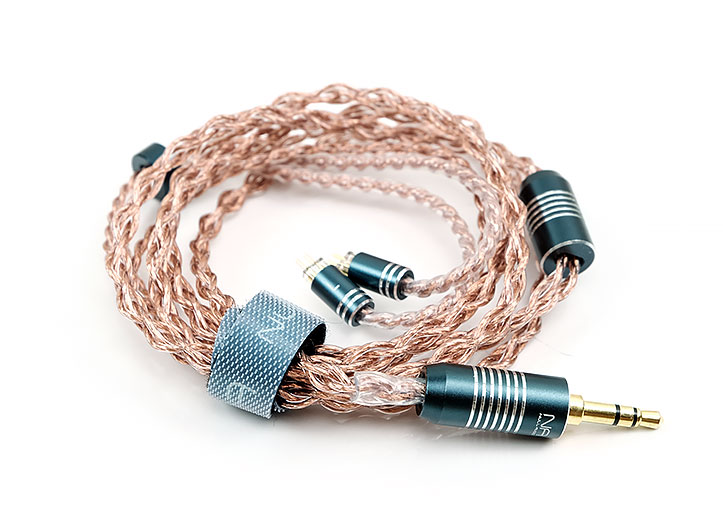 Cable & Connectors
The FIBAE 7 comes with a big cable upgrade over the previous FIBAE range. The previous cables were fairly 'meh' but the inclusion of a 1.2M Null Arete MKIV with customized blue barrels (Piotr loves blue) is a huge upgrade. I believe CA tested quite a few and felt the use of copper was a much better fit than the use of silver in achieving the sound signature they wanted from the FIBAE 7.
The Null Arete is a 4-wire OCC copper wire with casted 7N copper conductors using a total of 48 strands per wire and 192 strands per cable. The wire is wrapped in a translucent quad-braided TPE jacket and terminated with electroplated customized blue NA plug barrels, splitters and 2-pin connectors.
Strain relief and memory jackets are also fairly lightweight and pliable as is the entire cable really. This is also a zero-noise cable or microphonic free build quality with low noise even beyond the splitter.
In The Ear
In summary, perfect. The fit is a perfect balance of pressure and comfort being neither too relaxed or short, deep and tight. I am not detecting any gaps forming in either open or relaxed jaw mode either so the seal is excellent. Put it this way, I cannot tell if my aircon is on or not and it plays havoc with my measuring mic at 50-60Hz.
Of course, this comes down to the quality of the ear impressions you send to Custom Art. Please make sure your audiologist follows their supplied instructions for taking an impression. I use digital STL files as does CA once they have done the initial molds so when one is done, new ones after should fit in the same manner.
Just a note on the new cable fit from my initial impressions. The memory wire on the FIBAE 7 cable is very soft and just hangs over the ear without any discomfort or pressure. You cannot mold it but its natural shape shouldn't give any fit issues.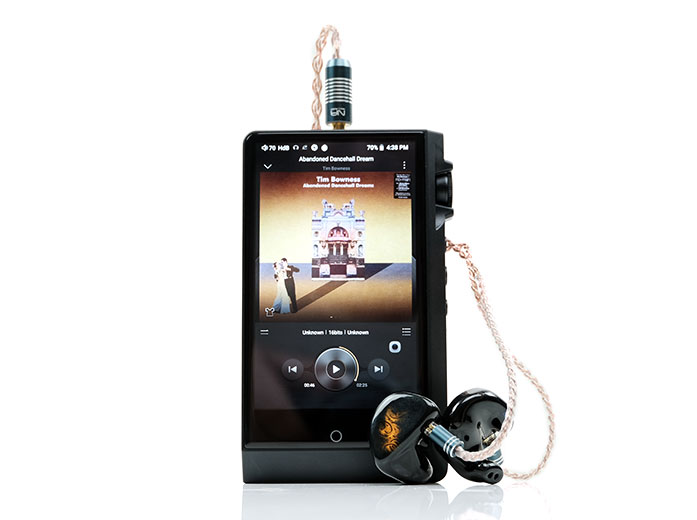 Initial Sound Impressions
Right out of the box and for the first few hours at least the FIBAE 7 has something very special about its signature. Piotr asked me a few times what I thought of them and I know when he does that then he has something up his sleeve in terms of tuning.
Let start with the basics, this is a balanced sound signature and by balanced I mean something with more than a whiff of the Harman target response curve. The F7 has a nice blend of bumped mid-bass warmth, forward and rich sounding vocals and a very nicely tuned treble curve that I think is a bit better than the Harmony 8.2 equivalent.
But it much more than that. The very first thing that grabbed me was the imaging. With the FIBAE 7, it is immediately clear just how good the imaging is.
Now the soundstage is not huge, it is good but not cavernous in either direction. It is what the FIBAE 7 does with the space that makes it special for me. The imaging is accurate, pinpoint and paints a very deep 'back to front' soundstage that allows you to pick up every nuanced spatial cue.
Throw in a very fast, tight transient response, excellent bass layering and that forward vocal and you get a very immersive performance for this price point.
Stay Tuned!
There is a lot more to discuss about the FIBAE 7 in our main review but I just wanted to highlight the price point at this early juncture. €1,100 in 2019 is not a lot of greens compared to other competing flagships with similar driver counts.
Implementation is key here and this could well be Custom Art's best-performing monitor to date. I am happy to see we are not pushing the $1.5 – 2k marker for the FIBAE 7, something which Custom Art has never done with their products before. When you consider that the original Harmony 8 was launched 5 years ago, (2014), at €925, then the FIBAE 7 price in 2019 seems more than reasonable.
The excellent tuning is what makes the FIBAE 7 stand out and that is something we will go into a lot more detail in the coming weeks so stay tuned for that!
FIBAE 7 Technical Specifications
Dual Sub-Low, single Low-Mid, dual Mid-High, single proprietary High, single proprietary Super High
Two Top-Firing Balanced Armature Drivers
Flat Impedance technology
113dB @1kHz @0.1V
5.9 Ohm @1kHz (+-0.75 Ohm 10Hz-20kHz)
10Hz-21000Hz (+-20dB into IEC 60318-4 coupler)
Null Audio Arete OCC Copper cable
Custom or universal fit