Disclaimer: The Custom Art FIBAE 4 sent to us is a sample in exchange for our honest opinion. We thank the team at Custom Art for giving us this opportunity.
To read more about Custom Art products we reviewed on Headfonics click here.
Almost a year ago exactly we introduced you to the Custom Art FIBAE 3 triple driver monitors. A W-shaped finely balanced musical presentation with an accentuated vocal performance, some nice upper treble sparkle and decent low-end presence. Selling at €525 this was a strikingly designed custom IEM with a competitive sound signature.
Well come Feb 2019 we are back with the next logical product launch in the FIBAE range, the FIBAE 4. This is a quad-top-firing BA monitor with an even split in the configuration; one for the lows, a single full range for the mids, one for the highs, and a tweeter for the super highs.
So what makes FIBAE so special or unique to most other monitors?
The Story
FIBAE Technology
FIBAE stands for Flat Impedance Balanced Armature Earphone. This is a patent-pending design Custom Art developed back in 2016 and since then have rolled out FIBAE 1, 2 and 3 monitors with the tech at the heart of each monitor.
Flat Impedance
In summary, FIBAE promises to deliver flat impedance and phase via a series of specially designed balanced armatures to negate the problem of output impedance dependency.
Why is that important? Basically, every headphone jack as an output impedance rating that affects the tonality of your IEM to some degree. Manufacturers have taken strides to reduce this as a factor in their DAPs and amps with a sub 1Ω impedance being almost the norm.
Inductive To Resistive
However, this is not always the case. Some can range well over 1-ohm such as the original HiBy Music R6 at 10Ω and many balanced outputs come close to 2-ohms. The FIBAE pitch changes balanced armature designs from inductive to resistive in order to cancel out impedance mismatching and delivers an optimal sound no matter what jack you plug your IEM into.
Unboxing
Functional
If there is one weakness in the Custom Art presentation it is the whole retail packaging. This is not unique to FIBAE 4. In fact, pretty much every Custom Art monitor comes in the exact same packaging with the same accessories stretching back to 2015 when we first started reviewing them. The competition has moved on with fancier retail packaging and more elaborated accessory line-ups.
'Hi'
Granted the price point €725.00 may place some restrictions on the opulence of the packing. However, the black mini-shoebox, Peli 1010 hard case, and small blue soft zipper case are more functional than wow. I still love the little "Hi" support and FAQ guide pamphlet inside the Pelican container that has shades of Apple when they were more creative than today's corporate nonsense.
Accessories
Aside from the Peli 1010 and zipper case you also get a wax pick tool and a drying pellet and your obligatory warranty card. If you happen to buy the universal version you will also receive some ear tips in varying sizes but it does mention exactly what type of tips they are. I presume silicone and, in the case of the sound signature of the FIBAE 4, I think something silicone or hybrid might be ideal.
Build
Where Custom Art positively does excel in (outside of their tuning) are their custom build designs. I do not think I have ever had a bad one from them in 4 years and the FIBAE 4 is no exception. I still adore my crazy "Avatar' candy color scheme of the FIBAE 3.
This new swirly "Galaxy" all-blue hollow acrylic build tones it down a touch from the FIBAE 3 color scheme but still looks stunning and quite original. I am a big fan of singular color blends rather than two-tone shell and plate designs so this one hits the mark.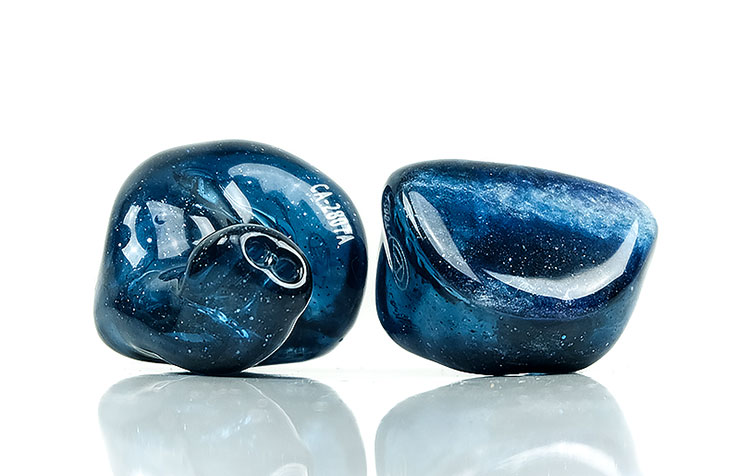 Finish & Fit
My initial impression of the finish is top-notch also. I can't see any bubbles, blemishes or inadvertent seams near the plate. The fit is a perfect balance of pressure and comfort being neither too relaxed or short, or deep and tight.
I am not detecting any gaps forming in either open or relaxed jaw mode either so the seal is excellent. Put it this way, I cannot tell if my aircon is on or not and it plays havoc with my measuring mic at 50-60Hz.
Stock Cable
The FIBAE 4 is terminated with a 2-pin flush socket at the top and comes with a 4-wire SPC stock cable 1.2m in length. It is quiet, memory free so no tangles but a little microphonic near the ears with that flat rubberish jacket. Strain relief looks excellent and it comes terminated with a TRS 3.5mm gold-plated right-angle jack so fairly low profile.
I think I will be rolling the FIBAE 4 quite a lot in the main review. The stock cable sounds soft to me and lacking in dynamic range. A quick change to the PWAudio "Vanquish" Saladin brought out a huge improvement with a snappier and better defined low-end, a far more open or spacious staging quality, and excellent imaging.
Initial Sound Impressions
We tuned FIBAE 4 to be fun sounding IEM with warm and smooth signature. It offers excellent sub-bass depth and punch, detailed and natural midrange finished with extremely detailed, but never harsh highs. It combines big headroom, high resolution and expansive sound stage. FIBAE 4 is a perfect tool for guitarists, bassists and drummers for stage monitoring.
No kidding Piotr! My initial impression of the FIBAE 4 is V-shaped, with a slight edge taken off the top end and a very strong low-end that kicks like a mule. Not quite the sub-bass dominant demon but it has superb depth and definitely a strong 60-100Hz hump with plenty of body and plenty of warmth.
The timbre is "phat" and meaty on the low-end, smooth and relaxing on the top-end but importantly, stops short of being dark with decent headroom and air. The mids are dipped as you would expect from a V-shaped monitor so there is a strong staging perception of distance to both instruments and some vocals.
It is not a treble monster. What I mean by that is that it is not harsh sounding at all from our first few hours with it rather than dark and shelved down. More of a liquid than hard tone with a little sparkle up top. The stock cable seems to mask that a little whereas the PW Audio Saladin cable was much more revealing.
Efficiency
The FIBAE 4 is rated at 8.1Ω and 115dB and is fairly sensitive but it is no hiss detector like an Andromeda or Solaris. It kept a very low noise level on DAPs such as the Sony 1Z, Lotoo PAW Gold Touch, FiiO X5iii and the HiBy Music R6 Pro.
Note, this is FIBAE and yes there is no low-impedance skew on the old R6 and the Shanling M2s from what we can detect thus far. The tonal balance kept its shape nicely with those high output impedance players.
It is too early to say yet what is going to match nicely with the FIBAE 4 but my money is on a reference sounding source like the PAW Touch Gold with a good quality silver cable to extract as much detail and snap as possible in the FIBAE 4 performance.
Stay Tuned!
It is a solid start with the FIBAE 4 and I am excited to try this with a few combinations. I am not a fan of the stock cable and the retail packaging could do with a lick of 2019 paint. Otherwise, it is another fascinating design from Custom Art's team and the usual top-notch build quality.
No doubt the FIBAE 4 is built for EDM, synth wave and R'n'B with that "phat" low-end and smooth response. I cannot see this being a fatiguing experience during the main review. Something very different indeed to the rest of the FIBAE line-up.
FIBAE 4 Specifications
Single Low, Single Full-range, Single proprietary High, Single proprietary Super High
Top Firing Balanced Armature Drivers
Flat Impedance technology
115dB @1kHz @0.1V
8.1 Ohm @1kHz (+-0.95 Ohm 10Hz-20kHz)
Low % THD
0-21000 Hz (+-20dB into IEC 60318-4 coupler)
Custom or Universal fit