The Creative Aurvana Trio is a brand new hybrid driver IEM priced at $149.99. It consists of a single dynamic driver and two balanced armature drivers.
Disclaimer: The Creative Aurvana Trio sent to us for the purposes of this review is a sample and does not have to be returned.
Headfonics is not affiliated with Creative nor are they a site advertiser. Thank you to Creative for giving us this opportunity.
Note, this review follows our new scoring guidelines for 2020 which you can read up on here.
It has been almost four years since we first expressed delight at Creative joining the audiophile amp market with the launch of their E-series amp/DAC. Their E5 portable amp/DAC in 2015 really got me excited about their potential and even before then a lot of our local meet guys loved the Aurvana Live headphones.
The E-Series is still going strong actually, by the looks of our reader stats, but of course, no company can stand still for four years and hope to prosper in this volatile hobby. Hence, we now have their first really serious IEM in a long time called the Aurvana Trio.
The Trio is a hybrid IEM priced at $149.99 which places it smack in the middle of this new entry-level hybrid craze I have seen growing for the last year or so or more. We have plenty of hybrid designs from the likes of FiiO, Lear, Fidue, and 1MORE so the Aurvana Trio has its work cut out in a competitive field.
Tech Inside
Hybrid
The Aurvana Trio adopts the now ubiquitous single dynamic driver dual balanced armature hybrid configuration within a universal IEM form factor. The difference between the Trio and say the F9 Pro is really in the ingredients.
Bio-Cellulose
The dynamic driver on the Trio is a 10mm bio-cellulose design. This is a different finish to the PET used by Lear on their Kaleido and 1MORE's Triple driver In-ear. FiiO uses a PEK polymer composite for their dynamic driver which is also slightly different to the other offerings.
Creative has a history with bio-cellulose drivers. In fact, they have used it on a much bigger scale with their Creative Aurvana Live headphones many years ago so it is not something new to them. Typically, a well-engineered bio-cellulose diaphragm should have excellent mechanical properties and a fairly wide frequency range.
Neodymium
Also, Creative has inserted an expensive neodymium magnet system in the Trio which is a lot stronger than typical ferrite magnets. You will get a strong magnetic field to keep that driver tight and very responsive.
Dual BA
Mind you this is a hybrid so Creative have thrown in a dual armature configuration with a single super tweeter type grade BA driver for the highs and a midrange balanced tweeter for, well the mids. The dynamic driver covers everything up to around 2k with the BA drivers phasing in to cover the rest of the frequency range.
Build Quality
Form Factor
This is a very familiar form factor. The Aurvana Trio design looks like a cross between the 1MORE Triple In-Ear and the FiiO F5. It has that similar gunmetal flattened cone body housing the dynamic driver and a stiffened reflective black plastic front panel with an angled nozzle. The gold and black finish of the 1MORE is perhaps a little more striking to my eyes, however, the Trio has a distinct advantage with its detachable design whilst the 1MORE version is not.
Like FiiO's F5, the Aurvana Trio also has a third rear barrel that houses the right-angled MMCX cable connection. However, the Trio rubberized finish looks a little more robust than the FiiO F5 which opts for an elegant but thinner design. The bulkier rear plate of the Aurvana Trio also leaves enough room for a bit of branding on the front. Overall, I prefer the stronger looking Trio cable connector design which looks like it can take a bit of a beating.
Nozzle Finish
The Trio nozzle also has a more prominent lip than the FiiO F5 and should grip tips a little bit better. The nozzle is also finished with a silver aluminum grill whereas the FiiO F5 has a plain plastic finish. These are little accents to me that give the Trio a more refined look and finish over the cheaper FiiO F5 body.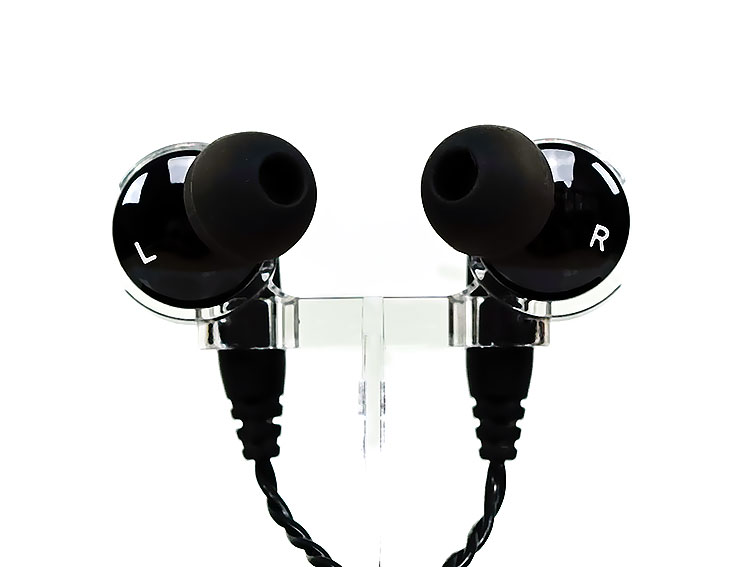 Cables & Connectors
The Aurvana Trio uses a fairly standard 1.2m OFC 4-wire cable with a heat-shrunk black plastic finish. It looks pretty much like a Plastics One cable to me only slightly thinner than some versions. I am not a huge fan normally of this cable since the resistance can be a lot higher leading to a lack of dynamic range and often a very smoothed out signature.
That being said, the physical qualities are good with a very lightweight feel, super low physical noise on the wire and next to no memory retention. Creative has also seen fit to throw in a 4-pole TRRS 3.5mm jack and a remote playback and mic option down the right side for smartphone users.
Connectors & Barrels
The cable is fitted with a set of brass plated MMCX connectors with good strain relief around the barrel exits and a fairly sturdy and similarly finished y-splitter. There is no chin cinch on the Trio. The inclusion of a remote playback module makes it fairly redundant (can't get past the module).
Comfort & Fit
The Aurvana Trio is actually meant to be worn straight down. Now I can wear it over the ear also, and it does work. In reality, the level of isolation over the ear is almost the exact same if not better as wearing it straight down. Take my tip, wear the Trio over the ear unless it really does not fit. The level of noise on the cable without the dampening of the ear is much more noticeable when worn straight down.
The angle of the nozzle and tip also means that the main body tends to hug the inside of my ear just like the F5. Rather than stick straight out it creates a lower profile that sits flush in my ear and extending in parallel to the back of the outer ear with little or no pressure on the pinna, (cartilage at the base of the entry of the ear canal).
Tips
You get just an ok selection of tips with the Trio. They include small, medium and large single bore silicone tips and a single set of medium foam tips. The foam will isolate a bit better than the silicone tips but I actually preferred the comfort of the silicone and the sound was just a little more open sounding to me.
I do have this nagging feeling Creative could have thrown in a few more tips considering the price point. Some hybrid tips would have done the trick or dual flange just for variation. When you look at FiiO throwing in no less than 12 sets of tips compared to just 4 for the Trio and still come in a bit cheaper you do think, well, just a few more tips, please.
Accessories & Packaging
I have a bit of a nerd-crush on Creative's packaging. They have what amounts to an information frontal assault on all their boxes with so much "unique feature" data, acronyms and technical data you cannot help but be impressed. The Aurvana Trio is no different and I must have spent a good 3-4 minutes reading the box before unpacking it. The most unique feature of the box is the fact that it is also a display stand.
Basically, the box is split into two parts and the top parts is a transparent acrylic cover that shows off the Trio's in all their glory which is a great idea for the retail shelve "look at me" strategy. You cannot help but notice it among the plethora of competing "chi-fi" black boxes.
Take that top half off and voila! You get the Trios on their mount. Keep a hold of that top cover. It makes for an excellent dust protective box is nothing else. Heck throw in an LCD purple light and make it shine for giggles.
Inside you also get the following accessories:
3 pairs silicone dome tips (S, M, L)
1 pair of memory foam tips
One compact carry case
1 airplane adapter
The little nylon flip carry-case is quite compact and very pocketable. It also looks quite durable and protective enough to take a few knocks. Apart from that, the airline adapter is fairly standard and well finished.
Click on Page 2 below for Sound Impressions & Comparisons