The Campfire Audio Cascade is the first set of portable closed-back Supra-aural headphones by Campfire Audio. They are priced at $799.
Disclaimer: The Cascade sent to us for the purpose of this review is a sample and does not have to be returned to Campfire Audio. Thank you for giving us this opportunity.
Well, they have gone and done it. Campfire Audio has made a headphone at last. To be honest, I knew they were developing one a while back but it is still great to see it out in the open being manhandled at various shows over the last few months.
Various shots on the 'intertubez' of Caleb and Ken looking like the 'cat got the cream' tells me they are very proud of the Cascade and how it fits into their current line-up and theme. The initial reactions are good also and so far the showtime at the various CanJam's has seen the Cascade go down well with those who tried it.
Just as an FYI, I believe the Cascade is the first of a new line of non-Cosmos related products and instead we shall see more camping related titles in keeping with the Campfire Audio theme. What's the price? $799 is the price. Not cheap by any standards but not exorbitant either.
There is some hot competition these days in mid-fi and the Cascade is certainly adding fuel to the audio campfire.
What Is The Pitch?
Headphone Audience
Quite a few actually. It goes to say naturally this is Campfire Audio's first every headphone so with it comes a whole new target audience. Yet at the same time, they are keen to take their IEM customers with them if possible by clearly stating it is consistent with their "Campfire Audio sound".
A Familiar Driver
Beryllium is back on the menu to help them achieve that house sound. Much like the Lyra II, the Cascade is packing a beryllium coated PVD driver only this time its 42mm as opposed to 8.5mm. Campfire is banking on some degree of commonality with their existing dynamic driver IEM lineup in terms fo sound quality.
Not the Typical Closed-back Headphone
The Cascade is a supra-aural closed headphone but here also Campfire is keen to pitch the Cascade as sounding relatively more open than that design might suggest. Huge mentions for an above average soundstage and clean highs to maximize potential headroom all suggest that Cascade is capable of being able to satisfy potential open back headphone users.
Familiar Durability
Campfire is also highlighting the portability and highly durable build quality of the Cascade to those who might see this as the ultimate commuter option and wonder if it will stand up to the test.  All of this is wrapped in what I called a "super-sized" version of their unfussy compact packaging and design garnered from their existing IEM line-up. It looks very familiar indeed.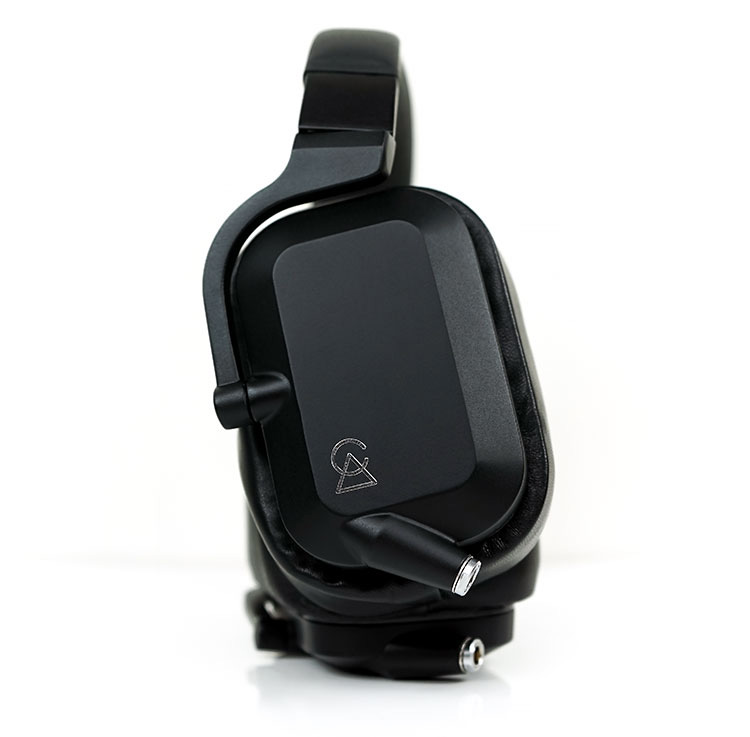 Build
Form Factor
When Caleb first showed me the pics of the Cascade the first thing I thought of was the Andromeda. No, it is not green, in fact, it is finished in an anodized matte black color. The whole vibe really came from the angular contours of the cups that reminded me of the beveled form factor of their BA flagship. Caleb agreed and mentioned that this is kind of "in-house theme" what they are aiming for.
Sure, there is a bit of an Oppo vibe also but that extends only to the cup shape which for me is my preferred dimension for a smaller sized headphone these days. Tall cups almost always are much easier to work with than round ones. Check out the AEON series from MrSpeakers for proof positive on a great tall cup design. You need to keep as much of it off your ears as you can and the Cascade certainly can do that better than you think.
Half-Gimbal
Another leaf out of the AEON playbook is the half gimbal design of the Cascade. It is a shape I really like. It worked nicely on the AEON and the Cascade is no different. Quite apart from the slither of weight reduction it just looks great.
The pivot above the gimbal also allows a 180-degree fold flat system as well as a 90-degree rotation to allow you to fold it into a compact size that fits snugly into its carry case. You can also move the cups outwards and inwards by around 20-30 degrees to better trace the line of your neck and provide some additional seal and comfort.
Materials
The entire body is a mix of aluminum and stainless steel finished with a plush sheepskin finish pad and a memory foam headband wrapped in faux leather. The aluminum is for the cups and gimbal and the stainless steel is for the headband, joints, and pivots. It is a healthy and robust finish that a "half-gimbal" should have no problems with in terms of durability.
The finish is quite minimalistic in appeal with only the Campfire Logo breaking the anodized black colored lines. The logo is tastefully positioned in the bottom left-hand corner of each cup plate.
Dimensions
Mind you, all that metal does mean the Cascade is a tiny bit heavier than the likes of the Oppo PM-3 at 383g. This makes it a bit on the slightly heavier side for a portable headphone. The fact that you can fold it up into a far more compact shape and size does help mitigate it's bulkier weight.
Size-wise the Cascade is more PM-1 and Sony MDR-Z1000 than PM-3. The forward-facing push/pull Lemo connector system and plusher thicker pads do make it for a slightly 'thicker' looking set of headphones than the Sony.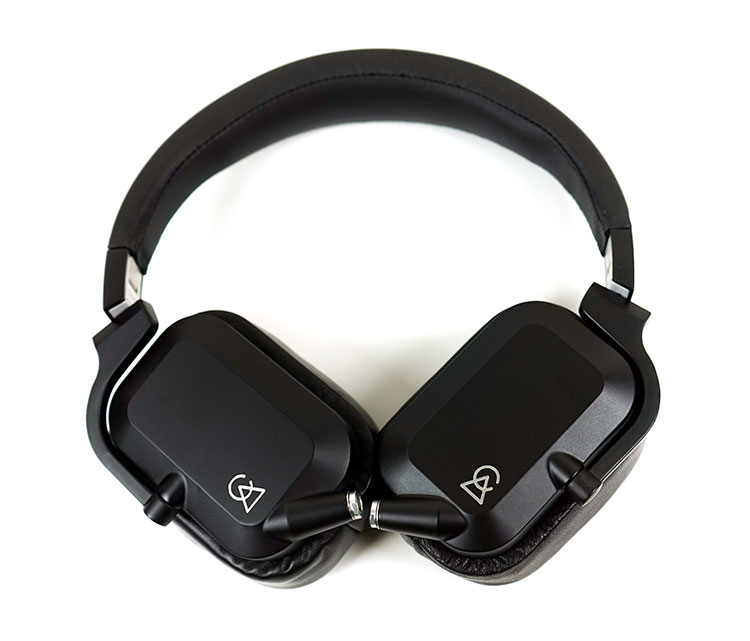 Comfort & Seal
Pressure Balance (Headband)
The foam wrap on the stainless steel headband is slightly thicker in the center than at the side. My only quibble with this is the pressure point gets drawn to the center and I can feel it pressing like on one point more than any other. You may find yourself moving it around without realizing as a consequence.
You can extend the headband by one or two notches to take that focus away slightly since the clamping on the Cascade is fairly robust and generates more sideways pressure than top down. The Cascade should stay fairly fixed on your head even with a slight lengthening on the notches.
Ear Pads
Sumptuous is the word I am looking for. The sheepskin leather pads are similar in shape to the PM-3 only deeper and slightly bigger. They are also more pliant and create a better seal. Despite the above average clamp the pads suppleness really do a nice job of absorbing the sideways pressure being generated.
Did I forget to say the cup attachment system is magnetized? Yes sir, all you have to do is take a steady hand and pull firmly without pinching the leather and off they come. It does not get any simpler than that. Underneath the cup, you will also find the insert for Campfire Audio's tuning filters which we will talk in more detail on page 2.
As mentioned the better height of the inner dimensions of the pads so help with additional levels of comfort. For those that need more than a reviewer's anecdotal praise, the inner dimensions of the Cascade pads are around 1.5-inch wide x 2.5-inch tall in diameter. If there is pressure is more on the sides of the ears than top and bottom and that is where I find most of the discomfort on on-ear headphones.
Isolation
You will also find the additional height of the pads help extend the pads further below your ear onto your neck. This, in turn, helps create a better seal. Mind you the level of isolation is just ok for me but not at PM-3 or Z1000 levels.
I am presuming the pads are slightly more porous in nature than those two headphones and despite their better sealing qualities, the materials do not attenuate quite as well. It might also help to explain why this headphone is more opening sounding than the two mentioned.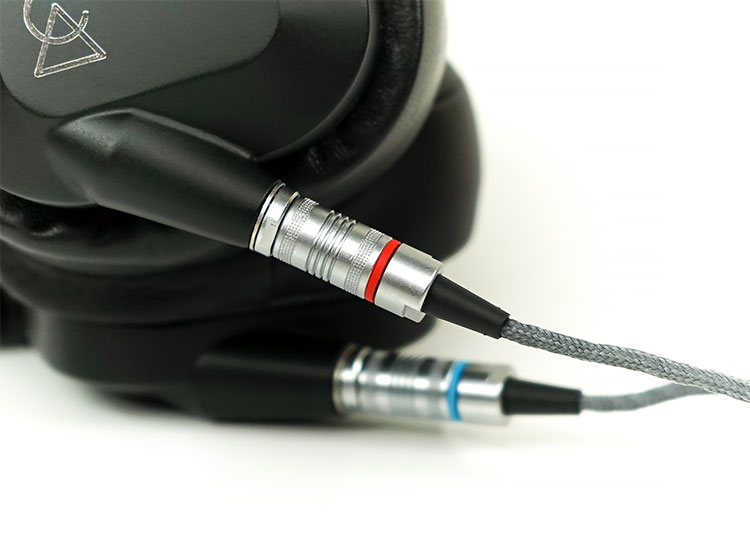 Cable(s) & Connectors
Lemo Connectors
Campfire Audio have opted to use a set of 2-pin push/pull Lemo connectors which in layman's terms are HD800 plugs. Now, these connectors are notoriously hard to work with from a wiring and soldering point of view but they are also very durable with an extremely low connector failure rate. If you happen to be rocking an HD800 with aftermarket cables they will also work very well indeed with the Cascade.
The sockets are forward facing to avoid contact with your shoulders during everyday use. You see that styling also with the likes of Audeze and MrSpeakers. I prefer this angle over the straight down of the PM-3 and Z1000 for that very reason.
Stock Cable
The stock cable is a silver-plated copper litz wire, which I believe is the same used in the IEM range only the jack is a grey cloth based one to reduce microphonics and retain a low level of memory retention, i.e. it will not get tangled that easily.
The cable is approximately 1.2m in length with color-coded Lemo silver-plated Lemo connectors on one end and a small right-angled gold-plated 3.5mm stereo jack on the other. The Y-split is finished with the same stiffened rubber as the jack housing and both are in black.
SXC 8 4.4mm Balanced
The Cascade cable does not come with a quarter jack converter sadly but you can opt to buy their new SXC 8 cable terminated with a 4.4mm balanced jack. This is an 8-conductor 22AWG SPC wire and one which I tend to turn to for IEMs (IEM version) to inject a little bit of liveliness into the signature.
The SXC 8 delivers a fun and energetic signature but it also has a clean and snappy response. You might find though the microphonics are a shade higher on this cable than the stock and certainly, it is a bit heavier with its 22AWG rating but overall it is my preferred choice between the two for sound quality.
Accessories & Packaging
They super-sized their IEM packages in every way. From the packaging to the very pimpy fur-lined leather case this is 100% consistent with the theme first presented by the likes of the Vega and Andromeda, only just a whole lot bigger.
The box is minimalist in terms of dimensions and superfluous fluff. You only get what you need to pack everything inside and is finished in that classic CA external design with the name Cascade front and center. Inside everything is packaged neatly in a fantastic black leather case. If you are a user of the Vega, Dorado or Lyra II it will look very familiar.
The inside has been finished with that soft fluffy liner that I love. It looks the business. if I have another quibble though is the lack of mesh canopy on the roof of the insides. I think that would have been perfect for holding the cables and any other accessories you want to throw in.
The Cascade fits in via folding it inwards and everything zips up nicely with a carry strap to finish it off for brings it around with you. The accessory line-up is finished with the tuning filters, a small logo pendant, warranty card, product guide and the all-important tuning guide.
Page 2: Sound Impressions & Comparisons