The Brainwavz BLU-100 is a single 8mm dynamic driver Bluetooth 4.0 aptX capable universal in-ear monitor. It is priced at $44.50.
Disclaimer: The Brainwavz BLU-100 sent to us is a sample in exchange for our honest opinion. We thank the team at Brainwavz for giving us this opportunity.
To read more about Brainwavz products used on Headfonics click here.
It never rains it only pours. The Pendulumic Stance S1+ is the first proper aptX BT headphone I reviewed recently.
I thought it was a pretty decent rig for the price just lacking in a little bass which I found unusual for a BT type sound since I normally equate them to shelved down trebles, overcooked bass, and not much else in between.
Now along comes another one and this time from budget stalwarts, Brainwavz, with their tastily priced BLU-100 IEM at $45.
Clearly targeting the first time upgrader these 'wireless' earphones are designed for gym users, people on the go and the vast mobile phone market where the majority of BT connecting devices are.
Yes, a few people will grab this for connecting to their PC, but it's the cell phone guy that is going to think about grabbing these most. I have a cell phone, I don't go to the gym, I most certainly will not BT this to my PC and I move around about twice a day with any vigorous intent. I may not be the target market but I can give it a go.
What You Get
The BLU-100 comes in quite an unassuming carton packaging no bigger than the BLU-100 pill case itself. Kudos for thinking of shipping charges but not something you're going to dwell on with much admiration. It pretty much tells you what you are getting with a pic of the IEM's and the fact it is sporting BT4 technology.
Inside you get a semi-hard zip pill case in red and black with the Brainwavz logo on the lower right on a metal plate. It's neat and tidy actually and feels of decent quality and looks like it will do the job of protecting your earphones.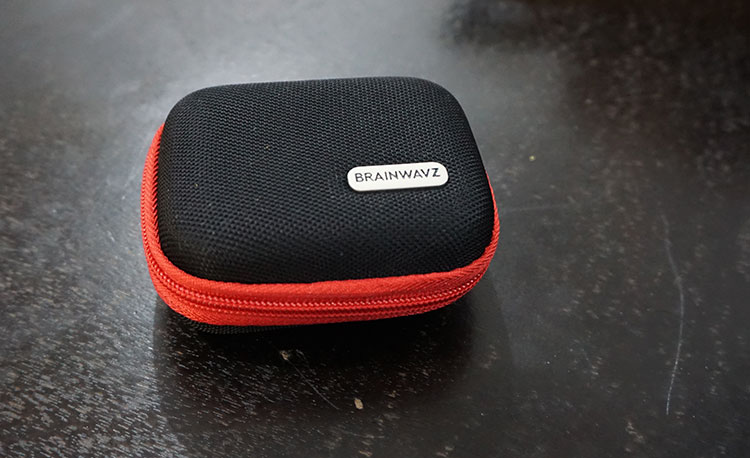 Inside the red and black theme continues with a mesh pouch on either side holding the accessories and the BLU-100 itself. Given that the BLU-100 lacks a long traditional cable and 3.5mm jack everything fits rather well into the case.
The accessories are also rather good for the price also. You get 3 sets of silicone tips (s/m/l), a pair of ear hooks (helpful if you are the exercising type), and a set of S-400 Comply foam tips. The Comply tips alone are worth about $5-10 depending on where you shop.
The last accessory is a micro USB to USB A cable which is required to actually charge the BLU-100 on account of a tiny little amp inside the IEM itself and of course all that BT functionality needs power also. All in all good value for the price, especially the USB cable and Comply Foam tips.
Build Quality & Fit
The Cable and Controls
The BLU-100 itself, being a BT unit, comes fitted with a loop short cable that stretches from earpiece to earpiece and missing the usual 3.5mm jack found on passive regular IEMs. On the right-hand side about 2-3 inches down is the small in-line power unit with 3 multi-function buttons and a few LED lights positioned around the unit to indicate when power is on and when you are in pairing mode.
The cable itself is flat, prone to a bit of memory retention but free of microphonics and when worn it sits nicely out of the way of most body movements so it's quite freeing in that respect. It's one of the major advantages of any wireless headphone over traditional wired units.
Strain relief on the connections with the driver units looks decent enough with the rubber actually wrapping around each driver casing.
The Housing
The driver unit housings are actually pretty big compared to a regular universal IEM, there is no getting away from the fact they are not discreet.
However, beyond a single dynamic 8mm driver, the casing is also packing a 60mAh battery so some of that spare space is already accounted for, and charging itself is done through a rubber cap on the right-hand driver with a micro USB slot underneath.
I cannot tell you if the rubber flap is built to last, it seems reasonably durable, you simply peel back like the FiiO X5 Gen 1 microSD flaps and insert the USB cable in and then into your PC/battery bank, etc to charge.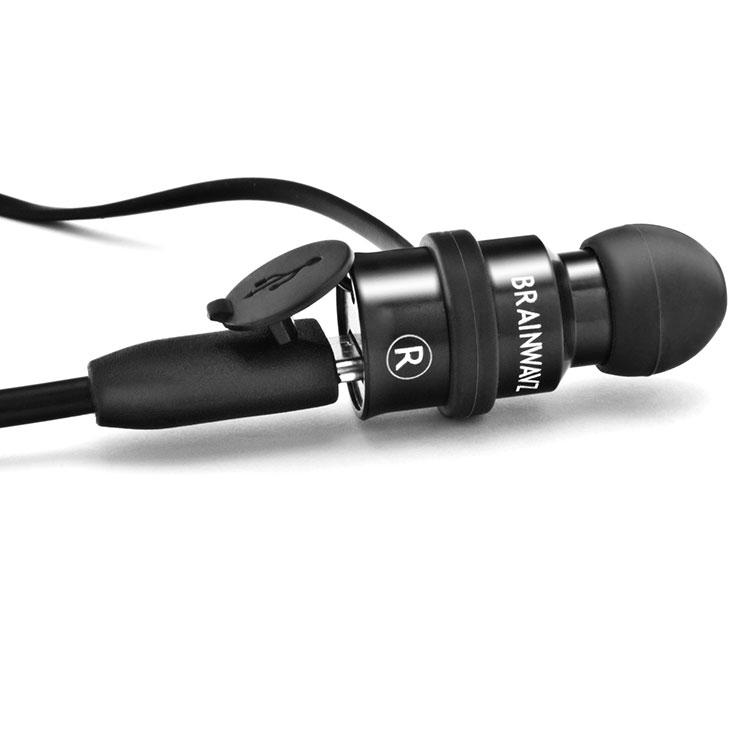 Fit
For an IEM with such a large housing, the fit was actually pretty firm and isolation was excellent with the silicone stock tips. I was one of the few who had no problems with the TF10 fit so your own personal experience might vary.
They can be worn over or straight down also. Personally they felt a bit more comfortable straight down as the cable crept up under my chin yet they felt more secure over the ear. Take your pick, but either way, the fit is solid.
Functionality
This is where the BLU-100 forges ahead of regular budget IEM's in terms of what it can do. True enough there are plenty of inline remote and mic earphones but mostly wired and very few BT aptX at this price range. The manual guide provides you with plenty of features you can play away with such as:
Multipoint connecting
Volume control
Track selection and play
Voice dialing and answering
Rejecting phone calls
Last number redialling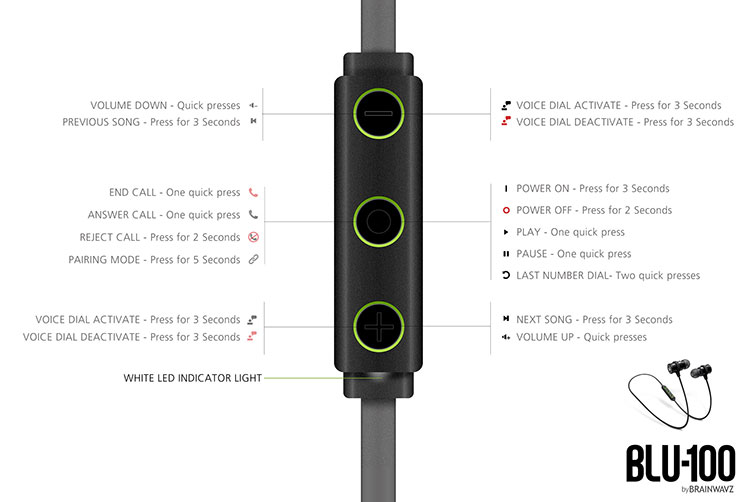 Pairing
Pairing with a BT device was pretty simple with my BB Passport and Sony Z Ultra. Simply press and hold the middle button for 3 seconds to power up or press and hold 5 seconds to power up into pairing mode.
A tiny LED light at the top of the inline starts blinking and you should see it on your phone. Pairing is code-free so just confirm to get them matched up. During this time you get a generic female voice state "power on" and "connecting" to validate the link.
Distance
BT is getting so much better and better with regards to connectivity but when I read around a lot of people were mentioning this thing clapped out from quite a short distance. Thankfully mine didn't suffer that issue at all in fact I got within one meter of the same distance I got with the Stance S1+ headphone.
Now that's with the same smartphone, the BB Passport and through two hollow walls, I got around 5-6 meters and in line of sight almost 8 meters before it started breaking up. Those who broke earlier I can say I had that experience with my AK120 and sometimes it's really to do with the BT module inside your source rather than the BT can or IEM.
Battery/Charging
One thing I did note during charging is that the inline remote and right driver got kind of warm to almost hot which was surprising. It does cool down quickly after disconnecting though and the BLU-100 does not display any residual heat during playback.
Charging time is a handy 1-2 hours and playback time is a stated 4 hours but mine topped out around 3.5 hours max depending on usage it may be possible to get 4 hours. Standby time is a healthy 100 hours.
BLU-100 Sound Impressions
Tonality
The BLU-100 has a neutral to slightly dark tonality with what appears to be a u-shaped frequency response though I did find the mids to be relatively neutral and not hugely recessed in that respect. They just felt outweighed by a more prominent mid-bass hump and a treble with a bit of low-end sparkle.
There is a certain politeness to the BLU-100 sound that should help avoid short term fatiguing for the most part. I did find however the BLU-100 suffered from a lack of extension at either end of the frequency range that just dropped the dynamics a little making it less of an ideal choice with complex instrumental work.
Overall this is a fun and musical profile rather than anything flat and analytical. The BLU-100 is clearly built for modern genre playback with a relatively slow-paced but thick sound and a low-end response that's more "phat" than tight. I guess it was too much to ask for another Stance s1+ audiophile-level experience but I have heard a lot worse and feebler coming from wired for the price.
Bass
The BLU-100 has a slowish warm bass response with a lingering decay typical of a standard dynamic driver. The BLU-100 is tuned with a mid-bass emphasis rather than any high degree of extension or a linear tight signature.
That means it's got a decent level of impact suitable for modern pop, RnB, and EDM genres but not a huge amount of dynamics or definition for anything more complex. It's not the last word in texture or detail for dynamic drivers. However, it's not a muddy mess either and to some extent, the sub-bass roll-off helps to keep everything from sounding messy and congested.
Mids
Surprisingly the mid-range, though slightly recessed, sounded reasonably clean and clear with the vocal presence or upper midrange being slightly boosted which always gets my vote. Definitely above-average levels of clarity for a BT earphone in this price range.
Vocals suffered from a little bit of sibilance now and then, especially with lossy female vocals (the norm on smartphones) but after testing back and forth a few tracks with differing mixes that sibilance seemed to be very dependent on the mix and track so its not an inherent feature of the BLU-100.
For example, Erica Sunn's "Static Space" was wonderfully sibilant free and very smooth, whereas Missquerada's "Far from Love" was as metallic a vocal as I have ever heard. The BLU-100, it seems, will not gloss over a bad recording.
Treble
Treble on the BLU-100 is more focused on an accentuated lower treble signature that has a nice bit of sparkle and decent detail but with an attenuated upper treble response. This rolled off top end keeps peakiness in check somewhat and prevents the BLU-100 from becoming a tiring hot experience with longer listening sessions but it also adds a little to that darkish tonality.
Decay is short on the lower treble so clarity is good but the attack can get a little harsh or sharp now and then when you crank up the gain. Noise Grinders indy pop track "Stuck At Home" cymbal work was way too brittle and hot to cope leaving me feeling the BLU-100 is far more suited to warm acoustics, music with plenty of space and emphasis on vocals and bass – pretty much your modern consumer fare.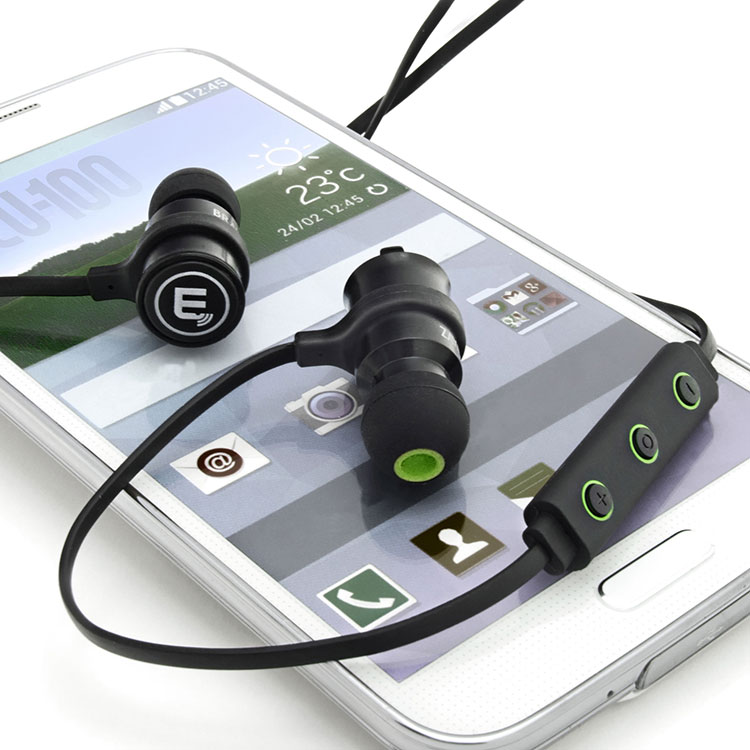 Matchability
Rates at 30 ohms and 110DB SNR and housing a tiny DAC/AMP the BLU-100 should present no problem with most BT sources since it is really not that dependent on the power of any smartphone or BT source device. Rather it's the quality of the outgoing BT module that's going to affect your enjoyment of the BLU-100.
Devices with older BT3 modules such as the AK120 Mk1 fared less well than aptX BT4 devices such as my BB Passport and Sony Z Ultra. My overall preference for pairing was with my BB Passport and tonally I actually found the pairing to be a tiny bit smoother sounding than the Android-powered aptX capable Z Ultra.
You should have no issues either pairing with Apple devices but bear in mind this is a drop-down to A2DP compression and things will take a hit clarity wise over the more resolving aptX profile on Android and BB and other similar platforms that support the aptX protocol.
Our Verdict
I am never a fan of using the precursor "for the price" in budget item reviews. I sometimes feel it cheapens the review itself and provides unnecessary damning with faint praise context. Yet with the BLU-100, much like the Creative E series of amps you really do get rather a lot for your money.
Consider this – a comply set of foams with an SRP of around $5, a USB cable for around $2 – 5 depending on where you shop and you are left with a fairly well crafted and good fitting wireless IEM that utilizes a BT4 aptX profile for less than $40. I am not entirely sure but the BLU-100 could well be the best priced BT IEM with aptX 4 out there in the market today.
Now audiophiles won't take to it. It is a colored u-shaped signature with decent clarity and vocal but resolution, definition, and accuracy are not really there so Chesky Records won't be stockpiling them anytime soon.
What you do get is a musical, fun, and entirely acceptable low profile solution for on the go and gym users (not me then). In my earlier youth gym-going days I really could have done with a pair of these rather than a set of Philips "sport" buds and a Clip stuffed into my zipped pocket. It wasn't a pretty sight.
BLU-100 Technical Specifications
Features:
CSRBC8645 Bluetooth 4.0 with aptX codec support
Secure, comfortable fit with lightweight housing and low profile cable and remote
Full-bodied sound signature
Brainwavz signature earphone case & Comply S-400 tips included.
Specifications:
Transducers/Drivers: Dynamic, 8mm
Rated Impedance: 30ohms Closed Dynamic
Sensitivity: 110dB at 1mW
Frequency range: 20 ~ 20000Hz
Bluetooth 4.0 (CSRBC8645) with aptX
Operation max distance: 30ft (10m)
Battery: 60mAh – 4hrs playtime, 100hrs standby, 2hrs for a full charge (Micro USB charging)
CVC echo and noise cancellation
Supports voice prompt for MMI: Power on / Paring / Connecting / Battery low / Power off
Supports HFP, HSP, and A2DP
Supports pairing with two devices at the same time
3 button remote, works with Apple iOS products, Android & Windows phones & PC
Included Accessories:
Earphone Hardcase
3 sets of Silicone Ear Tips (S, M, L)
1 set of Comply™ Foam Tips S-400
1 pair of Ear Hooks
1 Micro USB Charging Cable
Velcro Cable Tie
Instruction Manual
Warranty Card (24-month warranty)