FiiO
https://www.fiio.com/newsinfo/346552.html
FiiO has 6 headline deals for Black Friday and Cyber weekend and they are as follows:
FiiO M9 – $50 off, down from $299.99 to $249.99
FiiO M3K – $20 off, down from $69,99 to $49.99
FiiO uBTR – $9 off, down from $27.99 to $19.99
FiiO FA1 – $10 off, down from $99.99 to $89.99
FiiO Q1 Mark II – $7 off, down from $99.99 to $92.99
Jade Audio EW1 – $20 off, down from $49.99 to $29.99
If you're interested in M9, FA1, Q1II, uBTR, EW1 or M3K, you could find the deals on their Amazon store: FiiO Amazon Store
Other than Amazon, 2 of their US dealers The Camera Box and B&H Photo will also run promos on their websites. You could find deals like FH5, E10K, BTR3, FH1, BTR1K, FB1, M7 and so on in their websites. B&H Photo and The Camera Box
Promotion time: USA PST, (Pacific Standard Time), starts at Tuesday, 26th November 2019, 00:00:01, Ends at Monday, 2nd December 2019, 23:59:59.
If you're not in the US but want to enjoy the Black Friday, FiiO has some deals on their Aliexpress store from 29th Nov to 3rd Dec 2019. Check out more details here: FiiO Aliexpress Store
Satin Audio
Vietnamese cable specialists, Satin Audio, are also offering some big discounts on their quality cable range, specifically their excellent Monster Chimera and Griffin cables. We reviewed the Medusa this year which is a pure silver cable at just over $200 SRP so we know they are capable of some excellent stuff for not too much.
Here are the Satin Audio deals and the promotions run from 27/11 – 11:59 PM to 02/12 (GMT +7). Just enter the coupon code "SABF20" at the checkout to get your 20% discount.
| | | | |
| --- | --- | --- | --- |
| Item | MSRP | Your Price | You Save |
| Chimera 4X | $ 116.90 | $ 93.52 | $ 23.38 |
| Chimera 6X | $ 149.90 | $ 119.92 | $ 29.98 |
| Chimera 8X | $ 180.90 | $ 144.72 | $ 36.18 |
| Griffin 4X | $ 109.90 | $ 87.92 | $ 21.98 |
| Griffin 6X | $ 142.90 | $ 114.32 | $ 28.58 |
| Griffin 8X | $ 175.90 | $ 140.72 | $ 35.18 |
Empire Ears
Empire Ears are doing a discounted sale across all of their products, both universal and custom, for Black Friday and Cyber Weekend 2019. The sale becomes active 0:00 Nov 29th until Dec 2nd, 2019 midnight CMT.
You can expect to get 20% off Universal IEMs with code BFCMU20 and 15% off Custom IEMs by using coupon code BFCMC15 at the checkout.
Flare Audio
Flare Audio of the Uk are joining in on the Black Friday and Cyber weekend fun with a number of interesting deals worldwide. The cool thing is that these deals are happening now and will continue to either they run out of stocks or I am presuming end of the Cyber weekend.
The deals are a buy one get one free and a mix and match on any product. This includes
Flares Jet 1 / 2 / 3 earphones
Isolate range of ear protectors
Isolate MiNi range of ear protectors
Sleep range of sleeping earplugs
earSHADE earplugs
ALL Earfoams (silicone and memory foam tips)
Audeze
As always Audeze deliver on some really tempting deals this Black Friday and Cyber weekend.
Starting Wednesday (11/27) at 12:00PM PT through next Tuesday (12/3) at 12:00PM PT (or until supplies), audiophiles will find incredible deals at www.audeze.com on a range of different Audeze headphone products including the LCD-i4 in-ear headphone, the award-winning Audeze Mobius gaming headphone, and much more.
Please note that these Black Friday Audeze sales are for US residents only.
Null Audio
Singapore's audio specialist, Null Audio, has a healthy list of gear discounted for the Black Friday and Cyber Weekend. There are some killer deals on this list with 20% off AAW gear including their flagship Canary, Nightingale and their partnership with Shozy, the Pola. This is both universal and custom format also.
They are also offering 20% off their extensive cable products including the Thera, Tiburon and the Lune Series.
Beyond that, they also work with Grado in Singapore and if you are after a good deal here then you will also find 20% off the likes of the PS1000e and the PS500e.
Item No.
Category
Product
MSRP
USD
Discount
BF Price
USD

Cable

Thera
399
20% OFF
319.2
Hakone
299
239.2
Tiburon
169
135.2
Lune
129
103.2
Arete
89
71.2
Ethos MKIII
69
55.2
Pro-Gaming
89
71.2

CIEM

Canary
2449
20% OFF
1959.2
Mockingbird
1699
1359.2
Pola
949
759.2
ASH
949
759.2
AXH
519
415.2
A3H
369
295.2

UIEM

Canary
2199
20% OFF
1759.2
Mockingbird
1499
1199.2
Nightingale
999
799.2
Pola
799
639.2
ASH
799
639.2
AXH
449
359.2
A3H
299
239.2
KF
249
199.2
ACH
229
183.2

Headphone

GS2000e
1395
20% OFF
1116
GS3000e
1795
1436
PS500e
595
476
PS1000e
1695
1356
RS1e
695
556
SR125e
150
120
SR225e
200
160

DAC/AMP

Capri_lightning
79
30% OFF
55.3
Capri_type-c
79
55.3
Accessport
59
41.3

Clearance

Nebula One
99
39
Nebular One w/ mic
99
39
Azalea
69
39
Hibiki
129
49
All of these sales I believe are happening right now and the site has a very cool time ticker below each sale item to tell you when the deal will run out, which in most cases is the end of Cyber Monday, Dec 2nd, 2019.
Music Sanctuary
Staying in Singapore for this next promo with Audio dealers, Music Sanctuary. They are also doing a Black Friday and Cyber weekend sale from the 29th Nov 2019 to the 3rd of Dec, 2019 Singapore time. They have a ton of excellent brands also with the like of qdc, AAW, 64 Audio, FIR and Ultimate Ears. If you cannot get access to each of the brand's own BF deals then Music Sanctuary can step with some alternate offers.
The deals are as follows:
10% off qdc and AAW models
free premium design options for your 64 Audio customs monitor purchases
A free VAC monitor cleaner with every FIR purchases, (these are rather good actually).
Model specific discounts on UE customs.
iFi Audio
https://ifi-audio.com/black-friday/
UK's iFi Audio has two bundle deals for the Black Friday and Cyber Weekend period. The offer is available from 25 November to 2 December 2019 and you can pick it up from just about any iFi Audio stockist or dealer from around the world while stocks last.
The first Bundle is their iDSD nano Black Label which we gave a Bang For Buck Award in 2018.
Buy the exclusive Black Friday nano iDSD BL bundle and receive the following along with it:
FREE iSilencer3.0
FREE NativeDSD.com Sampler Album
50% discount on NativeDSD music
The second bundle is their excellent xDSD portable DAC and amp and you can find our review for that here.
Buy the exclusive Black Friday xDSD bundle and receive:
FREE iSilencer3.0
FREE NativeDSD.com Sampler Album
50% discount on Native DSD music
Please note the NativeDSD.com voucher code is valid for one-time use only from the 27th November through to 4th December 2019.
RHA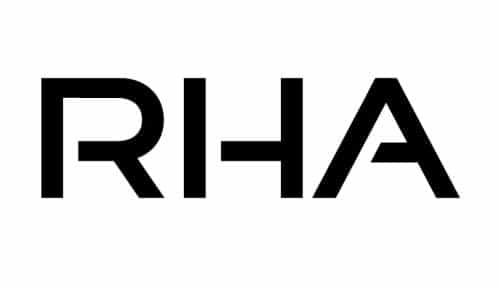 Every year RHA pulls out some excellent deals for the holiday period and 2019 is no exception. The summary is as follows and is applicable from Nov 28th, 2019 to the end of Cyber Monday, Dec 2nd, 2019.
RHA TrueConnect is discounted over 30% online and instore for Black Friday
The full list with discounts and sale prices are as below.
| | | | |
| --- | --- | --- | --- |
| Model | RRP EUR | Black Friday Price | Discount (%) |
| TrueConnect (Carbon Black and Cloud White) | € 179.95 | € 129.95 | 28% |
| T20 | € 159.95 | € 111.95 | 30% |
| T20i | € 169.95 | € 118.95 | 30% |
| MA750 | € 89.95 | € 62.95 | 30% |
| MA750i | € 99.95 | € 69.95 | 30% |
1MORE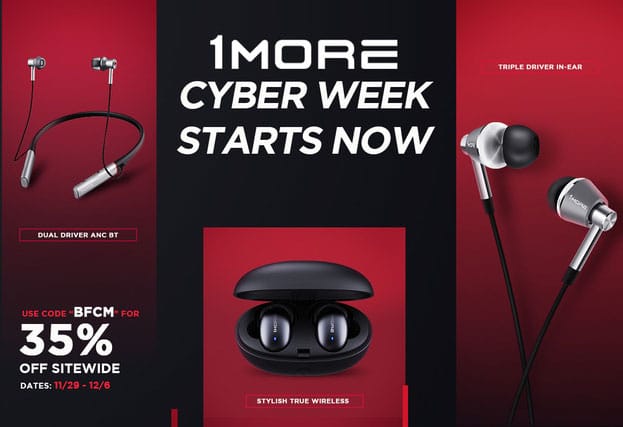 Huge range of deals on offer this Black Friday and Cyber Weekend via 1MORE's US website, (link above).
By using the coupon code "BFCM" you get 35% off sitewide. However, that code won't be active until the actual Black Friday date starting the 29th Nov 2019.
Some of the deals you can get with the code are as follows:
JH Audio
There are plenty of awesome discounts at JH Audio this year with up to 20% off some of their best customs including the Layla and the Layla Signature Series, JH13v2, Roxanna, Lola, and Angie. The Layla won our Best Custom IEM last year and is still one of my favorite designs with that Bacote wood finish.
Here are the deals in text format available from JH Audio:
20% off JH13v2, AmbientFR, Angie, JH16v2, Lola, Roxanne, and Layla Custom IEMs
15% off JH3x, JH10x3, and JH11 Custom IEMs
15% off Accessories, Apparel, Signature Designs, and Carbon Fiber or Lightning Strike Full Shells
Discount applicable for new orders only. Discount cannot be applied to previous or current orders. Discounts cannot be combined with any other offers or coupons. Offer is not valid for Jim Custom IEM, Performance Series Universal IEMs, In-Ear Survival Kit, Premium Leather Goods, Moon Audio Silver Dragon Cable, and Comply Soft Wraps Plus.
Discount prices available for end users only. Not available to distributors, dealers or resellers. The sale ends on 12/02/2019.
Click on Page 3 below for more deals for Black Friday & Cyber Weekend