The Audio Technica brand is fast becoming one of the most ubiquitous headphone brands in the market, reaching almost Sennheiser like presence for choice and range on offer. My perception of them though until the M50 was really of a company that shied away from the basshead fraternity instead focusing on the upper end of the scale for their mid-fi in terms of sound quality. Certainly in the AD and W series they are not known for their huge bass slam or low end reach.
Hence up until now really the Pro700 MK1 and more famously the M50 have been really the only marketable basshead headphones to date that I have considered in their product range. The M50 in particular for me was the perfect match of price and performance in recent memory for a headphone that slammed hard but still retained enough neutral qualities for monitoring purposes that DJ's and consumers alike could buy into.
The Pro700 MK2 though goes further taking the 'intention' of the M50 in the lower frequencies and rolls out a headphone that is dark, colored and positively brimming in bass that one could literally liken this to slapping a 15″ subwoofer in the boot of a mini and rolling down the road. There is no intention to wow you with treble beauty (though there is a treble sparkle), soaring clear vocals or aggressive mid performance, no sir, this is 100% pure bass inclined with a capital B. For those who love hip-hop, dance, electronica and rythmn or beat heavy music follow this way. For those who prefer the light, nimble and accurate then these may not work for you at all.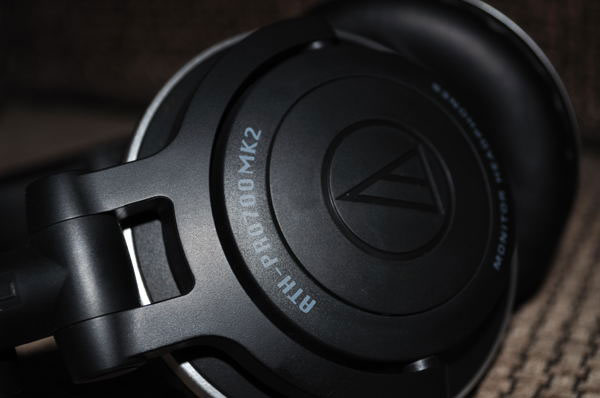 So what are we dealing with here?
Closed, dynamic headphones
Sensitivity: 106 dB/mW
Frequency range: 5 Hz – 35 kHz
Impedance: 38 Ohms
Maximum power input: 3500 mW
Driver diameter: 53 mm
Magnet: neodymium
Ear pads: swiveling
Connectors: 3.5 mm jack, gold-plated, 6.3 mm adapter, gold-plated
Cables: 1 x straight (1.2 m), 1 x coiled (1.2 m)
Weight: 305 g
Packaging and build quality
Change of color from the normal white to a new carbon type print but sadly its the same story with ATH going for utility over presentation. It does not have the wow factor of an Aiaiai Tma-1 box opening or even a Marshall Major but I guess at the end of the day its what is inside that counts.
In the package you get the headphones, the normal ATH leather type pouch and a 1/4 adaptor. But after that here is the first major difference to the MK1 and the M50 – the detachable cable, no actually two detachable cables! Yup this time ATH have decided that in reality we all could benefit from having a headphone with a detachable cable and I have to agree 100% with that assessment. The M50 has often taken flack over the coiled cable you are stuck with. I was ok with it but at times I would have preferred a straight cable. With the new MK2 you get both a straight and coiled cable choice that you can select depending on your mood. Much better and bravo to ATH for this move.
But before you get all giddy and just stuff one into the socket – a word of warning. When you insert the cable into the left cup don't forget to screw lock it. We tested this last weekend and the lack of screwing in had a detrimental effect on the sound quality and initially our tester thought there was a problem with the headphone. Once it was screw locked the garbling cleared up and you got the full range and power of the headphone. One thing I did note was that the cables feels short at 1.2m, but for those on the move this will be a boon not to have a bunch of cable stuck in your pocket. It works fine for 'on the go' people but for home play it does come up a tad short.
The headphone itself is solid and reasonably well built and in many ways is a continuation of the mk1 design though with the new detachable component on the left cup. The ear pads are of small circumaural size so not quite around your ear but big enough to ensure the isolation is pretty good overall. The headband itself needs a small amount of break in when fresh out of the box as the top does exert a little bit of focused pressure on the top of your head but this wears in very quickly and ultimately it is a comfortable fit. The plether pads are prone to sweating though and the clamp is very strong indeed which adds to the propensity for sweat. Bring a good cloth if your in a hot environment as you might need it.
Comfort wise this is not going to be on your head for hours on end, the sheer force of clamp will make you want to take it off for a short break eventually. The clamp though works very well with no slippage whatsoever.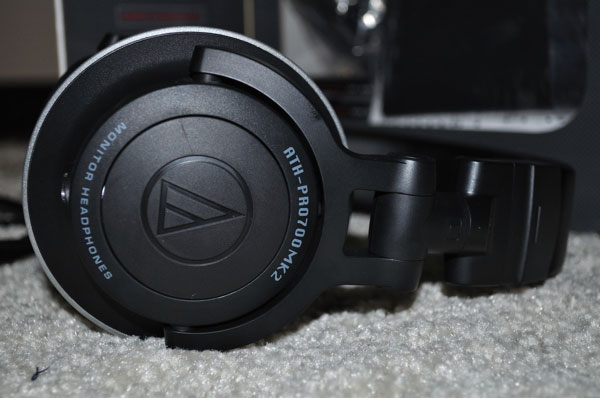 Sound Quality
Coming in at 38ohms this is an easy to drive headphone that sports huge 53mm drivers so pluging them into ipods, cowons, fuze's and clips should work just fine though with a good headphone amp the control and slam is tighter and deeper. For my testing I used an FiiO E9/E7 combo with a mix of flac and 320kb MP3 over a range of genres.
I have to start with what this headphone is all about and that is the bass. One take of 'Asher Roth – As I Em' with those plunging bass beats is just so intense and rich that it leaves you under no illusions that no amount of burn in is going to change any sq this bass heavy.
Its massively colored and dark with a very low 5hz rumble that dominates the tonality to the extreme. What comes out of this is pure basshead joy of a type and as such differs markedly from the more monitor like qualities of the M50. Some people may likely prefer the M50 bass though due to the way it delivers strong quantities of bass without ever loosing its neutral sq in the upper range. The MK2 is more ruthless and take no prisoners with a much more attenuated high end that at times can struggle to remain above the weight of the bass delivery.
The weakness of this approach starts to become more apparent on faster tracks with more detailed work that shows the MK2 to be a tad sluggish. It does struggle with acoustics, attack driven guitar solo materials and vocals, particularly vocals. Return it back to hip-hop or R&B and the low rumble approach suddenly becomes its strength again. If ever a genre specific headphone was invented then the MK2 is it. As a fun time listening headphone on these genres I really enjoyed it for what it is. But then I fully expected that even before I put this on my head. Of course being a closed headphone the sound stage is a tad smallish and compared to the M50 is still has that slight congested feel to it.
A swift comparison
It really is hard not to ignore the price point as it puts the MK2 in with very strong and heavily marketd DJ or bass heavy headphones such as the Tma-1, HD25, it's own M50 and the V-Moda crossfade to name but a few. The Mk2 kills them all in terms of bass coloration but looses out to the Hd25 in top end clarity. Its much darker than my old tma-1 and has a little less clarity as a result in my mind but holds a bigger soundstage than both the HD25 and the tma-1.
Apart from the v-moda all the others have better treble presence and clarity with perhaps the HD25 being the strongest though to me its much too hot. Compared to the Beyer DT1350 though the MK2 can only really lay claim to the increased bass coloration. For me the DT1350 is the stronger performer across the entire frequency range with tighter and punchier bass, more aggressive mids and a smooth treble performance.
Summary
So where does the MK2 sit in comparison to the competition? Well no doubt the bass is the selling feature here. For DJ's in the field this might be an enjoyable experience and I can see plenty of use out of it in that respect. However the M50 is still going to be the sibling that will win out in monitoring conditions due to its more neutral and balanced setup (though with a great bass kick). This is a fun basshead headphone that is 100% aligned to beat driven music with two fingers up to the audiophile community and quite rightly so.
If you want a new bass genre king though this is one headphone that is not too far away.