How does it sound?
First up forget about the mic-conductor terminated jacks, the AT-HA40USB suffers from crosstalk, reverb and loss of quality. That rules out a few cans in stock mode such as the B&W P5 if you dont have a specific adaptor. Luckily I have such a connection from the Philips Downtown which bundled as a 2-inch convertor cable. I am not sure if Philips had that in mind but thanks Philips. Well the AT-HA40USB is no powerhouse driving the p5 adequately at 12 noon on the volume pot. That might not be too surprising given its a 45mW x 2 internal amp. Once properly adjusted I found the AT-HA40USB internal amp to be quite a smooth performing little amp with little or no top end sibilance from either my P5 or v-Moda M80, both of which would ideally suit this little amp/dac solution on the go. Carrying a 24/96 sampling rate really helps elevate it above the average and the resolution and speed of the AT-HA40USB is excellent for what it is.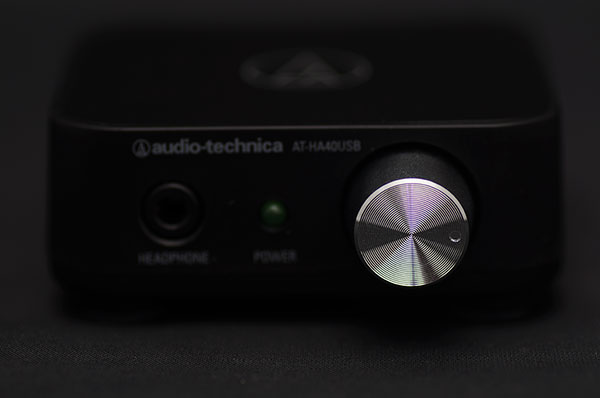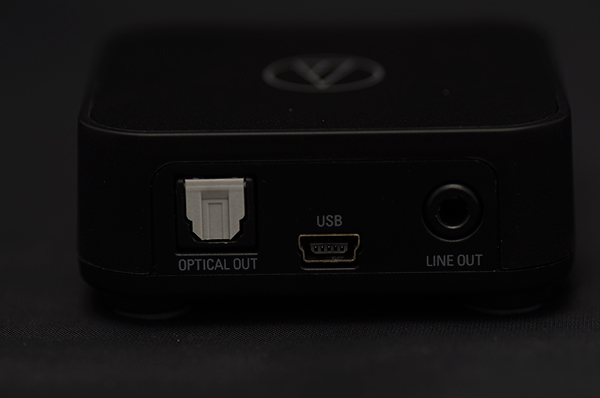 It doesnt quite have the seperation and detail from the higher end dedicated DAC's or amps such as the Just Audio uDAC-2496 but then I wouldnt really expect it to given it's much lower price point. The V Moda M80 is a tad easier to drive on the AT-HA40USB than the B&W P5 and my favorite budget can, the slightly inefficient Philips Downtown even harder to drive sitting at about 3pm on the dial but nevertheless pretty clean avoiding any nasty coloration. The Marshall Monitor came in about 12 to 1pm on the volume pot and didnt seem to have any problems either with the prominent bass shining through even without the filters. Naturally with the filters it was just too warm and muddy so keep these off and store them somewhere safe.
As a DAC with line out to something a bit more powerful again I found everything to be fairly well balanced and coherent with a slightly neutral to warm tonality and a nice top end extension that didnt suffer from anything hot or sibilant. I did notice though the AT-HA40USB did suffer from event interference more than other DAC's I had, in fact no other DAC had this. When switching window focus or adding a new tab on Chrome there would often be a minute stutter or mini-pop. This I didnt get from other setups even at a cheaper level but I would not be able to say for sure if this was a Windows driver, USB power management or DAC issue. It was certainly present on line out as well as the headphone jack of the internal amp.
Final thoughts
I wish had kept my Nuforce Icon uDAC or had one to spare just to see how a matchbox $100 DAC/AMP would compare with a $200 matchbox DAC/AMP, that would have been the best compairson for me considering they both sample at 24/96 with roughly the same powered internal amp capacity. I can say though the AT-HA40USB can be found for as low as $150 and those in Japan might even get it lower these days. Its strength is low ohm easily powered headphones for portable on the go upgrade from your onboard laptop or PC DAC and the lineout and spdif are pretty good also for powering better cans. The slight popping issue on windows focus on digital audio is a concern but if you are just sitting back and listening this little cute box actually is not that bad. It just needs a cooler name.
Technical Specifications
Headphone Input Sampling Frequency: 32kHz, 44.1kHz, 48kHz, 96kHz
Plug: φ3.5mm stereo mini-plug
Frequency Characteristics: 10~40kHz (96kHz–3dB)
Maximum Output Level: 45mW+45mW (THD-32Ω)
THD: 0.07% or less (20mW output-32 Ω)
Ratio SN: 95dB~ (JIS-A)
Line-Out Sampling Frequency: 32kHz, 44.1kHz, 48kHz, 96kHz
Plug: φ3.5mm stereo mini-plug
Frequency Characteristics: (96kHz–3dB)
THD: 0.02 or less (1kHz-0dBV)
Ration SN: 98dB or more (JIS-A)
Normal Output: 0.8Vrms
Digital Output Terminal Sampling Frequency: 32kHz, 44.1kHz, 48kHz, 96kHz
Support Format: S/PDIF PCM Audio
Size H25xW62xD57mm, 55g
Box Contents Main body / USB cable (1m)
Amazon link: AT-HA40USB by Audio Technica