A few years back EarWerkz was a blossoming company, making name with models as the Supra and Legend R/Omega. But its founder Jack Vang soon hit a glass wall, as his ambition reached beyond the constraints of his current organizational possibilities. Customer service was struggling to keep up, and the desired lead time was under attack. Founding a solid company wasn't enough – Jack wanted to rule an empire. So to realize its full potential, Jack construed the merger of Earwerkz with Savvitek, an industry leading engineering and manufacturing company. EarWerkz was reborn into Empire Ears, and thus it began. The ambition in its name resonated in the model line up, named after the ancient Greek gods. But it didn't end there, as Empire Ears kept the community in suspense for their grand revealing: the worlds first monitor with 14 BA drivers.
Ever since companies started implementing more than 3 or 4 drivers in their designs, the question was raised whether more drivers and crossovers resulted in better sound. Iems as the SE846 and UERM had proven how far you could get with 4 drivers, and the Spiral Ears 5-way Ultimate is still considered the one to beat with its 5 BA drivers. And sure, there are plenty iems with 8-12 drivers that just don't seem to get the tuning right. However in this case – spoiler alert – more is better, in true form of the American spirit. Zeus lives up to its expectation, and not in the last place, its price.
Accessories
Empire Ears takes a lot of pride in their presentation – it's clear the unboxing experience was designed to resonate with class belonging to a high fidelity product. Zeus is delivered in a matte black box with golden Empire Ears logo, with a top that flips over backwards twice. The box contains a large S3 carrying case, layered with sturdy foam for protection. It contains a large microfiber pouch to protect the case, a smaller size pouch for just the monitor, and a nice cleaning cloth – all with the golden Empire Ears logo. The rest of the lineup comes with silver logos – a nice touch to differentiate Zeus as flagship. The only other accessory is a cleaning tool, but let's face it, this is a custom – it's the only accessory you'll ever need. Overall, it's a high-class package with attention to detail.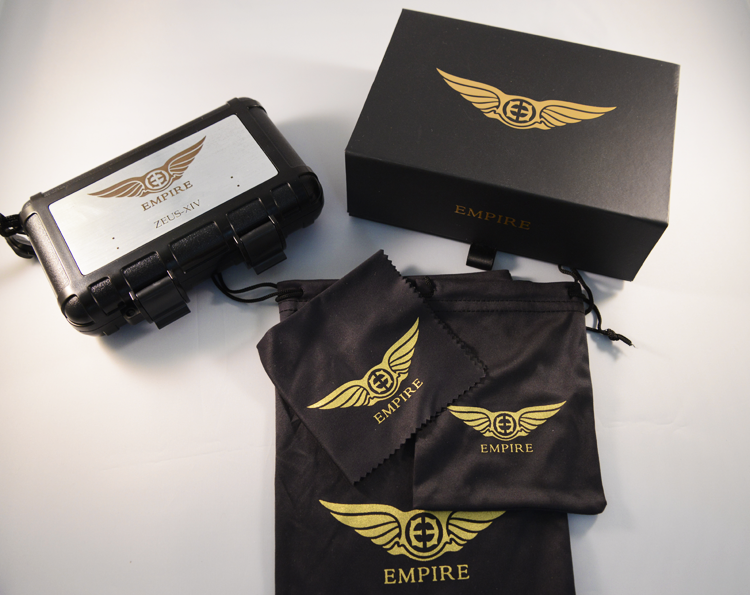 Cable
Both Zeus and Apollo come with a BTG Starlight SPC upgrade cable: a white 4-braid terminated in a right angle jack. The BTG cable is a nice touch, and looks and feels better than generic factory cables monitors usually come with, although it doesn't have the quality feel a high tier upgrade cable. But then again, those usually sell for (at least) multiple times the price. I've tried multiple (silver) cables with Zeus, but came back to the BTG Starlight. I find it is more than adequate, and doesn't form a constraint on its tone or resolution.
Build Quality
Zeus consists of 3 clusters of 4 very small drivers for the mids and treble around 2 big bass drivers, and because of the use of smaller drivers it remains within proportion for a multi BA TOTL. It's smaller than the JH Siren Series or Rhapsodio Solar with 10 drivers for instance; because of the Solar's 4 large mid drivers, it takes up more space requiring a larger housing. Due to the design choice with 12 smaller drivers the custom Zeus still has quite an average size, and I don't think people with small ears need worry that it won't fit (I have small ears myself). The only possible issue might be that the 4 bores take up a bit more space in the canal, but this is also well within proportion.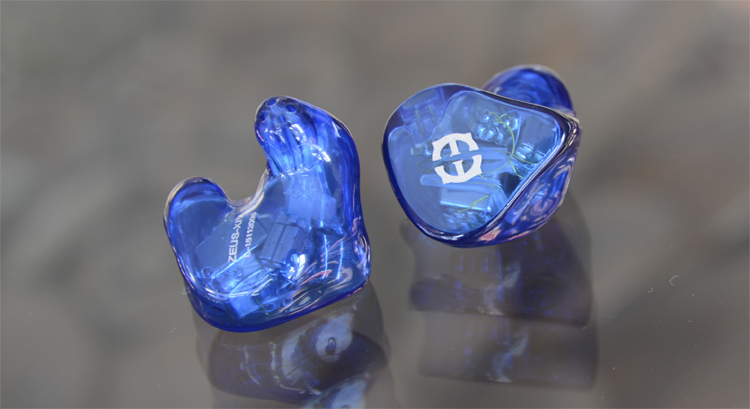 The finish reveals quality; a smooth surface without bubbles or imperfections. Mine is a clear blue, with the transparent faceplate and body representing the house design of the Empire Ears and EarWerkz before that. It gives Zeus both a high tech and classy look, and I chose it because I felt it represented the Empire Ear's design. For those wanting something else Empire Ears offers various other materials such as carbon, wood or abalone as extra options.
Fit & Isolation
Both Zeus and Apollo came from the same mold, and fit me perfectly – snug, but mainly comfortable. As my ears are on the smaller side, the Solar's bigger 10 BA drivers were a bit tight for me at first; not the case with Zeus. It seems like there's space left to fit in a few more – with a check behind the first 14 BA drivers, who's to say they'll stop at 14. Insertion is smooth, and background noise is reduced to a minimum. Despite its four bores, the nozzle isn't wider than usual, and it has an average depth. While it doesn't sit completely flush within the ear, it doesn't protrude as much as you might expect from its driver configuration.
Sound Impressions
Presentation
Zeus has a forward presentation with a midcentric signature: slightly enhanced bass and a very full midrange, topped off with refined treble with more than adequate sparkle to satisfy. The presentation is upfront and stimulating – there's nothing laidback here. Notes are bold, and Zeus displays good ability to recreate both thin and thick notes when necessary; acoustics and string instruments sound clear and refined, while electric guitars sound full and engaging.
Tone onset has an accurate articulation – smooth and fast, and when properly driven Zeus displays excellent dynamics. The combination of its forward center midrange and high resolution creates a clear center image, while accentuating subtle effects of echo and reverberation – making them more present, while contributing to that sense of standing in a great hall. This resolving nature brings detail to the foreground, without having an analytical or bright tone. This reflects quality, as it is technically more challenging than simply 'turning the light up'.
The soundstage is about average in width, but both tall and deep. It wouldn't suffice to say imaging is excellent, for it has a precision and 3D feel that reflects an incredible degree of technical engineering. Instrument position is incredibly precise in the different layers spreading along the width and depth of the field, and together with the exceptionally high resolution provides a clear image of the instruments in space. Zeus inherently has a clean background and is highly transparent; although the warmth in the atmosphere is highly sensitive to the source, and can vary accordingly.
Bass
Zeus' bass is slightly north from neutral. With bass heavy music it is powerful, and slams with the authority one can expect from its name. Bass speed is about average, but has great detail and texture; multiple bass lines are displayed with great precision and separation. The sub-bass hits very deep, providing great depth in the soundstage. The mid-bass provides a good slam, while also giving fullness to the lower mids. The general tone is slightly warm.
Midrange
The lower midrange gives great size and power to the presentation. Rock 'n roll guitars sound big and engaging; a leaner iem will miss that lower end extension, resulting in a relatively smaller size and different tonality. But where this midrange impresses most, and truly is one of the highlights of listening to Zeus, is vocals. Zeus is in its element with heartfelt songs like Chris Isaak's "Wicked Game", the Righteous Brother's "Unchained Melody" or R.E.M's "Everybody Hurts". As much as I hate to admit it, Adele is no slouch either – you can feel the heartbreak is sincere; not only by the lyrics, but the emotion behind the vocal. To tap into that pain, the anguish; the sound must come from deep – very deep. Zeus' midrange provides exactly that: warm, full and clear, making  vocals sound incredibly deep and powerful, while adding a certain calmness and confidence to the singer's presentation.
But for the ultimate experience you need to go one level higher: singers like Andrea Bocelli – that's where the magic happens. The forward center and upper mids combined with the high resolution, captivates with a crystalized image of his performance: sound is being produced from deep within the chest – you can feel the air being released from the lungs. Subtle dynamic changes in his voice are accurately displayed: you can see the position of his mouth affecting the quantity and tone of the sound being produced. When opera singers like Bocelli perform, you can feel the effortless production of a high volume of sound, the ample power in reserve. A surplus of power, mirrored by Zeus' technical ability and midrange.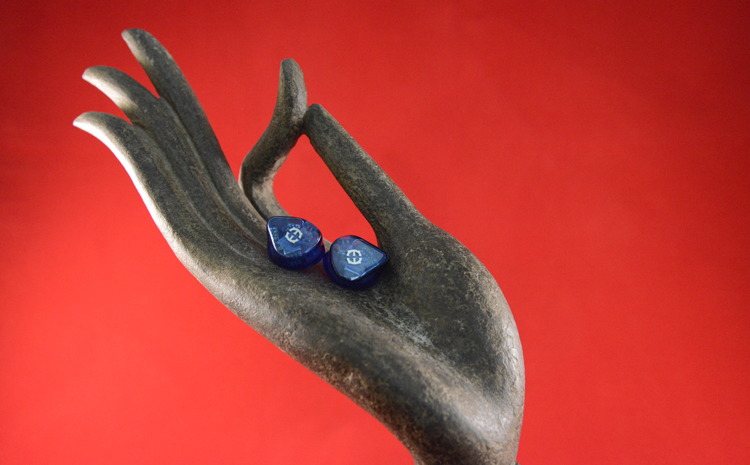 Treble
I'd say there is a slight dip in the lower treble; while there's enough air and space between the instruments, Zeus doesn't have a particularly sparkly sound overall. This also means it's spared from almost all sibilance, unless it's present in the recording. Its extension through the mid and higher treble is excellent; Zeus resonates with great transparency, while remaining very controlled and non-fatuiging in longer sessions due to the linearity. Articulation and decay is quick and precise. All in all, very refined. A gentleman's treble – without sounding dull.
Page 2: Matchability & Comparisons