Wireless Performance
Stability and Range
I obtained a distance of 39 feet from the source using Bluetooth 5.0 and 5.2 similar to the ComfoBuds Pro. The PistonBuds came right under that to around 37 feet away from home base in a visible straight line. I still find it quite acceptable. I'm still waiting for Bluetooth to tear down the wall, or to simply transmit behind one but that day is not today.
Stability was quite good and I never experienced any weird dropouts. Just once was there some kind of de-synchronization going on but the cure was to simply return the buds to base, close the lid and remove them once again. Once you pair these they automatically connect and do so quickly I must say.
Latency
The 1MORE PistonBuds Pro has a gaming mode feature that practically eliminates perceivable delays of any kind and could be activated within the control app. It works well on Android for example once you install the control app on that device and activate the feature.
However, I was unable to retain that setting. For example, paired them with my PC Bluetooth device later on. I tried this with both my laptop and my Windows 10 PC. Once I disconnected from the mobile device and paired them with any other device the setting was reset to stock which is off.
This could mean two things. This could be a bug or 1MORE wants you to use their app and either way, I feel the equalizer minimum and of course, this feature should be retained regardless.
Select Comparisons
1MORE PistonBuds
Price $49.99
Technical
The original PistonBuds are so different from the newer Pro version in many ways. First off they have no ANC but 1MORE did at least disclose the particular SOC that was used on this set which was the QCC3020 from Qualcomm that has nowadays been replaced by the QCC3040.
However, in this case, the original PistonBuds seem to run under more Bluetooth protocols but at 5.0 and the same AAC plus SBC codecs. The other aspect that affects sound quality is that the original PistonBuds use a 7mm driver instead of the larger 10mm driver found on the Pro model.
Design
The PistonBuds V1 earbuds employ a short stem design and an Oblique angled nozzle and are IPX4 rated. The PistonBuds Pro is IPX5 rated. What's funny to me is that the original PistonBuds had no piston reference in its design like the Pro version which has the piston top design.
The cradle size was reduced on the Pro version. The PistonBuds case measures 70.6×25.7×36.8mm while the Pro version cradle measures 58x23x37.7mm.
Somehow battery life was increased on the pro variant although it carries a lower 410mAh capacity versus the 533mAh on the original PistonBuds model. I guess the improvements lie in the secret SOC.
Performance
Again, if we speak of battery life performance the Pro variant gains a few hours here and there within 1MORE's specifications and in real-life testing.
ANC aside if we compare sound signatures, of course, the Pro variant has the best sound quality, especially in the high-frequency region. The bass region is certainly heavier in presence on the original PistonBuds however they dip later on at 30Hz versus the earlier 4oHz drop off that the Pro variant presented in the tone sweep test.
High-frequency production on both these models is quite exceptional since they both can reach 14 kHz minimum and with an absence of noise but I still find the pro is the better-defined one in that upper region and it edges out the original version in midrange clarity since the original version did have a recessed midsection.
Stage wise both are not that wide sounding to me and most TWS models lack depth which both these models inherit the character although I would say the Pro variant sounds a hair wider.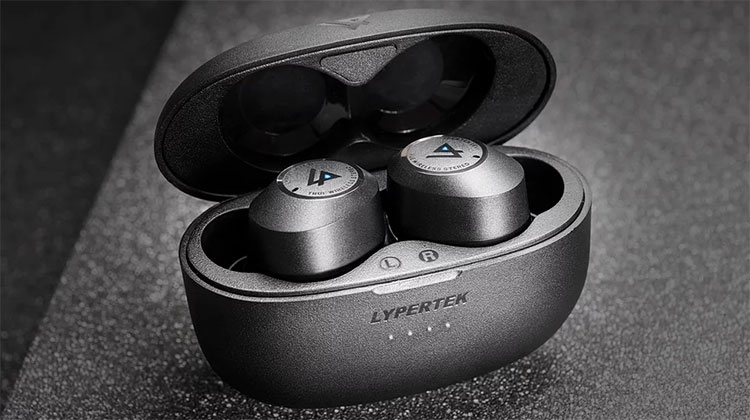 LYPERTEK SoundFree S20
Price $69.99
Technical
Lypertek makes some of the top-selling TWS models around especially in the budget section. They offer good sound overall with some common features and a reasonable price tag.
Lypertek came up with a unique feature on their lineup and decided not to use the more common touch control panel but instead side-mounted a button which I find more comfortable to operate than the ear-mashing design of placing the push button on the end cap.
An Airoha 1532 5.0 Bluetooth SOC sits at the heart of the S20. AAC and SBC codecs run on the S20 and are transferred over to a 6mm driver which behind the scenes seems to be a Graphene dynamic driver driven by a Neodymium magnet.
Design
The S20 also has its earbuds rated at IPX5 and also uses polymers for most of the assembly components. The PistonBuds Pro have a CVC 8.0 microphone system but they have no ANC, noise-canceling is only applied to the microphone system on voice.
Far as controls the Lypertek S20 push-button setup is called Easy Button Control and offers ample commands but I like it mostly because it's very comfortable to operate and is placed in a perfect spot in my opinion that is if you go push-button style.
Performance
My opinion of Lypertek TWS models including the S20 is that their major appeal is their wide-sounding signature and wide frequency response which seems more balanced especially when you compare them to less costly and budget TWS models.
Since the S20 doesn't have ANC you get one sound profile, unlike the 1MORE PistonBuds Pro which sounds bass heavy but is remedied of that elevation once you engage the ANC feature which is an inverse of most models.
Bass response on the S20 has a better extension that drops output only below 24Hz while the PistonBuds Pro starts to drop in output at 40Hz. Another area the S20 excels in is high-frequency extension due to them being able to reach 15 kHz with an absence of noise.
Strauss & Wagner SW-TW401
Price $59.95
Technical
The Straus and Wagner SW-TW401 is a basic TWS set with a modest number of features and a modest price tag. They offer touch controls that work well with a good amount of commands available and earbuds that are comfortable to wear.
A Realtek chip is used inside the SW-TW401 which transmits a 5.0 at up to 32 feet in my case using a mobile phone which also transmits 5.0 Bluetooth, however the PistonBuds Pro ups the ante and bumps it up to BT 5.2.
Similar to the SoundFree S20 the Strauss and Wagner unit uses a 6mm single dynamic driver and if you remember the 1MORE set uses a 10mm driver although larger. Take it from me at this level and size, the tuning is more important and a larger size does not translate to deeper bass or a harder-hitting response.
Design
The Strauss and Wagner SW-TW401 does not have any ANC at its disposal but it sits very near to the PistonBuds Pro in price. There is only a ten-dollar retail price difference between these two.
Both models are made of Polymers, cradle, and earbuds. The SW-TW401 cradle is larger by a very small amount and so are the earbuds. However, battery capacity is reduced down to 300mAh from the 410mAh capacity of the PistonBuds Pro.
Things go in different directions for the earbud design. For example, the SW-TW401 earbud battery capacity goes up to 40mAh versus 38. Their shapes contrast in the way that the Strauss and Wagner set has a more conventional IEM inner ear design rather than the 1MORE bean shape, Oblique angled nozzle.
Either set wears comfortably but you only get three sets of rubber tips with each model. Both earbuds use a rim design not meant for the common ear tip. This should be addressed within the TWS community so they can roll their own just as IEM users enjoy.
Performance
The Strauss and Wagner SW-TW401 is certainly bass focused and seems to have the hardest-hitting bass of all the models in this comparison.
Their main focus is on the lower regions and this set was the only model that could dig below 20 Hz audibly while the other sets came up short, especially the PistonBuds Pro which started their descent at 40 Hz and were practically absent below 30Hz.
The Strauss and Wagner TWS is certainly the warmer sounding of the bunch and the treble response is rather recessed and polite however it still could reach high frequencies of up to almost 15 kHz audibly. Staging is rather narrow on the SW-TW401 but I'm noticing a pattern within the modern-day TWS community.
Apparently, the high-tier models are looking to expand the soundstage. Tonality is almost there where it's supposed to be and customization is improving. However, the budget models mostly suffer from a narrow stage and perhaps spaciousness will start to expand on the budget segment from now on starting with the PistonBuds pro.
Our Verdict
You may have made one observation by now and that is the number of features you get for such a low price compared to other models costing the same amount of cash.
I would never say the 1MORE PistonBuds Pro are the best because they fall best within the best bang for the buck category by offering ANC, customizable touch controls, a decent set of apps, and sound that would not offend me to listen to for long periods.
It does not fall in the best category in any particular task, they give just you enough, a taste. A sample platter if you will and a collection of features that you would expect from most modern-day TWS, especially from higher-tier models but each feature is supplied here in moderate amounts.
These would make a good first-time buyer model, or gift, for the traveler worried about losing an expensive set and is a good all-around purchase.
1MORE PistonBuds Pro Specifications
Model: EC302
Earbud Weight (Single): 5g
Case Weight: 30 g
Gross Weight: 39 g
Earbud Dimensions: 17 × 18 × 21.4 mm
Case Dimensions 58 × 23 × 37.7 mm
Earbud Battery Capacity (Single): 38 mAh
Case Battery Capacity: 410 mAh
Earbuds Charging Time: 1 hour
Case Charging Time (Wired): 2 hours
Speaker Impedance: 16 Ω
Bluetooth Range: 10m (Open space)
Bluetooth Version: Bluetooth® 5.2
Bluetooth Protocols: HFP / A2DP / AVRCP
Playtime* (ANC Off): Earbuds Fully Charged Music Playback: 7.5 hours

Case and Earbuds Fully Charged Music playback: 30 hours

Playtime* (ANC On): Earbuds Fully Charged Music Playback: 5 hours

Case and Earbuds Fully Charged Music playback: 20 hours

Audio Codec: AAC / SBC
Input: 5V 1A
Working Temperature: 0℃ ~ 45℃
Frequency Range: 400 GHz ~ 2.4835 GHz