This is a review of the new 1MORE PistonBuds Pro which is an affordable TWS featuring noise-canceling and 30 hours of battery life. They are currently priced at $59.99.
Disclaimer: This is a sample sent to us in exchange for our honest opinion. Headfonics is an independent website with no affiliate links or status. We thank 1MORE for this opportunity.
To read more about 1MORE products that we have previously covered on Headfonics click here.
Note, that this article follows our latest scoring guidelines which you can read up on here.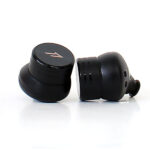 1MORE PistonBuds Pro Review
I would never say the 1MORE PistonBuds Pro are the best because they fall best within the best bang for the buck category by offering ANC, customizable touch controls, a decent set of apps, and sound that would not offend me to listen to for long periods.
Pros
Noise Canceling at this price point
Stable connection, easy pairing
Lack of noise in HF region
Cons
App settings are not retained
ANC not the strongest
1MORE recently introduced a three TWS lineup and so far we reviewed the ComfoBuds Mini which is their ultra-small TWS offering and part of that lineup. We will eventually review all three models here sooner or later so stay tuned.
But today we put the second 1MORE model from that new TWS lineup up on the bench. This time we tackle the new PistonBuds Pro the successor of sorts to the original PistonBuds we reviewed a while ago. At its current price, it seems to offer a lot for your hard-earned loot.
I think the PistonBuds Pro's main niche here is that 1MORE is trying to demonstrate that just because a product has a budget price tag doesn't mean it will lack appeal or features for that matter.

Tech Highlights
The 1MORE PistonBuds Pro does have a small price tag but still manages to squeeze in their QuietMax hybrid ANC system which performed rather well on the recently tested ComfoBuds Pro.
ANC has hit a low price point lately since this feature used to get implemented only on the top tier and higher-priced models but not today it seems.
The ANC within the PistonBuds Pro claims up to 38db of noise-canceling effect which is not too bad. They also do transparency and WNR and they're selectable within their app or from the touch control pads. A three-second touch on either earbud touchpad scrolls you through the three options plus turning them off.
Driver-wise, the PistonBuds Pro uses a 10mm full-range dynamic driver with an aero-Titanium diaphragm that seems to aim for neutrality. Just the same as with the ComfoBuds mini, the tuning aspect of its main sound characteristics was tweaked by the four-time Grammy award-winning recording engineer Luca Bignardi.
Far as what SOC Bluetooth chip is being used 1MORE seems to want to keep hush on the matter. I have asked them but engineering seems to want to remain hush on the subject.
I do suspect it's a known company's chip they're using which then they customize in-house to fit their product and particular requirements.
Codecs
Just as the ComfoBuds mini, the PistonBuds Pro runs SBC and AAC on Bluetooth 5.2 on HFP, A2DP, and AVRCP protocols and at 2.400 GHz to 2.4835 GHz frequency ranges.
Once again, the set of codecs on the PistonBuds Pro will get you by in almost any situation you could encounter far as compatibility and pairing but for higher-tier codecs, you need to look at their EVO model that can do LDAC. Their review is coming soon so stay tuned.
Design
It's rather obvious why 1MORE called these PistonBuds Pro because the top portion of the shells resembles piston heads. You could even see lines that resemble piston rings and all. I'm sure motorheads will recognize the piston look alike design.
The earbuds are medium-sized, weigh 4.5g each, and measure 17 x 18 x2 1.4mm. Each earbud has a bean shape with an oblique angled nozzle and of course a piston head top.
The cradle measures 58 x 23 x 38mm and the weight is 30g which brings the entire package up to 39g total. The case has all its edges beveled and rounded and it does pocket carry well. A single flush-mounted LED indicator which mostly indicates power status is visibly installed upfront.
The cradle and earbuds are made of polymers and are available in black or white color schemes. The white version seems to have silver logos. The version we have here is black and the logos are all in a gold-tone. The PistonBuds Pro cradle is charged through its USB-C port. Wireless charging is not an available feature.
Microphone System
The 1More PistonBuds Pro uses a four-microphone system which I'm unsure if it implements the MEMS system. However, 1MORE does mention it uses DNC which is short for Deep Neural Algorithm.
It claims to recognize, learn and amplify your voice while rejecting ambient noise, not to be confused with the WNR feature that is designed to eliminate wind noise.
I must admit that of late, TWS models and similar tech that requires the implementation of a microphone system has gotten better and the PistonBuds Pro performed acceptably well, especially for such a budget device.
Comfort & Isolation
While the PistonBuds Pro claims to have the same QuietMax ANC as the ComfoBuds mini to me it doesn't seem as effective and might seem to have a reduction in its capacity to filter out certain frequencies and to my ears, it mostly works on very low-frequency sounds.
The ANC on the PistonBuds pro seems to block a narrower band of frequencies compared to the ComfoBuds Mini. Other than that, the earbuds feel rather comfortable and could be worn for hours.
They also anchor in well enough to not have to worry about slippage or falling out even when things get rather physical.
Cradle & Battery life
The PistonBuds Pro cradle size was mentioned previously but not battery size which is listed as having a capacity of 410mAh and since we're covering battery specs each earbud has its own internal 38mAh battery.
Two specific playback time specifications are listed by 1MORE which are one with ANC and the other with ANC off. Real-world time for me was around 1 hour under specified and perhaps a few hours off on the total time. So, 7.5 and 30 hours became 6 and 24 hours for me with ANC off and 4 and 18 hours with ANC on.
That amount of time is acceptable and I doubt anyone could go through 18 hours of music listening because we all need to sleep.
By that time you could just charge the cradle which takes me just under the two hours specified by 1MORE which is better than their own rating in this case. There's no mention of quick charge, however.
Software
The 1MORE PistonBuds Pro can play nice with either one of the music or control 1MORE apps but again they should just turn it all into one killer app and call it a day.
Instead, you get a player with an equalizer which when set does not stick as a permanent setting. To change the sound profile and for it to stick you must go to the control app and use one of the Sonar Works presets also custom tuned by Luca Bignardi for the PistonBuds Pro.
You could change smart playback features within the control app, customize touch controls, and play soothing sounds. The control app also displays battery life and you could also update the firmware.
The music app is just that but it has a 5-band equalizer plus a loudness switch that I wished would stick as a preset in general but from what I see here you can only use those features while using the music app.
Packaging & Accessories
A slide-out box holds all the contents. The 1MORE PistonBuds Pro comes with a short USB charging cable, three pairs of black rubber tips, an authentication card plus a user guide.
The manual is written in several languages and you could tell 1MORE took their time with this one and gave their manual some thought. It's a rather thick user guide.
Sound Impressions
Summary
When it comes to the overall sound characteristics of the 1MORE PistonBuds Pro, they have an opposite characteristic when it comes to sound quality while ANC is on.
These have an elevated bass response especially around the mid-bass section while the ANC is off but then you turn on the ANC feature this set actually reduces bass response and the overall sound signature becomes closer to neutral.
There is a rather V-shaped sound signature here but it's not an extreme curve in general. I ran the tone generator sweep and the first observation I made was that bass response seems to slope down below 40Hz and quickly dip below 30Hz.
The PistonBuds Pro midsection seems smooth with a rather even output pattern far as frequency response and neutrality except for a few peaks. One is in the 2 to 3 kHz area, one around 5k and the other right above 7k. Although these peaks add presence they also seem to create some imbalance in those regions.
The high frequencies gave a good rep and the tone generator sweep demonstrated the PistonBuds Pro capacity of reaching at least 14 kHz with an absence of noise. This is somewhat typical of budget TWS models and even some higher-priced ones the same. This set has some good highs.
The PistonBuds Pro staging would lack in dimension for some ardent ears out there but TWS models in my opinion generally lack depth more than anything. This set is no exception but to its credit, there is some width and even some good height perception but nothing mind-blowing. Again, just good.
Click on page 2 below for wireless performance and select comparisons