For today's review, we have the new 1MORE Comfobuds Mini which is a tiny ANC-capable single dynamic driver True Wireless System. It is priced at $99.99.
Disclaimer: This is a sample sent to us in exchange for our honest opinion. Headfonics is an independent website with no affiliate links or status. We thank 1MORE for this opportunity.
To read more about 1MORE products that we have previously covered on Headfonics click here.
Note, that this article follows our latest scoring guidelines which you can read up on here.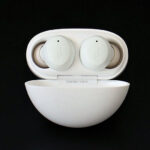 1MORE Comfobuds Mini Review
Although the 1MORE Comfobuds Mini TWS has a modest price they still do not hold back on the major creature comfort features that one expects from a modern-day set of wireless buds. The fact that they are so small just adds to their general appeal and to the overall package.
Pros
Small and lightweight
Responsive touch control
Lack of noise in the high frequency area
Cons
Might be a challenge for big fingers to manage
Selective with tips
1MORE has three new TWS models and we will cover them all sooner or later here at Headfonics but to start off we picked up the first model in the lineup called the Comfobuds Mini. We decided to review these first before we lose them under a car seat or inside a sofa crevice.
You see, the ComfoBuds Mini TWS has a claim of being the smallest model with ANC around and I must say upfront, they are very small, shell and cradle but especially the earbuds. We're talking tip of your pinkie finger size.
Their true model number is the ES603 but for the sake of word flow, we'll call them the ComfoBuds Mini which seems to be a fitting name and a telltale of what they actually are. Or perhaps ComfoBuds micro would have been a more appropriate name.

Tech Highlights
Despite the small size of the 1MORE ComfoBuds Mini TWS they still manage to pack in lots of features. To start off they have hybrid ANC, a dual-microphone system on each earbud, personalized sound tuning capabilities, and other features which we will cover more in detail.
The main component here that directly affects sound quality is the single 7mm 32Ω dynamic driver tuned for 1MORE by Luca Bignardi who is a four-time award winner with recording engineering credentials.
The sound signature can also be personalized further from the stock ComfoBuds Mini tuning by using the Sonarworks Sound ID sound calibrating feature that you download and is part of the 1MORE assistant app.
The feature works by choosing from several AB comparisons and a list of music genre examples which at the end produces a profile that you could also store as a preset.
Codecs
You get basic codec compatibility, AAC, and SBC. The ComfoBuds Mini is not the top-tier model from 1more and this is the reason for the limited availability of codecs. If you want a higher caliber set of codecs then you should look at the 1MORE EVO which will get its own review soon so stay tuned.
Getting back to the ComfoBuds Mini, The available codecs will definitely get you by minimum, guarantee compatibility and they all run under HFP, A2DP, AVRCP protocols, and version 5.2 Bluetooth which is also backward compatible.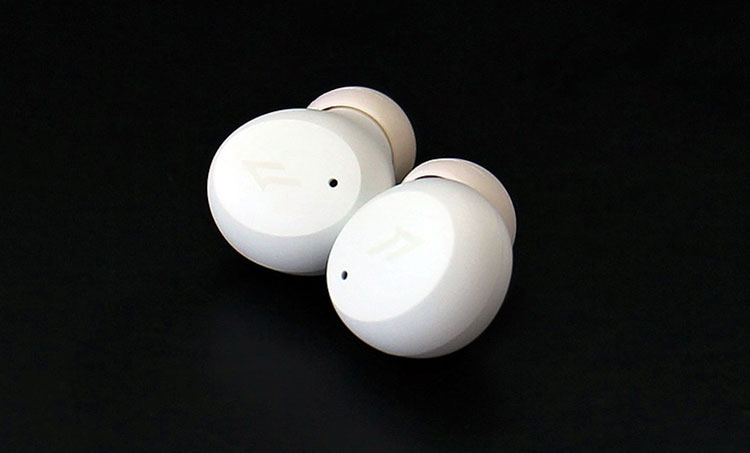 Design
The 1MORE ComfoBuds Mini claims to be the smallest TWS with ANC around and is honestly the smallest TWS I have owned so far regardless of ANC or not and I've owned quite a few models now.
I actually and accidentally mistook the cradle for dental floss a couple of times because that's what the white cradle looks like. Actually, I have four dental floss packs here and every one of them is larger in size than the ComfoBuds Mini cradle except for one that is labeled as a travel size.
The entire package is mostly made of Polymers, cradle, and earbuds plus the package is IPX5 rated. The cradle measures 56.5 x 50 x 24.5mm and the earbuds measure 17x15x13mm and weigh 3.7 grams each. I was not exaggerating when I said very small.
I did run into a small issue and it was because of the small size ironically. At the point of insertion, you don't have much to grab onto so I often grabbed them to use them, and at the point of insertion touched the touch control accidentally and either paused the music or hung up on people so insert cautiously.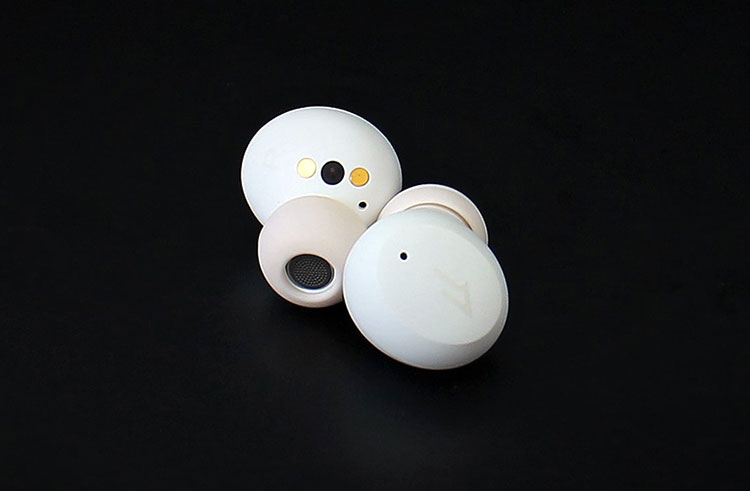 Comfort & Isolation
The 1MORE ComfoBuds Mini uses its exclusive QuietMax noise-canceling technology. This hybrid ANC uses a multi-pronged approach and a custom tuning process that ensures a non-fatiguing ANC that is fairly effective.
The ANC has three settings to choose from, strong, mild, and WNR. The best setting was the strong ANC which was of course the most effective. The mild worked at an almost passive level and the WNR which is supposed to block wind noise produced a noise similar to the wind so it was my least favorite.
Far as comfort, the weight and size of these earbuds give them a high level of comfort. I barely felt them inside my ears. They also anchor in well and hold up well to physical activity.
Microphone System
Here is another TWS set that implemented the now very popular MEMS microphone system. The 1MORE ComfoBuds Mini employs a dual mic setup and they work well for their intended purposes.
The dual-microphone system uses a DNN algorithm to remove ambient noise. During the time that I used this set with my mobile device, I never struggled to hear the conversation or did I have the need to shout because my voice was heard clearly on the other side. You could also take them out individually and use them one at a time.
Touch Controls
The 1MORE ComfoBuds Mini has assignable touch controls but there are only four assignable commands. You get two on each earbud that I could find besides the touch and hold which toggles through ANC on and off, plus ambient mode.
The touch system works well in this set but I did wish for a couple more assignable commands. Perhaps a firmware update down the road could give us a single tap command raising the amount from four to six commands making this set more hands-free and versatile.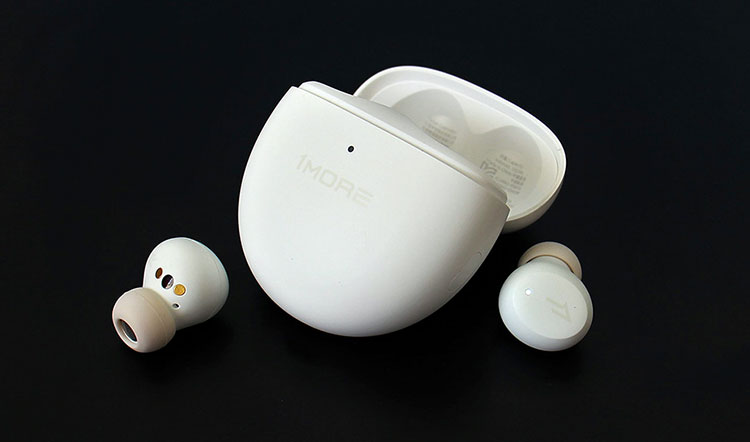 Cradle & Battery life
Let's talk battery capacity since we got size out of the way earlier. The Cradle holds a 420mAh battery which if I recall is an average-sized TWS battery capacity so although 1MORE kept size to a minimum it's good to see battery capacity did not shrink along with size.
Each earbud has its own 34mAh battery which is on the small side of the capacity scale but it seems sufficient enough to run these little guys. I got very close to the 6 hours of use as posted by 1MORE and it seems to be an honest assessment on their part.
I also got a touch over four full charges from the cradle so 1MORE is actually lowballing their battery capacity and I prefer that over an overrated specification and a company that artificially inflates their numbers.
Oh, and the cradle has wireless charging capability in case you decide to abandon the USB charger and the 1MORE ComfoBuds Mini also has Quick Charge which gives you approximately 1.5 hours of playback with just 10 minutes on the charger.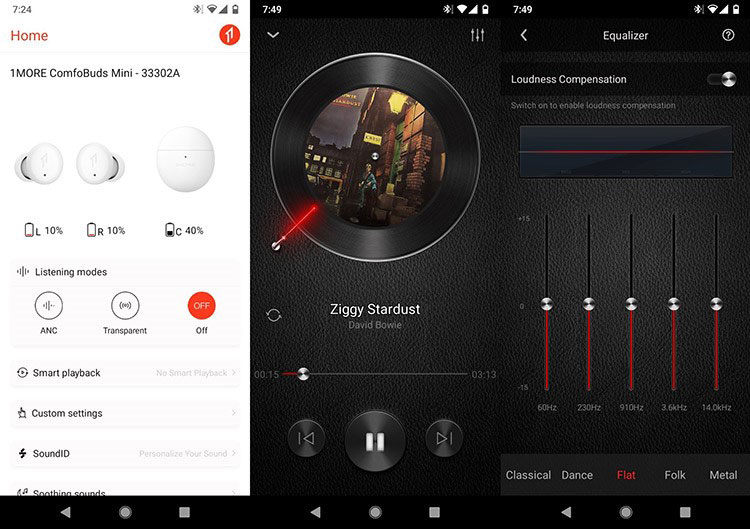 Software
The 1MORE software is a rare bird because there are two distinct apps you could download when in fact they could have literally killed two birds with one stone and incorporated both in one app.
One of the apps is called 1MORE Music which also has a burn-in app with a music player and the only available equalizer works only in combo with this player which is a con over one that works across the board.
Then there is the 1MORE Assistant app which includes other features like the selectable ANC levels, firmware updates, custom touch control selection, and the Sound ID. It also has the soothing sounds feature which throws into the mix 30 soothing sounds. But again, why not just combine them all and give us one full-featured app instead?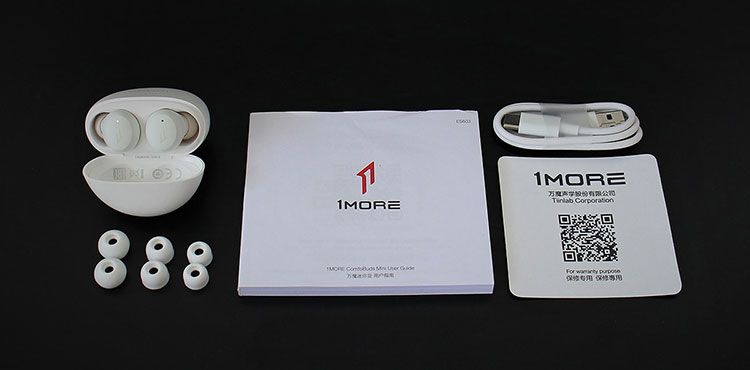 Packaging & Accessories
The COmfobuds Mini packaging is typical of 1MORE packaging. A small box with a magnetic flap opens to reveal the contents. Packaging is well laminated inside out and the box is a reasonable size, not too big and not too small either, and just enough to protect the contents well.
Inside there are 3 rubber tips, one is pre-installed so you get a total of four sets. A USB charging wire and an authenticity card with a rather chubby multi-lingual manual is included.
Sound Impressions
Summary
The first thing I should mention about the Comfobuds Mini sound quality is that it seems to be altered very much by where you have the ANC feature set. You get a rather flat presentation with ANC off but when you turn on the ANC feature, the bass response becomes slightly overwhelming.
So, you might have to run more than one sound profile to get the tonality right on each ANC setting. I ran the Sound ID with ANC off and the profile produced sound characteristics that were rather pleasing, soft-mannered and a touch U-shaped. Dynamics and punchiness were well presented and it all combined for a rather fun listening experience.
Vocals take a step back and the lower midrange in general. However, tonality is rather flat long as you keep that ANC off. You could always tone down the bass a bit but I found it to muddy the bass response if I attempted to readjust it myself.
Another character I should mention is that the Comfobuds Mini seems rather picky with ear tip selection, insertion, and seal. Since you only get four tips with a lip mounting system that barely allows the installation of aftermarket tips, then hopefully one of the included tips will fit your ears perfectly. If not, you might be out of luck.
Technicality
I always run a tone sweep on all TWS models that come to me to see how they do on all frequency bands and I was quite surprised to find a top-end that could reach at least 13 kHz. The ComfoBuds Mini also reached a bottom end of 30 Hz and at that point, they take a hard dive.
Bass
The Comfobuds Mini bass response is evenly spread with no big peaks. The bass response is actually quite clean and fortunately is also un-bloated and not emphasized in any area but it still sits a few decibels above the midrange.
Mids
The midrange response itself has a soft-mannered character but it has a reduction or a small drop in output which gives the ComfoBuds Mini a slightly warm character sound-wise.
While the midrange is clean and well defined it has a small deviation from true tonality and could come through with a lack of body sometimes. There is a rather high peak at around 6 to 7 kHz which is reaching treble territory.
Treble
The Comfobuds Mini treble response evens out around 8 kHz and beyond plus it extends out to 13 kHz which is very acceptable for such a budget device and a TWS of this caliber and price. They, fortunately, have a lack of noise in the upper frequencies that plague most TWS sets.
Staging
The Comfobuds Mini soundstage size has the largest portion in width but it's just medium in size, a small amount of height, and a small amount of depth. Vocals seem inward and up close.
Overall, the soundstage is a bit inward, personal, and up close. Separation and placement are also decent but not reference-level.
Click on page 2 below for wireless performance and select comparisons