The Yinyoo HQ8 is an 8 balanced driver universal monitor with a semi-custom resin body design from YooAudio. It is priced from $332.22 upwards.
Disclaimer: The Yinyoo HQ8 sent to us for this review is a sample that does not have to be returned. We thank the team at YooAudio for giving us this opportunity.
To read more about Yinyoo products we have reviewed on Headfonics click here.
Note, this review follows our new scoring guidelines for 2020 which you can read up on here.
Multiple drivers IEMs in resin housings can often be priced over a thousand dollars. There are, however, always some exceptions and we are looking into one of them today.
Yinyoo, a brand marketed mainly on Aliexpress and Amazon channels, is amongst the most affordable multi-driver IEM makers. This time around we were sent their HQ8 universal model for evaluation. This is a $332, 8 BA resin hand-built in-ear monitor. It comes in a dashing purple colored theme topped with carbon faceplates and looks the part.
I have little experience for anything above 4 balanced armatures from AliExpress so I was not sure what to expect. However, the HQ8 looks fascinating for the price. An 8 BA configuration at just over $300 is intriguing and there is actually a custom version with different balanced cable configuration for slightly more greens.
Reading what Yinyoo puts on the web they market the HQ8 as a natural, balanced iem with good density in the mids so read on and we will see how it really performs!
Unboxing
The HQ8 comes in a small blue box, minimal but practical packaging and content. You will find a warranty card and a nice carrying pouch below. Inside the pouch sits the earphones and a generous 13 pairs ear tips/foams selection including the preinstalled ones on the IEMs. It would be more perfect if they put in some guidelines on tuning for the array of tips.
Carbon fiber faceplates and the same "Yinyoo" metallic logos on both earpieces. It would be nicer if Yinyoo can differentiate the logo design/ placement on the L & R faceplates as it could get confusing sometimes.
There are also some extra filters in case you want to replace them when they get dirty, good attention to detail.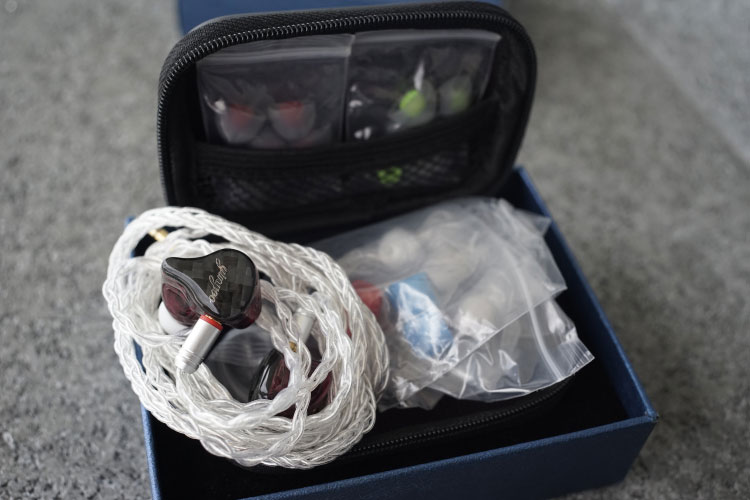 Build quality
Surprisingly for the price the HQ8 has a decent build, there is only slight unevenness near the nozzle and I am not finding any bubbles or scratch on the earphone body. The HQ8 has a smooth finishing and the earphone body displays a deep purple tone in its well polished, semi-transparent shell. The carbon fiber on the faceplates, close up reveals the micro details
The polishing job is nicely done, above what I expected from the pictures I saw and it feels similar to some premium CIEMs built from resin. The main body shell looks quite dark and adds some mystery to what it houses, but you will still be able to see through the housing under sunlight.
I am getting quite a good fit, but I assume it will be nicer for the size to shrink down a bit so it could fit more people's ear with no stress.
Drivers and crossover
When you peek inside the semi-transparent housings you will spot 2 arrays of drivers. There are 2 x Dual BAs for the treble close to the metallic nozzle sharing the same duct and 2 x Dual BA drivers of larger size for the mid and bass with separated ducts leading to the nozzle.
No markings are found on the drivers to help to identify the models while the pricing may suggest all drivers are from China, some of which may come close in performance to the bigger suppliers nowadays and gets more widely used. There is no official information on crossovers and with 2 types of drivers inside the IEM and from what I see I assume it to be a 2-way crossover with filters.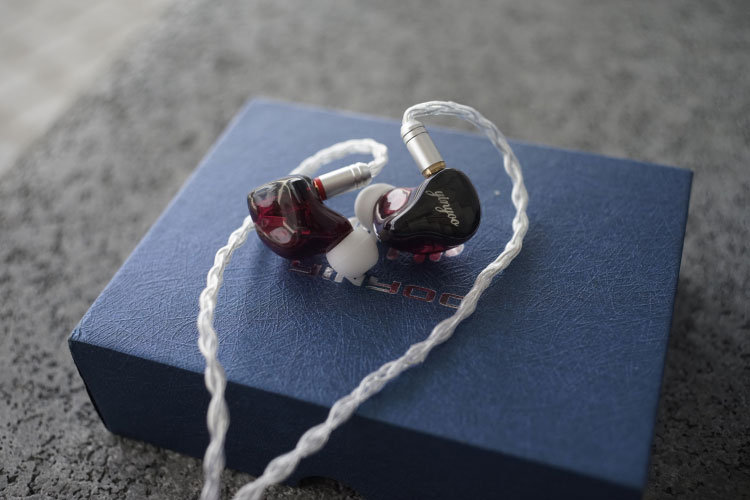 Cable
There isn't much info on the 6-core SPC stock cable with squared braiding. The cable is amongst the softest I have seen, unexpectedly light in the hand and feels comfortable on my ears. There is a heat shrink bent to be the ear guide. There are metallic parts covering the splitter and MMCX plugs
You get a very physically pliant stock cable with the HQ8 that put no stress on my ears. It is a bit too soft for me but it doesn't get tangled easily. You can choose to get MMCX/ 2pin sockets also 2.5mm / 4.4mm options when you purchase the HQ8. Our unit comes with MMCX sockets and the cable fits firmly on the earphone body, no spinning.
Sound Impressions
Summary
I have performed some run-in and let the music play through the HQ8 for a few days before putting it to the test. The impressions are made with several DAPs including a HiBy R6, FiiO M11, Questyle QP2R, iPhone, and a Macbook pro.
Out of most sources, the tuning has a good balance with nothing missing or overly emphasized. You could call it a safe but slight V-shaped tuning with fair extension at both ends. There is some lifting around 5kHz to boost clarity and air.
You can feel the mid-treble tuning to be the focus for this IEM and overall it is slightly warm. The upper vocal is pronounced, good for pop songs with a lack of sharpness due to an upper gentle roll-off so it doesn't sound harsh.
The lower end is quite soft and there is some boominess from the 100hz mid-bass region. You can feel the sub-bass's presence together with a slow decay and I find it works better with more analytical outputs that strengthen its texture and speed.
You will notice some dips in the lower-mids that makes the mids lighter and cleaner. Amongst the gears tested I prefer to pair it with the HiBy R6 which offers more resolution to the bass and a relatively natural vocal presentation. On the M11 it sounds more lively however the bass is a bit loose on the 3.5mm output. The tuning favors trending songs as well as Jazz and blues. However, it gets a bit clumsy with orchestra music or tracks that pack in more complexity.
Referencing
Putting the HQ8 with QP2R it gives the sound a bit more treble energy and shapes the bass with a more solid punch. The density doesn't scale up much with better sources yet it does sound quite smooth and dynamic on phones and my Macbook pro.
The overall tuning seems to be resembling dynamic IEM's airy bass performance combined with the crispiness in the treble from BA drivers. It may lack some resolution in the bass yet the output is quite pleasing when I stream pop songs on youtube. I believe all drivers are made by Chinese manufacturers and the technical performance is satisfactory for the price, when the volume is pumped up the drivers can handle it quite well too.
Matchability
Efficiency
I put the HQ8 to test and found out it is actually quite sensitive with its drivers hooked in series. You can hear some faint background hiss on different sources including FiiO's K3, AR M200, Hiby R6, etc.
Putting the HQ8 on iPhone 6 plus it can be driven fairly well and sounds quite opened up with good staging width. It also sounds noticeably better with more refined outputs and higher resolution recordings. USB powered devices like FiiO K3 sound puffy in the bass with the HQ8. On the HiBy R6, you can feel more resolution and control with 24bit recordings/audiophile mastering.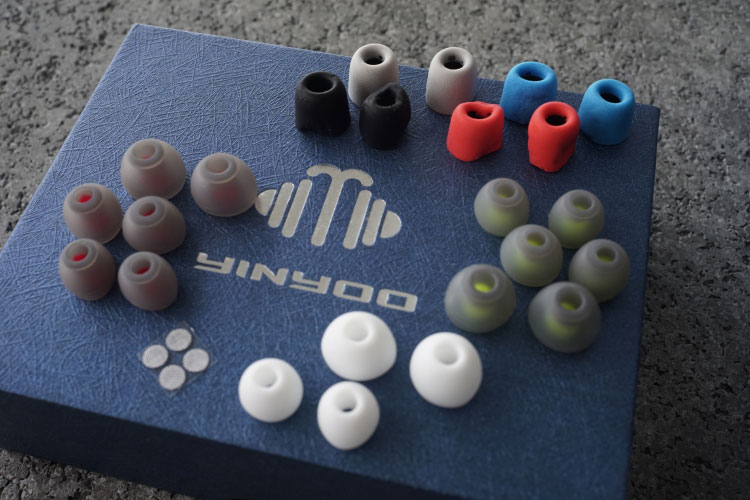 Tips & Cable Rolling
Tips rolling definitely helps shape the sound (or the seal) more towards preferences. I'm switching to Final E series tips and spiral dots which helps to get the bass tighter and provide a better seal. I prefer tips with a smaller bore and you may find the sound more opened up when using foams.
I tried rolling on some other cables and the HQ8 is quite sensitive to changes, switching to pure silver cables make the bass firmer and gives more sparkles to the upper end however it is an expensive option factoring in HQ8's price. Putting other stocks cable from other IEMs on the HQ8 I confirm SPC cables sound more favorable together and you may try to tweak it this way for fun.
Select Comparisons
FiiO FA7
The FiiO FA7 is a quality 3D printed IEM we reviewed recently with a more V-shape signature. When compared to the Yinyoo you will obviously notice that the two IEMs are tuned with different target curves in mind.
On the FA7 the bass has more body and there is more attention to the vocal clarity, while Yinyoo has a thicker lower end and sound a bit darker. There are more resolution and stronger texture especially in the treble zone with the FA7 plus better treble extension.
You will also notice the bass punch being firmer on the FA7 however the vocal is slightly more laid back. HQ8, on the other hand, sounds swifter and more natural in the vocal and the treble is less analytical.
Final E4000
The E4000 is a dynamic IEM from Final Audio Japan and it has more similarities to the HQ8 than the FA7 especially in the bass. Both E4000 and the HQ8 has a soft bass punch, possibly vocal optimizing tuning in mind.
There is more body in E4000's tuning and closer staging due to its single dynamic configuration while HQ8 adds some sparkles to the treble and sounds more opened up in the upper mids. Noticeably it is easier to drive the HQ8 to be more dynamic while the E4000 sounds more coherent with stronger outputs, when powered well the E4000 has more solid bass performance and more resolution.
Our Verdict
The Yinyoo HQ8 is a nice attempt to provide hand-built craftsmanship in a resin finish also a relaxing tuning at a friendly asking price. It would be more desirable if the bass has better resolution and you could attempt giving it a tweak by tips rolling or to put the HQ8 on sources and tracks with stronger bass textures.
The faceplate and color scheme are the highlights of the HQ8, along with relatively high sensitivity that allows it to sound quite opened up when driven by low-power outputs. Overall it is a fun approach to see 4 BAs for the bass and the experience is quite unique pairing it with different devices.
Yinyoo HQ8 Specifications
Resistance: 30Ω
Connectors: 3.5mm
Frequency Response Range: 20-20000Hz
Line Length: 1.2m
Sensitivity: 120±2dB
Yinyoo HQ8
The Yinyoo HQ8 is a nice attempt to provide hand-built craftsmanship in a resin finish also a relaxing tuning at a friendly asking price. It would be more desirable if the bass has better resolution and you could attempt giving it a tweak by tips rolling or to put the HQ8 on sources and tracks with stronger bass textures.