Synergy
Power
The increased DX3 Pro+ amplifier performance is very helpful in sending both low impedance IEMs and less efficient full-size headphones to full throttle with a good amount of headroom to spare. With the +6dB low gain setting, the ADX5000 is already at normal listening volume at -31dB.
There is no perceived hiss in monitors such as the Hidizs MM2 and TinHifi T2 Plus. The T2 Plus is at a comfortable -49dB with equal volume adjustments in either direction for sudden changes in mix intensity.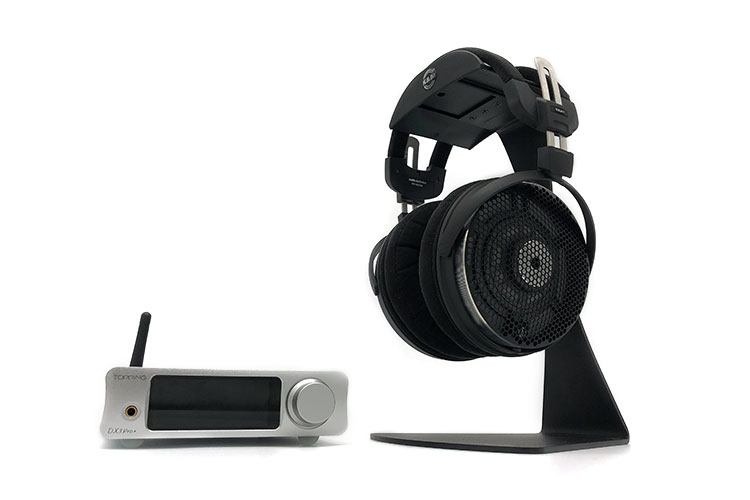 Pairings
Knowing that the DX3 Pro+ is threading neutrality, adding your personality with tube amps, or using headphones to 'flavor the timbre' is easy enough without too many drawbacks.
The ADX5000 sounded great with plenty of detail for casual listening but attentive listeners will detect shortness in layering and spaciousness. What paired quite well is the HD600 with the textures of the vocals and pleasing intimacy as expected on these cans.
Lastly, while the amplifier section should be more than enough for most users, upgrading to a more resolving amplifier will yield some performance improvements. Although, it is better to avoid sharp-sounding amplifiers as the default sound is close to sibilance and may sound harsh as a result.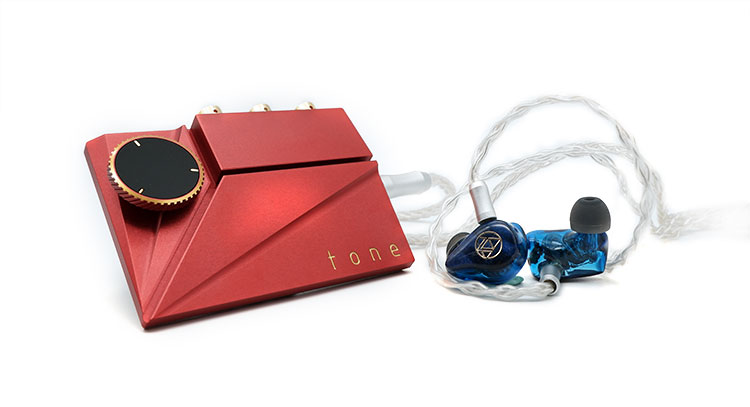 Select Comparisons
Khadas Tone2 Pro
$199.90
Technical
Khadas is using the same ES9038Q2M chip from ESS to convert the digital signals from the USB-C and Coaxial inputs of the Tone2 Pro. While it maxes at a lower sample rate of 384kHz and lacks Bluetooth support, it gives users the advantage of full MQA decoding which is missing in the DX3 Pro+ by using an XMOS XU216 processor.
Another notable feature of the Tone2 Pro that is not available in the DX3 Pro+ is balanced output capability through a 4.4mm headphone jack and a first of its kind balanced RCA connection that can be adapted to a 3-pin XLR for compatibility with other amplifiers.
What powers the internals of this compact but capable device is four OPA1612 op-amps and three buffer amplifiers with a rated power of 125mW and 211mW for its single-ended and balanced headphone jack at 32Ω load respectively.
For on-the-go purposes, the Tone2 Pro can be used without tapping into the wall and can be run straight from its USB-C input but has an available option to use a 5V linear power supply for better noise isolation.
Design
Aside from it being smaller and pocketable, one of the first things that came to mind when I received the Tone2 Pro is the distinct red housing with chiseled dimensions reminding me of a Marvel superhero leaving the impression that it went through a designer's workshop. While it cannot fight villains, it certainly feels solid and inspires confidence with a fairly dense chassis.
Notably, the sloping front facia is free from any holes where the output for headphones and IEMs usually resides by putting its 3.5mm and 4.4mm jack on the right. Aside from engraving the model's name 'tone' by the bottom-right corner, only a machine texturized volume wheel pointed towards the ceiling, doubling as a menu button disturbs the red coat.
The volume wheel rotates in a nice grippy manner but missing a display it uses a ring light as feedback when changing the volume and settings. The user experience suffers due to its lack of intuitiveness in changing the settings, but for day-to-day use, the rising illumination for increasing volume should be enough.
Performance
With the same ESS DAC and similar SRP, it is not a simple matter of size difference between these two. Sonically, while both chase the same neutral presentation as expected of a solid-state, there are some minor tunings in the signature for the Tone2 Pro.
The bass presentation maintains similar transparency and attack, with the mid-bass at times receiving a thicker presentation giving beats some added body. While for vocals with a slightly hoarse and breathy signature, it sometimes loses resolution and smooths out some details.
Chimes are reproduced with slightly more elevated energy that is sparkly and engaging but lacks the same texture as the DX3 Pro+. The stage and layering are mostly the same with only some images coming across as closer in the Tone2 Pro.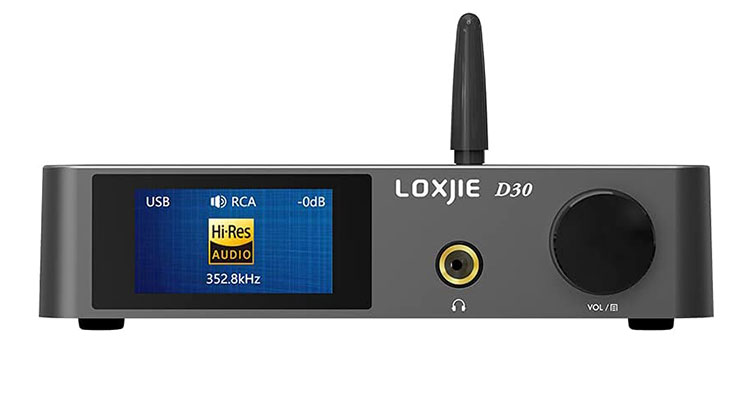 Loxjie D30
$259.99
Technical
Incorporating a second-generation XMOS USB controller and ESS ES9068AS, the D30 is capable of supporting up to 32BIT/768kHz PCM and DSD512 signal similar to the DX3 Pro+.
There is also the addition of full MQA decoding in all its digital inputs giving it an edge for TIDAL users or those with local MQA files. Where it lags is in wireless connectivity only supporting up to 24BIT/48kHz using a Qualcomm chip.
Aiming for the best experience in distortion and noise figures, the op-amp used is an OPA1612 from Texas Instruments in conjunction with two low-phase noise crystal oscillators and a built-in low-noise power supply. What you get is a rated power output of 110mW@32Ω on the 6.3mm jack.
Design
Side by side with the clean look of the DX3 Pro+, the D30 submits a more elevated appearance making use of a full-color IPS display and a squared-off chassis that remains compact for desk use. Its shorter volume knob also has nicer feedback that is easier to turn and generates less clicking noise.
Accessible with a remote, the more intuitive menu displayed in the English language instead of codes can also be viewed by pressing the volume wheel. While the display is a bit smaller it gives room for more useful information by default such as the sample rate which changes to the Hires or MQA logo depending on the input.
Performance
It is my first time hearing a Loxjie product and an ES9068AS implementation and I have to say that the D30 performs well although is softer than I expected.
The lower end of the frequency response maintains nice sub-bass with a dispersed quality against the tighter punch of the DX3 Pro+. While it has a nice texture, it is a bit pulled back leaving for a less engaging thump resulting in some details meshing together.
Guitars and vocals images a bit further leaving some microdetails smoothed over. And similar to the midrange of the DX3 Pro+ there is no added sweetness or flavor.
Better for pairing with sharp-sounding gears, the treble will blunt the piercing highs of some songs but as a result, can sound soft and remove some expected sparkle. Although, it has an unexpected improvement in layering the rolling sound of a cymbal crash towards a slightly wider stage.
FX Audio D01
$149
Technical
The USB and DAC chips used in the D01 are both similar with DX3 Pro+ supporting up to 32BIT/768kHz sampling rate and DSD512. And while it also has wireless connectivity available with support for APTX HD and LDAC, D01 is using the older CSR8675 chipset.
Even with its lower power output of only 400mW@32Ω, the D01 is rated for headphones with 300Ω impedance enabled by a TPA6120A2DWPR HPA chipset. When no headphone is detected in the 6.3mm jack, the circuit switches to push the signal to the rear RCA outputs.
Design
The D01 is one of those unimposing black boxes and is a great addition to function-centric setups. But there are trade-offs to this less expensive combo from the smaller display, wobbly on/off switch, and thinner aluminum housing.
However, the D01 is far from being fragile as it gives a properly solid feel in the hand. And unlike the do-it-all volume control of the DX3 Pro+, FX Audio decided to delegate by separating the menu and power button to the left.
Performance
There is greater diffusion in the bass region which has a less pointed composition. It also digs deeper into the sub-bass which is quite pleasing for energetic drum arrangements.
Where the D01 drift in expectation is its lack of detail resolution in the midrange and treble leading to a coarse instrument and vocal reproduction. In particular, the treble can sound a bit raw unlike the resolving and sparkly characteristics of the DX3 Pro+.
Putting on live band music, the D01 was able to create a realistic recreation of the scene with good directionality only losing a bit in placement and stage.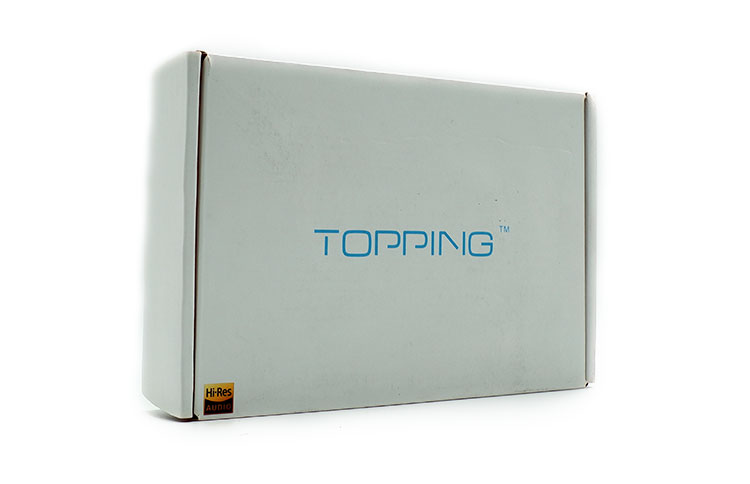 Our Verdict
Ensuring that its latest iteration of the DX3 Pro lineage is not as simple as a DAC chip swap and calling it a day. Topping has crammed inside its modestly sized DAC/Amp features that will put the DX3 Pro+ on anyone's radar for a good while.
With a neutral-sounding signature, the Topping DX3 Pro+ is a good entry point for budget-conscious audiophiles who want a taste of a well-implemented ESS chip and a substantial 1.8W headphone power output.
Topping DX3 Pro+ Technical Specifications
DAC: ESS ES9038Q2M
THD+N@1kHz: <0.00015%
Amplifier: NFCA circuit
THD+N@1kHz: <0.00015%
Gain: 6dB (low gain), 19dB (high gain)
Output impedance: <0.1Ω
Output power:

1800mW x 2 @32Ω THD+N<0.1%
900mW x 2 @64Ω THD+N<0.1%
250mW x 2 @300Ω THD+N<0.1%

Bluetooth: QCC5125 chipset
Supports LDAC/AAC/SBC/APTX/APTX LL/APTX HD protocols
24BIT/96kHz
Playback:
USB: PCM 32BIT/768kHz & DSD512
Coax/Optical: PCM 24BIT/192kHz
Dimension: 16.5 cm x 12.0 cm x 4.0 cm (LWH)
Power Adapter: DC 15V/1A