The Shozy rep and I share a love for photography regardless of how bad or good we are. Mine started when our son was born and capturing those moments when he grew up. He is hitting 7 this month and we grabbed a long weekend recently in Hong Kong to celebrate (and take some photos naturally).
Along the way, a sprinting Shozy rep caught up with us in downtown Mong Kok for probably one of the shortest business leisure meetings I have conducted. It was a very humid evening. Hong Kong is super-hot in June but it was sweaty me standing there waiting and a drier and very accommodating rep speeding towards me.
In any event, we walked, talked, saw some great photo locations on the way to East Mong Kok MTR and then parted ways only for the Shozy Zero IEM to arrive on my doorstep a few days later. Talk about great timing. We only just recently got over the buzz of the Alien Gold Edition DAP review so I was more than eager to see what Shozy had up their sleeve with this IEM.
What's Inside?
The Zero is a compact dynamic bullet type IEM which can be worn under or over the ear depending on your own personal preferences. Shozy has decided not to release too much information about the dynamic driver inside the Zero but given its rather diminutive size you have to bet it somewhere in the region of a 6mm micro driver with an output impedance of around 32 ohms.
From the supplied specs though it is not the most sensitive of drivers rated at just 94dB which puts it T20 territory (90dB). I am really not expecting a high noise floor or excessive hiss from the Zeros which should be a good thing but it might need a bit of juice to sound great. Frequency range is more 'modest' 20hz-18khz in comparison to something like the dual-coil dynamic RHA T20 which is rated at a more expansive 18hz to 40khz and a tiny bit lower in the range than the similarly priced 96dB Thinksound Rain2 which is rated at 18hz-20khz.
Build
This is Shozy's first foray into the world of IEM product design and true to their previous form of DAP building they have gone for something a little more eye-catching and a design that has a few quirks that do not follow the norm. Rosewood and CNC housing materials are not the norms in $50 budget IEMs, at least not to this quality. Only a few IEM companies I know at hand building woody IEMs in this category such as HiSoundAudio and Thinksound and the Zero is competitive, very competitive actually, in build quality. This is no e-smooth OEM. The rosewood is spotless and vibrant with some lovely grain that is complemented very nicely with similar rosewood grain finish at the y-split.
The CNC finish on the housing is excellent and rather than opting for a bog standard bass port on the outside in the wood itself, Shozy has built the port into the nozzle itself. Not so much as an additional 'hole' but more integrated into the venting design of the housing itself.
The Cable
The cable is a rosewood matching translucent brown rubber non-detachable type around 1m in length. It is clad with decent strain relief at both ends and is terminated with a straight angle 3.5mm gold plated jack finished in the same rosewood grain as the rest of the IEM.
It is slightly springy, retains a bit too much memory for my liking, and the beta unit supplied lacked a chin slider to keep it all under control. Sometimes you can get away without one using quality braided cables such as Nobles, but given the rather less than cooperative cable the Zero uses the now included slider in the retail version will give some measure of control. It does have a touch of microphonics but this can be negated by wearing it over the ear and thankfully it is one of those low profile cables that people wearing glasses should find easy to work with.
The second caveat I have with the Zero cable is the right and left labeling on the strain relief is incredibly hard to distinguish and for my failing eyes I am almost resorting to braille type finger movements to know which is left and right in low light. White labels or a little red ring might make a big difference here.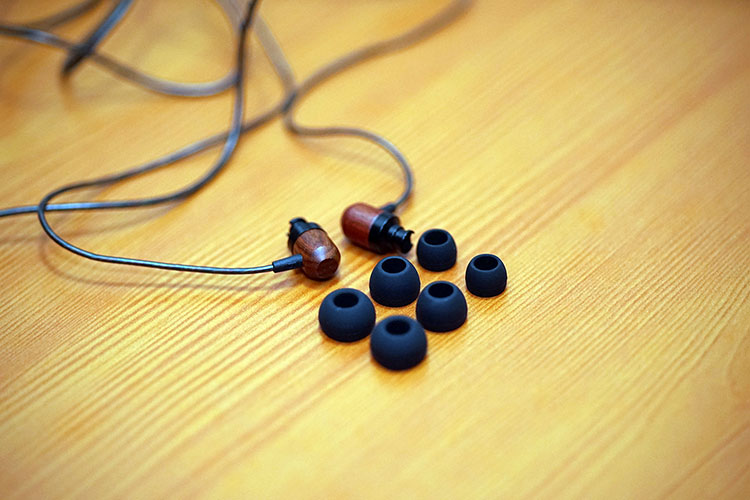 Fit & Isolation
Given the small bullet type form factor of the Zero, you should have no issues with fitment depending on the type of tips you use. It is small and light enough to wear either straight down or over the ear depending on your preference. Shozy has supplied the Zero with 3 single bore silicone tips in the usual small, medium and large sizes; medium for me worked just fine but I could also work fine with the large tips with a shallower insert.
Isolation is not bad but not amazing with the supplied silicone tips. You will get better isolation with foams but to be honest the change in sound signature made it a bit too dark for me. Spin Fit tips also did a great job isolation but at the cost of some midrange presence. In the end, the stock tips seem to offer the best balance between fit, isolation, and sound quality.
Accessories and Packaging
The Zero actually arrived stripped to the bare minimum; the tips, the IEM, and bubble wrap so sadly I can't comment on the quality of packaging but Shozy does include a semi-hard small zipped case for storing your IEMs along with the tips all packed into a small black retail box. You can't really ask for more than that for $50, to be honest though if you look at that borrowed recent picture above from Penon Audio you will see Shozy have indeed included the chin slider in matching Rosewood for the final retail version. Good job lads!
Page 2: Sound Impressions