The UI
The OS
For the X7 FiiO have chosen Android 4.4.4 as the core OS and have also produce a "Pure" mode as an alternative to the basic Android platform which converts the X7 into purely a DAC without all the bells and whistles of Android. As such, those coming from smartphones, tablets and other devices using Android will be very familiar with the basic setup and navigation of the X7 which also means a lot of 'try it and see' proprietary OS pains they experienced from the previous X series will evaporate immediately. Android is a rock solid platform right now in terms of stability and UI familiarity.
Apps
That being said during the launch FiiO have wisely (yes I know we all want to try anyhow) streamlined the apps you can download and use on the X7 in order to hold the spec sheet largely true in terms of battery performance and platform stability. Apps such as Spotify and Tidal have only been recently added to the X7 platform and the app platform has been opened up. Side loading apps is possible but please remember these are largely untested on the X7. Personally if I have WiFi and high end decoding I want to try a lot of streaming so I hope FiiO will throw some more apps on the list that we can all enjoy here in the West.
Right now you can download and use 24 apps right now. Highlights include:
HibyMusic
Baidu IME
TTPod
NetEase Music
Spotify
Tidal
Rockbox –
Poweramp
Neutron
Moov
KKBox
JooX
Onkyo HF Player
There is still largely focus on the Chinese market so here is hoping once the X7 hits international markets the white list of apps will be expanded to include more popular apps that we know about. For home brew and DIY guys there is the usual APK side loading (drag and drop and then install) while we wait.
The Modes
You can operate the FiiO X7 also under two different types of modes. These modes are stock Android mode and Pure Music mode. These two can be setup in the settings menu and with a swift reboot you can either enter into what looks like generic Android with the music mode as a separate app or alternatively boot into the Pure Music mode which will render the X7 as a pure DAP with no added extras from Android.
You will see very little of the Android UI here, its basically a skinned theme purely for music. The story on this one is basically the less apps and commands running the better the audio performance will be, the longer the battery life also.  I can see that being relevant for long travelling where you want to relax but the tinkering soul in me will stick to Android and charge it later, too much fun with the various apps, WiFi and streaming to care a jot about battery life.
Booting and Home
Unlike the previous X editions, this is a heavy weight OS and as such the X7 takes quite a bit longer than the 8-10 seconds of the X3/5ii, though thankfully power down is pretty rapid at around 2-3 seconds or less. In all from the long press on the power button to the lock screen it took around 18-20 seconds to boot up. If you are coming from a smartphone this is pretty normal actually but if you are coming from an X5ii be prepared for a slightly longer boot up cycle.
The home page is standard Android and thank you FiiO for not infesting it with bloatware more familiar with Samsung territory. Yes, you can read email, check the web if you wish with the apps but here on the home screen you get what you need – a clock app, apps marketplace, support app, gallery app, settings, web browser, FiiO Music app and file browser. Below are the usual Android task, home and return icons for navigation and drill downs.
Settings
You have a few types of settings you can access depending on what mode you are operating on and what app you are using. The core settings is the very typical Android settings menu with a few tweaks. You can tinker with WiFi, BT, display, storage, apps and security as well as get info on your battery health, change your boot mode and upgrade the firmware. Within sound settings you can also adjust your line controls including your multifunctional output, the gain level and your left right balance which are all very FiiO flavors from their original X series DAP's.
In Pure Music mode you hop right into the music player app with a settings icon in the top left corner. From there you can adjust settings such library updating, scanning, UI tweaking such as icon display, activating the remote, gapless playback, gain, balance and play features such as play through folders. You can also access the same menu when you are in the FiiO Music app but it is specific to the app only, other apps may operate differently depending on how you set things up. Clicking on the Pure Music menu options though is essentially a short cut into the Android sound main settings so once you click on it there and then go back to Android proper after a reboot those settings should remain in effect.
Media Player(s)
This paragraph can run and run because not only do you have the FiiO Music app and Pure music mode but the app list of differing media players approved by FiiO is growing all the time. When I started writing this review Spotify and Neutron player where not on the list, they are now. I could get sucked into talking about app after app but I will highlight what I think are the most critical ones for my own personal use – HibyMusic, FiiO Music and Spotify. All run just great by the way in terms of zero lag with perhaps Spotify form the lock screen to active screen having the tiniest bit of lag but nothing hugely noticeable. The odd time I have had to have a more focused swipe to open up from the lock screen.
HibyMusic is a fantastic standalone app that basically drives all loseless audio formats either out to your headphone jack in regular use or via OTG if USB digital audio is activated. Gapless playback is supported, media scanning is fast and accurate and I actually find the UI of HibyMusic to be superior at the time of writing to FiiO Music own developing app but things could change in future firmware updates. With WiFi also HibyMusic will allow private streaming if you open an account on their site or log in via Facebook.
Playback
The X7 has a number of ways in which you can control playback. You can access it on the lock screen with a simple play/pause, forward and back such as you would find on a typical Android setup. You can also access and control similar playback functionality with the hardware buttons to the left and right depending on how you have these buttons setup.  The final way is app dependent so it can vary.
For the stock FiiO Music app (or the Pure Music mode), clicking play on a track from the library does not automatically bring you to a play screen but instead gives you a small dashboard at the bottom of the screen. By clicking on the artwork you can then progress to the main play screen which shows quite a range of options including:
EQ
Search (top right corner)
BT On and ability to connect to another BT device such as a BT headphone
time lapsed on track
Add to favorites
A pop up menu to delete or click on info (a dangerous combination for the fat fingered users if ever there was one)
Loop, random. play through folders function
Track previous or next selection
Add to playlist
Click on artwork for lyrics option
There is a lot happening the playback screen and it will take a few plays to get used to all the options available to you. There is a certain amount of presumed intuition when it comes to navigating from the play screen on the X7. Thankfully though the menu items are well spaced out and easy to access unlike the older AK models or the DX90 so there is a lesser chance of hitting the wrong button but that delete and info popup panel is something I would like to see rearranged in future firmware to avoid accidental deletion.
Media Library
For FiiO's own FiiO Music app there is a slight learning curve in how you control and use the media library. Its complex in its presentation and some of the icons in use are not immediately obvious as to what they can do. For instance, the folder icon is local music referring to music on your memory card or internal storage. Click on that and you get a secondary set of options denoted by a musical note, singer, a box with another note inside it, a guitar and finally another folder icon. Clicking on these doesn't necessarily reveal itself as to what you have clicked either on the next screen. It is by a process of scanning the screen do you actually come to the conclusion that the first is the complete song list, the second is the Artist list, 3rd is Album, 4th is genre and the last is your physical storage links to your folders and tracks.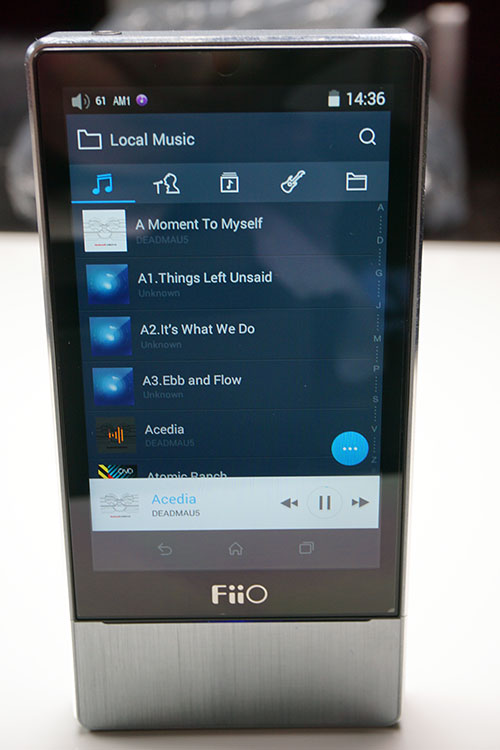 Once you start using it over and over again things are second nature but for those uninitiated it takes some getting used to. A small label here and there in a future firmware might help. Contrasting this with HibyMusic and you get pure labels which are much easier to navigate and understand with the added bonus of small acronyms denoting if the track is hi res or DSD or lower in the track details before you click on them. It is a good thing I suspect you can have more than one app to suit your own playing and browsing style on the X7 whereas you were pretty much stuck with the singular style from the proprietary UI on the earlier X series DAP's.
The Media Library is a mixture of old habits and new visuals. It looks nice, loads fast, most of my media was accurately scanned (one or two didn't file correctly) within a few seconds and album artwork showed just fine. Good job there. However, the old habit just will not go away on the FiiO Music app of this really flat library experience in terms of drill downs. If you select artist you get a list of artists, select one and you go straight to the list of songs. If you have more than one album per artist it will not divide them by albums. This to me is a missing feature and one that FiiO have not addressed on any of their DAPs to date. Artist>album>song – it makes sense. It is worse for Genre mode as I have one genre with a ton of albums so I get a huge list of songs instead of genre>artist>album>song.
Now in the X5ii you are screwed if you want something different to the stock media library, its either that or a file search. Thankfully this is Android so I can pop into Rockbox, Neutron or Poweramp and get the setup and media library drill down that I need. That is the power of the X7, don't like it? Change to a new app.
Page 3: For Sound Impressions