How does it sound?
On it's own the X3 is an outstanding DAC with bags of detail, a smooth and controlled presentation and excellent tempered tonality with a strength on a really nice mids section. Some of the best traits of the dual Wolfson WM8741 really shine through on the X3 with a slightly more musical and analog approach than any sort of cold depressingly thin analytical approach. It is smoother than the Gungnir but perhaps less dynamic or engaging than the Gungnirs more lively and aggressive approach. The Gungnir for me is more to the neutral side with a slightly brighter more aggressive presentation than the more laid back and restrained X3.
I have mentioned before there is a tendency to think the X3 actually comes across as a bit dull compared to the uDAC-2496's more lively and dyanmic implementation of the dual WM8740 chip setup. But it would be unfair to say the uDAC-2496 is the superior DAC technically. The devil is in the detail so to speak and the X3 really matches incredibly well with the HE6 using the Mjolnir with beautiful control and plenty of detail. It really comes down to the core intention of the X3's implmentation and I found it really excelled much better where you needed control without loss of detail or any added or unecessary coloration.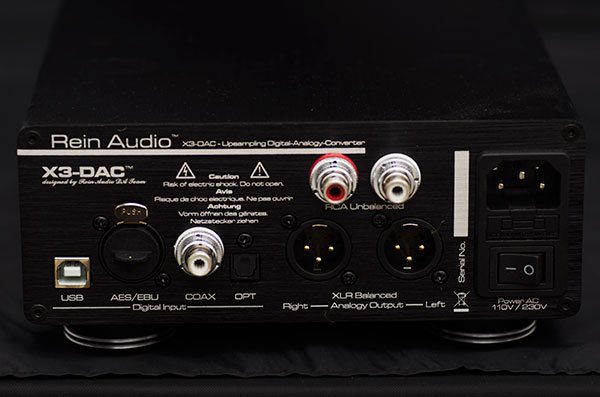 If anything that's the primary strength of the X3 – that really natural tonality it conveys with almost any stream you run through almost any input. There is nothing biased or aggressive or out of whack with the rest of the spectrum. It doesn't mean it is cold or unpleasent, in fact its rather more analog and slightly more musical to me. Other DAC's might be more dynamic with bigger slam but convey less detail and perhaps less control, but not the X3 – it just seems to adapt to anything I ran through it with the right headphone match.
Matching with amps I found the Gungnir to be the Mjolnir bedmate. The X3 for me didn't quite have the right match for my preference though actually the X3 performed at it's strongest in that setup when pairing with the Hifiman HE6 over the LCD-2 rev 2. The Violetric V100 was a much better match for the slightly easier to drive range of headphones particularly the LCD-2 rev 2 and my personal mids fav the AKG K550.
Across the range of inputs and outputs I am pleased to say that USB and optical and coaxial all had similar levels of performace with little or no drop and for digital audioheads like me that is really encouraging. With the X3 and for this review I was able to hook up my Meridian 506 via coaxial, my PC via usb, my Violectric balanced and Woo Audio WA6 unbalanced and to cap it off the AK100 for giggles into SPDIF.
Final Thoughts
The X3 is an excellent DAC and well worth having a look at for any high end system setup. I would suggest you take your time and study your matching carefully as its not always the case a great DAC will result in a great match and being the center piece of many systems it will effect everything you try to connect. It is a pity that the introductory price of $1280 has gone as $1680 requires a little bit of thought but honestly I much prefer this over the Benchmark DAC's I have tried to date and its perhaps a tad smoother than the Gungnir but the little uDAC-2496 steals a bit of it's thunder for dynamics and impact. It is a funny old world to be honest that something like a uDAC-2496 can compete in many ways and if your setup is relatively simple I would say go that way but if you want the knobs and whistles, a touch of control and a great looking centerpiece then the X3 is pretty good business if you ask me.
Technical Specs and features
-Upsampling source to 192kHz.
-A pair of WM8741, AD797 and OPA2604 for each channel
-Individual Power Supply for each channel
-Using CIRRUS LOGIC CS8416
-RCA / XLR Balanced output
-Support S.PDIF input format: PCM
-Support the highest digital input format: 24Bit/192KHz
-Manual input selection
-USB 2.0 PC interface support 24/192kHz. Drive support: Windows XP / Server 2003 / VISTA / 7, Support ASIO 2.0
Interface
TOSLINK optical x 1 input
S/P DIF co-axial x 1 input
USB (Type B) x 1 input
AES/EBU x 1 input
RCA unbalanced x 1 output
Digital input
USB 2.0 Interface , Coaxial / Fiber Optical / AES/EBU: 16Bit, 24Bit sampling depth; 32kHz, 44.1kHz, 48kHz, 88.2kHz, 96kHz, 176.4kHz, 192kHz
sampling
Clock jitter (44.1kHz): S/PDIF less than 50PS; USB less than 50PS
Line output
XLR balanced and RCA unbalanced
Dynamic range: greater than 118dB
SNR (A weighted): greather than 118dB
Total harmonic distortion: less than 0.001%
Frequency Response (20Hz – 20kHz): +-0.5dB
Max Level: RCA Line 2V rms; XLR Line 4V rms
Output Impedance: 100Ω
Other
AC power input Specifications: 115v – 230v
Power consumption: <20W Dimensions (cabinet): 190x70x331 (mm) Weight: about 2.5kg