FiiO X1 2nd Gen Functionality
DAC
FiiO has upgraded the DAC in the new X1. Gone is the older TI PCM5142 and in comes the new and higher-end TI PCM5422 DAC chip. Both are delta-sigma line drivers but the PCM5422 adds a little bit more dynamic range to the performance of the X1 DAC stage as well as offering a higher SNR performance by 2dB over the old chip.
It also introduces a full differential line output compared to the older PCM5142 to give you a better line-out performance with its Differential DirectPath™ Ground Biased Output technology which was not present in the previous X1 DAC design.
Outside of the SNR and architectural improvements, the Gen 2 DAC offers the same codec decoding performance. No, it will not natively decode DSD or even downgrade to PCM. The highest you can expect from the X1 2nd Gen is still a very respectable 192kHz/24 bit decoding rate for FLAC and a slightly improved 192kHz/32bit for WAV files (192kHz/24bit on Gen 1).
Note there is still no DAC function also on the new X1. Given its entry-level positioning, this comes as no surprise. If you want a DAC out function for your PC or MAC you will have to go up a level to the X3 Gen 2 and beyond.
Amp
The amp stage of the X1 Gen 2 remains unchanged with the same Intersil ISL28291 buffer chip and an OPA2322 opamp that was present in the original X1, however, reading the details there should be a quieter on-off mechanism with less chance of pop as FiiO has upgraded the original ISL54405 analog switch to a newer SGM3712.
Power ratings should remain unchanged for the X1 2nd Gen with the same staging components though FiiO has confidently stated that the implementation should result in an increased sense of depth and low-end response on the new X1 2nd Gen's presentation.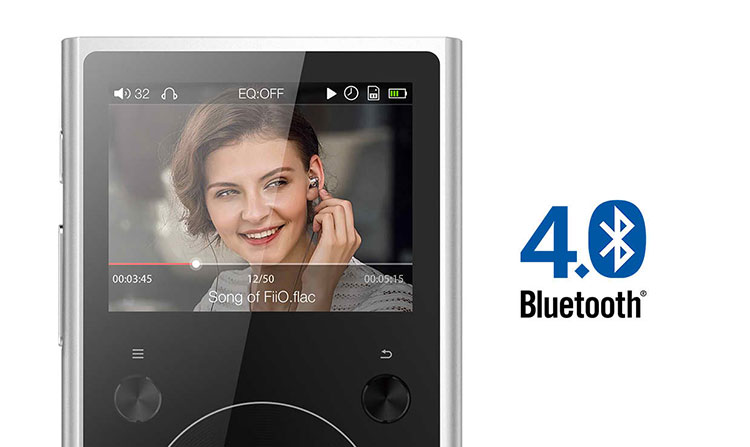 Bluetooth
The hot word of late 2016 (Thanks, Tim Rice, but really no thanks), BT gadgets and devices got a shot in the arm with the announcement of the iPhone 7 without a headphone jack. The timing of the inclusion of BT functionality within the X1 2nd Gen is both fortuitous (or canny given a number of leaks on this in the press) and progressive.
Progressive given the fact the X1 Gen 1 can now operate wirelessly with both headphones and transmitting audio to other setups such as car audio as well as integrate with FiiO's own BT remote control, the RM1. Fortuitous due to the iPhone 7 now accidental hero status as the BT champion for the masses. Chances are high someone will have a BT earphone somewhere next year.
I also love the concept of the in-vehicle mode where the BT signal powers down the X1 when the car itself is turned off and when you turn on the engine (and the audio system) the X1 2nd Gen powers up again. A very nice feature indeed.
If you want to connect something like the RM1 the process is quick and efficient though, even with fw1.2, it is not always consistent with other 3rd party devices such as my ZTE Axon 7 though the Axon7 can find and link to the X1 2nd Gen but with little or no services thereafter.
No AptX
Sadly, aptX is missing, and instead we have the "standard" BT 4.0 protocol inside the X1 Gen 2. What does this mean? The lack of aptX is apparently due to the inability of Linux to integrate the aptX platform into its MIPS architecture.
Audio is, therefore, good but not as dynamic and uncompressed sounding as aptX and you will notice the difference if you are coming from an aptX capable platform such as the Creative E5 amp.
BT 4.0 is superior to say AD2P but distance and connection are shaky at times which reminds me a bit more of the AD2P setup in the old AK100 MK1. Testing gave me about 5m max with a one-wall barrier or 3m with a two wall barrier which is considerably shorter than the Creative E5 (10m).
Shame really but then do remember Cayin made that omission also on their fabulous i5 so I am hoping that doesn't become a deal-breaker.
Software
Platform
FiiO has switched from the UCOS platform previously used on their X1 first-generation player to a new Linux-based platform. UCOS (µC/OS) is a pretty old system now, going on almost 35 years since its inception and designed for embedded systems.
The last iteration, UCSO III being introduced in 2009 and has found a welcoming arm from industries such as the medical profession and aviation. It has suited many a DAP in the last several years also with the core system cropping up in one skin or another.
Firmware Safety
Given this is an entry-level device you could argue that it is the safest place to switch to a new OS and see how it goes. The simpler the feature set the quicker you have time to correct errors, debug and release something better.
The new firmware that is 'put to bed' on the X1 will have a solid applicability and transferability to any newer edition of the X3 and X5 should they be launched with Linux also. Newer features might also be easier to build into the OS given the expansive nature of Linux.
When The New Is Old
Yet for all this platform transfer the user experience remains on familiar territory. The port of the UCOS OS has been largely untouched with an almost duplicate design and workflow meaning those deciding whether to move from the X1 first gen to the newer edition should be immediately comfortable with the UI.
Features such as the arc design home screen menu, the five different key areas of operation (Now playing, Category, Browse files, Play Settings, System settings) , the top notification bar are all still there. The ability to theme the UI with different colors (6 in total) still remains as a fun option as well. Everything that was therefore before is here now on the new X1.
New Features
BT
So what is totally new? Well for one the new BT option in the system settings is probably the biggest new menu option on the X1 2nd Gen. You can turn it on or off via the system menu and after a few seconds you will see the Bluetooth icon appear in the notifications top bar. The option to connect and review your existing connections are right below the BT on off-menu option. This gives you an almost system like control over playback, especially when combined with FiiO's own RM1 remote and the DK1 multifunction dock.
In-Vehicle Interfacing
The second major new feature in the settings option is that of the USB Mode selector which offers two options; storage and in-vehicle. The in-vehicle should allow a direct interface with audio head units USB ports for displaying of folder and media data should you wish to use that rather than BT mode.
Embedded Quick Guide
The inclusion of an embedded quick start guide in the system settings was a nice little after though it's not immediately obvious where to find it. Rather than its own separate section, it's under the label "About X1" and second workflow screen beyond the initial display of memory capacity and firmware version.
Speed
Moving to a new platform and the first question on my mind was how fast is it and if it was buggy or not. The previous X1 did alright actually but it was at the end of a long cycle from the X5 and X3 so I knew what I was getting.
Out of the box, the X1 Gen 2 with the original firmware was a touch laggy, particularly with media scanning and BT functionality. Firmware 1.2, which is the current one available at the time of writing, speeds things up a little but there is still some lag such as selecting a track and the track actually starting, boot up from standby when BT mode is on and turning off and on options in main settings whilst music is playing.
Boot Up and Power Down
Boot time on the new Linux platform is remarkably similar to the old Gen 1 at around 7-8 seconds and puts it on par roughly with the rest of the X DAP range. Given its only out I do wonder if that means there is room for an even faster boot-up with future firmware.
Boot from hibernation is roughly around 1-2 seconds depending what functionality you have turned on before it went to sleep. One thing to note if you hit the sleep standby mode with Bluetooth switched on it will take 10-15 seconds longer to resume from hibernation than with BT switched off. That's something that needs to be worked on in future firmware updates. Powering down is pretty nippy at around 2 seconds with a "See You" flash screen as it turns itself off.
Media Management
Category Scanning
Scanning on the new X1 was pretty slow by mid-fi DAP standards taking an almost glacial 10 minutes to find and categorize 2250 FLAC tracks from the SD card. Compare that to Cayin's $499 i5 which takes about 20 seconds you can pretty much forget about rapid file transfer, update and go. Instead, make a cup of tea and come back later. That being said once it is completed I found it pretty accurate in tag reading and most, if not all, tracks were correctly classified.
File Browser
However, if you have a good folder and file management system then using the File Explorer will give you instant reward by allowing you to power up and search through your folders on the memory card right away.
Personally, I prefer this method to using the Category method simply because FiiO has yet to produce proper drill down category browser in categories such as genre which gives me a flat list of about 500 songs per genre rendering browsing rather unuseful. I still believe it should be Genre – artists – album – songs but this is a dance I have been doing since 2013.
Page 3: Sound Impressions & Comparisons