Disclaimer: The Jomo Audio Jomo6 v2 sent to us is a sample in exchange for our honest opinion. We thank the team at Jomo Audio for giving us this opportunity.
To read more about Jomo Audio products we reviewed on Headfonics click here.
Note, this review follows our new scoring guidelines for 2020 which you can read up on here.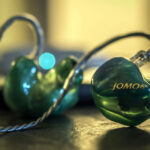 Jomo Audio Jomo6 v2
The Jomo6 V2 are great all-rounders that impress with a big soundstage and do well with any genre. The bass does extremely well with movies too and I recommend the Jomo6 V2 to users that are looking for a good all-rounder with multiple applications and sources.
First, feel free to read up on the Jomo 6 & 6R universal review. But then free your mind again, because the Jomo 6 V2 is a completely new design with all new internals. Jomo advertises:
"It features six new selected Balanced Armatures, a completely newly designed 5 ways complicated electrical and acoustical crossover network, medical-grade stainless steel tube on the high-frequency driver. A slightly V-shaped sound signature with a great soundstage."
Jomo has been on my radar for a long time. I have rarely seen a company make that much progress in such a short time. IMO, their Instagram account has the 2nd best-looking pictures, right after Noble. When asked by Joseph Mou to review a custom monitor, I could not say no. New does not always mean better, but in this case, I am positive and trust Jomo Audio.
Order Process
My monitors, in whose design I took no vote, comes in a beautiful emerald color with silver shimmer. The faceplate is called Aurora – Desert Oasis. I did not fill out any order sheet, but I did go through the order process online after receiving my review unit.
While the customization options are diverse and large in quantity, the price options are very transparent and customization can be upgraded by two levels: from Standard to Custom or to Deluxe. If you take a look at my beautiful monitors, you'll understand that a similar design would jump to the Deluxe category and thus cost 300 SGD (~ 217 USD) more than the standard option.
The 6V2 is valued at 1299 SGD (~ 940 USD) and depending on customization it can reach up to 1599 SGD (~ 1157 USD). Considering the beautiful artwork options, I find Jomo to be competitively priced on an international level.
I have sent my ear impressions from Germany on September 16th and was notified that my customs are finished on the 28th. This is absolutely crazy had I not even expected that my impressions would arrive within 2 weeks.
I was told that my order was pushed forward so please do not expect a turn-around time of 10 days for every order. However, from all the time I have been in contact with Joseph Mou and following him on various social platforms, I do have the impression that Jomo Audio is very well organized.
The Final Product
It is beautiful. Yes, it is. Had I filled out the order form, I would have never chosen green. Or blue. Or red. Or yellow. I like black, gray and other dark colors with small details. But I am surprised how the final product turned out.
Faceplate and color shell match well and form a sturdy acrylic earphone that looks like it is made from one piece. It is topped off with a protective glossy coating for further resistance. Good job, Jomo!
The warranty is valid for 12 months.
Bore Design
I have previously seen Jomo Audio use the hollow nozzle design in which the sound of the different tubes come together in a kind of pre-chamber before being guided into the deeper ear canal. I am surprised to find out that this is not the case anymore. At least not with the Jomo6 V2.
Of the three bores, one stands out more than the others. As you can easily notice in the pictures, one tube features stainless steel and is a lot shorter than the others. This is where the high and super high drivers play into.
However, while the other two bores have filters deep inside the bores, the steel tube does not. If I had sweaty ears, this could possibly be a durability issue. Since I personally use dry boxes regularly and I am not a professional musician jumping on stage and headbanging with long sweaty hair, I do not expect humidity to damage the drivers. But only time can tell.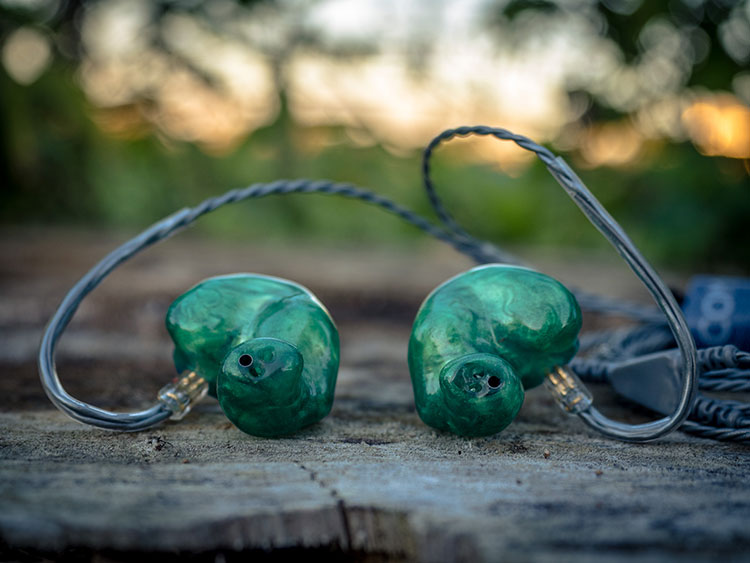 The stems are very long and the insertion is very deep. There are pros and cons to either manufacturing method and I personally have no preference.
Shorter stems can result in better comfort and easier removal of the monitor out of the ear, but it is also more likely for the seal to break – or if not break completely, at least have varying degrees of in-ear pressure. In this case, the long stems cause no discomfort whatsoever. If this were your first CIEM, you might need a while to get used to it.
Faceplate
Jomo Audio features plenty of design faceplates called the Aurora. My option, desert oasis, is not yet to be found on the color sample sheet. It is new and can be requested as of now.
There is no information given about the material, so my best guess is that it's created similar to a swirl with different colors. I can make out different shades of green and blue, with some silver and gold shimmer.
It could just as well be a pearl or any other material, but judging by how the swirl continues over the edge and clearly does not show the second layer, my best bet is that the Aurora options are also acrylic colors, as are the shells.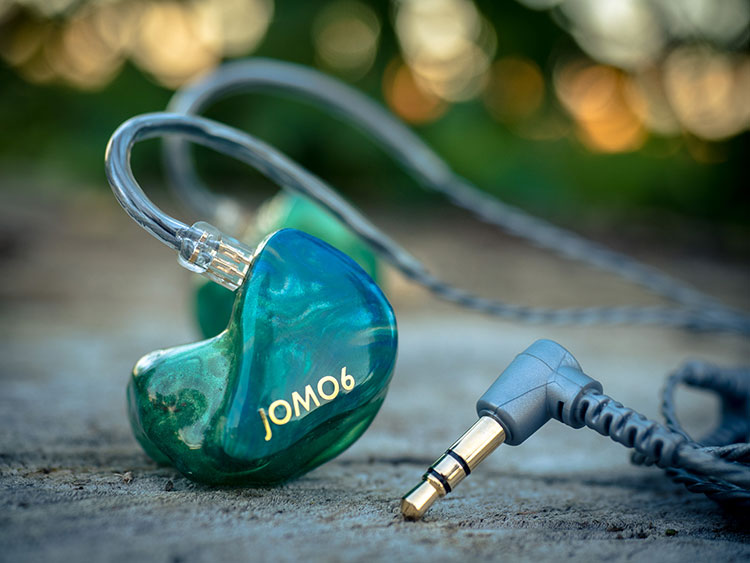 On the right faceplate, I notice two tiny dots sticking out just before the Jomo6 logo. These are easily noticeable just by a soft touch. It does not hurt aesthetics much, but depending on the angle of light you can see them drop a shadow too.
Tiny leftovers from the transparent protective coating which has to be applied carefully with a brush. As a perfectionist, I would not have liked to find these, though.
The new Jomo6 V2 features the same Jomo6 gold logo as its predecessor. It is aligned nicely to the lower corner with great attention to detail. The way the logo matches with the gold cable connectors is just beautiful and it has kept me from swapping cables for a long time.
Hard Acrylic Shell
Apparently, I have received a professional fit. Not only do the bores insert deeply, but the complete housing is tight. Not too tight, but tight enough that I would never worry about breaking the seal. Luckily I have no discomfort whatsoever.
I did not use a bite block when having my impressions done because I feared pushing my lower jaw forward resulting in an unnatural position and thus faulty impressions. Had I used a bite block, though, I wonder if the fit would have been even tighter.
The transparent green color with silver shimmer looks stunning. It is not fully transparent but creates a mysterious mist that hints at the internals but doesn't allow a fully clear look. I cannot tell for certain, but I believe the silver shimmer has been applied from the inside as a second layer.
This would mean a further production step was necessary. I believe this method was used because the shimmer thickens towards the nozzle and slightly fades away to the faceplate. It could be a coincidence, but it could also be crazy attention to detail.
There is absolutely no laser-engraving or branding on my review unit. From the gallery, I can tell that usually there would be a laser-engraved and color-filled serial number on the cymba part of the shell.
Socket Choice
Jomo opts for the default design, two-pin non-recessed. This is good news for people who like to invest in upgrade cables. This has been the industry standard until some big companies decided to switch to round MMCX sockets.
From my experience, the 2-pin connection proves to be more durable although there is a possibility to break off the pins when putting too much force on them from the side. On the other hand, the MMCX connections tend to have contact issues that result in sound cutting off. Both work for me, though I personally prefer the 2-pin sockets when recessed.
Cable
Again, Jomo Audio sticks to industry standards. Plastics1's twisted OFC cables have proven to be very reliable and from my experience, these do not break easily.
The graphite color option is seen rather rarely, but I like how the visible gold connection blends in with the gold artwork logo on the monitors. I'm very happy about the L-shape connection that proves to be a lot more versatile in most usage scenarios. The length of 1.3m is just right for me.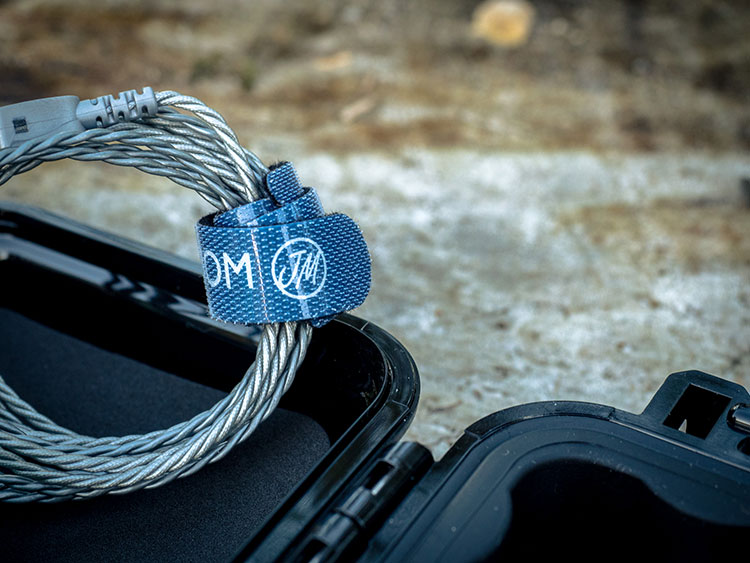 Accessories
Again, Jomo does not derivate from most CIEM brands and ships their monitors in an almost unbreakable Peli 1010 case. The black case is branded by Jomo Audio with a metallic design logo. My case came wrapped in a Jomo Audio shirt. Unfortunately, this is not standard and for my MVP feeling only.
Besides the monitors, you will find a branded cable wrapper, cleaning brush, gold-plated quarter-inch adapter, and surprisingly also a flight adapter that I would love to see included with more headphones. (Due to the usually bad sound quality of the average armrest amplifier found on most airlines, I would not necessarily plugin sensitive in-ears, though.)
Finally, I found a black metal warranty card with a punched-out Jomo logo. This is sexy! My name and warranty date are handwritten on the backside. I do recommend customers also go to the next hearing aid store and additionally buy a drying box and cleaning spray (do not spray directly into the tubes!). This goes for all in-ear monitors, btw.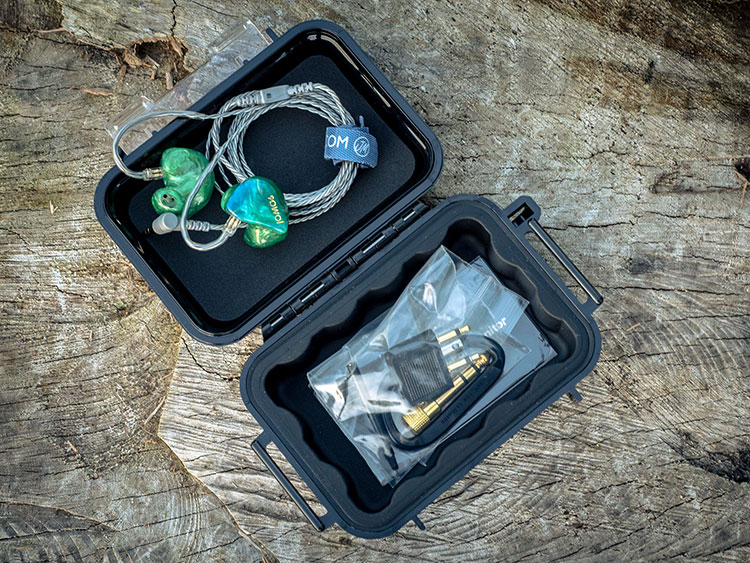 Fit & Seal
I already addressed this in the paragraphs before, but I will happily summarize it again. I have a rather tight fit on my Jomos but also no issues with comfort.
The long stems reach deep into the ear canal, which might get some getting used to – unless you're a fan of the universal Etymotic design. The Etys go even deeper. I can drink, eat, sneeze, and lay on my back all without losing the seal or having pressure issues.
Click on page 2 below for Sound Impressions