Meet The W900
Shell & Design
Technically flawless. Built using old school methods and not using more modern 3-D printing techniques I can have no complaints. The finish is smooth, bubble-free, imperfection-free and very accurate.
However, there is one caveat and something I fed back to Kevin and the team at CanJam and that was the underside of the gold faceplate. Technically the translucent yellow is very well done, the gold plate is also very well done, yet underneath the plate, there is a lime green finish.
Yellow (ish)
Sadly this lime green permeates the shell and gives it a yellow-green tint which takes away from the purity of the yellow design and doesn't quite match the Artisan graphic design discussed during the process. It looks wonderfully yellow from the top-down, but from the bottom up it is less pure.
Perhaps this is an issue of expectation because otherwise, the color scheme is great, however, if you are ordering expecting yellow, sadly it is not quite yellow and for me takes away a little considering the gold mirror is designed to match a translucent yellow shell. I have recommended that perhaps the underneath should be coated in yellow to enhance and compliment the scheme. Hopefully, this may be the case for future AT07 design requests.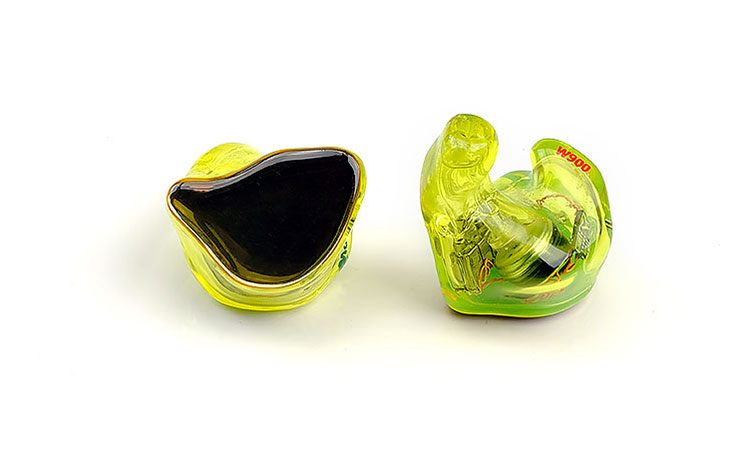 Note the above picture gold face plate seems darker due to a shadow during the picture taking process – it is highly reflective.
Finish
In all other aspects the W900 finish is perfect. The acrylics lacquer coating is very smooth keeping the plate fairly deep-set but still has plenty of pop in the mirror effect which has a wonderful shimmer when twisting and turning it. You can opt to have all sorts of logos and graphics on top of the coating, though in this case, I kept it logo and graphic free just to show off the mirror design to it's fullest.
Left and right on the W900 is designated with a blue and red W900 on the inside of each shell. Fittings used are recessed two-pin sockets designed to be worn over the ear (cable).
Internals
Of course, no CIEM would be complete when you receive it without the customary long stare at the internals. ordering translucent shells are so much more interesting than solid colors because you get a peek at how the whole thing is put together.
The dynamic driver is very easy to pick out and sits just above the two quad BA modules and if you look down the bore of the nozzle you will notice a gap between the top and the plastic tubes. This gap is where the intended tunable filters will be inserted once they are ready for the market.
Fit
Accuracy
I always referred to the W300AR as a relaxed-fitting in my reference discussions on other CIEM reviews. The W900, on the other hand, is very much a 'pro' fit and a very accurate one at that. It is not quite as detailed in its shape as the 3-D printed A18 from 64 Audio but I find the insertion to be very smooth and the seal to be much better than my older W300AR.
Of course, it is always going to come down to the quality of ear impressions received by AAW from your audiologist and this was one of a batch I had done at an outlet I know does very accurate impressions and to the second bend in the ear canal.
The nozzle on the W900 has to be this length really for the addition of the filters which are inserted at the tip of the nozzle. It looks like a single bore with its 2-3mm recess due to the 3 tubes stopping prematurely to give room for the filters.
Seal
The seal is strong on this CIEM despite the pinhole vent for the dynamic driver. I tried a few open-jaw poses in a chewing motion just to test if any gaps appeared and thankfully I didn't lose the seal which has happened before. The relaxed jaw seal wasn't too tight either.
There are no modules such as you would get on the APEX designed CIEMs from 64 Audio so there will be bit more pressure build-up but the isolation is much superior to other hybrids such as the Merlin from Unique Melody which uses a larger bass port and lets in a bit more passive isolation.
Short Fitting Comparisons
Seal
The W900 is not quite as detailed physically as the 64 Audio A18 but the seal is just as good though there is a little bit more pressure on the canal sides. Both have longer nozzles or a "pro" fit though with the W900 this is due in part to the future filter fittings.
It is a longer fit than my older W300AR and much more accurate also. It is smoother than either of my Rhines Stage 7 or Stage 5 whose wider single bore nozzle was much tighter and put more pressure on the lower Helix.
Form Factor
Given that it is packing a dynamic driver, the W900 is a bit deeper than pure BA designs such as the Katana, A12/A18 and the Rhines series Stage 5 and Stage 7.
However, compared to the Lear BD4.2, which is a hybrid CIEM also it is actually a little shallower so it is more flush to the ear. It is bigger however than the hybrid Merlin from Unique Melody though bear in mind the Merlin is just 4 BA drivers and not 8 and also leaks a bit more with its more open bass port.
Accessories & Packaging
New Look
Before, AAW would send out branded OtterBox cases in a black branded cardboard retail box. At the time, I thought it was a good package but come 2017 AAW have really lifted their game and put out a more eye-catching retail design. Out goes the more understated branded black box and in comes the bigger white sleeved black box with the AAW branding front and center.

The box opens up to a nicely presented custom design and branded pillbox with the W900 inside and in the second compartment you get your user handbook, refit and warranty form plus your serial number as well as the accessories which are as follows:
46″ Null Audio Ethos Cable (4 Braided and Detachable)
AAW Carrying Case
Cleaning Brush & Cloth
Flight & 1/4″ adapter
The case itself is still a touch small for me though its depth is much better than the Otterbox which I felt was a bit too cramped height-wise. There is enough room for the cable, shells and the brush and cloth. The transparent lid is also a nice touch giving a little hint as to what lies beneath.
Sound Impressions
Tonality & Presentation
The W900 has a smooth sounding and very coherent tonal quality to its delivery. I would not go as far as to say this is an overtly musical IEM but it is definitely not analytical or sterile sounding. There is more of a natural flowing quality about the W900 signature with an almost linear response in parts and excellent detail right up to the final octave.
Presentation
It also has a very wide and well-extended presentation, no doubt aided by having those quad BA's dedicated to the top end as well as the dynamic driver for the low end which tends to lend well for good staging. There is a little less emphasis on headroom and depth so it does not have that airy quality of say the more treble aggressive Noble Katana or the sub-bass power of the VE8 but it is nevertheless impressively detailed.
Response
The response has a slight sub-bass bias with that linear delivery starting from its mid-bass right the way throughout its lower midrange. There is a decent level of mid to upper mid-elevation and increased energy from 1-3k for slightly forward vocal presence also but overall mids are neutral. You won't find any natural upper bass to lower mid dips so instrumental timbre is accurate with solid bass fundamentals and very good clarity. Nothing sounds thinned out or recessed on the W900.
Even with a quad BA for the top end it still retains a very smooth and neutral character and places the sparkle more 7-10k with a little dip from 4-6k which seems to take a bit aggression out of percussive passages and avoids any sibilant qualities from slipping in. As a result, it never feels aggressive or overly hot yet still retains impressive articulation and detail well into the final octave.
Bass
The W900 bass response impresses me because of the level of control AAW has given it. They could so easily have given it a healthy mid-bass boost and overly warm up the signature but it could have left the whole FR sounding disjointed and colored and we have plenty of those signatures already in the market.
Instead, they have given the sub-bass response a mild boost from 30Hz to 60Hz to generate a bit more power and add some good depth to it's staging quality. It is not overly boosted though and drops around 3-4dB in a very linear fashion and stays very balanced but full sounding with a smooth transition all the way to the 1k in the mids.
As with most DD's the decay on the note is a touch longer than most BA designs. It is not quite as pacey sounding either but it has excellent texture, superior sustain and hits very well indeed for those languid dark bass passages you get on a lot of modern synth-wave such as Daniel Deluxe and Dynatron.
Mids
Spacious sounding with fantastic instrumental separation and a very natural sounding timbre. Instrumental positioning is relatively neutral, especially in the lower mids which benefit from a very linear and smooth bass transition. The lack of scoop in the upper bass and lower mids allows instruments on the W900 to retain a decent body and weight without loss of clarity.
Imaging is excellent, benefiting from that tremendous width the W900 is able to spit out. Importantly it is accurate and not overly stretched and unnatural sounding with more of a large concert live than a clinical chamber hall environment.
Vocal presence benefits from an increase in energy from around 1-3k so they have a slightly forward and focused quality to them but it's nothing skewed. They also retain a largely sibilant free quality with a smooth attack.
Upper mids and presence region though have a slight dip around 4k which dulls the percussion snap and energy on the W900 and just puts a little stopper on the energy of the mids in general. The detail and resolution are very good, nothing smoothed over in that respect so individual percussion passages are well separated but just lack a little bite and excitement.
Treble
This is not a forward sounding treble but it nevertheless has wonderful extension and detail. It has a fairly sustained lower treble plateau from around 6-10k but it's a smooth up and down so it is not peaky, in no way brittle sounding, and retains a nice coherent and smooth presentation in keeping with the rest of the response curve.
There is no roll-off I can detect beyond so it is an articulate performance right up to the final octave. Rather than a steep drop and a little nudge post 10k just for hi-fidelity appearances the energy and performance of the W900 continues to make its presence felt right up to the limit of my own hearing and in their own charts almost 20k.
You are really getting the best of both worlds with the W900's finely balanced treble. You get excellent extension and articulation but it is delivered in such a smooth, almost polite manner that you can enjoy the nuanced detail without ever feeling it has been forced down your throat.
Cable choices
Null Audio Ethos
AAW continued with their relationship with Null Audio and supply the W900 with the Null Audio Ethos cable. This is a definite setup on the Vitesse cable that came with the W300AR. Not that the Vitesse was a bad cable just not the right match for me with the W300AR.
The Ethos is a 5N OCC SPC 26AWG 46″ cable with 4 braids terminated with an unbalanced 3.5mm stereo gold plated jack and terminated with a 2 pin connector. The connector is the newer slanted design making it easier to hook the cable back and around the ear. All of this is sheathed in an ABS/TPE plastic coating in a 4 braid construct in a silver coloring. It has no memory retention and is fantastically microphonic free as well as being super pliant and easy to work with.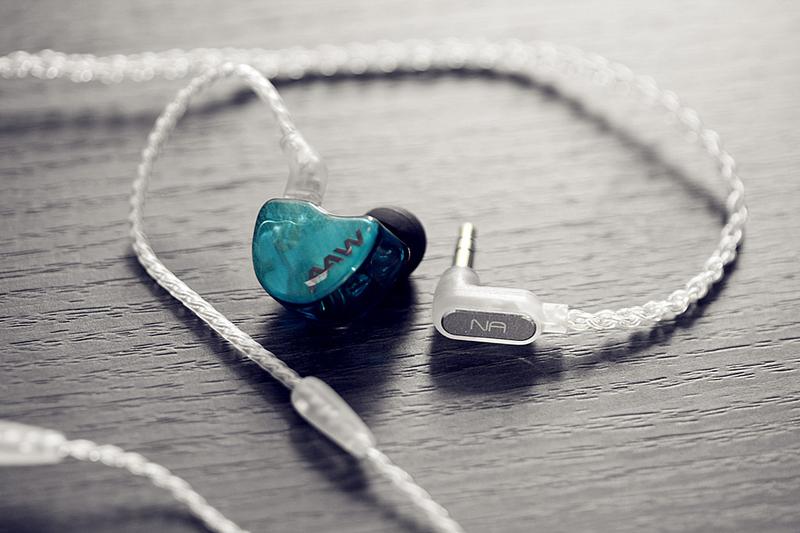 Unlike the stock Plastics One cables you sometimes get on other CIEMs I really do not consider this cable to be a huge bottleneck but it does have its own inherent qualities and much of that smoothness does come from the use of the Ethos cable.
ALO Audio SXC 8
The SX8 is a behemoth of a cable and much weightier than the SXC24 I generally tend to draw into cable discussions. The drawback is usually the level of microphonics and the general weight of the whole ensemble making it more of a niche cable in terms of usability.
The Twag v4 is looser, easier to work with and is less microphonic than the SXC8. Neither the SXC24 and Twag though are as quiet as the Ethos cable.
Tonally this cable is a little more energetic than the stock Ethos cable, particularly in the treble response which sounds livelier with a cleaner attack and slightly less rounded with more air. In a similar fashion, the SXC 8 pairing tightens up the bass a little with better dynamics producing a cleaner, snappy response.
SPC OCC
8 custom annealed conductors 24awg
FEP Jacket
Whiplash Audio Twag V4
Whiplash Audio's new Twag V4 is a UPOCC pure silver Litz design measuring in at a hefty 22.5awg and using a custom made nylon center core.
I personally adore using Brain's Twag cables for the best part of 7 years for it's refined and natural sound that is almost always a huge step up on the stock Plastics One cables that come with a lot of CIEMs. Despite its relative size it is lighter than the SXC8 and has less microphonics than the ALO Audio competitor when used with the W900.
Tonally this was an excellent match with the W900 and superior to the SXC 8 and the Ethos for imaging. It has fantastic clarity, excellent control and the best of the three for detail retrieval.
It doesn't throw in the same level of energy as the SXC 8 but it does lift a little of the subdued feeling I had with the upper mids of the W900 and introduced a more precise treble response without loss of extension.
UPOCC pure silver 99.9999%
Custom LITZ design
22.5awg
Custom made center core
Click on Page 3 below for Matchability & Comparisons