The Orion is Campfire Audio's entry-level IEM. It is a single balanced armature designed universal IEM. It is priced at $349.
Disclaimer: The Campfire Audio Orion sent to us is a sample in exchange for our honest opinion. We thank the team at Campfire Audio for giving us this opportunity.
To read more about Campfire Audio products we reviewed on Headfonics click here.
This is the last of the original launch line up of IEM's from Campfire Audio to be reviewed on Headfonics and it is also the cheapest and therefore perhaps the most accessible IEM for mid-fi audiophiles.
Priced at $349 the Orion is a single BA driver universal IEM and sits below the single dynamic driver Lyra and quad BA Jupiter in the original line up. This line-up has had a few pricing revisions as mentioned in the last review and where it is now is fairly competitive for mid-range good quality IEMs.
Tech Inside
The Orion sports a single BA driver and if we have learned anything from previous BA IEM reviews is that multiple drivers do not always make awesome IEM's. Sometimes one can be just fine. Heck, even Final Audio takes great pride in throwing out single BA driver designs at 5 times the price so it driver counts is never a firm indication of final quality. Mind you though the $300-$500 range is awash with good quality IEMs so the competition is tough.
Also, as of writing this review, Campfire Audio has released two more new units into the market. The Nova with a dual balanced armature at an SRP of $499, though $449 if you pre-order now on their website, and the all-new flagship Andromeda which is a 5 BA driver unit retailing for $1099 though you can also get that for $999 on pre-order. It is a pretty comprehensive line-up now with 5 distinct IEMs ranging from the Orion all the way up to the Andromeda.
One further important change since the original launch has been the cable again which has now been replaced with a new Litz configuration which ups the low-frequency output by 3dB and should be coming packed with all 5 IEM's at this time. Campfire is claiming this is a huge sonic improvement on the previous tinsel cable.
Build
You will probably have gathered by now that the form factor of the Campfire Audio IEM series is very similar indeed visually; striking a harmony and singular identity in many respects for the whole brand.
The Orion is no different sporting a machined aluminum enclosure that has an aggressive industrial type quality and angular cut giving it a very similar look to the Andromeda and the Jupiter. The Lyra is probably the odd one out in that respect with a slightly rounded curvature to its build housing the dynamic driver but you couldn't mistake it as anything other than a Campfire Audio creation.
What primarily distinguishes the Orion is the coloration which is a traditional solid black shell as opposed to the olive-toned Jupiter and the decidedly greener looking Andromeda.
Much like the rest of the range, the Orion is finished with 3 rather small and slightly recessed silver screws on the faceplate of each driver shell and an embossed logo carved into the farthest curve of the top faceplate.
Much like the Jupiter, the Orion housing or shells are made from machined aluminum enclosures which are done by hand with each unit taking up to 9 hours to complete by hand. They do feel solid and robust and I get a feeling the Orion is every bit as durable as the Jupiter when out and about.
Given the similar form factor of the BA units, the Orion is a little thicker and bigger than equivalent single driver units from Westone or Final Audio and even multi-driver units but are actually smaller overall compared to other say the C6IEM triple driver. They are relatively discreet in your ear but not as flush or as comfortable as the Primacy from Oriveti or the Westone W4.
Fit & Seal
Same form factor as the Jupiter, same build quality also so it is no surprise that loaded with memory foams the Orion is as good as the Jupiter which makes it superb in my books for the fit and seal.
This time, I did expect it though unlike with the Jupiter which caught me out by surprise. Isolation is superior to the Westone W4 and the UE900S and that slightly larger girth actually helps it to stabilize and fit snugly in my ear without fear of it falling out.
The nozzle angle is excellent and just the right length with zero need to wiggle and move to get the sweet spot. Open or closed jaw made no difference, no gaps develop no matter how loose or open your jaw is.
The Orion offers a very high level of isolation from background noise, almost on customs level actually and only a slight diminution with the silicone tip options. Of course, your mileage will vary, smaller ears or odd-shaped outer ears might not get the same level of comfort since they are not the smoothest of rims and tiny canals might find them a touch tight but once again these are as good as the Jupiter for fit and seal which is good news indeed.
Cable Upgrade
The Orion now comes with a brand new Litz constructed cable purported by Campfire to really up the sonic resolution of the Orion beyond the original cable and introducing no less than a 3dB gain in lower frequencies. The original cable was constructed from SPC (silver plated copper) into what ALO term as their 'tinsel wire' and was housed in an FEP (Fluorinated ethylene propylene) jacket.
Technically it was gen 2 of the cable development for the Campfire Audio range with the first one's slight stiffness was replaced by a more pliable memory plastic-coated sheath for wrapping around your ear and was easy to manipulate and use. It was certainly one of the lightest I have used in a long time.
Those who have previously bought the Orion may be still using that cable today so I would recommend checking out with Campfire and getting the latest cable if you feel that dB increase is to your liking.
The new cable is now a dual wire braided silver cable of a similar length (1.35m) of the original tinsel wire but a bit thicker and heavier. It is much more pliant and easier to work with no memory retention whatsoever and a very classy matching y-split silver metal tube and clear plastic chin strap.
It is still terminated with MMCX gold plated connectors and it still retains the transparent plastic right-angle 3.5mm jack from the original tinsel cable. The newer Litz cable also has soft and easy to manipulate memory plastic-coated sheaths just like the previous version cable.
Packaging & Accessories
The packaging is consistent with the rest of the Campfire Audio range. Inside you also get 3 sets of small, medium and large foam, Comply TX400 and single bore silicone tips, a cleaning brush, and a user manual.
This is all wrapped up in a rather eco-friendly packaging of a small single box no bigger than the case itself. The case, however, is slightly different. Now by sheer accident, I got one of those yummy worn leather look zip and fur cases that came with the Jupiter.
Others early on seemed to have gotten the cleaner leather version boxed with the Lyra. Lucky me I guess but perhaps Campfire has gone through a number of variants and decided on a version that is more cloth than leather-based now.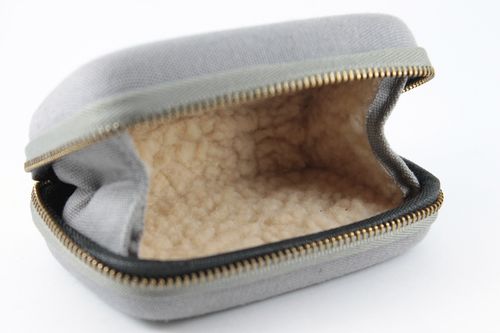 The case is still fundamentally the same in terms of dimensions with a nice zipper locking mechanism but this time, Campfire has opted for a canvas-based material than the higher end leather.
It looks sturdy and well-made though and still sports that Arthur Daley inspired fur-lined interior of the Jupiter and making it a very comfortable bed indeed for your earphones.
Click On Page 2 below for Sound Impressions & Comparisons