I had mentioned previously when reviewing the amazing Cypher Labs Solo DAC that finally audiophilia was catching up to the 'i' phenom and addressing the quality balance that seemed to be sucked out of digital audio over the last decade.
Certainly, the CLAS and the recent Fostex H1-P1 are two stand-out examples of how emphatically the imbalance can be addressed on the portability side and now we have Nuforce climbing into the ring with their desktop version of this concept simply entitled 'iDo'.
The iDo is, in a nutshell, a dedicated standalone DAC for igadgets that bypasses the igadget internal DAC. And it does a lot to be fair at a price that is much less than that of the CLAS and Fostex, retailing at £219.00 plus free delivery from www.advancedheadphones.co.uk.
Unboxing
The box itself reminds me of the Grado pizza box. Nuforce has always done packaging well and it certainly feels substantial in the hand.
Opening it up you have a nice little set of pamphlets and user instructions with the remaining space divided into two neat large and small white boxes – one for the gear and the other for the power plug.
Yup, this baby is desktop and ac powered only so bear that in mind, you cannot bring this out and about. So whilst it hints at a greater degree of mobility as a distinct stand-alone module, your range is only as good as the nearest wall wart.
Connecting
As luck would have it I have plenty of wall warts in the room and chances are you have one or two also so you basically have a few choices on how to use the ido.
The first is as a complete standalone with your igadget of choice or second as a part of a bigger analog or digital component system or technically you can do all three if so inclined such as is the nice array of outputs.
I/O
On the front, you can a nice discreet interface with just a volume pot and headphone jack and a knight-rider style blue-green light system to signify power and connect to your ithingy.
The back is pretty impressive with the USB slot for the LOD input to the igadget (running out of 'i's guys!) of your choice, a set of RCA outputs, and digital coaxial output. Pretty impressive stuff if you ask me.
One other little advantage it has over the more costly mobile solutions is that it will indeed charge your iPod/nano etc whilst connected which is a nice little benefit. The picture below gives you a pretty good snapshot of the ins and outs of the iDo.
Matching
For the purposes of this review, I went straight for the headphone out using my Hifiman HE300 and ATH-ESW9 headphones and my humble nano (just hot off a Burson HA-160 run the night before so something to refer to though perhaps slightly unfair given the price difference and niche).
Compatibility
I think I should mention that like the Cypher Labs and Fostex offerings, owners of older iPod's are out of luck given that the communication technology in these devices only works with the following:
iPod touch(3rd and 4th generation)
iPod classic
iPod nano (6th generation)
iPhone 4
iPhone 3GS
iPhone 3G
iPad 2
iPad
Only iOS3 and later versions are supported
Yup, lovers of Rockbox'ed 5.5G's (the holy grail of iPods in terms of sq) are out of luck with the iDo – best you go get a new one or like me buy a humble 5th Gen Nano which suits perfectly.
Nuforce pitch this as a desktop buddy for workers in the office or for those lounging around the bed reading etc. Yeah, I can dig that, its discreet, has a holder to allow it to stand up making the footprint minimal and all you need is your iPod.
The 1/8 jack does take away from at an office or home setup since homer cans usually have 1/4 jacks but not a deal-breaker for those with Grado extensions or cans with 1/8 jacks though the claim to power up to 300ohms does mean a scarcity of 1/8 jack style cans I am not convinced I would be sticking a 300ohm through this – 32 – 50ohm should do nicely.
There is an argument that this solution targets a pretty small niche and in audio circles that is probably very accurate but looking around these days my consumer buddies live or die by their iPods and I can see how this might be attractive to them.
Of course, there are plenty of office types these days who like wearing headphones while they work which I have never been lucky to have – am I bitter? Pass.
iDo Specifications
Inputs:
USB (from iPod, iPhone, iPad)
Maximum sampling rate: 48kHz
Resolution: 24-bits
Outputs
Analog RCA Output = 2Vrms
Digital Output: coaxial RCA 75-ohm
3.5mm full-size headphone output jack drives headphones up to 300-Ohm (12 mW@300-Ohm)
Headphone power spec:
130mW RMS @ 16Ohms
88mW RMS @ 30Ohms
51mW RMS @ 60Ohms
28mW RMS @ 120Ohms
12mW RMS @ 300Ohms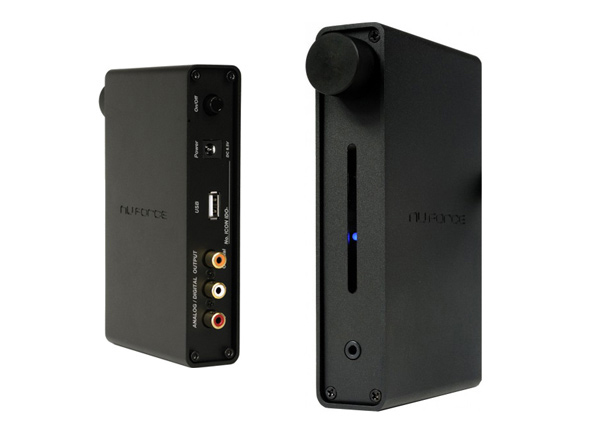 More Features
IR Remote Receiver accepts Apple remote control IR signals for volume and playback adjustment on iOS device
Frequency Response: 10Hz to 20kHz (-0.5dB)
Dimensions: 6″ x 4 ½" x 1″
Includes DC Power Supply and 30-pin charge/sync USB Cable 130mW RMS @ 16 Ohm
*The maximum sample rate currently supported by Apple is 16-bit/44.1kHz or 24-bit/48kHz.
**Icon iDo is designed to work with Apple iTunes and iPod software. Other applications may not work (but we have not found any application that is incompatible with iDo).
The power is reasonable without it being jaw-dropping. It's certainly going to fall short of planer cans but will cover most of the consumer cans, Grado's, 32ohm Beyers, and DJ type headphones, and that in a nutshell accounts for a lot of people.
If you have a DT1350, an ESW-7/9/10, an SR80i, or a set of nice buds or IEM's then this could be your weapon of choice without any power or hiss concerns.
Sound Impressions
Immediately noticed a slightly darker and more laid-back signature on my HE300 to the Burson (oh unfair!) but nothing too dense but certainly felt it gravitated to the lower end rather than the upper end.
It didn't lack in detail though and overall I thought it matched quite well with the HE300 with decent power on the low end. If anything I would have liked a bit more snap in the uppers for some added spark but for those with a sensitive ear this sq will find favor with them.
Come to think of it I can see this work quite well in the office for those that tend to sit for long periods. It's not a fatiguing setup by any means and I highly doubt users will need breaks very 5 mins (sorry Grado listeners your the exception but then you are the exception in most cases – you love the pain and you know it!).
Punching the cans out of the iPod jack itself took everything down a notch, thinning out and sounding a lot edgier than I had anticipated. The iDo gave it a more creamy and lush tinge to ALAC tracks like 'I remember' from Deadmau5 as opposed to the sharper Nano jack out.
Since it is the same DAC from the uDAC2 there are some similarities to the SQ out of the headphone jack but where I found the iDo to edge ahead was using the RCA outs to pre-amp my higher end amp collection.
Ok so in reality this kind of takes it away from the stand-alone office pitch but it does allow me to move my amps around the room also with the ido. I actually on balance preferred using it as a pre-amp to the standalone and pairing it with my compact Bada PH30 solid-state amp made the whole setup ready for planer power beside my bed.
Our Verdict
The iDo is more niche than say the CLAS or the Fostex or even the iPure come to think of it and as such your going to need to have the problem or gap it addresses in the first place before you will say give me that I want it now.
However, when you get it the iDo is like a Swiss army knife of igadget integration into your listening life. Plenty of uses and a non-fatiguing presentation is convincing enough for me at the price.
All I need now is a job where I can listen to my headphones all day – anyone??
iDo is like a Swiss army knife of igadget integration into your listening life. Plenty of uses and a non-fatiguing presentation is convincing enough for me at the price.