Advanced hail out of Fresh Meadows, NY and just recently changed their brand label from ADV.Sound in 2016, so those that may be familiar with their Kickstart campaigns might have seen the previous brand kicking around. They have two IEMs on the market today, the Model 3 which retails for $79.99 and the M4 for $39.99. They also have a BT speaker called the "993" which retails at $199. It is a fairly new company and a lot of the success has seems to have been driven by good crowdsourcing which tends to build a captive audience right from the start.
What is The Pitch?
Price
Advanced have pitched the M4 at just $39.99. Actually, if you visit their website you can see the MSRP start at $99.99 before settling on the sub-$50 ticket placing the M4 solidly in the budget category shared by the likes of the Shozy Alien among a few others. Advanced claim this is all about music, the enjoyment of audio and that the M4 represents to them that sense of enjoyment priced at a level that is appealing to the widest audience possible without feeling the pinch.
Key Words
They are also pitching the M4 to be a premium material IEM that punches way above its fiscal weight in terms of being the complete package. Descriptors such as aluminum chassis sandblasted and diamond cut attracts the attention. Brand name usage such as Comply Foam tips offers a measure of confidence. Scenario statements such as tangle free cable and in-line remote module make it sound relevant to today's 'on the go' concerns. Yup, it hits all the right notes on paper including the price point. The image in my mind being created for me by Advanced is that of a bang for buck consumer IEM but with a nod to audiophile and generally music lover sensibilities. That, plus a very reassuring 3-year warranty that has served the likes of RHA very well indeed.
The image in my mind being created for me by Advanced is that of a bang for buck consumer IEM but with a nod to audiophile and generally music lover sensibilities. That, plus a very reassuring 3-year warranty that has served the likes of RHA very well indeed.
Build
Form Factor
Advanced have opted for a traditional bullet type form factor for the M4 constructed with an aluminum alloy which feels tremendously light in the hand. They have also have decided to use a 6mm micro dynamic driver rather than a traditional and much larger 8mm+ dynamic driver to help keep the size and weight of the M4 down. The main housing itself is a two piece aluminum chamber design which looks solidly joined together with only a very slim seal line on the outside. The rear of the chassis is terminated with a short plastic coated resin tube which doubles as a strain relief to the cable.
Measurements
I don't have any weight measurements available but it cannot be more than 15g per side despite the use of metals in the chassis. Length from back to front is approx 3cm in length with an approximate 7-8mm additional with tips on (depending on the tip of your choice) so it is reasonably long but nothing out of the norm for this type of build design.
The Finish
The chassis is finished in a matte silver paint coating with their original ADV. brand moniker lightly etched into the rear of the chamber just above the cable stem reliefs. Venting is through a tiny bass port hold at the top of the chamber about 2/3rds of the way down. Overall I get a grungy 'moshpit' feel from the design and coating of the M4 rather than pristine gloss which feels more apt for the image Advanced are portraying on the website. It looks pretty tough and durable and honestly, a few knocks and scraps might even add to the character.
Cable
This is a great cable, perhaps one of the best cables I have seen on a sub-$50 IEM. Where did they find the budget to throw in a cable of this quality? It is a 4-strand twisted black wire more commonly associated with the likes of Westone and CIEMs and terminated with a very strong strain relief 3.5mm gold plated stereo jack.
The y-split strain relief is incredibly sturdy also so I cannot for a second imagine this cable conking out in the 3 year warranty period unless you take a pair of scissors to it. It is also very pliable, more so beyond the y-split than before. There is only a tiny bit of memory retention but the cable is very easy to untangle and most importantly its microphonic free in either straight down or over the ear use.
There are no memory hooks on the M4 cable so you can wear it either over the ear or straight down without too much bother and it will still keep noise to a minimum. There is no chin strap sadly but it does include an inline remote control and mic so color me impressed.
Fit & Seal
Although the M4 is designed to be worn either over or straight down I did find the fit and seal to work at its best over the ear. Bullet type designs rely a lot on the type of tip you are using to get that final bit of comfort and seal so it is great that Advanced put so many different varieties of tips with the package. Foam tips naturally gave me the best seal out of various configurations being the most grippy with the dual flange not that far behind though they were less effective in background passive noise isolation over the Comply tips.
You do get some additional benefit with the heavier M4 cable being generally quite pliant around the ear further reducing any potential microphonics to a minimum. Overall this is excellent seal with above average isolation and with the foams there is no messing around for the sweet spot upon insertion.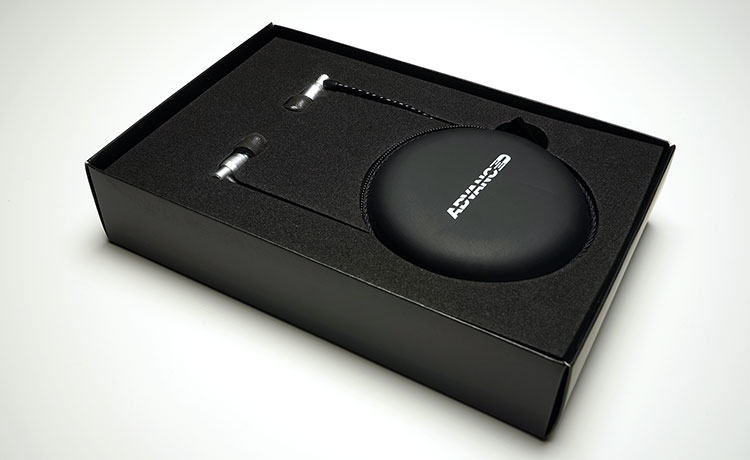 Accessories & Packaging
Advanced have done a fine job stuffing in plenty of accessories at this price point. This is something more akin to a Westone accessory list than something priced at $39.99. Not just foam tips but Comply TX-400 foam tips as well as a wide variety of single bore and dual flange silicone tips.
The complete list is as below:
1 pair of Comply Foam tips (TX-400 medium)
3 pairs of black dual-flange tips (s/m/l)
3 pairs of black silicone tips (s/m/l)
3 pairs of white silicone tips (s/m/l)
1 premium carrying pouch
1 cord shirt clip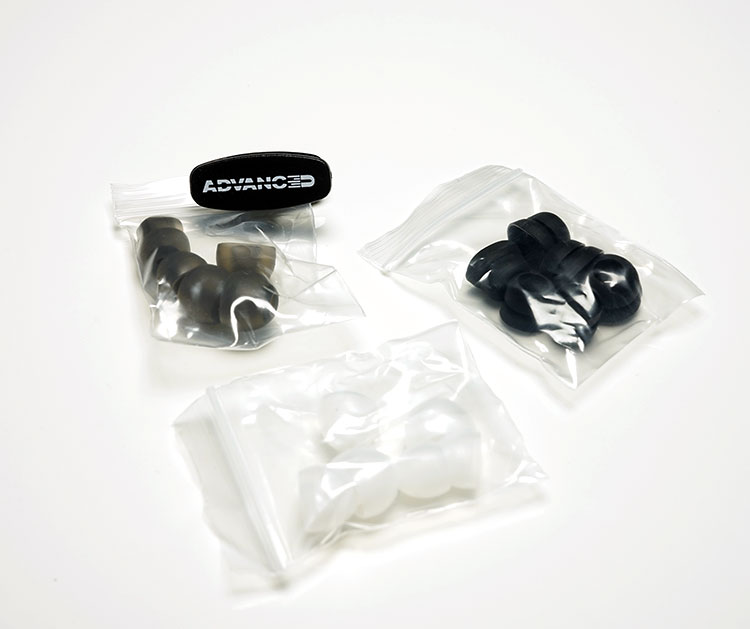 The supplied carry case is a standard pill type semi-stiffened pill box with some internal netting for holding the accessories and a branded logo on the top. Aside from that you also get a cord shirt slip but no quarter jack or airline adapter. All of this is wrapped in a fairly decent , well laid out if somewhat basic retail packaging consistent with the price tag.
Sound Impressions
Tonality
Advanced have rather thoughtfully stuck the FR chart of the M4 on the back of the retail box which shows a u-shaped or a mildly v-shaped frequency response. In truth, what I got out of the M4 was not that far off the chart but it doesn't paint the whole picture. I actually found the driver to be quite a capable performer for the price point and certainly a lot more spacious and detailed sounding than I was expecting.
Bass
Do not expect thumping levels of basshead domination or an achingly extended treble head style of curve, this is actually a little more balanced presentation than that. Sub-Bass performance doesn't have too much rumble, its more rolled off beyond 100Hz. Instead, you have a more pronounced mid-bass elevation from 100-300Hz that's relatively punchy sounding, middling pace for a dynamic driver but full sounding enough to sound credible and fun sounding with plenty of modern EDM and pop genres.
Mids
Most of the suck out on the M4's curve is focused on the lower midrange. On one side this helps prevent upper bass bloat which can muddy things a bit too much so the M4 has a reasonable level of clarity and spaciousness for vocals. However, it does mean the M4 mids are a touch duller sounding and lacking in body for rhythm and bass guitar work to really shine relying instead on a slower paced bass response to bring in the power which can't always keep pace.
Vocals
Vocals, in particular, male vocals, are more forward sounding due to the lower midrange dip with the M4 picking up in energy around the 1-3k marker but thankfully not overly boosted so I get never get a feeling it too shouty or nasal sounding. Higher pitched female vocals can get a touch more sibilant, there seems to be a gentle nudge around the 3-4k marker but it is nothing overly sharp sounding.
Treble
Treble is more forward and energetic sounding on the M4 but it is a game of two halves with a dipped presence region keeping lower pitched percussion sounding subdued and a more forward peaky 5-7k with some quick roll off beyond with a fairly typical minor 10k minor peak.
It is a response curve I am quite used to seeing over the course of many reviews and whilst it is not the smoothest response curve and can get a bit harsh when pushed it is not inherently sharp, or lacking in sparkle, rather it lacks a bit of control and can sound uneven at times. Foams tips do a better job with the M4 treble than the silicones, by the way, smoothing out the top end considerably but at the cost of a little air.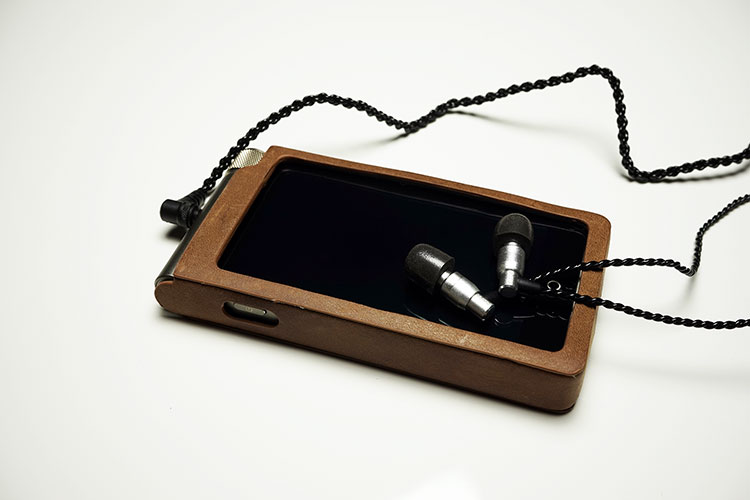 Matchability
Efficiency
The M4 packs a 16 ohm 92dB 6mm micro dynamic driver. Low voltage amps should be fine but overall the sensitivity rating of this driver should be rated as relatively inefficient compared to some competing IEMs at this price point.
DAPs
Budget DAPs such as the FiiO X1 Gen 2 volume levels sit around 60 steps on low gain mode with the FiiO X7/AM3 at 70 steps which is 10 steps higher than the Campfire Vega's 102dB dynamic driver, 5-8 steps higher than the Shozy Zero's 94dB DD and a full 30-50% higher than BA designs such as the Orion from Campfire. My Own ZTE Axon 7 smartphone (AK4490 chipset) also needed about 90% on the volume slider to get the M4 singing but the margin for error is a touch slim with 95% suddenly sounding too loud.
Noise Free
The flipside is the M4 is relatively noise and background hiss free on most low-end amps, even the higher powered AM3 (unbalanced output) and AM5 modules from FiiO and the Cayin i5. Pairing with your DAP or smartphone of choice will be more down to power and tonal preference with the M4 than concerns about hiss.
Tonal Preference
Do you need to amp the M4? Not really, its value to performance ratio really sits more comfortably with decent portable sources and a relatively neutral DAP will be fine if you want a control on the low end but personally felt sources with a slightly warmer tonal profile to be a more comfortable pairing with the M4. Wolfson (the old FiiO X3 gen 1/E7) or AKM chipsets (AK4490 in particular) seemed to gel better than more neutral TI or ESS DACs which were less forgiving in general. Budget DAC/Amps such as the FiiO E10k sounded great paired with the M4.
Select Comparisons
Shozy Zero
The Zero is one of my favorite bang for buck single DD IEMs but the M4 is actually very competitive and also even cheaper. It is not as efficient as the Zero needing about 5 steps more on the FiiO X1 Gen 2 (equivalent budget DAP) but both are noise free IEMs. Technically neither of them are terribly efficient at 94dB for the Zero and 92dB for the M4.
Tonally the Zero has a much greater focus on a rich sounding midrange and a slightly bloated upper bass performance which tends to muddy the lower midrange a touch but otherwise it is a stellar performer with a textured and thick sounding note and a warm instrumental timbre.
By contrast, the M4 has a little thinner in note with a more pronounced v-shaped frequency response, a thinner midrange but superior treble extension and sparkle. Vocals on the M4 are a touch cooler, not as forward as the Zero but that little drop in the lower mids give a greater sense of space to the M4 over the Zero. I would take the Zero for rock, it needs that weight but the M4 definitely has a better profile for EDM.
AAW Nebula One
The Nebula one is $99US single DD from AAW (Singapore) and we rated it highly in our review earlier this year. It is a 100dB DD driver so significantly more efficient than the M4 and it shows in the X1 Gen 2 volume control being around 15 steps lower on average for similar volume levels.
Tonally the Nebula One is warm to neutral, slightly more neutral than the Zero but warmer than the M4. Like the M4 and the Zero there is a solid emphasis on a warmish and slightly elevated bass response though not the fastest nor the tightest. Both the M4 and Nebula One keep the emphasis more full bodied than slamming with neither having a huge low-end extension.
Upper bass and lower mids on the Nebula One are a bit fatter sounding with vocals on the Nebula One sounding more intimate but not quite as clear as the M4. Lower treble on the Nebula One around 4-6k doesn't have the same type of dip as the M4 so it is a bit more energetic sounding but beyond that the M4 has a bit more air, extension, and sparkle in its upper treble performance.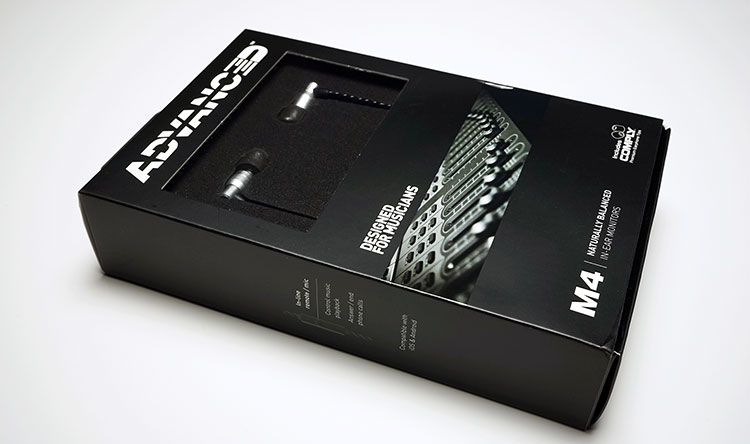 Our Verdict
If Advanced had kept their original $99 price I would have probably said good freshman effort, competitive but perhaps it might lose out to more coherent offerings from say RHA at just over $100. It doesn't stand out enough at that price point. At $39.99 it's a bargain, a bang for buck bargain and does compete quite well with IEMs such as the $59 Zero and even up to the $99 Nebula One.
If you want a cooler compliment to the midrange warm and thicker Zero then this is actually a great choice. If you want a v-shaped reasonably detailed budget IEM for EDM then the M4 should be on your shopping list. It beats the heck out of the Pai Audio DR1 which is in the same ballpark price wise and has a ton more accessories. It is also pretty robust, fits well in the ear, and light in the hand. That is without even going into the cable which is par excellence and has no business being on a $39 IEM. I would pay $39 for the cable along if this thing was detachable.
Technical Specifications
| | |
| --- | --- |
| Driver Unit | Custom Tuned Single Dynamic Drivers |
| Impedance | 16 Ohm+/-15% |
| Sensitivity | 92dB+/-3dB at 1kHz |
| Frequency Response | 20Hz – 20kHz |
| Rated Power Input | 1mW |
| Max. Input Power | 5mW |
| Cord length | 1.36M |
| Plug | 3.5mm Gold Plated |