Select Comparisons
Methodology
Note our comparisons are done on a "building up to" basis meaning we start with stock on its own, then onto competitor cables, then finally the HPX-1 Cable series drawing from the previous cable comments and side by side testing for a final analysis of the Audio Art cable version.
These comparisons were done using the following setup:
Flac or DSD64 > Foobar (WASAPI driver) > KingRex U-Craft (Y) USB Cable > NuPrime DAC-10 > ALO Audio Studio 6 with upgraded Jan Philips 6v6 output tubes.
I choose this system specifically due to the quad headphone output of the Studio 6 meaning I could quickly switch cables and headphones without any significant downtime or volume adjustment as the Studio 6 TDK pot is a master volume for all headphone jacks. It is also a highly resolving and beautiful sounding rig if I may say so myself. It will offer a tube sound but a fast-paced one with low distortion.
The DAC-10 is a very analytical and pure sounding Sabre DAC implementation that shouldn't color the signal too much other than offering something rather neutral to the Studio 6.
I use the split Kingrex USB for a steadier signal to the DAC-10 by moving the 5v power requirements to a dedicated socket. We have a really dirty power supply in this area combined with a laptop that gets really overworked in terms of draw to other components. The Kingrex keeps the signal pretty clean and it is one less draw I have to worry about on the laptop.
Audeze
Stock Cable
$80
Specs
This is a four-conductor flexible, lightweight ribbon cable, comprised of multi-stranded OFHC copper rated at 20AWG. It is somewhat longer than the 5ft aftermarket variants at 8.2 feet and is the cheapest stock cable in the review at $80. Both balanced and unbalanced connectors are gold plated.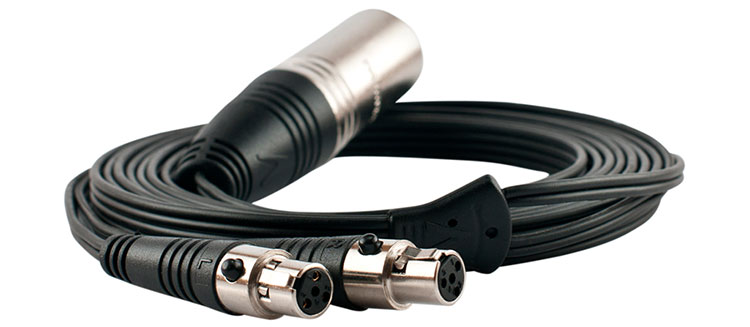 Tonal Presentation
The stock cable has a vague imaging quality about it. Staging feels quite rounded with a forward bass and mid-range performance. It does have excellent sub-bass reach but it is a little soft and lacking in clarity.
Warm organic mid-range timbre with excellent body, slightly soft attack but not overly rounded. Treble lacking in extension and articulation though not as dark as v1 of the LCD-2. Percussion is to the background a little and lacking a little in air and sparkle.
This configuration on a Sabre DAC and a tube amp is warm, easy-going but could do with a bit more air, sparkle particularly around vocals and percussion. I wouldn't define it as veiled but it could well be too relaxed for some. You do not want to change the timbre as such, just introduce something better imaging and open up a little more space in its layering.
WyWires Red Series Audeze Cable
$299 (5 feet)
Specs
Wywires use a 16AWG copper Litz wire with double cotton wrapped per pole. It is the lightest of the cables we compared. Like most aftermarket providers it can be terminated in a range of connectors from 1/4, 3.5mm to XLR, both balanced and unbalanced.

Tonal Variations
The biggest difference to the stock is the cleaner edge and better dynamics over the stock cable which sounded muted and flatter in comparison.
The Red cable is also a more neutral sounding cable than the stock OFHC copper cable. The copper Litz brings in a touch more energy to the treble also over stock. Percussion attacks are more noticeable and better defined with this cable.
Bass is tight, I actually prefer it to the softer fuller rumble of the stock cable. The red line also increases the dynamics and seems to carry less resistance than the stock cable with similar voltage levels on the Studio 6 sounding louder on the Red line.
This is also a much faster-sounding cable with better PRaT. The increased dynamics on the LCD-2 using the Red Line made for better spatial cue awareness and a more open mid-range.
If you are swapping back and forth on the Red to stock and back again the difference is very noticeable.
Cypher Labs Audeze Cable
$79
Specs
This is a 1.5m braided and cryo-treated design consisting of a gold/silver and OCC copper alloy so it is not a pure copper wire and as such the pricing reflects that. It is priced to directly compete with the stock cable as a cheap replacement and it does have a nice aesthetic to it over the stock.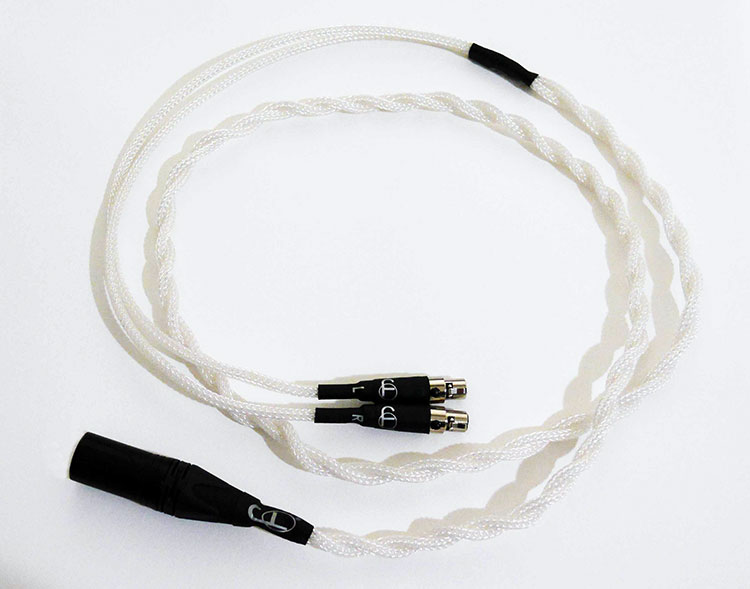 Tonal Presentation
The Cypher labs edition tonally is cleaner sounding than the stock cable with a slightly brighter top end and marginally superior separation in the mids.
Bass is also marginally tighter sounding. It does not have the same level of dynamics and openness of the Wywires Red Series cable, particular instrumental layering and vocal clarity but it is a step up on the warmer and fuzzier sounding stock cable.
Given both the stock and Cypher Labs cables are both priced at $80 that makes the Cypher Labs Cable a slightly better choice as a replacement cable for not too many pennies and will generally be a favored choice those who want something a little cleaner sounding.
ALO Audio Salty Pepper Audeze Cable
$650 – $850 (5 feet) (Discontinued)
Specs
The Salty Pepper is one of my all-time favorite cables for use with the LCD-2. Quite apart from its striking looks it packs a 22AWG silver-plated super annealed high purity copper (SXC) / super annealed CDA-101 Copper (CU)) wire with 8 conductors – 4 OCC and 4 SPC. The jacket material is Polyethylene (PE) and the cable itself is cryogenically treated in-house as with most ALO Audio cables. Sadly, this variation I believe is discontinued in favor of their new Reference Series but if you find one cheap I would say grab it.
Tonal Presentation
Stunning performance to be honest and totally opens up the LCD-2 compared to the stock cable which is muted and overly warm in contrast. The Cypher Labs has a relatively more competitive cleaner tone than the stock but it's not as dynamic or open sounding as the Salty Pepper.
Dynamics are truly excellent with a far more holographic soundstage and open sounding mid-range. Vocals are vivid and full of character with a slightly more refined control on sibilance than the Red Series from Wywires. Articulation and extension are just as good as the Red Series but the Salty Pepper has a nicer balance and better body with the LCD-2.
Tonally this is what I would call an exciting impactful and very musical sounding cable. If the Red series is quick sounding, clean and clear the Salty Pepper adds a bit more body but retains those dynamics and adds some nice additional bass weight and texture. As such I find the Salty Pepper to be just that bit more natural sounding than the Red Series from top to bottom.
Audio Art HPX-1 Mini-XLR Cable
$295 5-feet.
Specs
As per review but in summary:
Custom Carbon color Weave with Berry PET thread
Neutrik NC4MX-B 4-Pin male XLR or Neutrik NP3X-B 1/4" Stereo plug
aluminum Y splitter
HXP-28 cable – 2 paralleled cables with twin 28 AWG OCC Copper conductors in each cable insulated with PE dielectric, and a braided silver-plated OFHC copper shield
High-performance Cardas QuadEutectic solder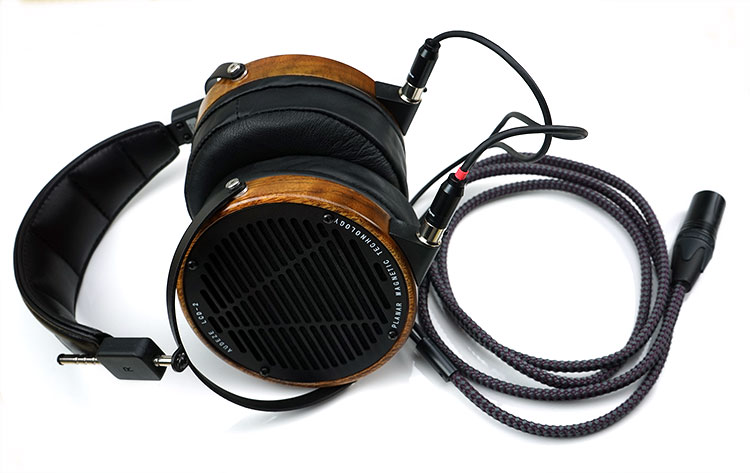 Tonal Presentation
The HPX-1 Audeze cable is a natural-sounding cable with a detailed and refined tonal presentation and a focus on excellent stereo imaging.
Vs Salty Pepper
The Salty Pepper has the superior low-end dynamics and a vocal presence that is a bit more forward. The HPX-1 bass is coherent, full sounding and with good texture but it doesn't have that low-end impact and weight of the Salty Pepper/LCD-2 combo. The HPX-1 instead sounds a little more balanced in its presentation but with some really top-notch resolution.
What impresses me the most about this cable is the mid-range and lower treble performance particularly its detail retrieval and imaging. The imaging is so good with the HPX-1 you can't fail to miss spatial cues or pinpoint instrument positioning compared to the stock cable which sounds positively veiled in comparison. The Salty Pepper, in comparison, has a slightly narrower staging quality in the mids with vocals more in focus.
Considering the price of the Salty Pepper (double), it may have the attention-seeking edge but the HPX-1 is very competitive indeed and certainly belies its lower price point side by side.
Vs Red Series
In contrast, the Red Line, whilst more dynamic than the Cypher Labs and way above the stock in clarity and dynamics it just falls short a little of the HPX-1 in terms of low-end body and note texture. It also doesn't quite have the same natural tonal quality to vocals as the HPX-1.
Going back and forth my final impression was the Red Line upper mids and treble also didn't quite have the same spaciousness and air as Audio Arts HPX-1 was capable of offering. In that regards the HPX-1 has the edge in terms of $300 cables.
Vs Stock & Cypher Labs
Cypher Labs and the stock cable are miles behind with the Cypher Labs getting the nod over the stock for its cleaner signature and better balance but way behind in terms of dynamics, imaging, and body whereas the stock… well…
Hifiman
Stock Cable
$199
Specs
This is quite a recent change by Hifiman to mark the incoming of the new V2 of the HE1000 headphone. Gone is the sedated nylon clothed black 2 core construct and in comes, a three-core, crystalline copper with silver plated wire encased in a rubberized sheath. With the HE1000 you do get both a balanced and unbalanced Neutrik plug terminated cable in the box. Both are 3m in length.
Honestly, they look weird and physically feel like a spare IV tube from some sort of life support system but they do have far less memory retention than the original and far less prone to tangles and hoops. When you uncurl them they just fall right out ready to hook up so in that respect they are easier to work with. They are also $199 and not the cheapest stock cable in the market to replace either. There is an incentive to go shopping for aftermarket cables with this one.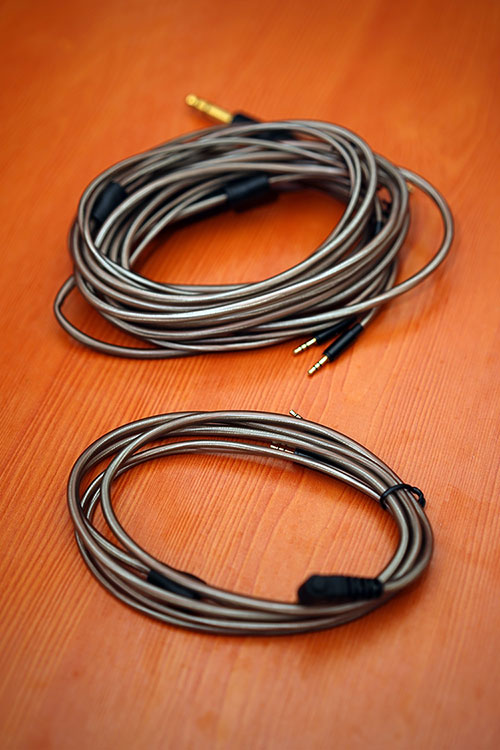 Tonal Presentation
When paired with the HE1000 V2 the new cable has a clean, forward sounding and sparkling top end with a vivid and almost aggressive mid-range. Vocals are clear sounding with excellent detail and there a decent snap to the low-end with excellent extension and dynamics. If anything though the pairing for me can come across as a little too aggressive with still a touch fussy with system setups.
Those who prefer the V1, do so because of that little upper mids dip which tends to just smooth over percussion attacks leaving the presentation less fatiguing but in the same turn, it accentuates a 5-7k peak that the V2 with the new cable flattens out a bit by making the entire mid and treble range just that bit cleaner and more energetic.
In some respects, you may have to be a bit more careful with the setup matching on the new cable as its marginally less forgiving, especially on the top end but the additional clarity and vibrancy should be worth it over the older cable they shipped the V1 with.
HPX-1 Hifiman Cable
$315 for 5 feet
Specs
As per review but in summary:
Custom Carbon color Weave with Berry PET thread
Neutrik NC4MX-B 4-Pin male XLR or Neutrik NP3X-B 1/4" Stereo plug
Black aluminum Y splitter
HXP-28 cable – 2 paralleled cables with twin 28 AWG OCC Copper conductors in each cable insulated with PE dielectric, and a braided silver-plated OFHC copper shield
High-performance Cardas QuadEutectic solder
Tonal Presentation
This is a smoother marginally fuller-sounding tonal presentation over the new Hifiman 3-core cable. Dynamics are improved, particularly in the low end with a nice clean snap and very good definition.
Smoothing
The first noticeable aspect of this pairing is the less aggressive mids and treble performance over the stock cable. Vocals fall back a little in comparison but so also does the treble stridency producing a more balanced presentation. For those who found the HE1000 v2 to have a slightly aggressive and overly lively top end presentation the HPX-1 takes the edge off it a little but still retains plenty of clarity and detail.
Imaging
Imaging as always is a strong point for the HPX-1. Awareness of spatial cues is heightened with this cable over the stock which tends to be a bit softer in presentation and a little more centered in instrumental positioning. It is subtle but after a few solid hours, I think you will begin to notice how confident this cable is with imaging.
Low-End
I am also impressed with its low-end performance as well. It retains the same level of depth and sub-bass performance but it sounds tighter, quicker, more resolving. Definitely an improvement on low-end dynamics with the HE1K V2 and the HPX-1 cable pairing and one I highly recommend.
Sennheiser
Stock Cable
$225
Specs
This is one of the better stock cables and to be honest, the differences between it and the aftermarket are subtler. This is a fairly long cable, 12 feet in total length and uses an oxygen-free copper wire in a Y-configuration with gold plated contacts. The strains are silver coated for reduced resistance.
The stock cable is a very nice design with two separate cables for the left and right channels. Each has a + and – wire wrapped inside an outer shield. Two additional black rubber strings are woven in to give the cable assembly some strength. The four of them are all spiral wound together and wrapped in two layers of cloth.
It also uses proprietary and expensive Lemo plugs at $50 a pop on the open market. Replacing stock with stock is a hefty $225 (varies) and going balanced even more. This is not a cheap stock cable and rightly so.
Tonal Presentation
The tricky thing about cable swapping with the HD800 is that first, the stock cable is actually quite good, certainly of a higher grade than even higher priced headphone stock cables. The second is that damping mods to the HD800 tend to be favored for radical sound changes on a much cheaper level.
The final challenge is usually the proprietary connectors for the HD800 cable which can cost up to $50 a pair compared to just a few bucks for most other types. An aftermarket cable for the HD800 therefore usually does not come that cheap. All of this makes changing the cables more of "final piece in the jigsaw" for the HD800.
The properties of the stock cable are well known and studied online. I won't go into too much individual critique safe to say in the arms of a good amp they are ultra-resolving and analytical sounding with bags of staging capability. Still one of the best dynamic headphones in the market today.
The weakness of the HD800 with the stock cable is a 5-7k peak that some find distracting and a more linear bass performance that can be found lacking from time to time in comparison to other modern flagship headphones.
WyWires Red Series HD800 Cable
$349 (5 feet)
Specs
Wywires use a 16AWG copper Litz wire with double cotton wrapped per pole. It is the lightest of the cables we compared. Like most aftermarket providers it can be terminated in a range of connectors from 1/4, 3.5mm to XLR, both balanced and unbalanced. The Lemo connector though for Sennheiser will cost an extra $50.
Tonal Presentation
The Red Line brought a sweeter smoother treble response that paired back the aggressive 5-7k peak just enough to sound far more palatable for certain genres and longer listening periods.
It is still relatively clean sounding but it no longer sounds as harsh or grating, especially with rock percussion passages where there is a strong attack emphasis. Vocals were slightly fuller sounding and less hard-edged.
The low-end also has a touch more body and depth with marginally better dynamics over the stock cable. It still has a relatively bass linear response but doesn't sound quite as lean now offering a little more solidity to the HD800 fundamentals.
The main benefit though of the Red Series is the loss of that lower treble glare without any loss in articulation or sparkle.
HPX-1 – HD800 Cable
$350 5-feet
Specs
As per review but in summary:
Black Techflex cover
Silver brushed aluminum splitter
Eidolic brand Sennheiser plugs
Neutrik NP3X-B 1/4" Stereo plug
Aluminum Y splitter
HXP-28 cable – 2 paralleled cables with twin 28 AWG OCC Copper conductors in each cable insulated with PE dielectric, and a braided silver-plated OFHC copper shield
High-performance Cardas QuadEutectic solder
Tonal Presentation
Clarity
The differences, like the Red Series, are subtler over the stock cable than the differences found on the Audeze stock cable but there are a few change-ups. The first is the clarity and separation in the mid-range. Much like the Audeze version, I felt the spacing around the vocals, as well as the smoothness, was enhanced over the stock cable.
Dynamics
Dynamics were excellent but the imaging, always a plus point for the HD800, was more vivid than the Red line and stock. Something about the HPX-1 mids that seem to be right on cue, with a nice smooth tonal balanced mixed in with some excellent clarity and detail.
Treble
The second is the treble. It sounds sweeter and smoother than the stock cable and exhibits none of that glare that creeps into the stock setup. The 5-7k peak is certainly much easier to digest with the HPX-1 over the stock cable. I do give the edge a little to the Red Line for treble smoothness though. As such, the HPX-1 is the "peppier sounding" of the two aftermarket cables in terms of treble performance.
Unlike the Audeze stock, I wouldn't urge you to run out right away and change the cable, it does a decent job and is one of the better ones. However, if you after something to dampen down the top end a little and just reduce the stock glare as well as subtly enhance that mids performance then the HPX-1 may well work for you.
Our Verdict
The HPX-1 is a solid and confident entry into the headphone cable business by Audio Art and if you are into cable swapping it is well worth checking out as a price-sensitive option.
At $300 on average per cable, it won't chip too much away in terms of budget, particularly if you are an owner of a premium headphones such as the LCD-2 (or 3/4), HD800 and HE1000. Certainly, stock cables on these headphones are either of so-so performance like the $80 Audeze, or rather more expensive and less aesthetically appealing like the HE1000 cable to make an aftermarket cable a worthwhile option.
Where the differences are subtle that is always the challenge to the aftermarket business. In the case of the HD800 cable, it is quite a well-built stock cable option. Here though the price is high to replace it and if you are tired of the treble peak in the HD800 signature the HPX-1 can go some way to smoothing it out for a few dollars more.
There is some competition, particularly WyWires, which made a splash with its Red Cables and there are some cables, such as the Salty Pepper, that even outperform the HPX-1 though at almost double the price it has a somewhat diminishing return for your money. I do believe though the HPX-1 has a distinct enough signature from these two to be able to offer a viable alternative, particularly with its imaging performance which is really good.
Pricing Variations
Audeze model w/carbon/berry weave, Neutrik NC4MX-B 4-Pin male XLR, Audio Art brand 4-pin mini-XLR, black aluminum Y splitter — $295
Mr. Speakers model w/ black low-noise Techflex cover, with a step-up silver brushed aluminum Y, and Eidolic 4-pin XLR — $330
Sennheiser HD-800 model w/ low-noise Techflex cover, the silver brushed aluminum Y, Eidolic brand Sennheiser 800 plugs, and the Neutrik NC4MX-B 4-Pin male XLR — $350
Hi-Fi Man / AQ Nighthawk / OPPO model w/ carbon / berry weave, black aluminum Y, Neutrik XLR, and Eidolic 2.5mm plugs — $315
¼" to XLR 6" coupler w/ Neutrik NP3X-B 1/4" Stereo plug to Neutrik NC4FX-B 4-Pin female XLR — $95
Prices for longer HP cables will be @ +$15 / additional 2.0'.
Technical Specifications
Audeze LCD Series HPX-1 Cable
Custom Carbon color Weave with Berry PET thread
Neutrik NC4MX-B 4-Pin male XLR or Neutrik NP3X-B 1/4" Stereo plug
aluminum Y splitter
HXP-28 cable – 2 paralleled cables with twin 28 AWG OCC Copper conductors in each cable insulated with PE dielectric, and a braided silver-plated OFHC copper shield
High-performance Cardas QuadEutectic solder
Hifiman HE1000 HPX-1 Cable
Custom Carbon color Weave with Berry PET thread
Neutrik NC4MX-B 4-Pin male XLR or Neutrik NP3X-B 1/4" Stereo plug
Black aluminum Y splitter
HXP-28 cable – 2 paralleled cables with twin 28 AWG OCC Copper conductors in each cable insulated with PE dielectric, and a braided silver-plated OFHC copper shield
High-performance Cardas QuadEutectic solder
Sennheiser HD800 HPX-1 Cable
Black Techflex cover
Silver brushed aluminum splitter
Eidolic brand Sennheiser plugs
Neutrik NP3X-B 1/4" Stereo plug
Aluminum Y splitter
HXP-28 cable – 2 paralleled cables with twin 28 AWG OCC Copper conductors in each cable insulated with PE dielectric, and a braided silver-plated OFHC copper shield
High-performance Cardas QuadEutectic solder