Transcendental number worshippers, Pai Audio are back again with another sample of their earphone range for us to play with. This time, it is the DR1, which is priced considerably cheaper than the MR2 we reviewed in August of this year. The DR1 will set you back around $40-50 depending on where you order and as such this Pai Audio's most budget conscious IEM in the range. They do have a cheaper earbud called the PR1 but very different in appeal.
What Is The Pitch?
The DR1 is a single dynamic driver IEM with a 32-ohm rating and a sensitivity measurement of 120dB. It is built and designed to be reasonably easy to drive out of most sources and portable amps and also carries with it a level of aesthetic customization that you can choose before purchasing. The nod, even at this price point, to customization, is a direct pitch to the growing market of custom IEMs for those that simply cannot afford to part with that level of cash.
Customization is primarily focused on the color of the shells and the type of faceplates you can choose with it. You can choose from 12 different color combinations or just simply the color blue. Men should choose the blue, the rest are very sparkly and feminine to me except for 12 and 13. Your call though but my partner has already asked to borrow my sparkly review version twice because she says it is "pretty" so the marketing seems to work. FYI we got no 2.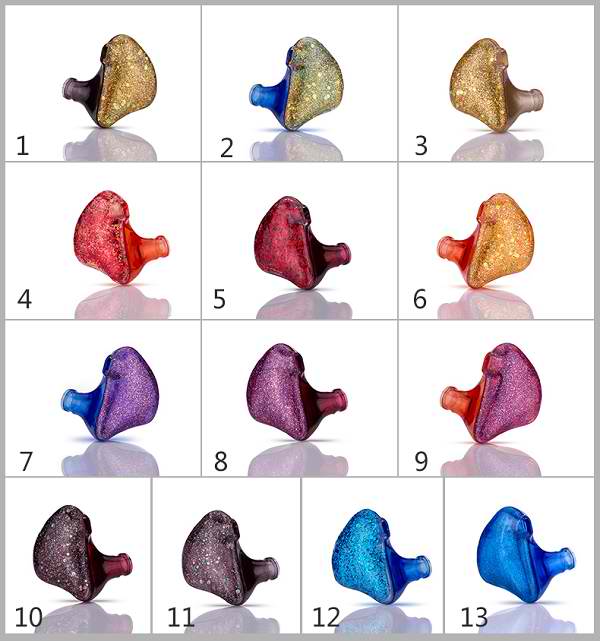 Build
Once again Pai Audio have created a design with the DR1 that I would call a "contoured" shell design similar to what you would receive from customs companies when they farm out their demo units. It is not as high quality or as beautifully contoured as the iBasso IT03 or the UM Martian but I do prefer this design over bullet type designs for comfort and seal. There is definitely a push in Asia now for this type of design at mid-fi to budget price level IEMs.
The DR1 is a two-piece translucent acrylic designed shell, with a contouring to match your outer ear below the faceplate. It feels pretty light, there are no sharp edges and I am fairly sure they are moderately robust. I would not say it has the same durability as the bullet type aluminum constructs like the RHA MA750 or even the more solid feel of the IT03 but I think it can take a knock or two overall.
On top, there is a flat plate sealed onto a contoured shell that houses the driver setup and finished right at the bottom with a gold-plated MMCX connectors so the cable can be swapped out if you happen to have a few aftermarket cables floating around. The faceplate seal is visible but securely in place and the glitter aspect of this unit was relatively deep into the polish of the acrylic resin so it won't brush off or fade away. There is a tiny hole right in the middle of the faceplate of each driver shell which, I presume, is the port to allow the single dynamic driver to breathe properly.
Fit & Seal
As with the MR2, the fit was excellent and very comfortable, aided no doubt by the MMCX swivel connectors allowing me to tweak away until I got a full seal. Nozzle length is average, not too deep but not too shallow but not quite as effective as the Mr2 for sealing, around 10% less background noise filtered out during usage with the main area of leakage at the top of the driver. Ears vary so your experience may differ.
Certainly, the fit and seal are as good if not better than bullet type designs and quite a number of other more premium designs such as the Fidue A83. There is less moving around to get the sweet spot for comfort and seal. They are also a good deal lighter than those IEMs and the lightweight nature, as well as the over the ear design helps keep them solidly in place.
Cable
The DR1 is designed to be worn over the ear with a supplied 1.2m rubber coated MMCX detachable cable which I presume to be copper or an OFC type cable. There are no iGadget or mic controls in-line for this cable. It's a bendy, slightly memory retentive, cable terminated with a 3.5mm gold plated right angle jack and lacking in memory coating on the ear side and adequate strain relief on either end. I do detect some microphonics during usage also much like the MR2.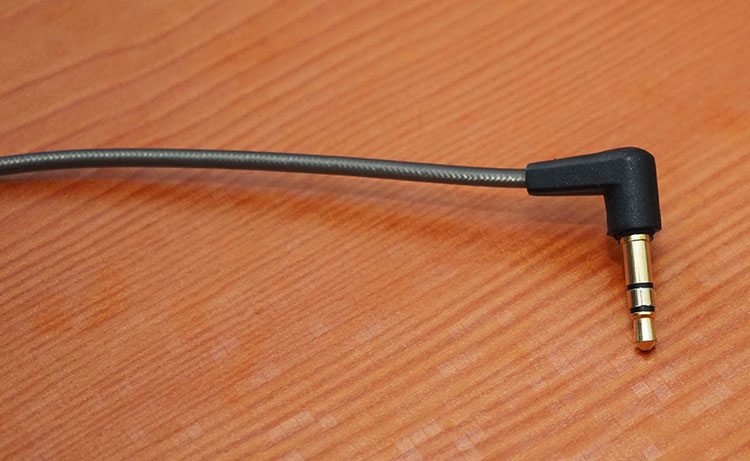 Being the same cable used as the MR2 it is still a bit messy to work with and I never felt I had total control over it during regular usage with its "fly away" urges. It also lacks some sort of chin strap which a lot of people like to use.
Accessories & Packaging
The packaging and accessories are the exact same as the MR2 so in a sense, you are getting better value than you would from the DR1 contents give its much cheaper price point. It is the same clean black box with the branding on the outside slip and on the inside, the IEM's are laid out in a stylish manner (foam cutaways) with the following accessories: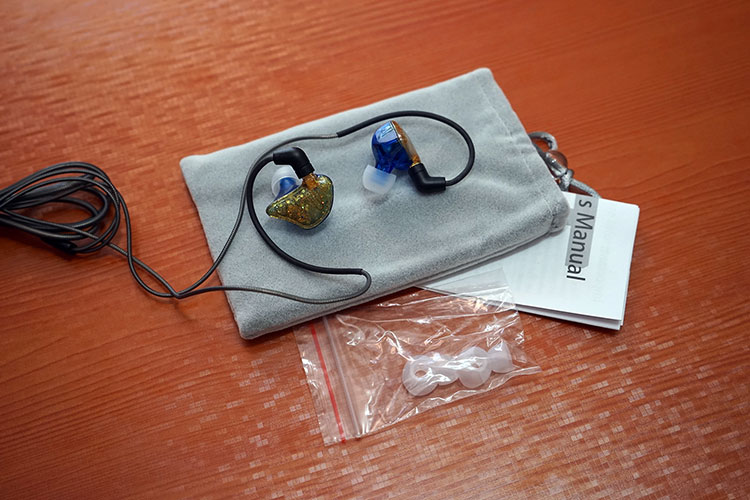 Single set of silicone single bore tips in small, medium and large
An off-white suede type carry case with a drawstring locking system (similar to FiiO pouches)
Owner's manual
For the budget level entry this list of contents is perfectly fine but it does serve a salient point about product differentiation since I previously mentioned that this seems to be the standard for all their earphones and I would like to see something a bit more premium the further up the range such as a hard case or better cables or more tip choices.
Sound Impressions
Tonality
The DR1 is an interesting tonal proposition. I did not find it overly warm or soft sounding as the MR2 with weaker amps, closer to neutral with low-end warmth but at the same time, it lacks the same level of power and dynamics that the MR2 can deliver with the additional drivers. The clean tonal presentation of the DR1 is v-shaped to a certain extent, though quite mild in some ways with the dip biting in around 150hZ and starting to drift upwards again around 1k. Once you throw it onto a better-powered amp such as the X7/AM3 there is a marked lift in terms of body and slam which makes it a much warmer proposition tonally.
Vocals have an elevated and slightly forward presence with a decent level of control over decay for a budget dynamic driver. Treble, as you would expect from a v-shape is sparkling and forward sounding with a bit of peaking around the presence region 4-6k. After which the drop off is pretty quick so there is not as much headroom as you would hope but certainly it does not have a shelved down tonal quality.
Staging on the DR1 is not bad actually and consistent with the use of a dynamic driver. It is not huge but neither is it flat and compressed sounding. There is a bit of roll off on both ends to you won't get huge depth or height but you do get a nice perception of width with some decent instrumental separation that doesn't fall over itself the first opportunity it gets.
Bass
Whilst the DR1 bass is emphasized from around 50-100HZ it's a gradual up and down rather than a sharp emphasis. You get a fullness of sound but not a huge amount of slam or a tightly defined body with weaker amping. This driver does need a bit of power to get any bass emphasis and you will see an increase in sub-bass presence with better amping.
Since the driver itself is not the most efficient it doesn't overwhelm the rest of the range also with a clean amp. You still get that slightly languid dynamic driver decay throwing a nice little warm sheen over everything but it's not molasses slow or heavy going. Polite, soft, but full sounding is probably the more accurate description.  Beyond this, the DR1's FR drops off from 150Hz by a fairly hefty 10dB so there is no chance of bass bleed or bloat with the DR1 but at the same time, instrumental low ends lack a bit of authority and crunch.
Mids
FR of the DR1 continues a downward slide until around 1k where it bottoms off, briefly before marching upwards with increased energy and presence until around 5k. That dip gives a slightly darker tone also in the lower midrange. Lower pitched male vocals lack a bit of authority and resolution and struggle at times to be heard but they do not sound overly harsh or brittle on the DR1.
Female vocals perform better with a slightly more forward presence the higher up the scale they go. Instrumental separation is reasonable and despite is lower mid-range dip it doesn't sound overly compressed and congested. Surprisingly I preferred the cleaner timbre and slightly sharper attack on the DR1 to the MR1's softer approach and more dominant lower mid-range.
Treble
Much of the treble focus on the DR1 is really in the presence and low end of the brilliance regions. It's a peak but not the worst I have heard before. With weaker amps, it does sound slightly unnatural for higher end percussion and synth work with it running a touch hot but it's not too harsh, more brittle and lacking in a natural sounding timbre. It starts to get a bit smoother with smoother or stronger amps.
Thankfully the DR1 driver seems to avoid an abundance of sibilance even with that peak. Beyond 5-7k the DR1 falls away fairly quickly so there is not a huge amount of air or headroom. Much like the MR2, the DR1 is not awash with detail but perhaps this helps the treble performance sounds reasonably forgiving despite its peaky numbers.
Matchability
Efficiency
The DR1 is reasonably efficient rather than ultra-efficient so it will drive reasonably well out of a decent smartphone such as the ZTE Axon 7 (AKM Ak4990 DAC to boot) but did require about 10% more juice than the Lear NS-U1 v2 which I literally came hot off reviewing before the DR1. The Lear dual dynamic driver set is rated a bit lower ohm wise but sensitivity is much lower at 107dB compared to 120dB rated for the DR1.
For mid-fi DAPs, the pattern repeated itself with the i5 pairing sitting comfortably at around 30 digital steps on low gain and the X7/AM3 single ended output at 60-65 digital steps on low gain. It is not as efficient as the latest hybrid designs from Oriveti or Fidue or the super sensitive BA designs from Oriveti but should work fine out of most sources with no hiss or background noise detected.
Tonal Pairings
Tonally the DR1 is a bit of a Jekyll & Hyde when it comes to matching. With the more than capable ZTE Axon 7, I found it a little cooler and cleaner with a full sounding but politer bass performance. With the i5 I got better dynamics, a heavier hitting bass, and better staging but it still retained a slightly peaky but controlled treble.
With the FiiO X7 and AM3 module, it retained plenty of that bass weight of the i5 but this time sounded warmer with a very smooth midrange, improved timbre, and vocal performance. Treble has a touch of sparkle but in return, it sounded a lot more refined. The DR1 can scale it seems with better amping sources and those little annoyances in the lower treble performance seem to ease away with a higher end pairing.
Select Comparisons
Shozy Zero
($59) – Single Dynamic
At a similar price and whilst both are tonally quite musical, the woody bullet-shaped Zero aims for midrange supremacy with a warm thick sounding midrange, an elevated vocal that spans both male and female and a very inviting timbre. It doesn't sound quite as spacious as the DR1 but it has a more powerful mid-bass performance, a thicker note in the lower midrange more suited to rock and indie. The DR1 chooses to go low and high with an ok mid range but comparatively recessed in comparison to the Alien making it more suitable for EDM that requires a bit more treble sparkle.
AAW Nebula One
$99 – Single Dynamic
With a weaker source both the DR1 and Nebula One have a relatively clean sounding tonality with the Nebula One perhaps the more neutral sounding of the two. The Nebula One though has the tighter faster-paced bass response which, for me, has the better body and definition and also sounds more linear than the DR1's softer dynamic driver.
Both treble responses on the DR1 and Nebula One have a bit of a peaky lower treble performance though the Nebula One has the better resolution and articulation of the two. The DR1 though seems to be more accommodating for good amps and doesn't quite have the same treble sheen as the Nebula One with DAPs like the X7/AM3 combo.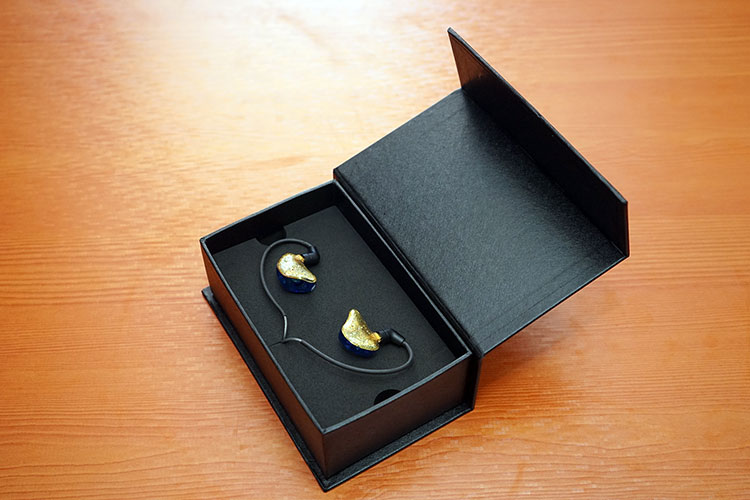 Our Verdict
I actually prefer the tonality and frequency response of the DR1 over the MR2. Granted I am giving up a lot of detail in there somewhere but the adaptability of the DR1 in terms of amping, be it more balanced or more bass heavy depending on the amp itself is something I did not expect. I still give props to Shozy for the Zero, which for me is very hard to beat, but I give a respect to Pai Audio for offering something at this price point that is a decent performer.
I do though think the driver is a tiny bit weak and inefficient so if you are reading about how bass heavy it is in some quarters bear in mind there is likely to be something more than a smartphone on the end of that 3.5mm jack.
That being said, the package is the same as the MR2 and at just under $50 that represents much better value than the MR2 and about right for this price point. The additional sparkle is fun but mostly something I think would appeal to the female audiophile than the "anything so long as its black, gray or gold" fan set of dodgy old men. Kidding aside, I am not throwing this one in the corner in a huff and that has got to be a good thing.
Technical Specifications
Transducer Type: dynamic
Transducers per Side: 1
Acoustic Ways: 1
Sensitivity: 120 dB
Frequency Range: 20 – 20000 kHz
Impedance: 32 Ohms
Cable: 120 cm; L-shaped 3.5 mm connector
Colors: tan, red, orange, blue, shiny colors or gold