The PlusSound Cloud Nine is a pocket-sized portable analog amplifier that competes squarely with the JDS Lab's 02. It is priced at $349.
Disclaimer: The Plussound Cloud Nine sent to us is a sample in exchange for our honest opinion. We thank the team at PLUSSOUND for giving us this opportunity.
To read more about Plussound products reviewed on Headfonics click here.
PlusSound is a discrete company that specializes in custom cables for earphones, headphones and interconnects. Based in Los Angeles, the aim of PlusSound is clear; to provide uniquely exceptional products that excel in both quality and sound.
Particularly of interest is the PlusSound Cloud Nine; an in-house built amplifier featuring high-quality components that is able to drive the smallest impedance IEMs to full-sized high impedance headphones. At a base price of $349, the amp places itself in direct competition with JDS LAB's O2 + ODAC as well as Schiit's very own Valhalla 2 amp.
Box and design
There is really not much to say about the packaging of the Cloud Nine as it only comes in a minimal cardboard box. Accompanying this is a beige-colored carrying pouch useful for housing the amp when transferring it from one location to another.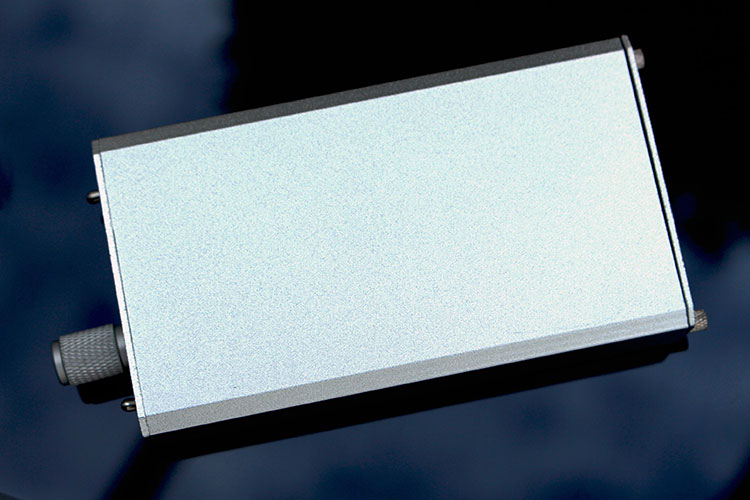 The design, on the other hand, is great. If you opt for the silver version, you get a polished looking piece of kit with a very sturdy feel to it. It is much more of a solid effort than Mayflower Electronic's O2+ODAC amp which has a DIY school project look about it.
The Cloud nine, however, has defined bezels and an aluminum finish, where all the features stay close to the body of the amp and are not too obtrusive to the overall design language.
Build & Features
Front
The multi-gain comes in 3 settings; low, mid and high gain. I have found that through testing quite a large amount of IEMS, portable headphones and open-back headphones, this device is quite powerful and able to drive a huge range of devices. It is quite impressive for its size and could definitely be used as a desktop source replacement.
Next to the multi-grain switch, there is the headphone jack and the interconnect port where the Cloud Nine can be paired with another source. Next to this is the potentiometer which is quite solid and requires a higher than average amount of force to rotate.
This is a necessary feature to prevent users from driving headphones and IEMs to gratuitously loud volumes. There is also a decent amount of grip which makes turning the knob easier. Finally, the power switch on the end is a simple binary switch that has an LED light indicating the power status of the device.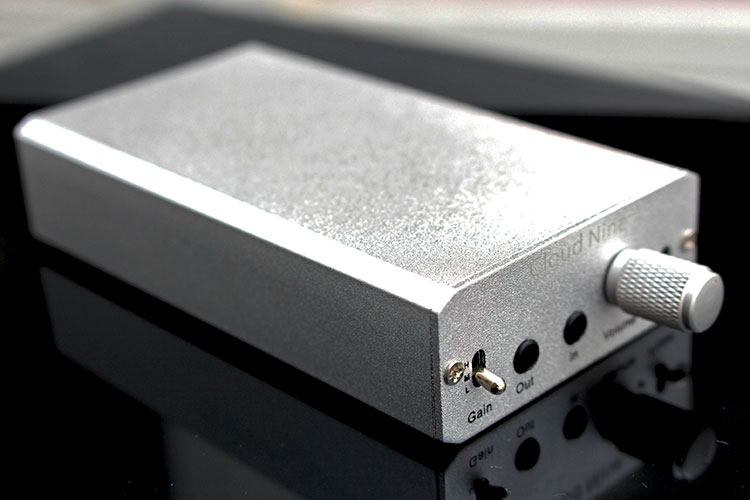 Back
There are not many features on the rear of the device apart from two thumbscrews that can be unscrewed to reveal the 9V batteries. Also marked on the backplate is the company name and website along with negative and positive signs to guide users to place batteries the right way round.
Internals
As part of the circuitry, there is a dual-mono operational amplifier that PlusSound claims to enhance image, clarity, and sound-staging. Whether this claim lives out to be true will be explored in the next sound section.
Battery
Under the hood, the Cloud Nine is powered by 2 9V batteries which are quite unusual for an amplifier of its nature. After every power run, the 9V batteries can either be replaced by turning the thumbscrews on the back panel or can be recharged using a power bank if rechargeable batteries have been used.
The system, in my opinion, is arduous and would have better practicality if it could be charged straight out of a USB connection. Nevertheless, there is decent battery life to be experienced with the Cloud Nine clocking a grand total of 14 hours on the low-gain switch before completely dying off.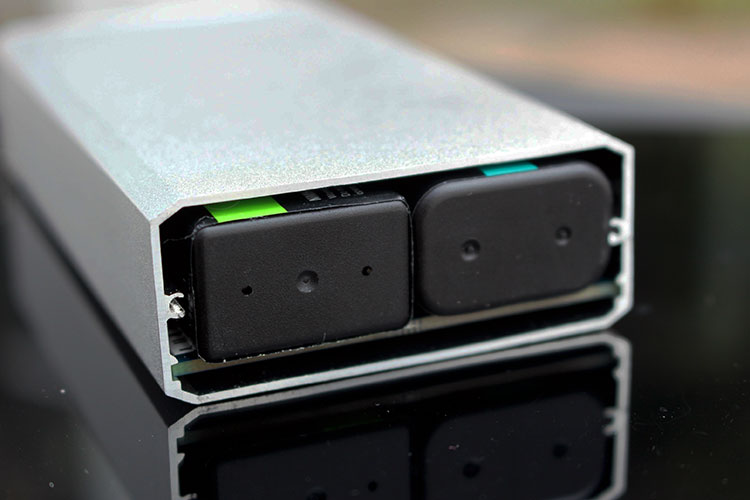 It is important to note that lithium batteries last the longest with PlusSound claiming there to be 20 – 40 hours of maximum battery life; a very decent lifespan. One area of improvement, however, is the LED power indicator itself.
While it does a good job of showing when the device is on and when it is off, there is not really an indicator of how long the device has until it is going to die. Some sort of percentage number indicator or even different colors to indicate the percentage of charge would be beneficial to users as they now when they would need to recharge batteries or buy replacement ones.
Sound Impressions
Immediately from listening to headphones and IEMs via the Cloud nine, the background presents as black with no hiss or audible noises. This is especially great for sensitive IEMs which tend to pick up a lot of noise when amplified.
Tonality
The sound of the Cloud Nine is one of musicality, spaciousness and neutrality. From listening to a broad range of tracks, the Cloud Nine places a lot of emphasis on smooth tonality which is excellent for headphones and IEMs which verge on stridency.
The Rock-it Sounds R-50, for example, can often spit out sibilance and harshness in certain poorly mastered tracks. The Cloud Nine, however, is more forgiving of poorer quality recordings and is able to tame down the harshness and sibilance while delivering a free flowing sound that can essentially be listened to for hours on end.
Comparisons
In comparison to the Schiit Magni 2U + Modi 2U, the PlusSound Cloud Nine certainly puts up a good fight though there are differences in the presentation of sound. Where the Cloud Nine softens the upper midrange and lower treble region of tracks, the Magni + Modi 2U reveals these two frequency ranges in a linear and more forward fashion.
As a result, the Magni + Modi 2U is more detailed whereas the PlusSound Cloud Nine is more musical and able to iron out the stridencies and harshness in the higher frequencies. With that said though, the Magni + Modi 2U is by no means rough and even infuses detail amongst a smooth tonality but just not at the level of the Cloud Nine which sacrifices some detail for a fatigue-free smooth sound.
In tracks such as Ed Sheeran's "One", the Cloud Nine reveals a spacious and effortless sound that complements the soulful vocals. Although the separation is not the best I have heard out of an amp, there is a modest amount present as instruments do not blend into one another.
What the amp excels in, however, is the presentation of smooth and neutral vocals which are great for extended listening sessions. Next to the less expensive Fiio Q1, the Cloud Nine is much smoother but lacks the attack and fast speeds that the Q1 renders. For this reason, the amp would not be the best for fast-paced music such as EDM or techno but instead would excel in hearty vocal numbers.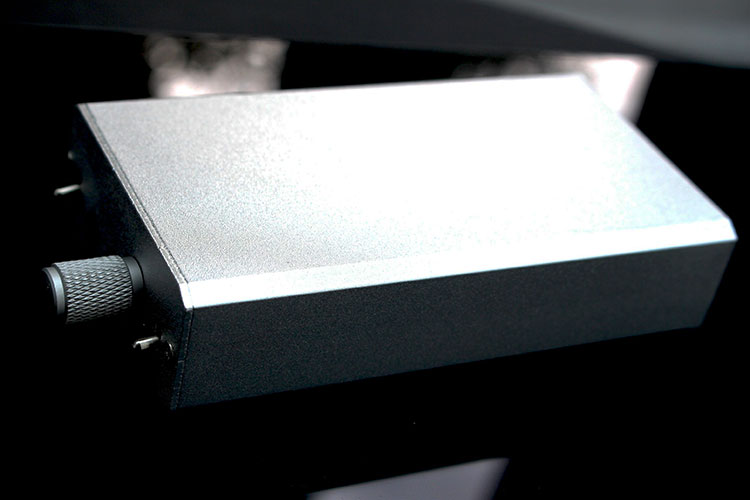 Our Verdict
Overall then, the PlusSound Cloud Nine represents a powerful portable amp that can be used to drive virtually any IEM and the majority of headphones to sufficient auditory levels. Not many portable amps can boast that and are some of the reasons the Cloud Nine is a popular tool for on the go.
I am particularly impressed with its ability to convey a musical tonality that is devoid of any harsh or sharp leading edges. In addition, the expansive properties of the Cloud Nine make it a force to be reckoned with in the arena of mid to hi-fi amps.
Having said that though, this amp may not be to everyone's taste; particularly those who wish for highly refined precision and portrayal of the smallest micro-details. While this amp does showcase a modest amount of details, it certainly isn't the best choice for it as dynamics and soft upper midranges are emphasized over military precision.
Needless to say though, this amp is an incredibly useful tool in any audiophile's armory for its desktop performance in a portable form factor. If PlusSound are eager to have a foothold in this market, I would suggest that they take my considerations for improvement into account. With that, I look forward to seeing whether there is a sequel lying in wait.
Cloud Nine Technical Specifications
Device Type: Solid State
Battery Type: 9V (x2)
Frequency response: 20hz – 20khz +/-0.1dB
Gain: 1x/0dB, 5x/10dB, 10x/20dB
Input impedance: 50K
Output impedance: <1 ohm
Maximum output: 200mA
Power rating: 1.28W into 32 ohm, 1W into 50 ohm, 250mW into 300 ohm, 120mW into 600 ohm
Noise floor: ~-150dB
THD:~0.0009%
Protection: Reverse battery
Input/Output: 3.5mm Switchcraft / 3.5mm Switchcraft
Dimensions: 2.3″ x 4.5″ x 0.95″
Weight: 3.2 oz (without batteries)
I am particularly impressed with its ability to convey a musical tonality that is devoid of any harsh or sharp leading edges. In addition, the expansive properties of the Cloud Nine make it a force to be reckoned with in the arena of mid to hi-fi amps.